Yet another special election for a U.S. House seat suggests a wave may be building. Although the Democratic candidate appears to have fallen short in Ohio's twelfth district, the close result in what has long been a safe Republican seat should worry GOP leaders. Dan Guild noted that there are 68 Republican-held House districts where Hillary Clinton did better in November 2016 than she did in OH-12.
"[S]enior party strategists have concluded that over a dozen districts held by Republicans may already be unwinnable," Alexander Burns and Jonathan Martin reported for the New York Times on August 8.
Iowa's first Congressional district may be one of the places where House leaders decide to cut their losses. But no one should write two-term Representative Rod Blum's political obituary yet.

"SLIPPING OUT OF REACH"?
For months, major election forecasters such as Cook Political Report, Larry Sabato's Crystal Ball, and Roll Call have viewed Blum's district as a toss-up.
I recommend reading the Burns and Martin New York Times article in full, but here are a few important excerpts.
Republicans say they can keep a thin grip on the House by propping up incumbent lawmakers in red-tinged districts and branding the Democrats as wildly left-wing. But senior party strategists have concluded that over a dozen districts held by Republicans may already be unwinnable, most in metropolitan areas where President Trump has alienated moderates and stirred volcanic resistance on the left. […]

The Republicans can afford to lose only 22 seats over all to maintain even a one-seat majority. That leaves them with little room for error over the remaining three months of the campaign. […]

And in a sign that they are already preparing for substantial losses, Republican officials are contemplating political triage, weighing which districts may be beyond hope and determining where money can be saved.

Among the seats that Republicans see slipping out of reach are those held by Representatives Rod Blum of Iowa and Jason Lewis of Minnesota, along with more than half a dozen open seats currently held by Republicans in New Jersey, Florida, Pennsylvania and Arizona.
Blum had more than $1.6 million cash on hand at the end of June and can self-fund if abandoned by House leaders. Nevertheless, it will hurt him if the National Republican Congressional Committee gives up on IA-01 and signals to allies that race is lost. Blum benefited from nearly $3 million in outside spending during the 2016 cycle. More than half ($1.6 million) came from the NRCC. The GOP-aligned American Action Network spent just under $700,000 against Democratic challenger Monica Vernon.
State Representative Abby Finkenaeur has built momentum this summer. After gaining almost two-thirds of the votes in the four-way Democratic primary, she posted a monster fundraising haul of more than $765,000 in the second quarter. No non-incumbent Iowan running for the U.S. House has ever raised so much in a three-month period.
Since her Congressional campaign launch last spring, Finkenauer has raised more than $1.4 million from individuals and $330,000 from political action committees. She had $839,159.90 cash on hand as of June 30, an impressive bank balance for any Congressional challenger, especially one who faced competition in her primary.
Several national news organizations have profiled Finkenauer lately, including the Washington Post and New York Times. That kind of media exposure can only help her fundraising during the final months of the campaign.
Outside groups supporting Vernon spent more than $2 million in IA-01 last cycle. Most of those funds came from the Democratic Congressional Campaign Committee, the House Majority PAC, and Women Vote!, the super-PAC affiliated with EMILY's List. The DCCC has covered some of Finkenauer's campaign expenses for months and will likely spend heavily here, as will the other groups, as long as internal polling shows a competitive race.
THANKING THE PRESIDENT FOR A TRADE WAR
During a recent stop in Dubuque County, President Donald Trump called Blum "one of the most effective people in Congress." In a clip destined to find its way into attack ads soon, Blum thanked the president for starting a trade war. Brianne Pfannenstiel reported for the Des Moines Register,
"Thank you for having political courage to renegotiate these trade deals, which quite frankly are not good to the United States," Blum said Thursday to Trump, who was in Peosta for a panel discussion on workforce development.

"You've taken some heat for it in the short term, but in the long run, the farmers, the manufacturers, the employers are all going to be better off," Blum said. "Thank you for having political courage."
Maybe the Trump administration's bailout for farmers will be enough to shield Blum from political fallout. But if the agricultural and manufacturing sectors are hurting this fall, the impact of tariffs should receive a lot of news coverage.
Commenting on the president's stop in Dubuque, Gabriel Debenedetti wrote in New York Magazine that IA-01 "might be the most important swing district in the country."
Trump's visit functions, in part, as a rescue mission for Blum, a national Republican operative working on the race acknowledged to me. Highlighting a new round of funding for flood protection in Cedar Rapids, which was devastated in 2008, "helps Blum demonstrate exactly what he's doing."

But the depth and urgency of the GOP's potential problems in districts like this one become clear when you consider that Mike Pence was in Iowa's First just two weeks ago. It's exceedingly rare for both a president and vice-president to feel the need to visit a district in such close succession, so far out from Election Day. While Iowans are often hesitant to ditch incumbents — as Republicans are quick to point out — the area is hardly traditional red territory. Trump was the first Republican presidential nominee to take Dubuque County since Dwight Eisenhower, and while GOP grandees in the area have been hoping this is a permanent switch, some local Democrats believe it was actually more of an anti–Hillary Clinton blip: There was a notable dip in youth turnout and a jump in third-party candidates' share of the vote. Trump won more votes than Mitt Romney did in the area four years earlier, but Clinton won far fewer than Barack Obama did.

Accordingly, Finkenauer's campaign has leaned hard into the kind of gritty, bootstraps message about standing with blue-collar workers that Democrats think they can use to beat Trump across the Midwest.
STILL A TOSS-UP RACE
I'm not ready to call IA-01 a "lean Democratic" race yet. Two important factors work in Blum's favor.
Incumbency advantages can be powerful even in bad years.
Only two U.S. House representatives from Iowa have lost to non-incumbents in the last 25 years: Republican Jim Leach in 2006 and Democrat Neal Smith in 1994. It's far from clear November will be a Democratic wave election, and even if a wave materializes, Blum will not necessarily be doomed. House Democrats Bruce Braley (IA-01), Dave Loebsack (IA-02), and Leonard Boswell (IA-03) all survived the 2010 Republican landslide, despite heavy spending against them by conservative groups.
My impression is that Blum's constituent service is not as good as Representative David Young's in IA-03. Indivisible activists have often found his Cedar Rapids office closed during regular business hours, probably because Blum spends less on staff than do most of his House colleagues (a point of pride for him). Nor is Blum out and about in the district nearly as often as Young.
On the flip side, Blum uses his franking privilege to send IA-01 voters an unusually large amount of taxpayer-funded promotional material. The Associated Press reported in June,
Expense records for the 115th Congress show that Rep. Rod Blum spent $400,000 on mass mailings and mass communications sent to his district from January 2017 through March 31.

That's more than any of the other 434 members. Blum's three colleagues in the Iowa delegation collectively spent less than $20,000 on such communications during that period.
A Bleeding Heartland reader sent me this example of a letter Blum sent to many constituents last month.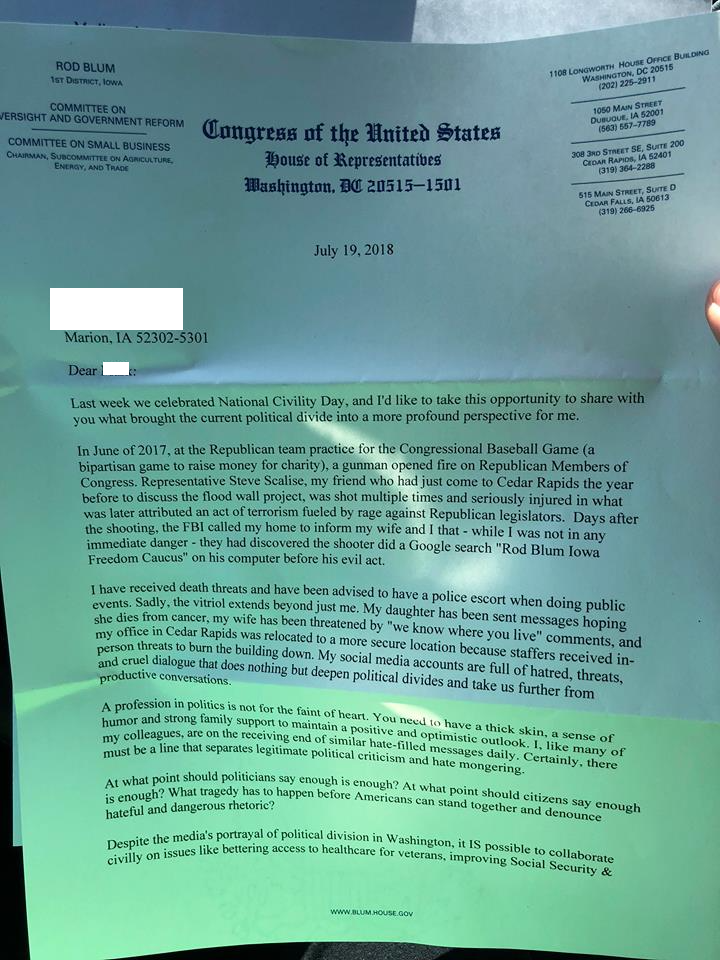 In June, a different reader provided pictures of mail received from Blum's office during the preceding two to three months. To a casual observer, these materials would be virtually indistinguishable from campaign mailings.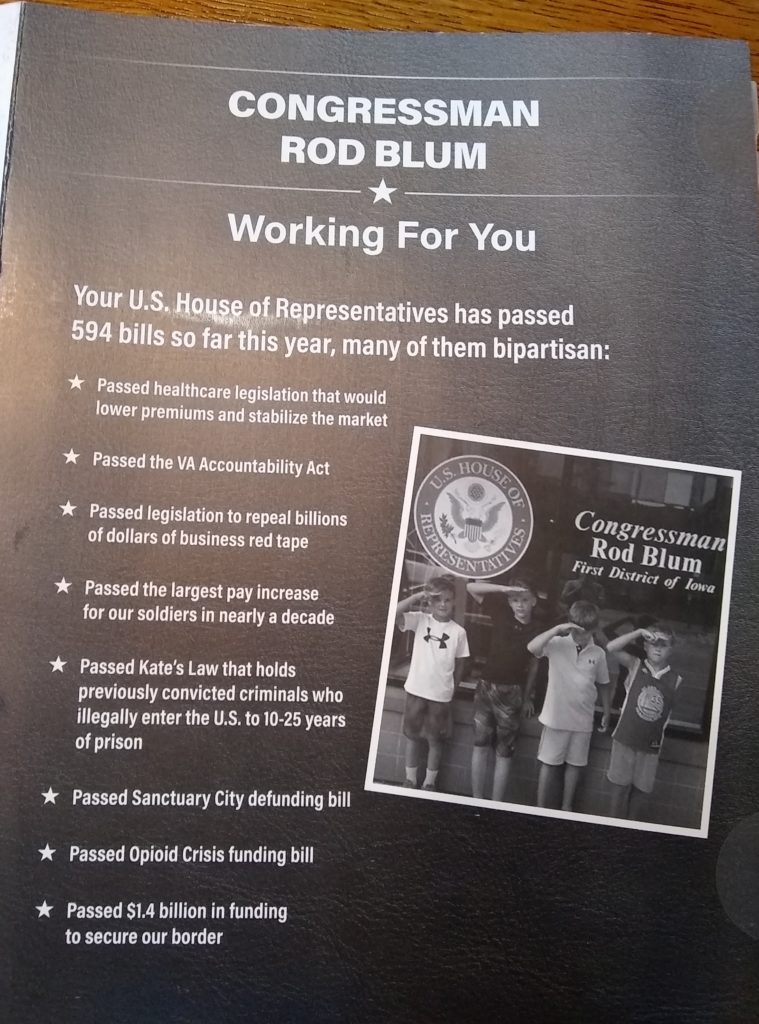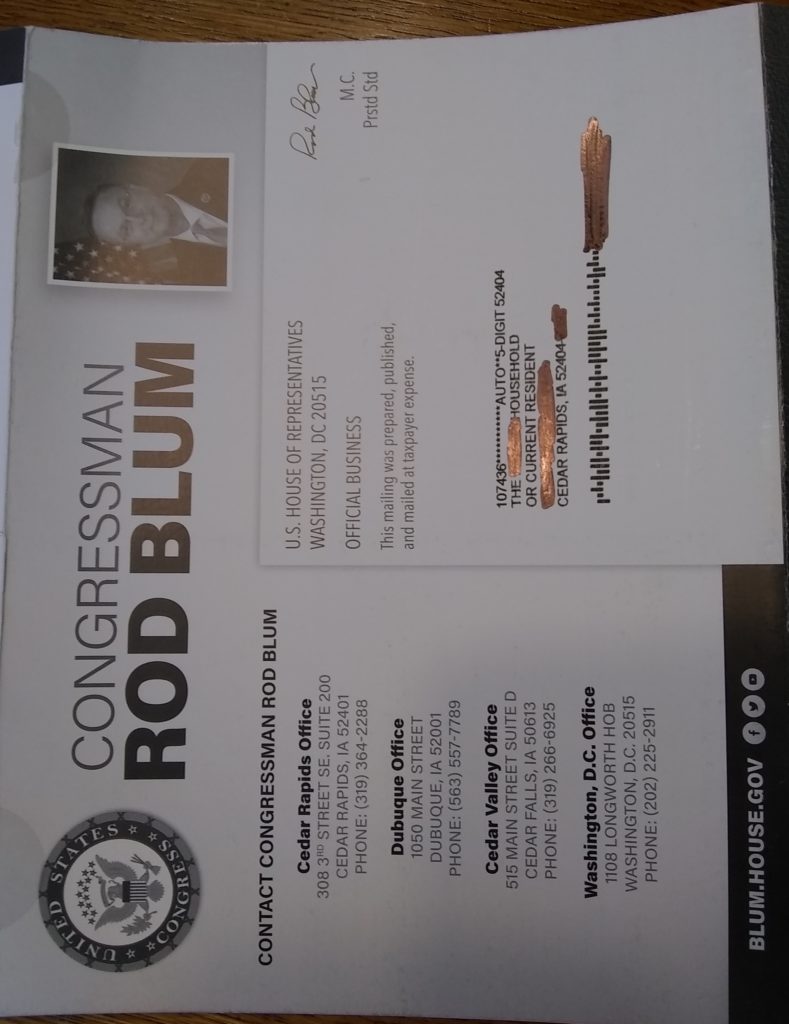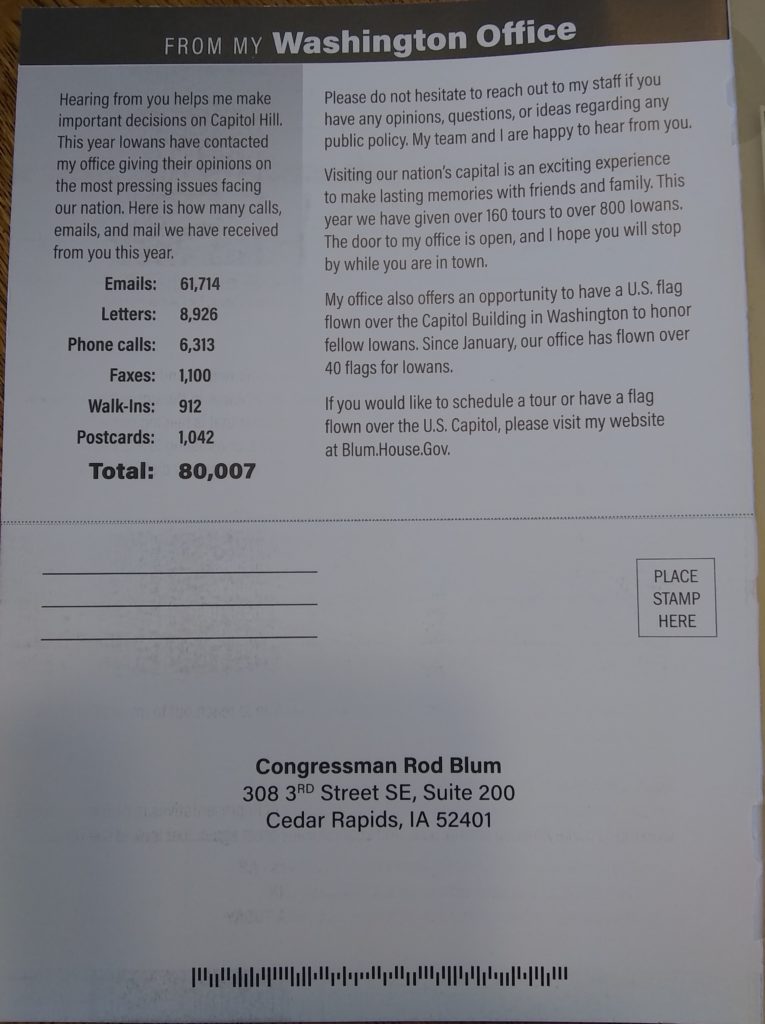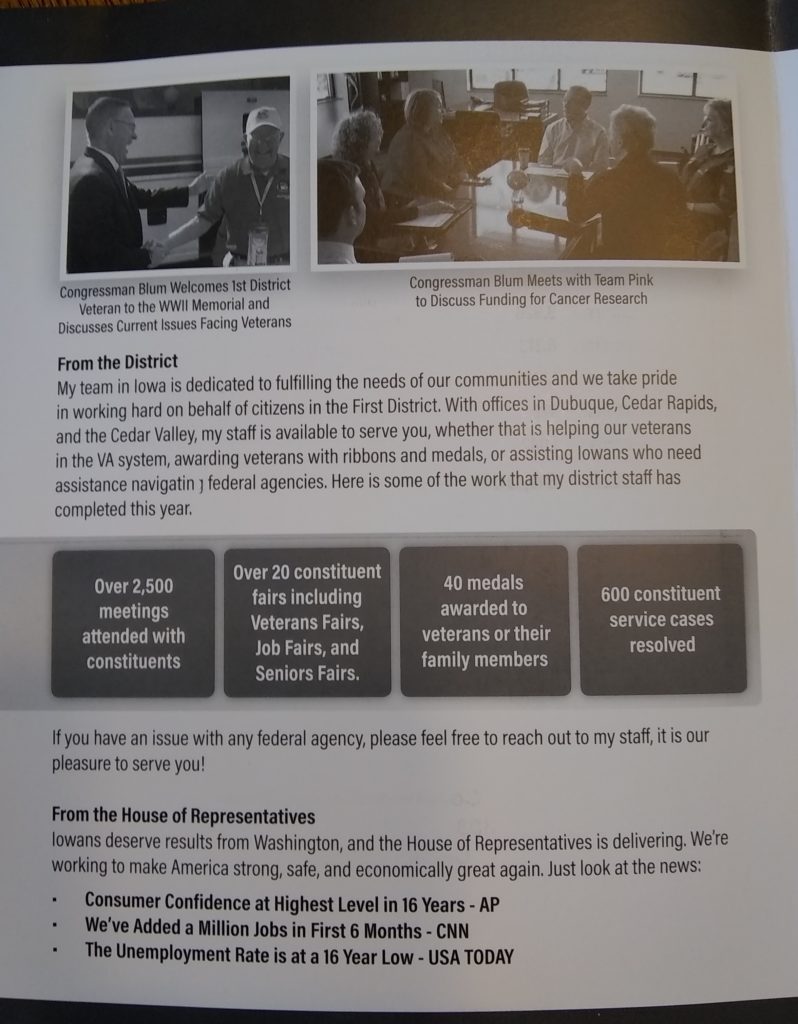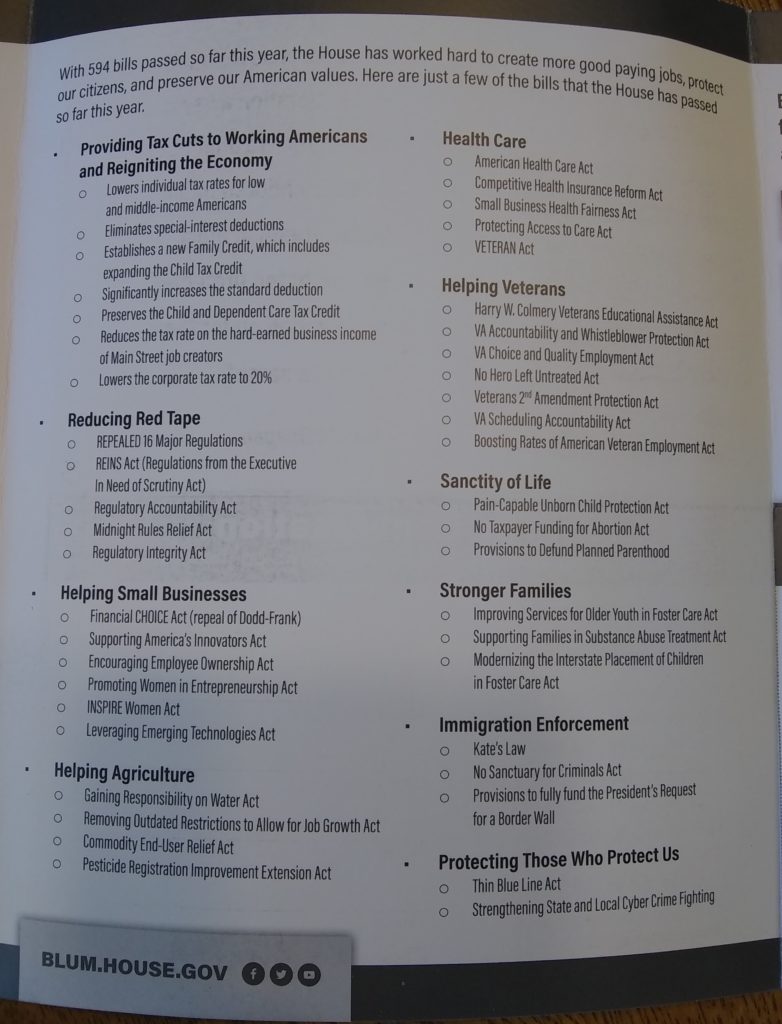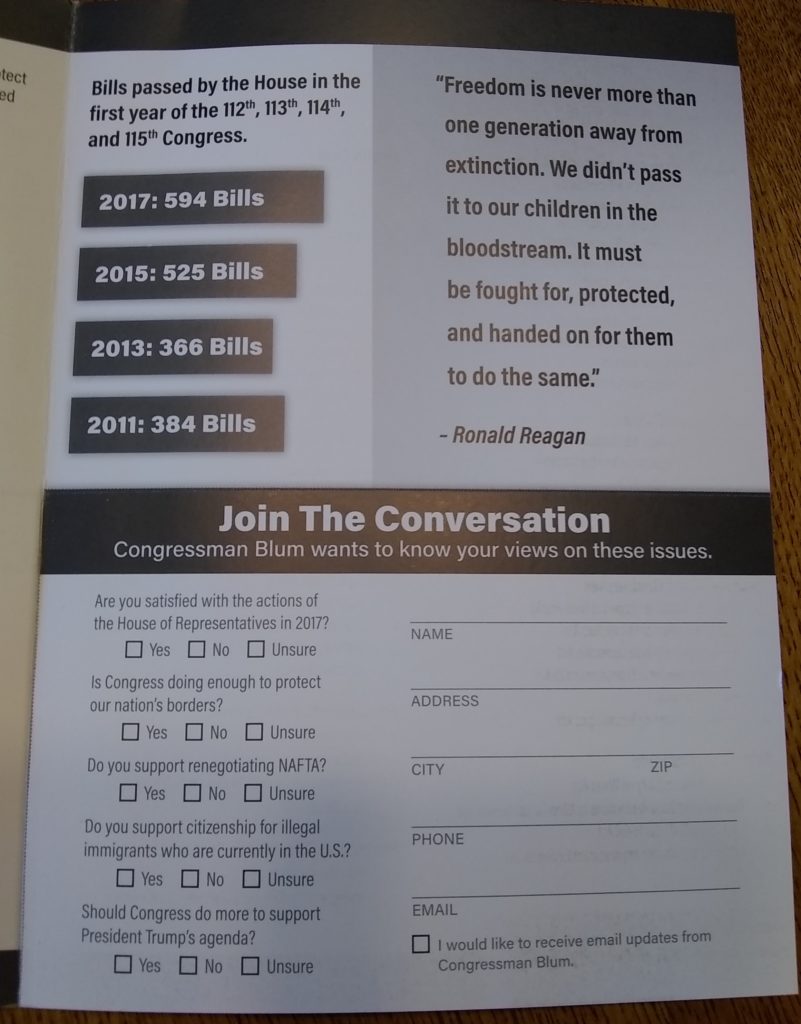 Another reason not to count Blum out:
Iowa voters are old.
As Bleeding Heartland discussed here, Iowa's electorate skews older than many people realize, especially in non-presidential years. About 64 percent of Iowans who voted in the 2014 midterm were at least 50 years old. Only about one-sixth were under 35.
Turnout by age group, Iowa 2014 general election
Age
18-24
25-34
35-49
50-64
65 and over
total
Registered
237,397
389,222
488,332
564,865
458,866
2,138,683
Total voted
56,020
118,679
234,020
379,881
346,538
1,135,138
Turnout rate
23.6%
30.5%
47.9%
67.3%
75.5%
53.1%
Percent of ballots cast
4.9%
10.5%
20.6%
33.5%
30.5%
100%
In the 2010 general election, more than 60 percent of Iowans who cast ballots were over age 50, and about one-sixth were under 35.
Turnout by age group, Iowa 2010 general election
Age
18-24
25-34
35-49
50-64
65 and over
total
Registered
248,766
388,149
514,112
550,169
422,920
2,124,116
Total voted
59,861
119,510
257,406
378,349
310,259
1,125,386
Turnout rate
24.1%
30.8%
50.1%
68.8%
73.4%
53.0%
Percent of ballots cast
5.3%
10.6%
22.9%
33.6%
27.6%
100%
Even in the last good midterm election for Iowa Democrats, voters over age 50 cast almost 60 percent of the ballots. Keep in mind that a lot of "Kennedy Democrats"–a reliable group of older supporters for decades–have died since 2006.
Turnout by age group, Iowa 2006 general election
Age
18-24
25-34
35-49
50-64
65 and over
total
Registered
239,189
334,664
531,808
485,029
390,771
1,981,464
Total voted
51,776
101,015
275,648
334,672
281,346
1,044,459
Turnout rate
21.6%
30.2%
51.8%
69.0%
72.0%
52.7%
Percent of ballots cast
5.0%
9.7%
26.4%
32.0%
26.9%
100%
Blum is a 63-year old man, while Finkenauer is a 29-year-old woman. Women candidates have performed well in many elections across the country this year, but Iowa has yet to elect a woman to the U.S. House–not for lack of trying by well-funded contenders in both parties.
Incidentally, earlier this year it appeared that Finkenauer could become the youngest woman ever elected to Congress. However, Alexandria Ocasio-Cortez is a few months younger and a lock for New York's fourteenth district after defeating Democratic incumbent Joseph Crowley in the June primary.
Final note: the latest figures from the Iowa Secretary of State's office show the 20 counties in IA-01 contain 162,660 active registered Democrats, 139,913 Republicans, and 186,753 no-party voters. That's about 6,000 more registered Democrats than shortly before the June primary; GOP registration numbers in the district have barely budged.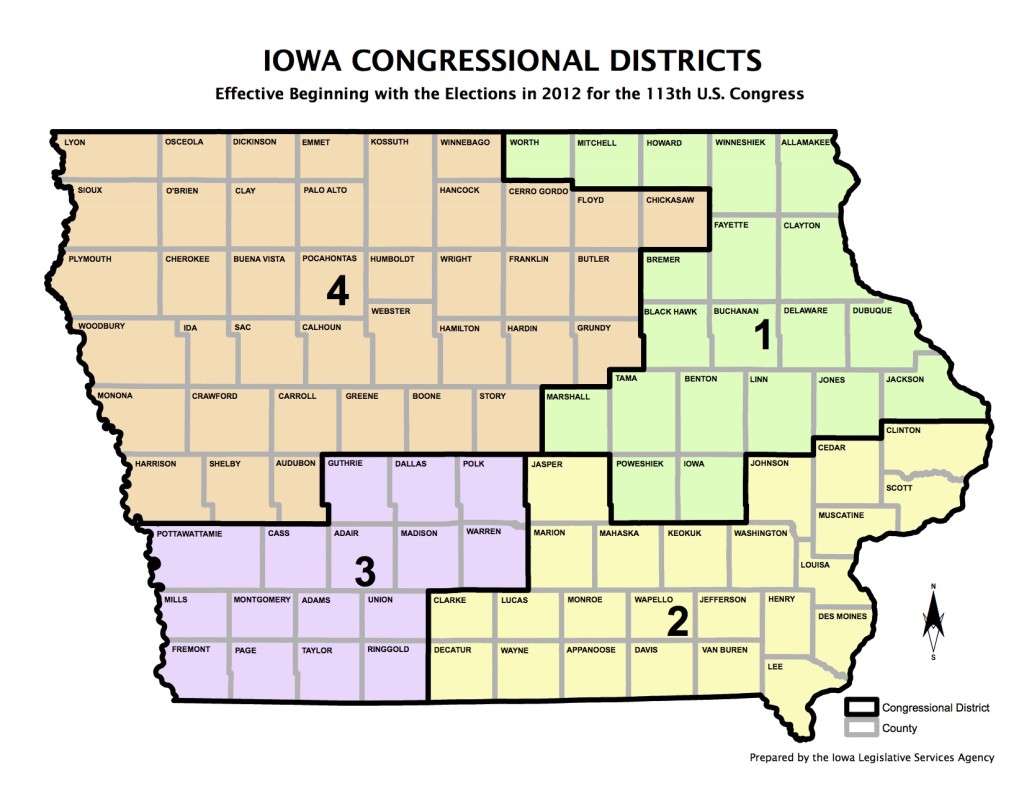 UPDATE: A reader in Linn County just received this taxpayer-funded mailing today, congratulating Blum for his efforts to obtain federal funding for a Cedar Rapids flood wall.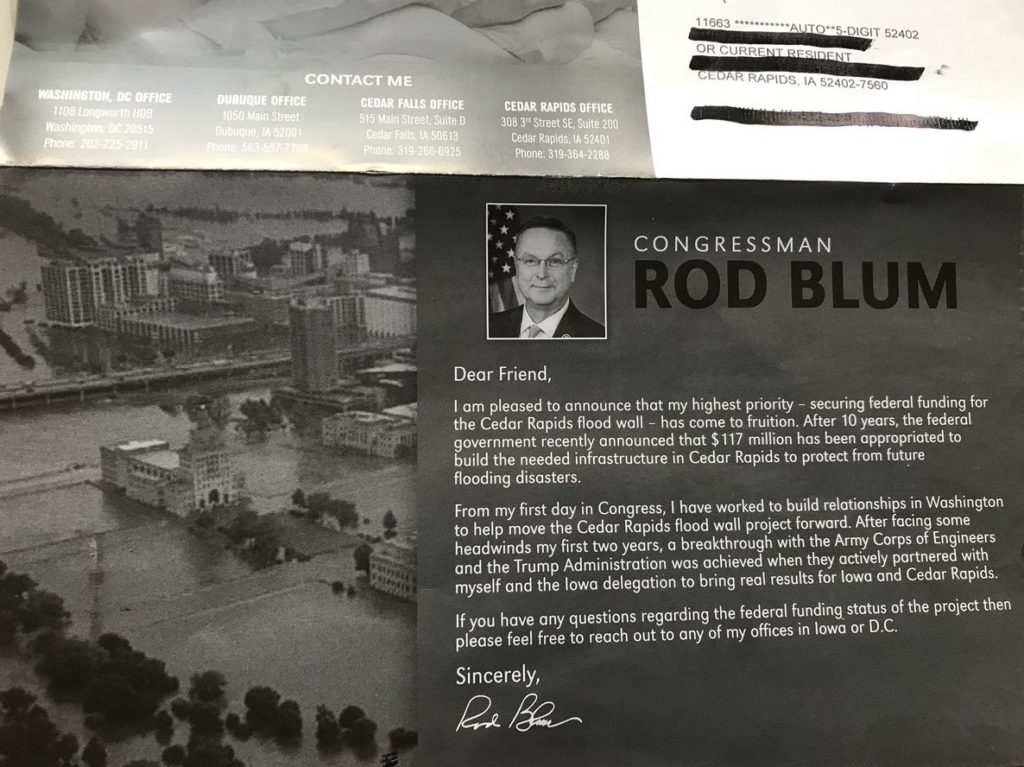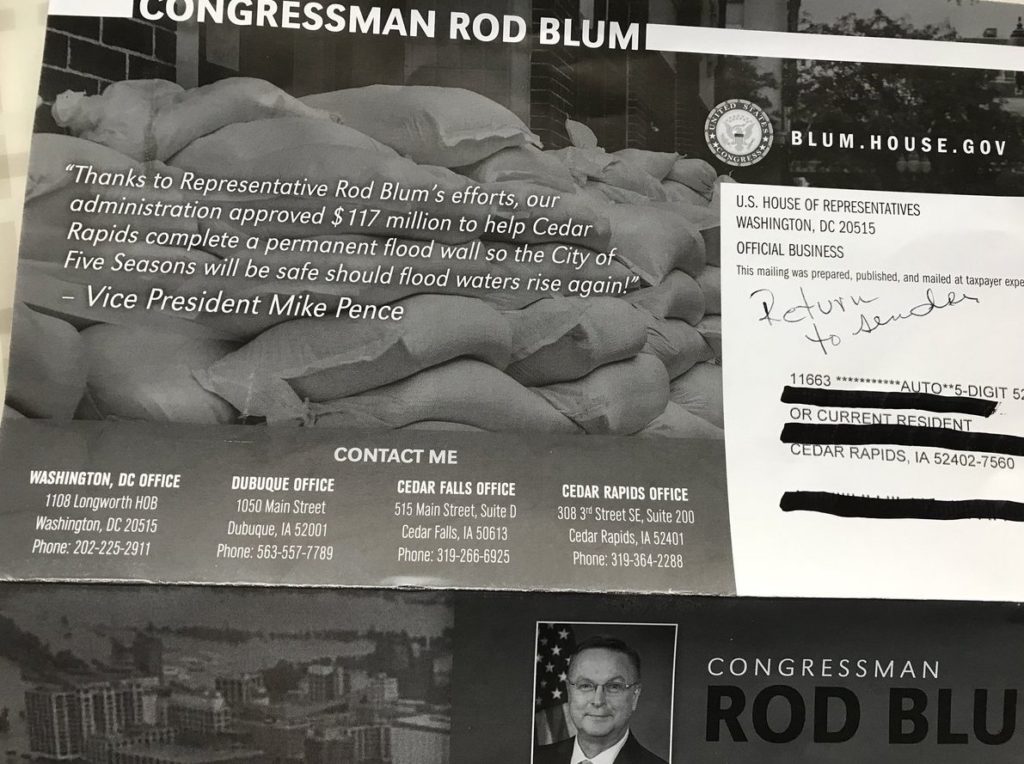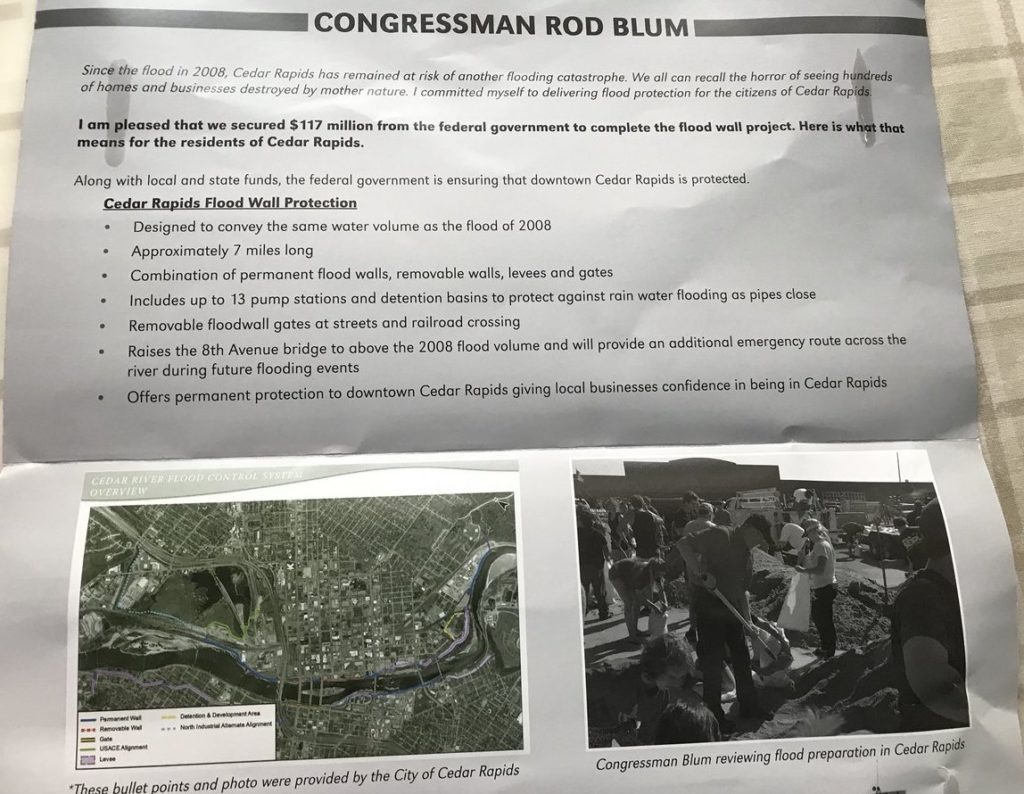 SECOND UPDATE: Here's another taxpayer-funded mailing, which many IA-01 voters received in July.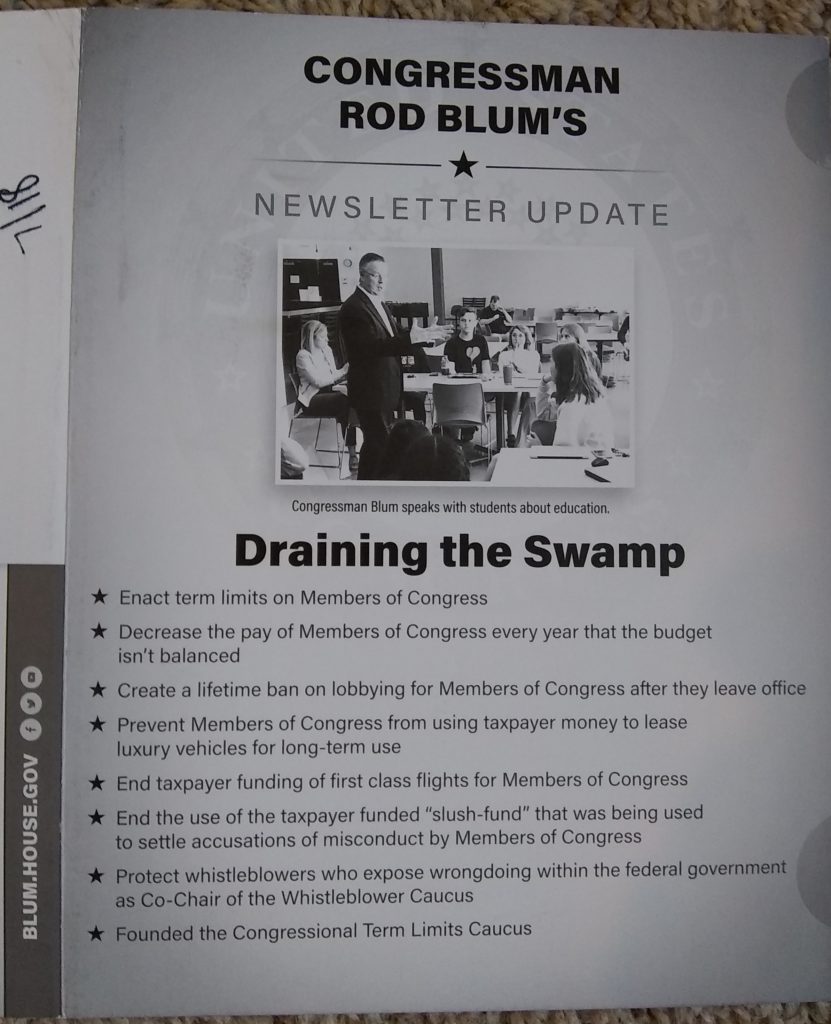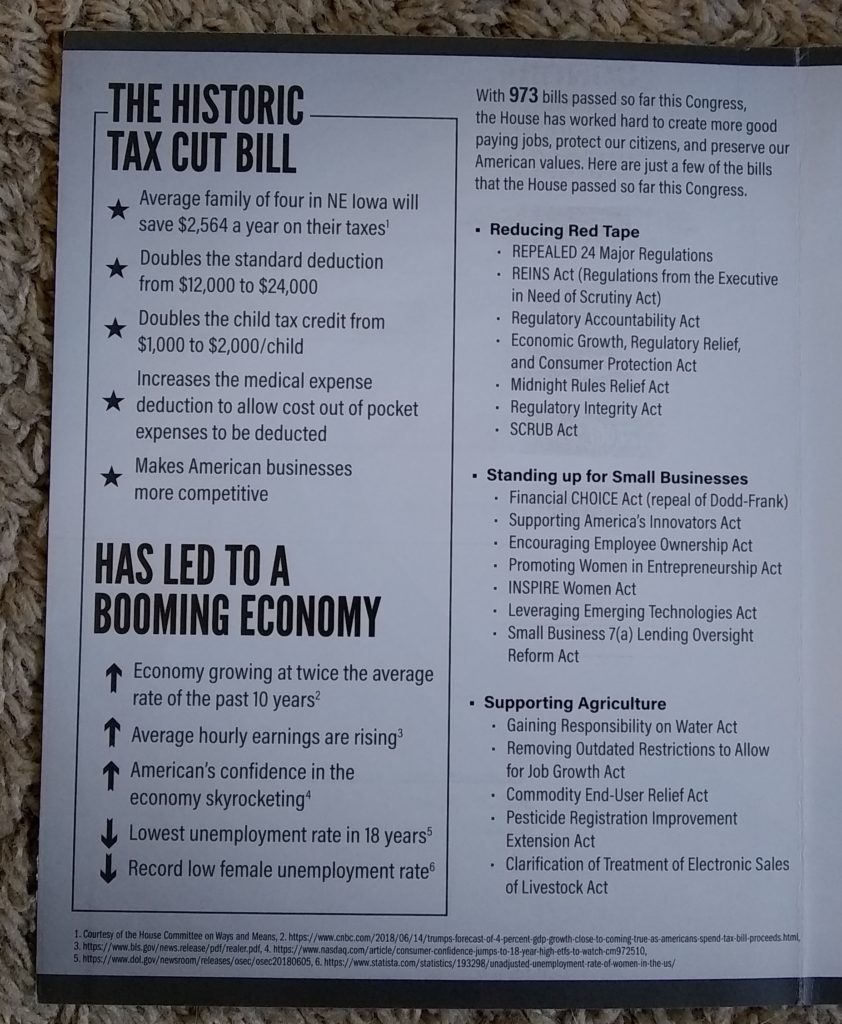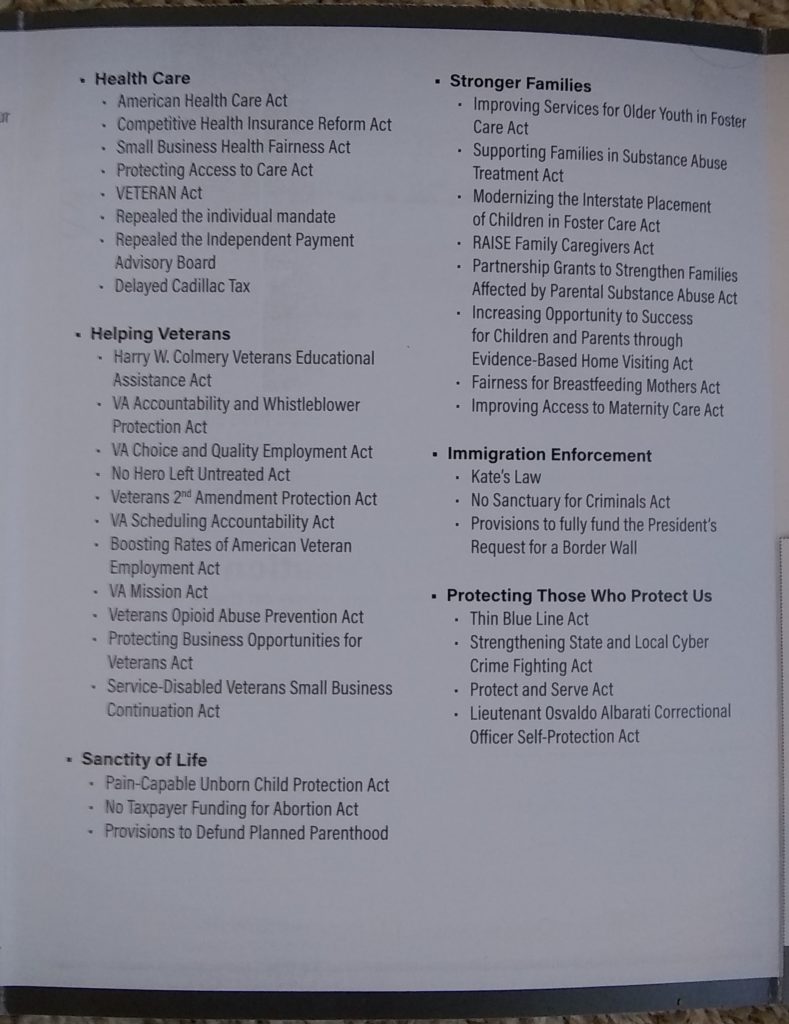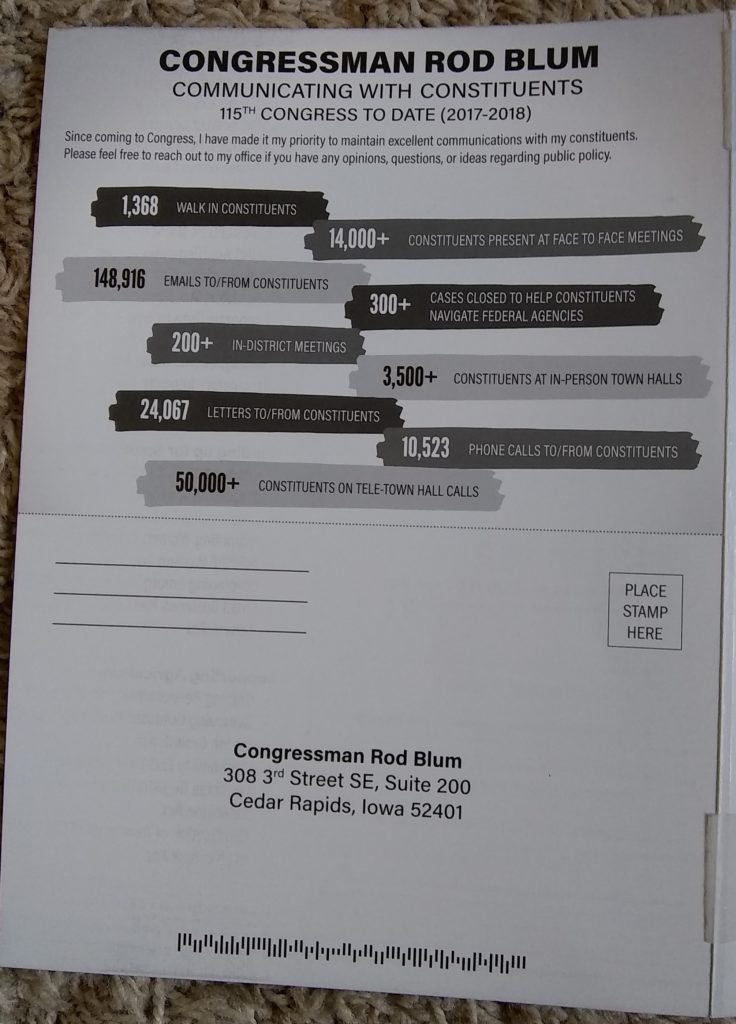 THIRD UPDATE: Finkenauer spoke at the Des Moines Register's Iowa State Fair soapbox on August 9. Blum's not on the schedule, indicating he declined the Register's invitation. He hasn't held a public town hall meeting in more than a year.
LATER UPDATE: Many Linn County residents received this taxpayer-funded mailing about the Cedar Rapids flood wall project on August 13. The front features a quote from Vice President Mike Pence giving Blum credit for the Trump administration's approval of federal funding.