Two of Iowa's four Congressional campaigns are among the most competitive U.S. House races in the country. On July 18, the Cook Political Report moved the third district contest from "lean Republican" to "toss up," saying Democratic challenger Cindy Axne "has developed into a serious threat" to two-term Republican incumbent David Young.
While it's always been clear IA-03 would be in play this cycle, insiders in both parties and election forecasters have generally seen Young as less vulnerable than GOP Representative Rod Blum. Iowa's first district has been widely acknowledged as a toss-up race for months. Even now, Young looks better positioned to survive a possible Democratic wave election than Blum.
Here's why Democrats and Republicans have grounds to feel optimistic about IA-03:

PROMISING SIGNS FOR THE CHALLENGER
Axne may already be ahead, despite being less well known than Young.
Axne won a three-way primary last month by a surprisingly large margin, taking around 58 percent of the vote. The Democratic base consolidated around her quickly, judging by partial results from an internal poll the Axne campaign released on July 16. Anzalone Liszt Grove surveyed 500 likely voters in the district between July 8 and 12 and found:
• Axne leads Young by 45 percent to 41 percent, with 14 percent undecided. Big advantages among women voters (those with and without a college degree) are driving her advantage.
• Axne has more room to grow her support than does Young.
o Among voters who know both candiates, Axne leads by a whopping 28 points (62% Axne / 34% Young / 4% undecided) despite them only leaning Democratic by 7 points in their party registration.
o Voters who are undecided in the Axne v. Young matchup lean Democratic by 27 points in an generic, unnamed ballot for Congress.
o Undecided voters have soured on Young, giving him a deeply negative job rating (22% positive / 40% negative).
• In a generic Congressional ballot, an unnamed Democrat leads an unnamed Republican by 47 percent to 38 percent.
• Young's job approval rating is 43 percent, with 47 percent disapproving of his work. (In general, approval ratings below 50 percent are considered a danger sign for an incumbent.) ALG found that 42 percent have a favorable impression of Young and 42 percent unfavorable.
I tend to view internal polls skeptically, but it's worth noting that neither the National Republican Congressional Committee nor GOP-aligned outside groups have released results lately from their own IA-03 surveys.
Democratic voter engagement is high, especially in Polk County.
IA-03 covers sixteen counties in central and southwest Iowa: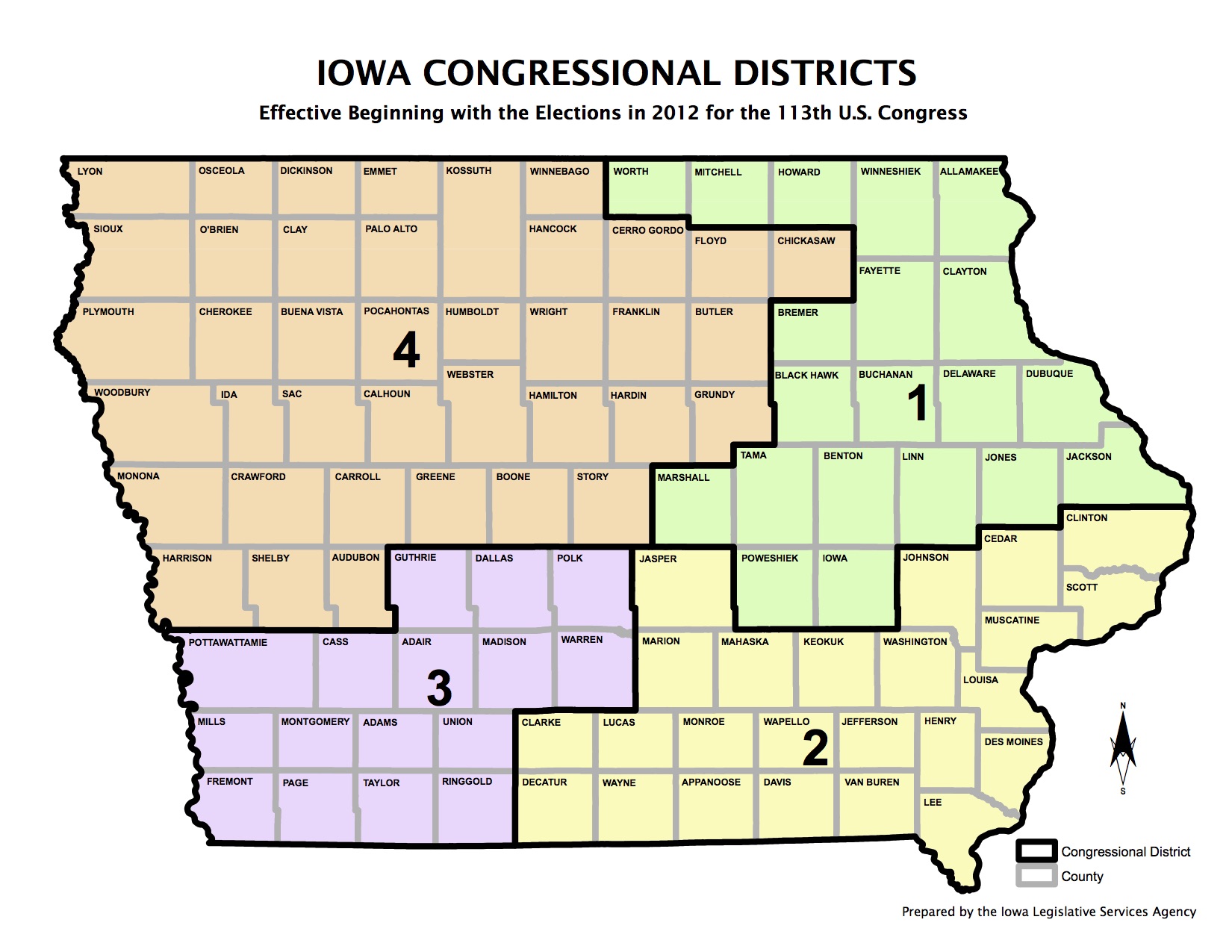 The latest figures from the Secretary of State's office indicate 169,208 active registered Democrats, 169,269 Republicans, and 161,798 no-party voters live in this Congressional district. That's a big jump for Democrats since before the June primary, when Republicans outnumbered Democrats by more than 9,000.
More than half of IA-03's registered voters live in Polk County, containing Des Moines and most of its suburbs. The path for any Democrat is straightforward: run up the score in Polk and don't get crushed everywhere else. Having grown up on the south side of Des Moines and raised a family in West Des Moines, Axne may be able to execute that more effectively than Young's previous opponents, Staci Appel (2014) and Jim Mowrer (2016).
Democratic turnout for last month's primary was strong statewide, but significantly higher in IA-03 than in the other Congressional districts. Massive participation by Polk County voters drove those numbers.
Axne out-raised Young in the second quarter.
Facing two well-funded primary rivals, Axne was unable to conserve her resources for the general election campaign. However, she was among 56 Democratic U.S. House candidates who raised more than the Republican incumbents in their districts during the second quarter. Axne's $657,000 haul is one of the highest ever quarterly fundraising numbers for a non-incumbent Iowa candidate for Congress.
She raised $129,390.18 between April 1 and May 16 and $528,115.83 during the remainder of the quarter, leaving an impressive $465,189.25 cash on hand as of June 30. Individual donors provided most of Axne's second-quarter intake; less than $100,000 came from political party committees or PACs. Click here and here for more details from her latest Federal Election Commission filings.
Spending by outside groups may neutralize Young's financial advantage.
As will be discussed below, Young had far more cash on hand at the end of June. But Axne can count on outside assistance. The Democratic Congressional Campaign Committee and the House Majority PAC spent more than $3.4 million combined opposing Young or supporting Mowrer during the 2016 cycle. Women Vote!, the super-PAC aligned with EMILY's List, will join those groups this year. Women Vote! has already invested more than $226,000 in supporting Axne before the primary.
In addition, the Not One Penny coalition has run multiple digital ads and television commercials targeting Young over his vote for the GOP tax bill late last year. That spending doesn't show up on FEC independent expenditure reports, because the Not One Penny spots do not explicitly urge Iowans to vote against the incumbent.
The swing to Donald Trump in IA-03 was not as pronounced as in eastern Iowa.
Iowa's huge shift toward Republicans was the story of the 2016 election. But voters in IA-03 didn't swing nearly as hard as those in the eastern half of the state. Trump carried Young's district by 48.5 percent to 45.0 percent; voters in IA-01 and IA-02 favored the GOP presidential nominee by comparable margins. But whereas Barack Obama had outpolled Mitt Romney in the IA-03 counties by 4 points in 2012, Obama had carried the first district by about 14 points and the second by about 13 points.
Likely factors: IA-03 has a higher concentration of voters in urban and suburban precincts as well as a higher share of adults with a college degree.
Young outperformed Trump in 2016 by about 5 points, so his fate is not necessarily tied to voters' attitude toward our historically unpopular president. But the last general election showed that Young's constituents aren't guaranteed to be more friendly to Republicans than are voters the eastern part of the state. That's a positive sign for Axne.
PROMISING SIGNS FOR THE INCUMBENT
Iowans generally re-elect members of Congress.
The last Iowan in Congress to lose his re-election bid was Democrat Leonard Boswell, who faced longtime GOP incumbent Tom Latham in the redrawn third district in 2012. The last Iowan to lose to a Congressional challenger was Democrat Neal Smith in the 1994 GOP landslide Republican Jim Leach in the 2006 Democratic wave. Even as Democrats lost many state legislative seats in 2010 and got wiped out in the governor's race, all three Democrats in the U.S. House (Bruce Braley, Dave Loebsack, and Boswell) won re-election that year.
Although midterm elections are often rough for the party in power, sitting members of Congress retain many advantages. They can send taxpayer-funded mailings and make official appearances in all corners of the district without billing the cost to the campaign. Young hasn't held many town-hall meetings over the past year, but he attends at least one event or visits some facility in every IA-03 county every month. Much of the time, he is not the focus. For instance, he may show up for a non-profit fundraiser or civic celebration and work the room for an hour or more. Blum hasn't been nearly as diligent about making personal contact with his constituents in IA-01.
Young has enough money to fund about three months of television commercials.
With no primary challenger, Young was able to build up a large war chest while spending little. He raised more than $538,000 during the second quarter, of which more than $250,000 came from a long list of corporate or conservative PACs and $179,531.29 was transferred from other committees. Young brought in only about $106,000 from other individual donors during the three-month period. As of June 30, he had $1,434,628.80 in the bank. See here and here for more details from the incumbent's second-quarter filings.
In a July 13 press release, Young's campaign said it had placed a $1 million television advertising buy, with the first commercial scheduled to go up in August. During the last cycle, Young launched his first tv ad during the Summer Olympics in August and stayed on the air more or less continuously through the November election.
Young's social media feeds have lately revived images from one of his 2016 commercials highlighting the varied jobs he held before his political career. The apparent strategy is to promote the candidate as likable and relatable.
I had many #jobs before becoming your Congressman – I was even a #painter. These jobs taught me the value of a dollar and how hard #Iowans take pride in their work. That's why I fought for #taxrelief that put more money in your #paycheck. pic.twitter.com/vXJwpaY5Gb

— David Young (@YoungForIowa) July 14, 2018
To my knowledge, Young has never attended a Trump rally and has wisely avoided having his picture taken with the president. Count on him to talk about Trump as little as possible this fall, though at least he mildly criticized Trump's behavior at a joint press conference with the Russian president this week. Blum dodged that controversy.
A "bottomless pit" of megadonor money may be available to Young.
The National Republican Congressional Committee and its leading aligned super-PAC, Congressional Leadership Fund, spent more than $3.7 million combined in IA-03 during the last cycle. Young probably can count on the same level of assistance, since he has not strayed from the party line in any important House vote. The super-PAC had more than $70 million in the bank as of June 30, which one Democratic strategist described as a "bottomless pit of money" that could "completely nullify any financial advantage Democratic candidates may get from their individual fundraising."
On the other hand, David Wasserman wrote yesterday for the Cook Political Report, "The NRCC and pro-GOP Congressional Leadership Fund will need to shoulder an enormous burden this fall," due to the large number of Democratic challengers who out-raised incumbents during the second quarter.
The CLF raised an impressive $51 million between April and June and has $71 million on hand. The NRCC had an additional $61 million on hand at the end of May. But outside groups pay higher rates than candidates for ads, and as March's special in PA-18 showed, there's no substitute for candidates communicating directly. Soon, Republican groups will need to decide which seats are worth the expense of trying to save.
I expect the IA-03 race to remain close to the end, but if Republican internal polling late in the game suggests Axne is pulling away, House leaders may cut Young loose.
Any relevant comments are welcome in this thread.
UPDATE: I should have mentioned that Libertarian Bryan Jack Holder will also be on the ballot in IA-03. He could become a factor in a close contest, having received nearly 4 percent of the vote in 2016 (Young won 53.4 percent, Mowrer 39.7 percent). In the 2010 election in IA-01, two third-party candidates received more votes than Democratic incumbent Braley's margin of victory over Republican Ben Lange.
SECOND UPDATE: A reader pointed out that the Congressional Leadership Fund announced in March 2017 that they were pulling out of IA-03 and would terminate a lease for a Des Moines office. At the time, Young was saying he opposed the American Health Care Act, the GOP plan to replace the Affordable Care Act. However, Young flipped shortly before the floor vote and helped send that bill out of the House. I believe all will be forgiven.