In this record-setting year for Iowa women candidates, the country's leading political action committee seeking to elect pro-choice, Democratic women has been more involved in Iowa primaries than ever before.
EMILY's List has long backed female Democratic candidates for state and federal offices in Iowa. But for the first time this year, the group's political arm has been the biggest outside spender in Iowa Congressional primaries.

WOMEN VOTE! FOR CINDY AXNE
The Women Vote! super-PAC, which is affiliated with EMILY's List, has reported $226,349 in independent expenditures supporting Cindy Axne in Iowa's third Congressional district. According to the Open Secrets website run by the Center for Responsive Politics, only two other federal candidates endorsed by EMILY's List this cycle have received more outside spending support.
EMILY's List didn't endorse a candidate in IA-03 until early April, about a week after it became clear that Theresa Greenfield would not appear on the Democratic primary ballot. That left only one woman in the three-way race. Axne's most recent Federal Election Commission filing shows EMILY's List contributed $5,000 to her campaign and helped her raise $6,046.02 from other donors.
Outside assistance from the group was much more significant than direct donations. In recent weeks, Women Vote! has spent heavily on Axne's behalf, first with digital advertising and then through six direct mail pieces. Bleeding Heartland published the first two mailings Women Vote! sent on behalf of Axne here. Four more have arrived since then, including this one. (Scroll to the end of this post to view the other three.)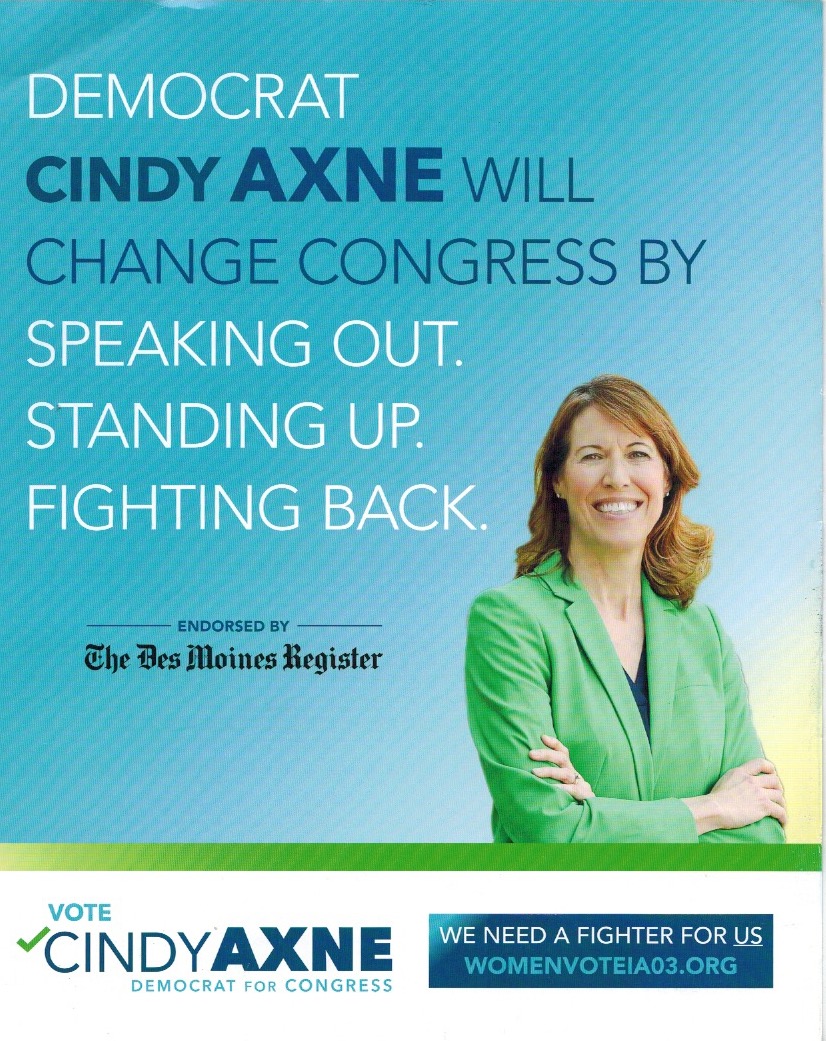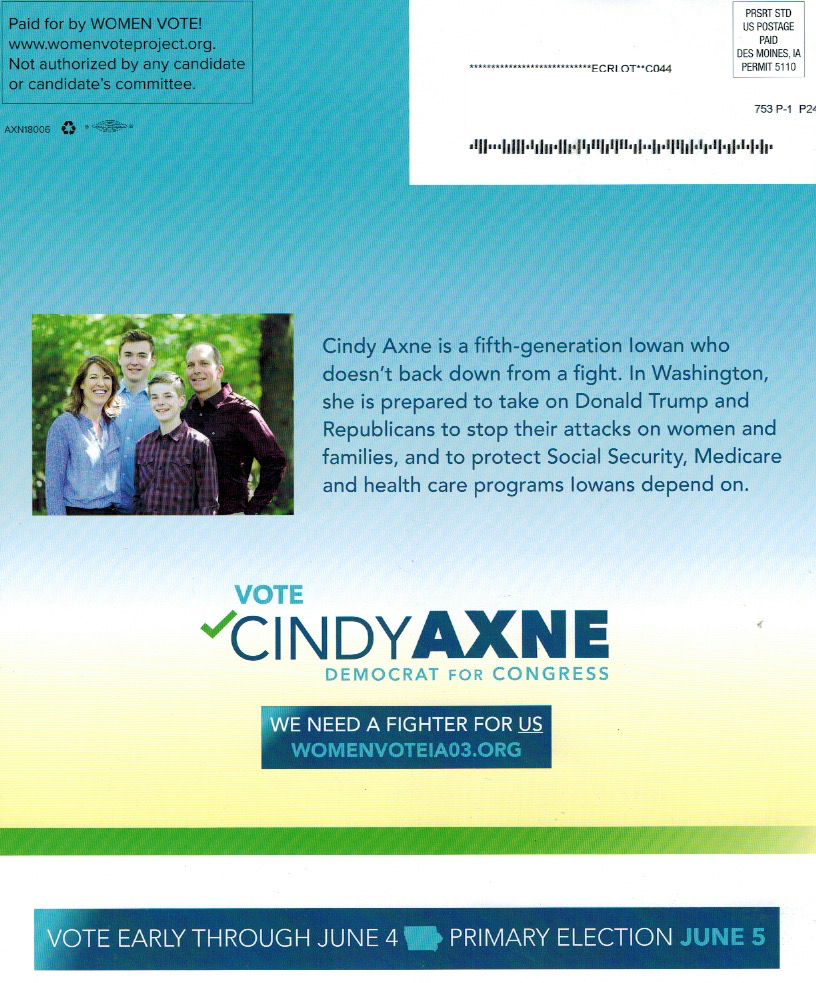 Here's one example of the digital advertising the EMILY's List affiliate has been running to support Axne. The target audience for this ad was Facebook users who are either interested in Bernie Sanders or are women between the ages of 18 and 49 living near Des Moines.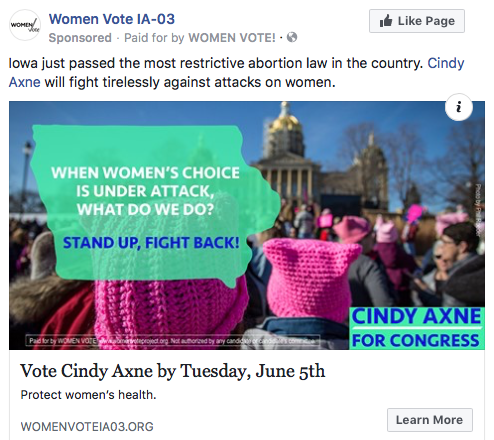 The Des Moines Register published its poll of the race on May 20, showing Axne one point behind Eddie Mauro, with more than a third of respondents undecided. At that time, I wondered whether EMILY's List would run television commercials for Axne. A few days later, Women Vote! reported spending $137,309 on a tv ad buy. That's a lot of money for Iowa air time with so little time left before the primary. I haven't found the video or script for this spot and haven't caught it when I've watched local news in Des Moines, but apparently it refers to Axne being ready to stand up to President Donald Trump.
Here's the breakdown of outside spending in IA-03 this cycle, courtesy of the FEC website. Women Vote! has spent more than four times as much for Axne as a newly-formed dark money group spent to promote Mauro. No group has made independent expenditures on behalf of Pete D'Alessandro.

If Axne narrowly wins this primary, support from EMILY's List may be the decisive factor. One wonders whether the group would have endorsed Greenfield or not intervened in IA-03 had two women qualified for the ballot here. The group didn't endorse in the Iowa governor's race, where the candidates include Andy McGuire and Cathy Glasson.
OTHER IOWA CONGRESSIONAL RACES
Abby Finkenauer, one of four Democrats seeking the nomination in Iowa's first Congressional district, was the first Iowan to land an EMILY's List endorsement this cycle. Since last June, the PAC has given $5,000 directly to Finkenauer's campaign and helped her raise tens of thousands of dollars from others. FEC filings show donors whose contributions were earmarked as coming through EMILY's List gave Finkenauer $2,130 during the second quarter of 2017, $3,938.00 during the third quarter, $40,479.70 during the fourth quarter, $15,691.68 during the first quarter of 2018, and $3,880 between April 1 and mid-May.
EMILY's List is also promoting Finkenauer online, along with Axne.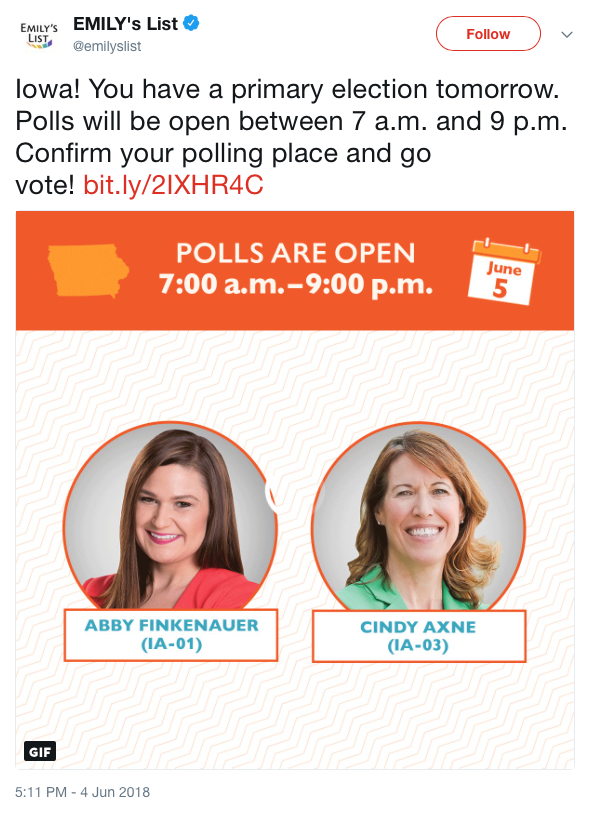 Finkenauer is heavily favored to win the IA-01 primary, with a big financial advantage over her competitors and support from many labor unions as well as the Democratic Congressional Campaign Committee. So it's not surprising no groups have made independent expenditures on her behalf before today.
That will change during the general election. Representative Rod Blum is considered one of the country's most vulnerable House GOP incumbents, and numerous outside groups will get involved in this race. Last cycle, independent expenditures in IA-01 exceeded $5.2 million. Women Vote! spent $176,849 opposing Blum and $149,000 supporting the 2016 Democratic nominee Monica Vernon.
EMILY's List did not endorse in Iowa's fourth Congressional district, where Leann Jacobsen is the only woman seeking the nomination (the other candidates are J.D. Scholten and John Paschen).
CANDIDATES FOR STATE OFFICES
Women Vote! hasn't made any independent expenditures for Iowa candidates aside from Axne, but EMILY's List is backing one statewide candidate and six women running for the state legislature.
Deidre DeJear, who is facing Jim Mowrer in the Democratic primary for secretary of state, received the EMILY's List endorsement in March. The PAC's federal fund has since donated $6,000 to her campaign.
When Denise O'Brien ran for Iowa secretary of agriculture in 2006, EMILY's List didn't get involved in her tough primary against Dusky Terry. O'Brien received three checks from EMILY's List totaling $6,000, but those contributions came in August, September, and October.
Last month, EMILY's List announced its support for six women who are running for the Iowa House or Senate. All are competing against men in Democratic primaries:
Janice Weiner (Senate district 37)
Mary Stewart (Senate district 41)
Ann Fields (House district 28)
Lori Egan (House district 56)
Molly Donahue (House district 68)
Lindsay James (House district 99)
Currently available filings on the Iowa Ethics and Campaign Disclosure Board's website don't show any donations from EMILY's List to any of those candidates. (The PAC donated $500 to Finkenauer and $500 to Liz Bennett before their 2014 Democratic primaries to represent House districts 99 and 65, respectively.)
EMILY's List has been promoting DeJear and the state legislative candidates on the group's website and social media.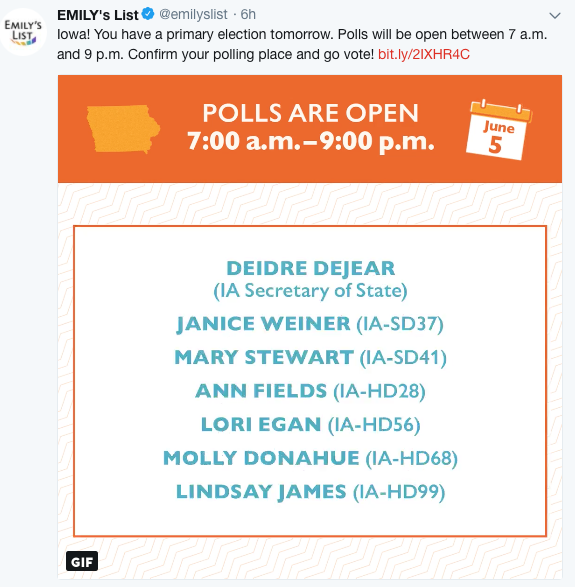 Senate district 37 and House district 99 should be easy general election wins, as they are open seats long represented by Democrats. Both parties are likely to target House districts 56 and 68 and Senate district 41, so depending on the outcome of the primary, look for more contributions from EMILY's List there.
EMILY's List has not endorsed in state legislative primaries where multiple pro-choice women are running, such as the Iowa Senate district 21 race between Connie Ryan and Claire Celsi, or where pro-choice women are unopposed on the primary ballot. However, I expect the group to financially assist several of the Democratic women running in GOP-held districts this fall, including Kristin Sunde in House district 42, Jennifer Konfrst in House district 43, and the winner of the House district 38 primary (either Heather Matson or Reyma McCoy McDeid).
Any relevant comments are welcome in this thread.
POST-ELECTION UPDATE: It was a great night for Democratic women candidates in Iowa.
-Finkenauer won the IA-01 primary with about two-thirds of the vote.
-Axne won the IA-03 primary with about 58 percent.
-Donahue won about 66 percent of the vote in House district 68.
-James won about 55 percent of the vote against two rivals in House district 99.
-Fields won nearly 82 percent of the vote in the open House district 28.
-Egan won about 67 percent of the vote in the open House district 56.
-Stewart took about 58 percent in the open Senate district 41.
-DeJear narrowly won the secretary of state race.
Of the Iowans endorsed by EMILY's List, only Janice Weiner lost, but she was up against an unusually strong candidate in Zach Wahls.
More mailings from Women Vote! to Democrats in IA-03 in late May and early June (the group's first two mail pieces are at the end of this post):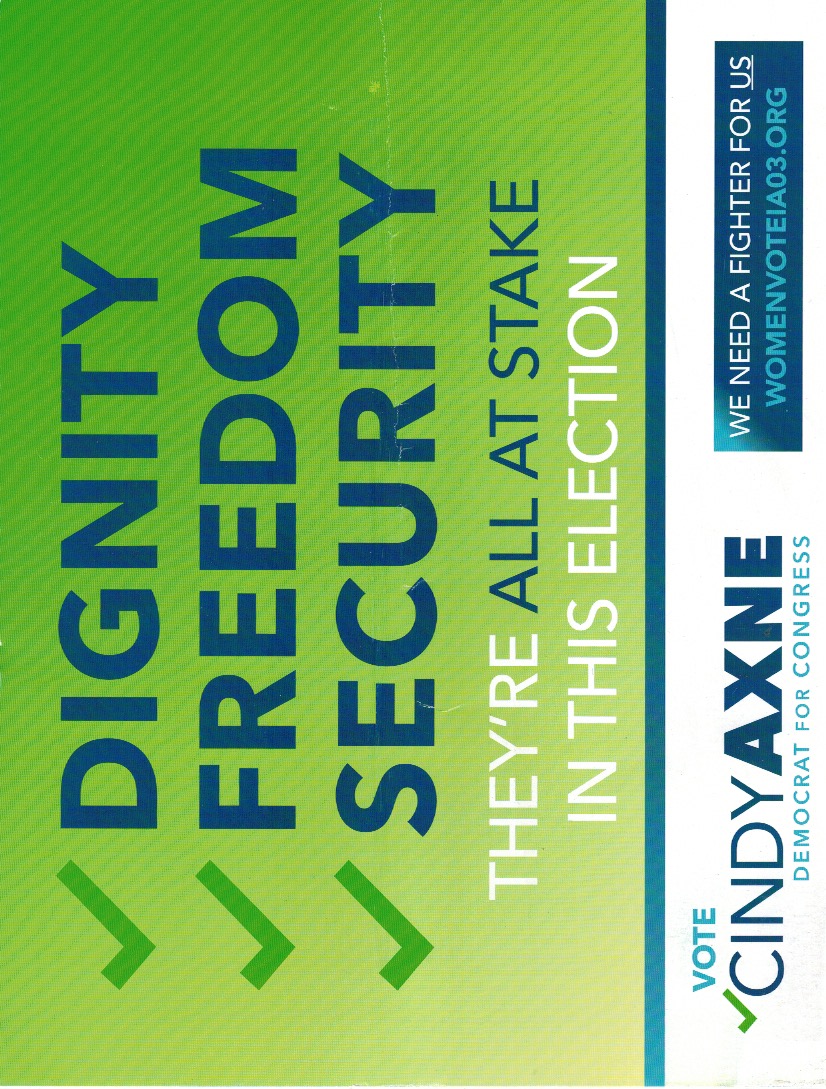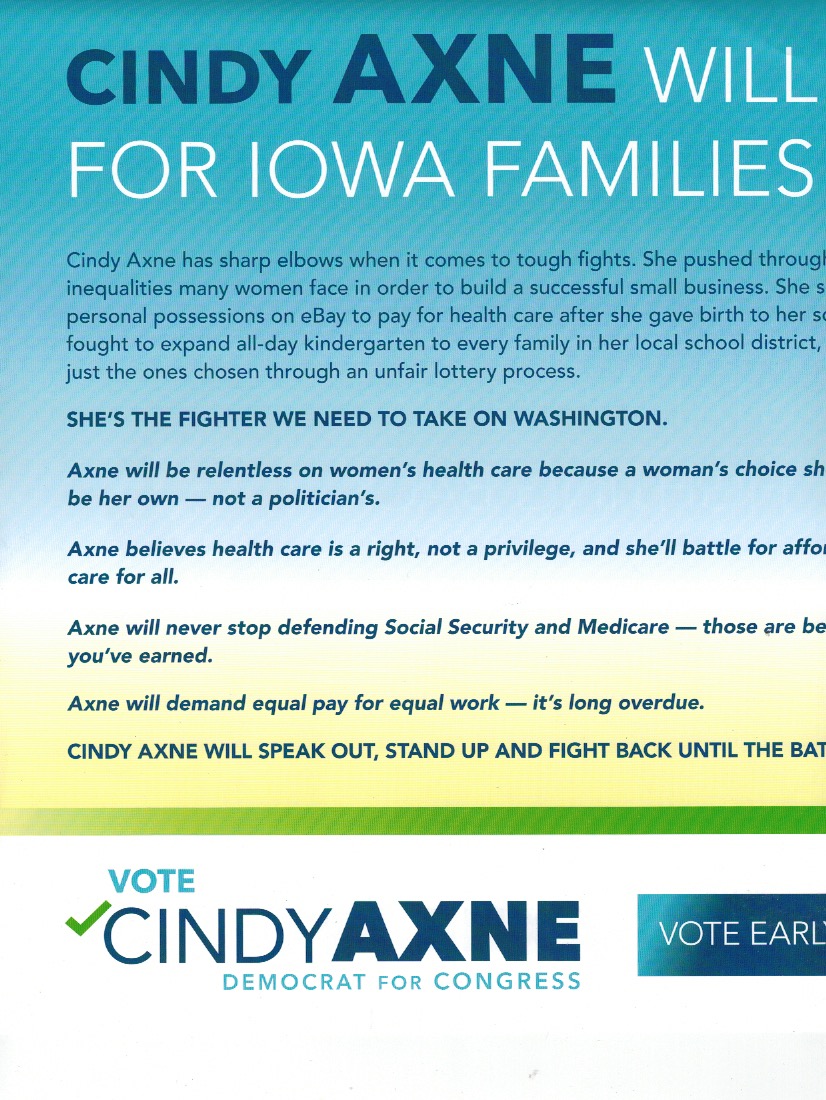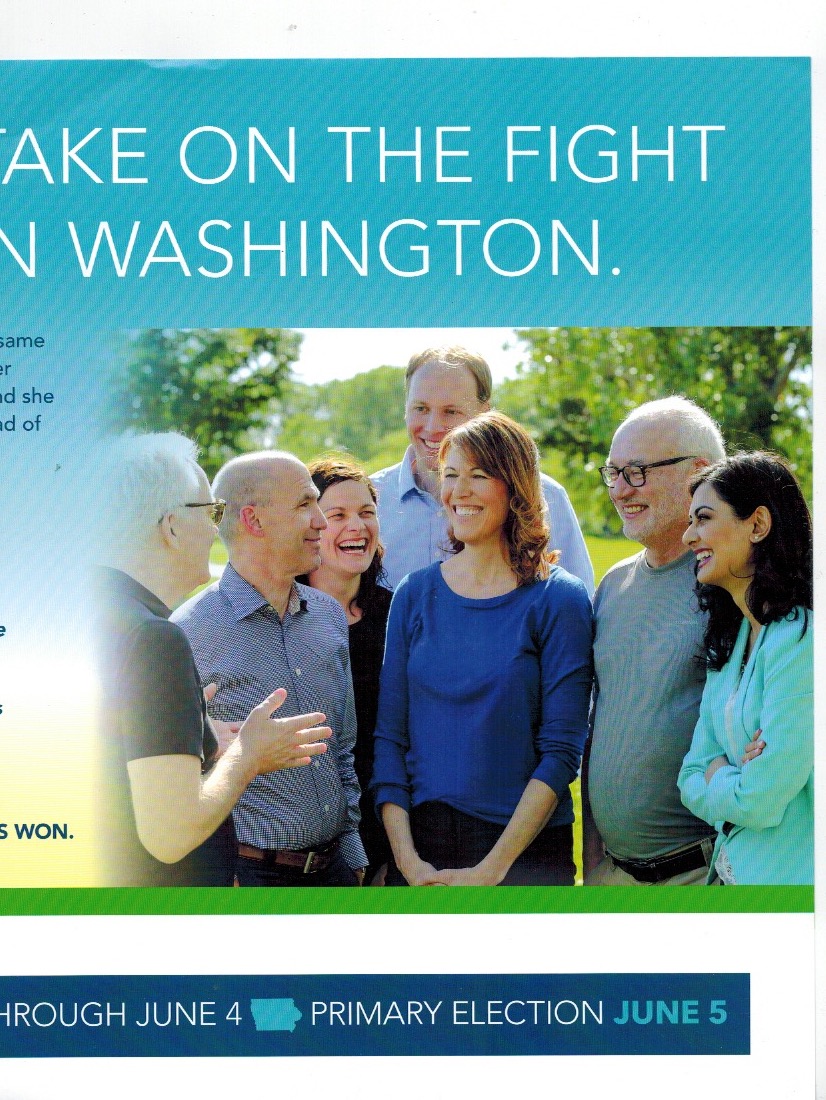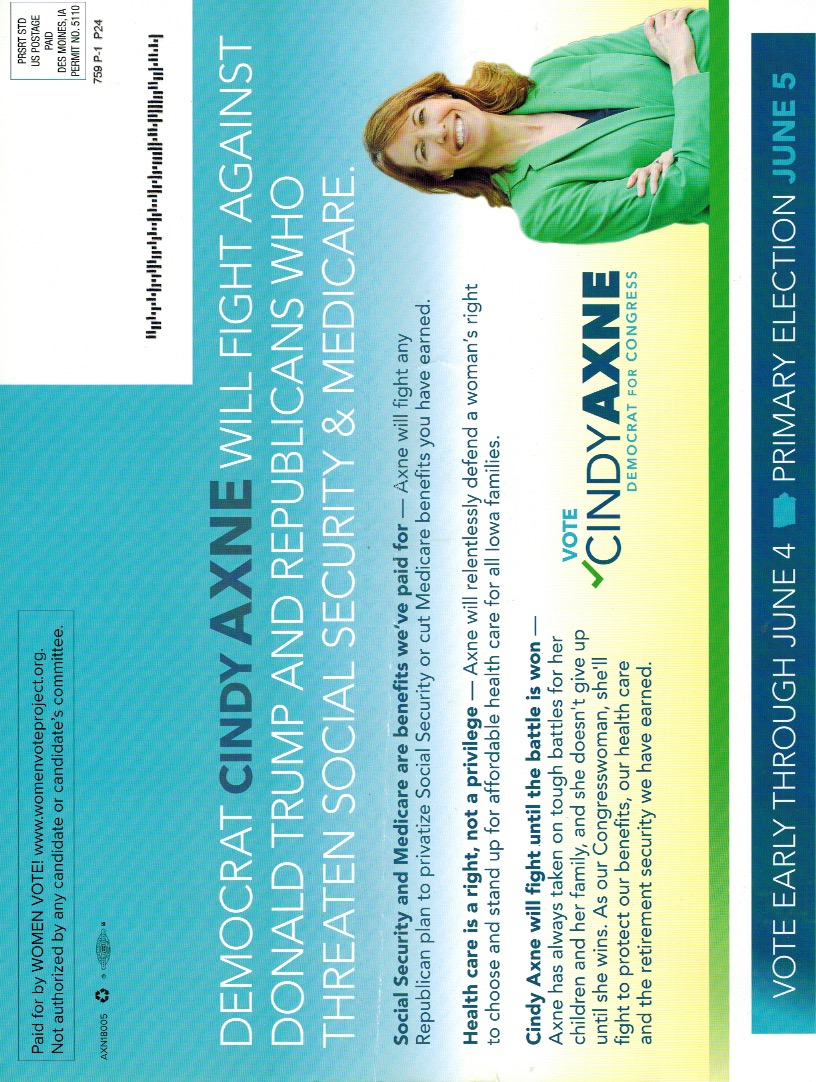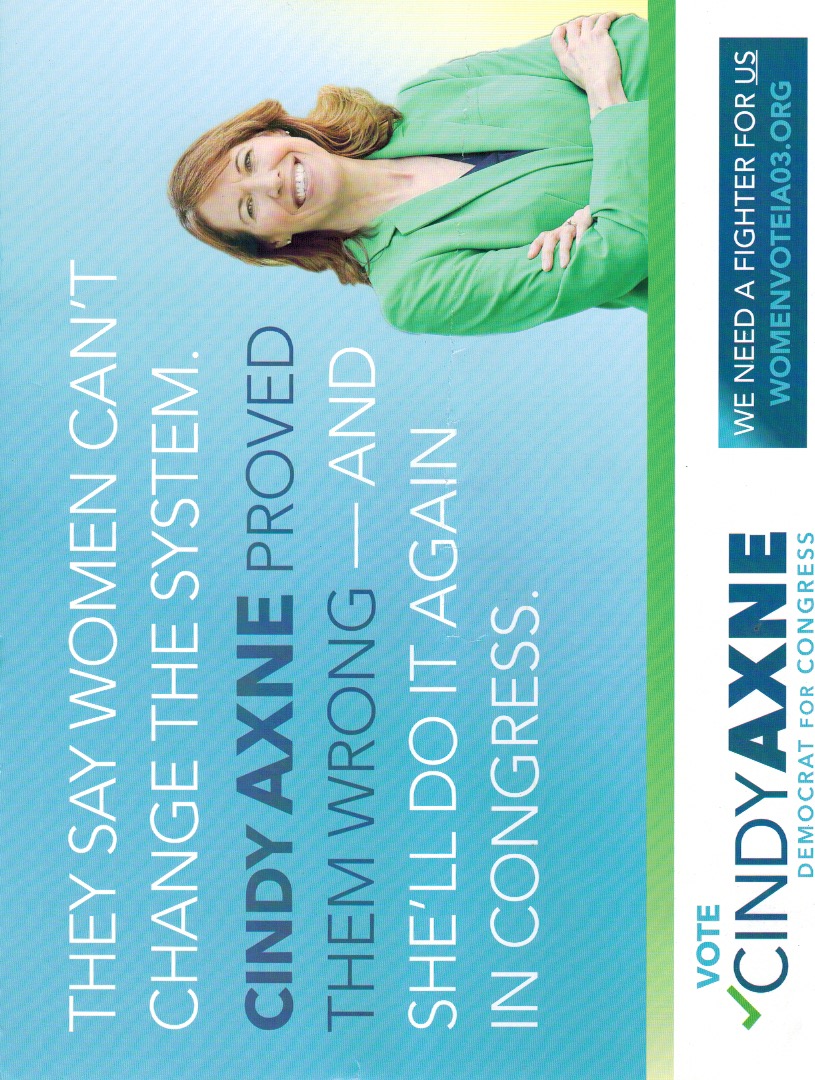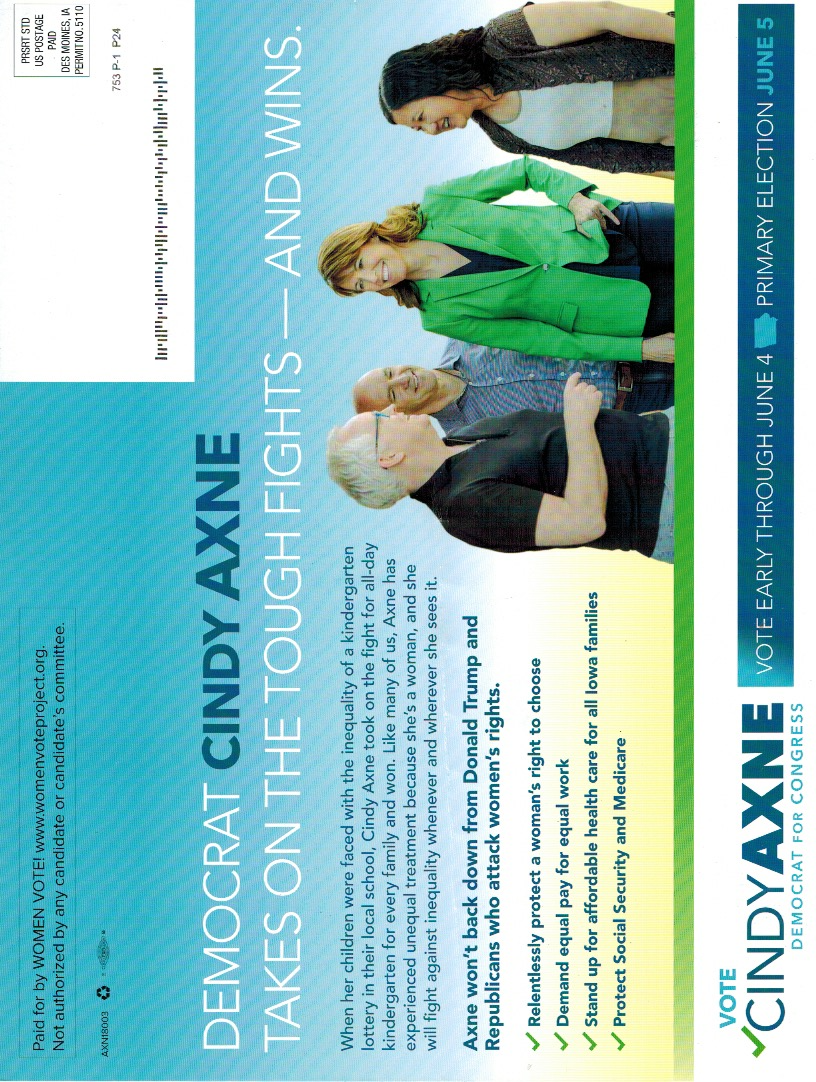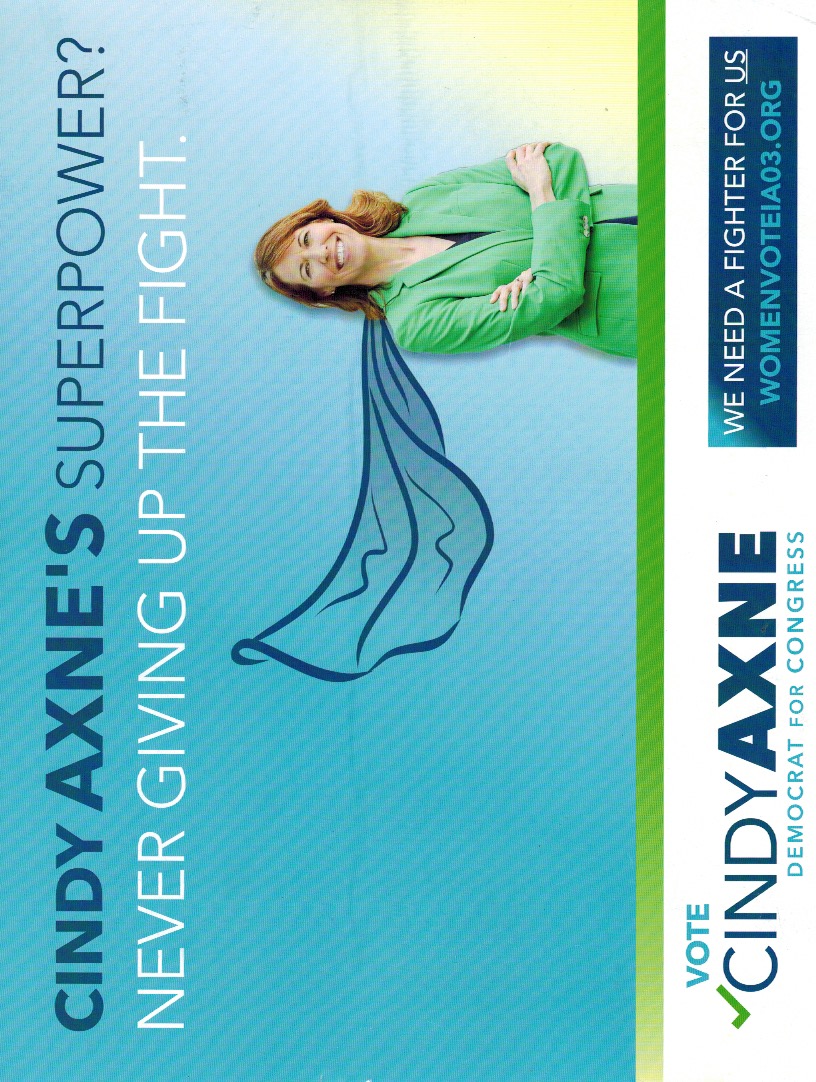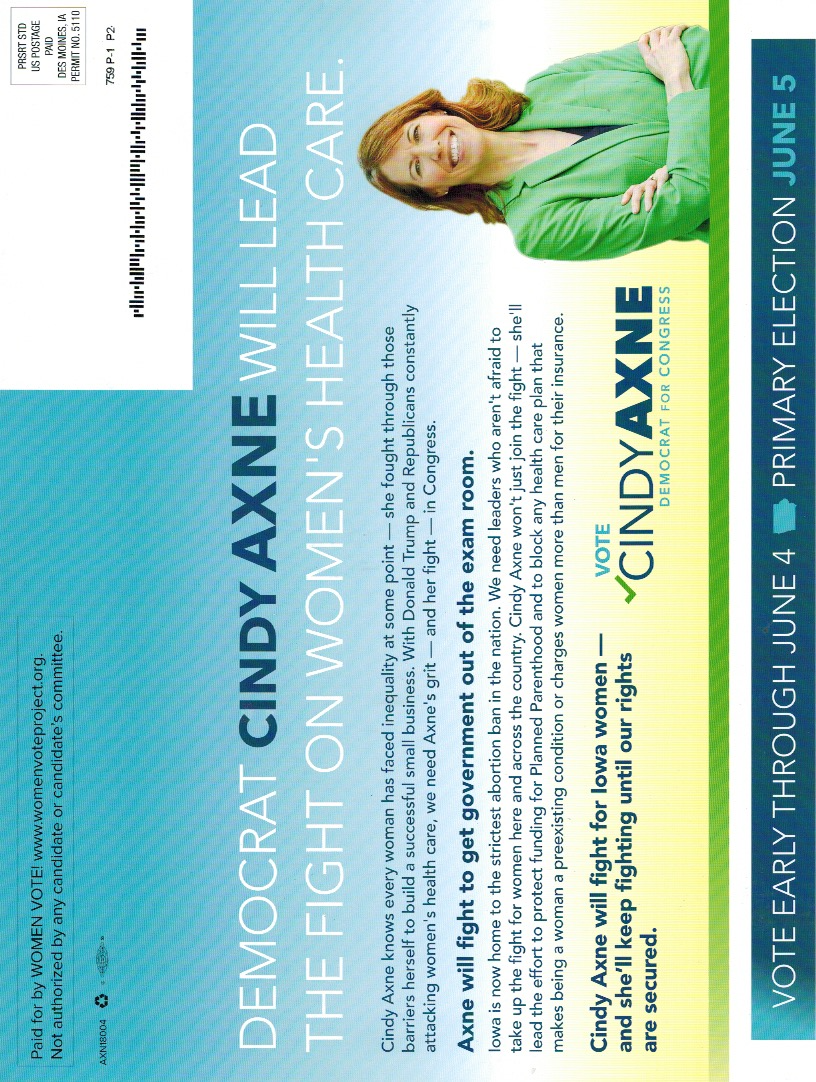 Top image: One of six mailings the independent expenditure arm of EMILY's List has sent to Democratic voters in Iowa's third Congressional district.