Iowa's third Congressional district Democratic primary has no clear front-runner, according to the first public poll of the race by Selzer & Co for the Des Moines Register and Mediacom. If the June 5 election were held today, 27 percent of respondents would support Eddie Mauro, 26 percent Cindy Axne, 11 percent Pete D'Alessandro, 10 percent "none of these/someone else/would not vote," and 26 percent unsure/refused to answer.
Mauro has the highest name recognition in this field--not surprising, since he comes from a well-known Polk County political family and began advertising on Des Moines television stations in mid-April, about two weeks before Axne and D'Alessandro did. Selzer found 42 percent of respondents had a favorable view of Mauro, 13 percent unfavorable, and 46 percent didn't know enough to have an opinion, William Petroski reported for the Des Moines Register today. The comparable numbers for Axne were 33 percent favorable, 8 percent unfavorable, 59 percent unsure, and for D'Alessandro, 22 percent favorable, 10 percent unfavorable, 68 percent unsure.
I have no idea who will win the nomination. Five questions came to mind after reading Petroski's write-up.

Does this survey sample reflect the likely primary voter universe?
Ann Selzer is widely regarded as one of the best pollsters in the business. That said, it is harder to identify likely primary voters than it is to identify those who will vote in a higher-turnout general election. Here's the Register's methodological note on the survey. I've put a few important passages in bold.
The Iowa Poll, conducted May 13-16 for the Des Moines Register and Mediacom by Selzer & Co. of Des Moines, is based on telephone interviews with 400 Iowans ages 18 or older in the 3rd congressional district who say they will definitely vote or have already voted early in the Democratic primary this June.

Interviewers with Quantel Research contacted 1,326 households with randomly selected landline and cell phone numbers supplied by Survey Sampling International. Of the 400 likely voters interviewed, 143 3rd district respondents were pulled from the statewide poll; the remaining 257 respondents were collected via a 3rd district oversample. Interviews were administered in English. Responses were adjusted by age and sex to reflect the general population based on recent census data.

Questions based on the subsample of 400 likely Democratic primary voters have a maximum margin of error of plus or minus 4.9 percentage points. This means that if this survey were repeated using the same questions and the same methodology, 19 times out of 20, the findings would not vary from the true population value by more than plus or minus 4.9 percentage points.
Asking people if they have voted or will definitely vote is a typical screen for a poll. But I question whether a random digit dial method is the best way to find a representative sample. Lots of people who get a phone call out of the blue may say sure, I'll vote in the upcoming election. If a campaign were commissioning this poll, they would probably draw respondents from a list of registered voters, with a heavy emphasis on those who have voted in a Democratic primary before.
I expect unusually high turnout (for a primary) on June 5 because of the competitive governor's race as well as this one. Still, the majority of IA-03 residents who cast ballots will be registered Democrats or independents who have voted in at least one relatively recent Democratic primary.
I sought clarification from Des Moines Register staff about this sentence: "Responses were adjusted by age and sex to reflect the general population based on recent census data." Is Selzer projecting that the universe of IA-03 Democratic primary voters will reflect the demographics of the general population? That would be an odd assumption, since women tend to turn out more reliably than men, and older people are much more likely to vote than younger people. Don't take my word for it: look at the statewide statistical report on Iowans who participated in the 2016 Democratic primary.
Selzer responded via e-mail to explain, "we were not projecting what the universe of IA-03 Democratic primary voters would be at all."
We collect demographic information on all contacts as we screen for likely Democratic primary voters—not just those who pass our screen. For both the governor's and CD3 races, that was well over 1,000 contacts. This approach yields a general population sample to compare to U.S. Census data. Once we adjust that larger pool of contacts, we extract the likely voters, so if a particular demographic group is more likely than average to report they will vote, they will show up in our smaller voter sample in above average numbers. The opposite is true as well, of course.

I believe in weighting to known populations—in this case, the general population. We do not know the makeup of the population who will cast votes in the Democratic primary, so we do not make assumptions about what that demographic profile will be. The best predictor of future behavior is past behavior—until there is change. We let our data tell us about any such change.
Will EMILY's List do an independent expenditure for Axne?
Of the organizations supporting Axne's candidacy, only one is in a position to spend significant resources for her during the next two weeks: EMILY's list. The political action committee promoting pro-choice Democratic women around the country endorsed Axne last month. EMILY's List helps all of their favored candidates raise money from the group's huge national donor base. Sometimes the PAC goes further, funding direct mail or television commercials.
The media page of Axne's website includes an unsubtle message to supporters about points "voters need to hear on TV":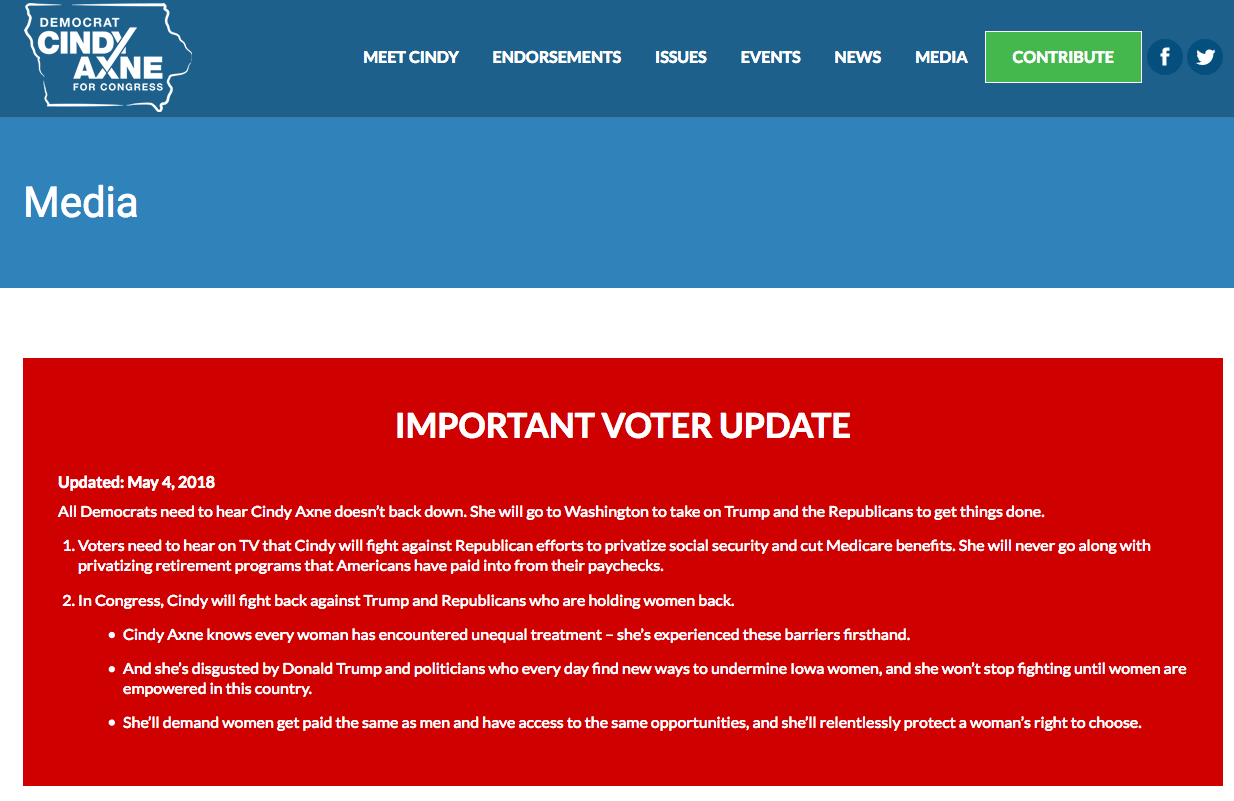 An earlier version of that page, which was online before May 4, was clear about the kind of help Axne could particularly use: "Democrats in Omaha will be unlikely to have heard about Cindy."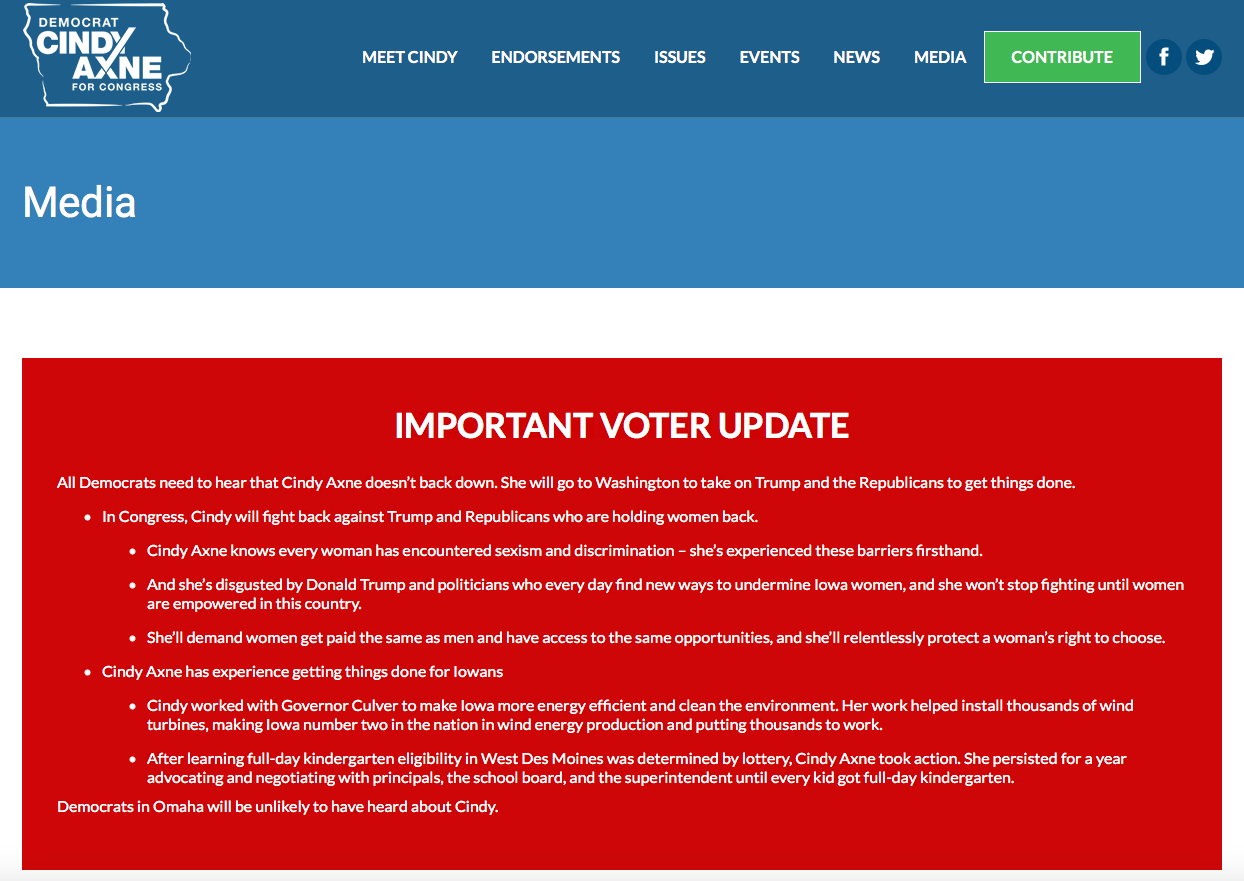 Up to now, Axne and Mauro have been running tv ads only in the Des Moines market. D'Alessandro is on the air in Omaha as well, which reaches the Council Bluffs area and several other southwest Iowa counties.
If the Selzer poll is accurate, Axne trails Mauro on name recognition. An outside group could do a lot to raise her profile with an independent television buy.
UPDATE: Kristen Hernandez of EMILY's List responded to my request for comment on May 21: "At this point, WOMEN VOTE! – our independent expenditure arm – has only launched mail and digital programs in support of Cindy Axne." The Open Secrets database shows $53,787 in spending for Axne by the Women Vote! super-PAC as of May 21.
SECOND UPDATE: A piece from Women Vote! arrived in my mailbox on May 21. Added the images at the end of this post.
Will name ID be the deciding factor for Mauro?
Mauro had the most cash on hand going into the last two months of the campaign, because of his capacity to self-fund. (He had loaned his campaign $300,000 as of March 31.) As mentioned above, he has had television commercials running on broadcast and cable networks for a full month. Many Democratic voters have already received two glossy mailers from his campaign, which Bleeding Heartland posted here. The Selzer poll indicates Mauro's early investment paid off; although 46 percent of respondents didn't know enough about him to express an opinion, he's still better-known than his rivals.
Mauro presumably entered this race with higher ID than Axne or D'Alessandro. He's a longtime coach who has been involved in many central Iowa causes. He campaigned energetically on the south and west sides of Des Moines during his unsuccessful 2016 Democratic primary challenge to State Representative Jo Oldson. It's also possible that some poll respondents who have a favorable impression of Mauro were confusing him with Polk County Supervisor John Mauro or former Secretary of State Michael Mauro. Whatever the reason, being the most familiar name on the ballot can't hurt a candidate in a competitive primary.
Has D'Alessandro defined himself too strongly as Bernie's guy?
In his pitches to area Democrats, D'Alessandro often highlights his ability to bring both wings of the party together. Although he was a top staffer for Bernie Sanders before the 2016 Iowa caucuses, his endorsers include his counterpart on Hillary Clinton's campaign.
Nevertheless, D'Alessandro is campaigning like a Berniecrat. His key issues are the same ones that drove the Sanders campaign: a $15 minimum wage, Medicare for All single-payer health care, campaign finance reform, tuition-free college. Sanders headlined D'Alessandro's biggest rally, narrates his opening tv ad, and is featured prominently in the Congressional candidate's direct mail.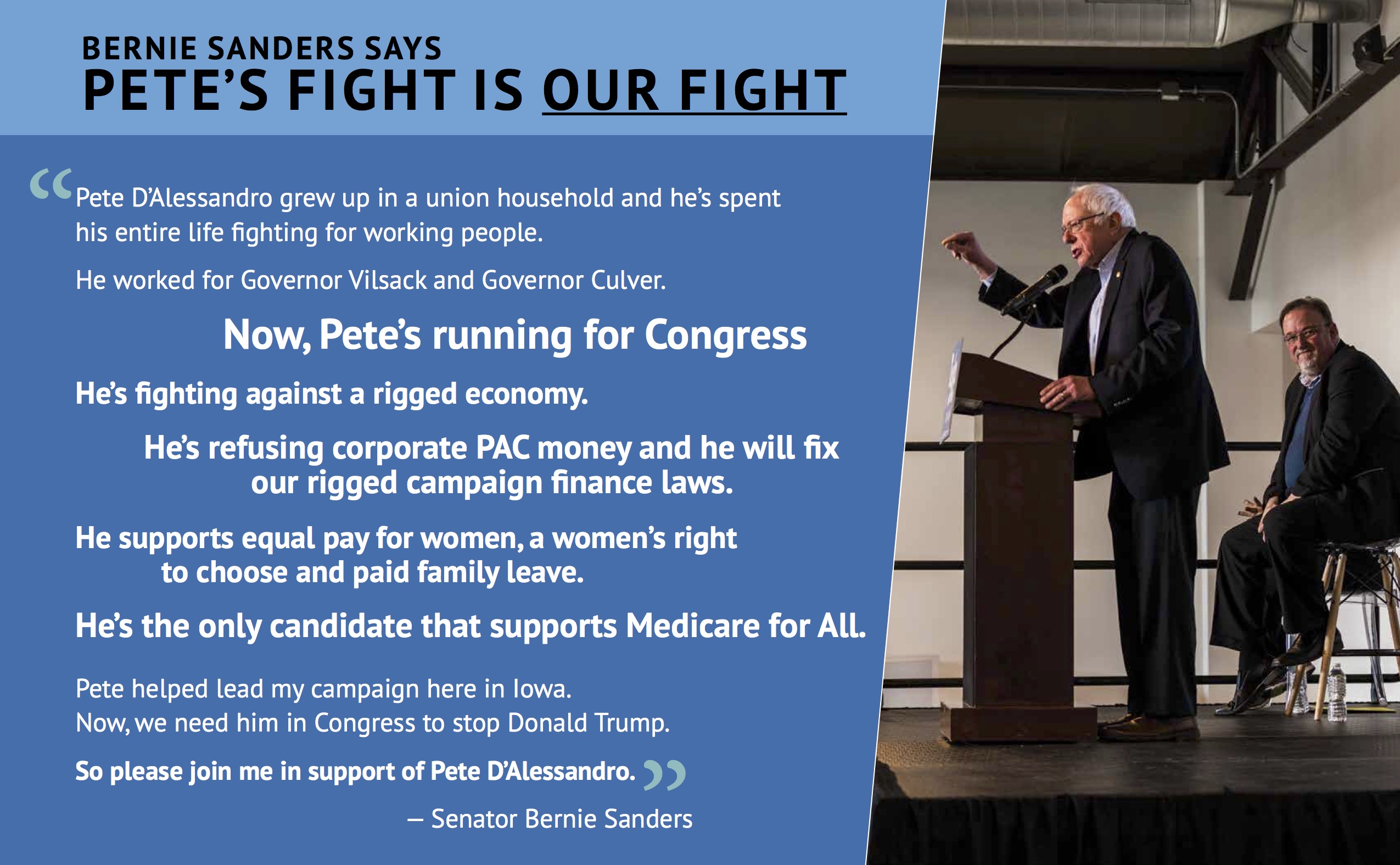 Sanders did well in some parts of IA-03, especially the Council Bluffs area, in the 2016 caucuses. But Clinton carried Polk County (where about two-thirds of the district's Democratic voters live). Many suburban precincts were strong territory for Clinton, and primary turnout may be higher among college-educated, well-off voters than among working-class Democrats.
Pat Rynard is skeptical that D'Alessandro's support is as low as the 11 percent the Des Moines Register poll indicated. I also found that result surprising. If D'Alessandro does finish well behind the others, the culprit could be as simple as lower name recognition. He's a first-time candidate who hasn't been on the air as long as Mauro and hasn't held as many meet and greets as Axne. (She will have done 100 of them by primary election day).
Alternatively, leading with his biggest asset (alignment with Bernie) may have diminished D'Alessandro's appeal to Democrats who favored a different presidential candidate in 2016.
Will anyone go negative?
A few weeks ago, the Axne campaign had a poll in the field testing positive and negative statements about all of the Democrats. Rynard transcribed that questionnaire at Iowa Starting Line.
My gut feeling is the candidates will focus on getting their own case in front of more voters, rather than spending money to criticize a primary rival. A two-way race is a zero-sum game, so raising doubts about candidate A likely helps candidate B. But an attack ad could backfire in a three-way race, driving voters to candidate C.
Any comments about the IA-03 campaign are welcome in this thread. Voters who want to learn more about all the candidates can read or listen to recent versions of their stump speeches here. At the College and Young Democrats forum earlier this year, all the candidates explained why they believe they are are best positioned to beat two-term Republican incumbent David Young.
UPDATE: Here's the direct mail paid for by Women Vote! (the super-PAC aligned with EMILY's List). Front: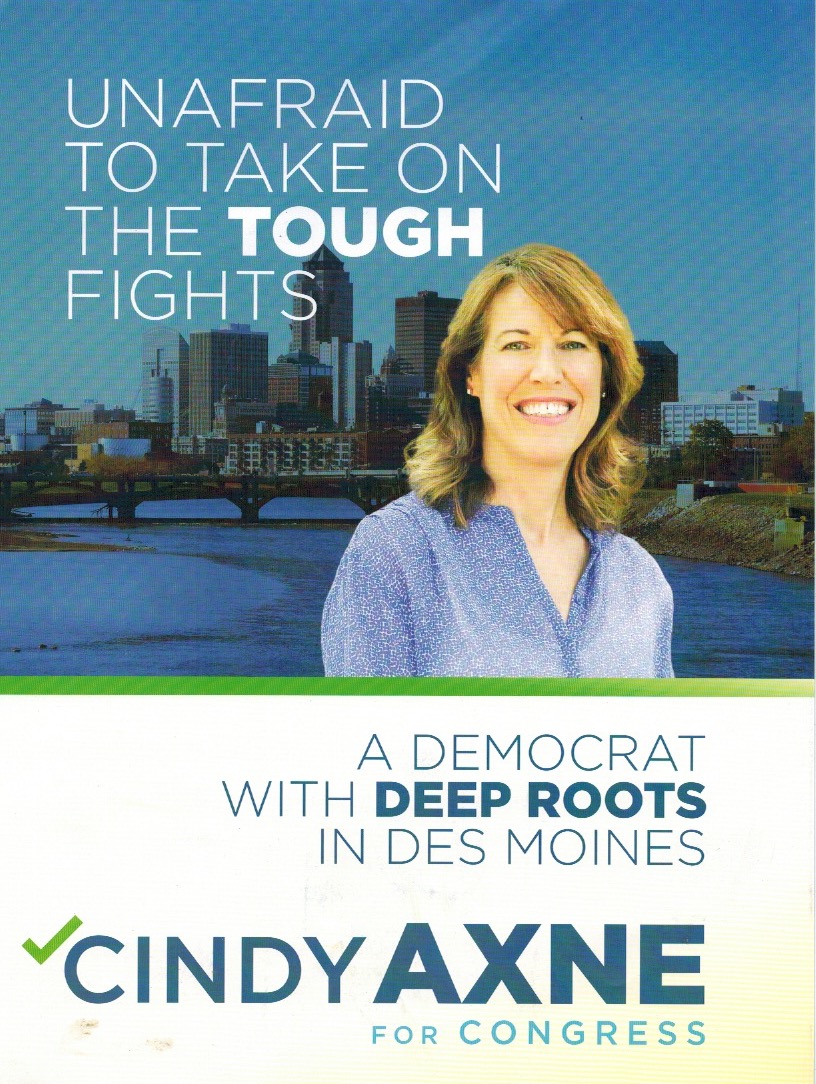 Interior: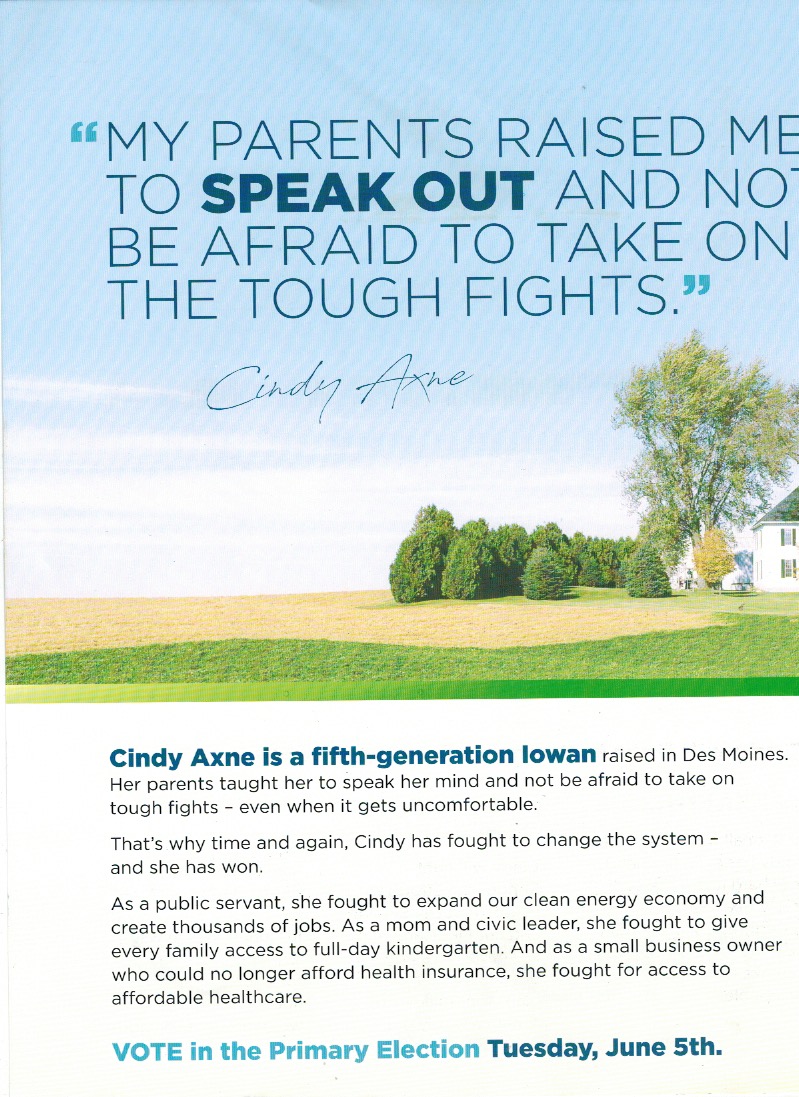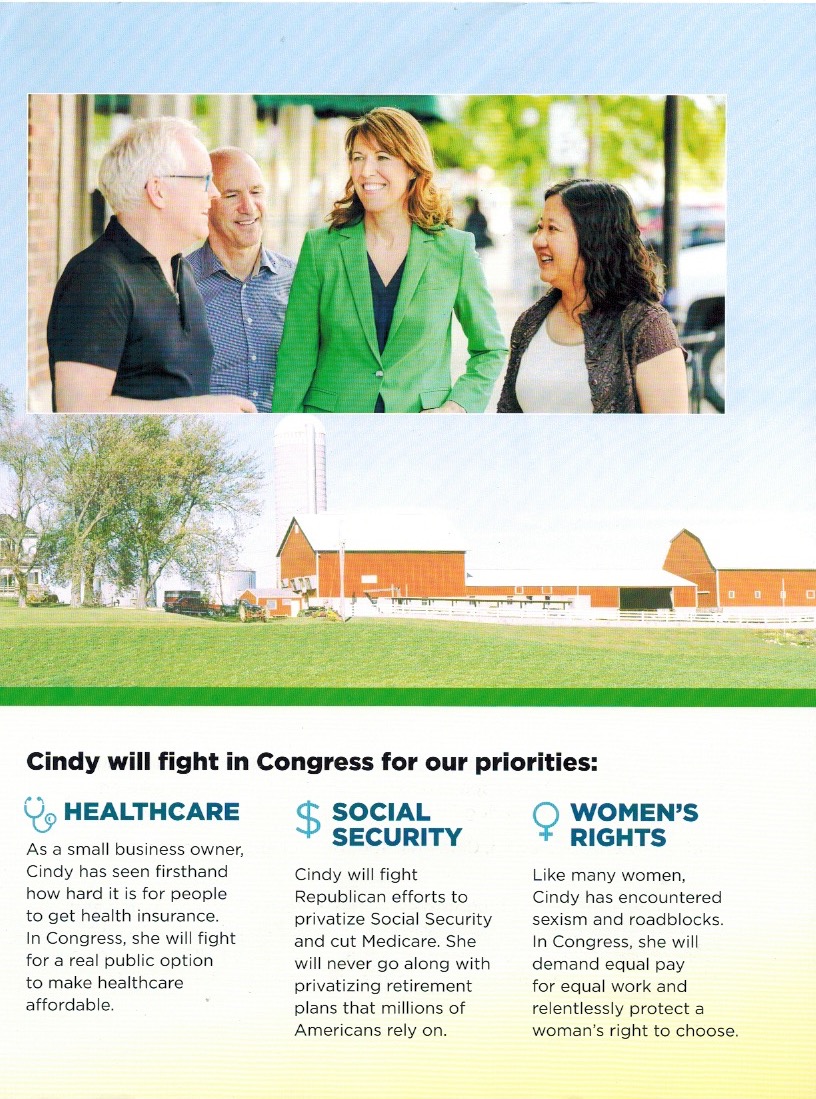 Back: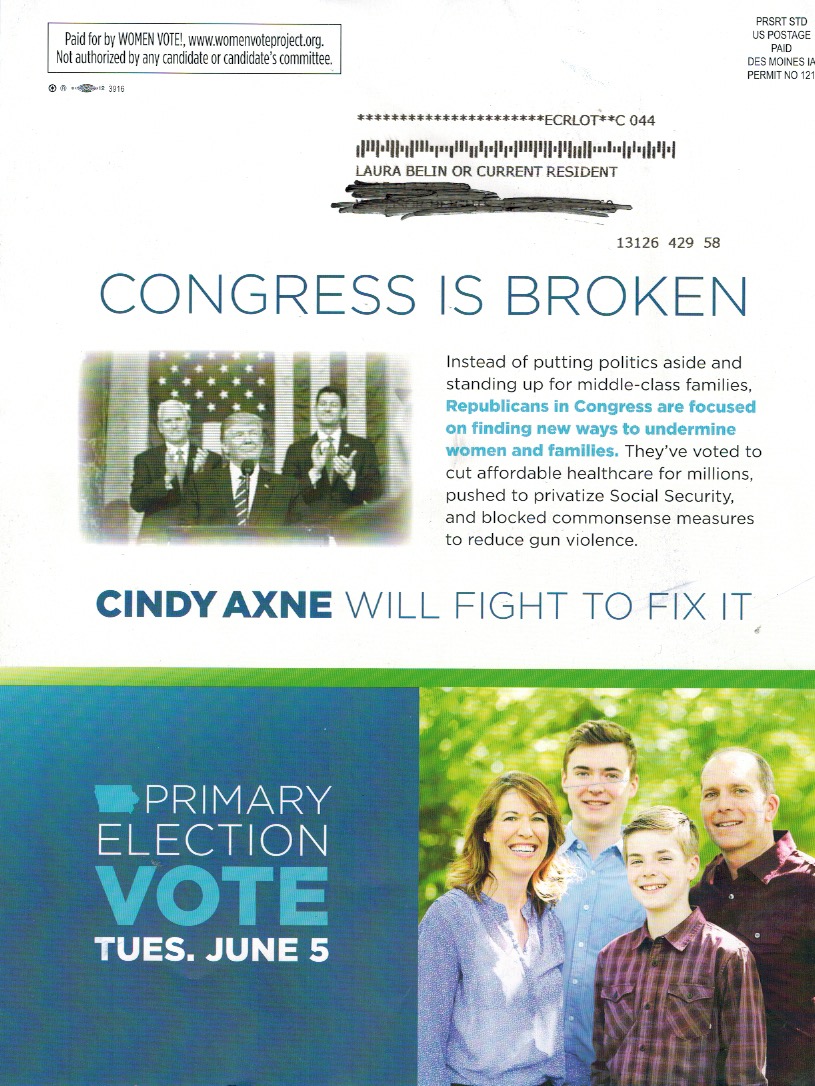 MAY 22 UPDATE: Here's the second mailing from the Women Vote! super-PAC.