UPDATE: Oldson won this race by a 67 percent to 33 percent margin.
One of the most closely-watched state legislative results tonight will be the contest between seven-term State Representative Jo Oldson and Democratic challenger Eddie Mauro in Iowa House district 41. The district covering parts of the west and south sides of Des Moines contains more than twice as many Democrats as Republicans, so the winner of today's primary will almost certainly be elected in November, even if the GOP nominates a candidate late here. (No one filed in time to run in the GOP primary.)
Both campaigns have been working the phones and knocking on doors for months. Iowa's two largest labor unions, AFSCME and the Iowa Federation of Labor, as well as the National Abortion Rights Action League have been doing GOTV for Oldson, as have a number of her fellow Iowa House Democrats. As of May 24, the early voting numbers in House district 41 were higher than for any other state House race.
Bleeding Heartland posted background on Oldson and Mauro here. I've encouraged my friends in the district to stick with Oldson. She has been a reliable progressive vote on major legislation, and she was among only thirteen House Democrats to vote against the costly and ineffective 2013 commercial property tax cut. I have no problem with an entrenched incumbent facing a primary challenge. No one is entitled to hold a legislative seat for life. But even if women were not already underrepresented in the Iowa House–which they are and will continue to be–I would need a better reason to replace a capable incumbent than the reasons Mauro has offered in his literature and in an interview with me last month. Excerpts from that interview are below, along with examples of campaign literature Democrats in House district 41 have been receiving in the mailbox and at the doorstep.

Mauro's branding stands out. I am not aware of any other candidate in Iowa history using "FEARLESS" as a tag line. This image comes from several of the challenger's direct mail pieces. Yard signs and billboards promoting Mauro look similar: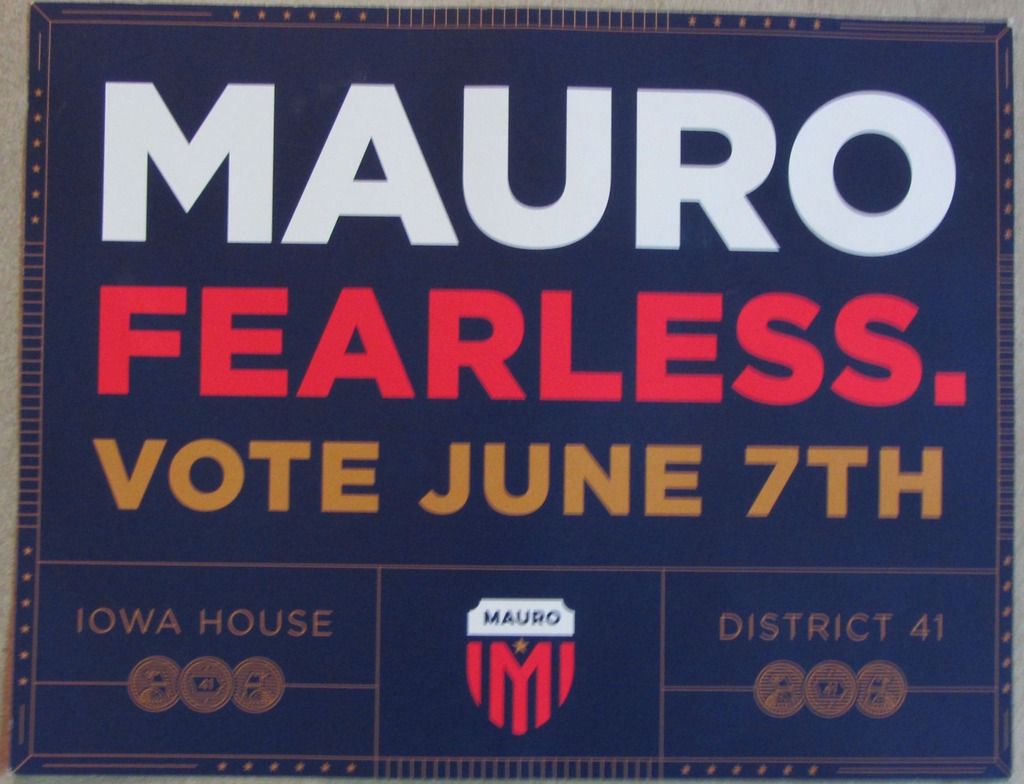 An acquaintance who doesn't live in House district 41 but drives through it frequently was disappointed to learn recently that the challenger was not called "Mauro Fearless." ("I thought it was an interesting name.")
The first time I saw Mauro's yard signs, I wondered, is he suggesting Oldson is fearful in some way? When I put that question to the candidate, he responded, "It has nothing to do with the incumbent. Being fearless is "an approach I've used" in everyday life, in the classroom and on the field as a coach. Mauro encourages staff in his company's office to "perform without fear," and added, "Not being fearful to ask tough questions, that's what I've taught kids to do all my life as a teacher, and I would do the same as a representative, would be fearless in our approach."
Does Mauro think Oldson has been afraid to ask tough questions in her statehouse work? "It has nothing to do with the incumbent," Mauro repeated. I asked him how he would convince voters to in effect fire Oldson and hire him.
I don't think it's a fire/hire situation. I don't think that's a position for life to begin with. I think you put the best person in that position. So we're not firing anybody, we're deciding, is that person the best person for that position? If it is, then we should re-elect her. If there's somebody else out there that can do, that maybe brings a different energy, perspective, background to the game, and might change the scope of that position, then we should take a good look at that person.
Some of Mauro's literature vows that he will be more than a "representative" who shows up, debates, votes, and goes home for the summer. He will be a "fearless advocate" for Iowans year-round: "Eddie will attend neighborhood and community meetings, respond promptly to e-mails and calls, and take his fearless message to every corner of the state."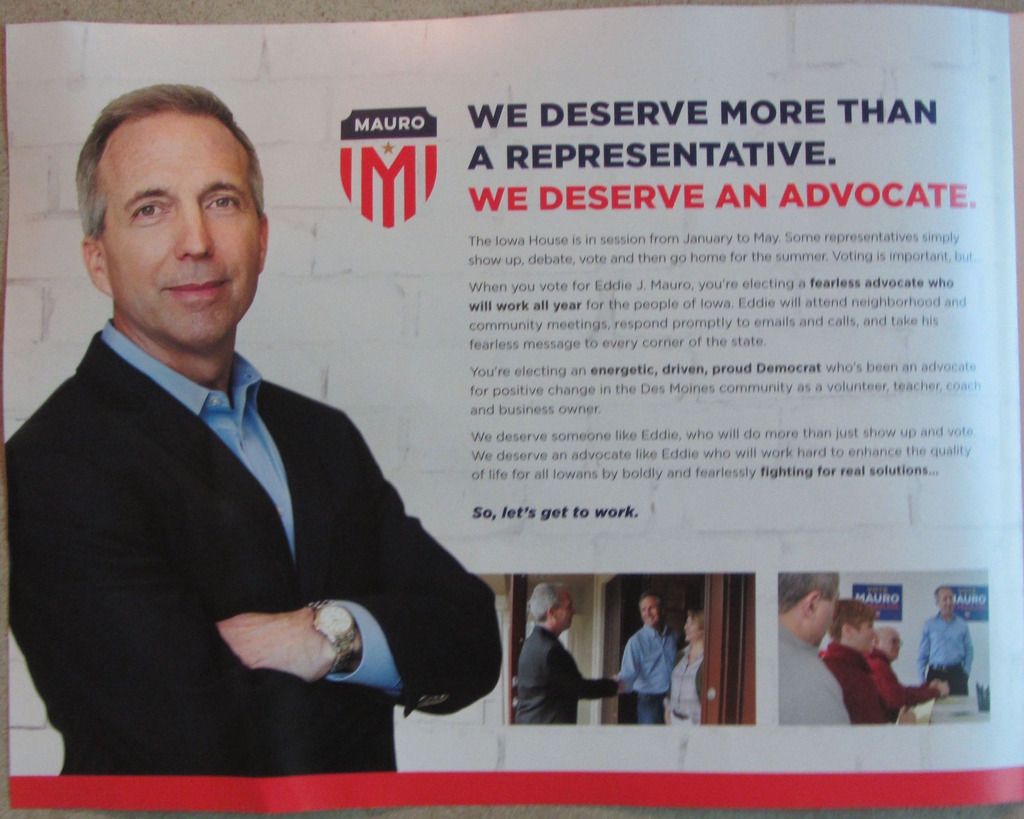 I asked Mauro how he sees House district 41 lacking an advocate at present.
This is really about what I think I want to do. This has little to do with Ms. Oldson. She's a nice lady, I've told her such […] What I have found, though, as I'm out on the street knocking on doors, is people don't know her, and that's alarming. Somebody's been a representative for fourteen years, and people who have lived in that district for 25, don't know who their rep is. I've talked to neighborhood leaders who haven't seen her in years. So Jo does a nice job at the capitol, she's going to probably vote the way that we mostly want her to vote. But beyond that, she is not out on the street enough, talking to people enough, reaching out to folks.
I asked Mauro how he envisioned taking his message around the state, since most legislators don't spend much time on political activity outside their districts. "They need to do that, or it's not going to change," he said. "We're at 43 [Democrats in the Iowa House]. So what are we going to do about that?" Waiting until the next session to see if the number changes, "that's not good enough for me. I would like to see leadership that would really come out and say, how are we going to go out and change that. Not just wait for the wind to blow the right way, which could happen this year."
Mauro believes Democrats must not only identify people who can run, but also go out and help them get elected. "My job lets me do that. I work with insurance agents all over the state, so I know these guys" in many cities and small towns.
Having also worked as a coach for 25 years, Mauro has vast experience motivating people. I have no doubt that energy comes across when he's speaking directly to voters on the doorstep. Some of his campaign literature plays up his experience as a coach as a symbol of his commitment to improving and better funding Iowa schools.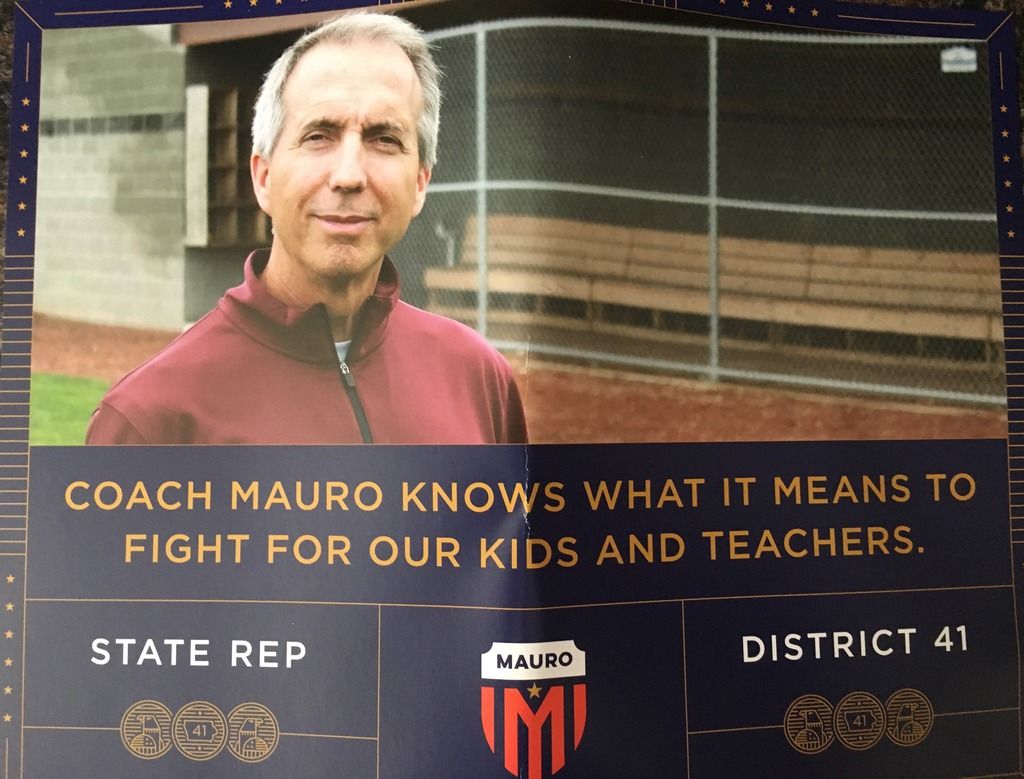 Mauro drew on his coaching background to explain his plan to work all over the state, not just in the Des Moines-based district, if elected. "We need to do that as a party if we want to change the number" and win back the Iowa House majority. As a coach, his job is to have a good team every year. He does it by working hard, "putting ourselves into position every year," rather than just hoping kids with the right genes will turn up on his team.
Other literature supporting Mauro asserts that it's time for a change.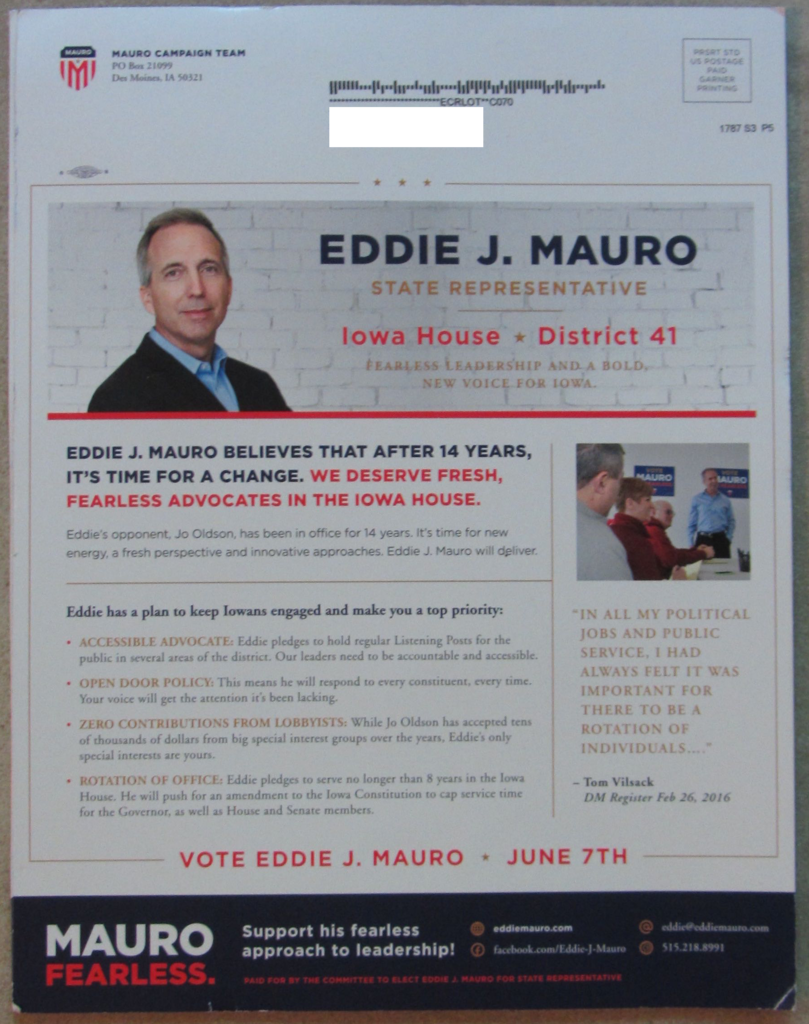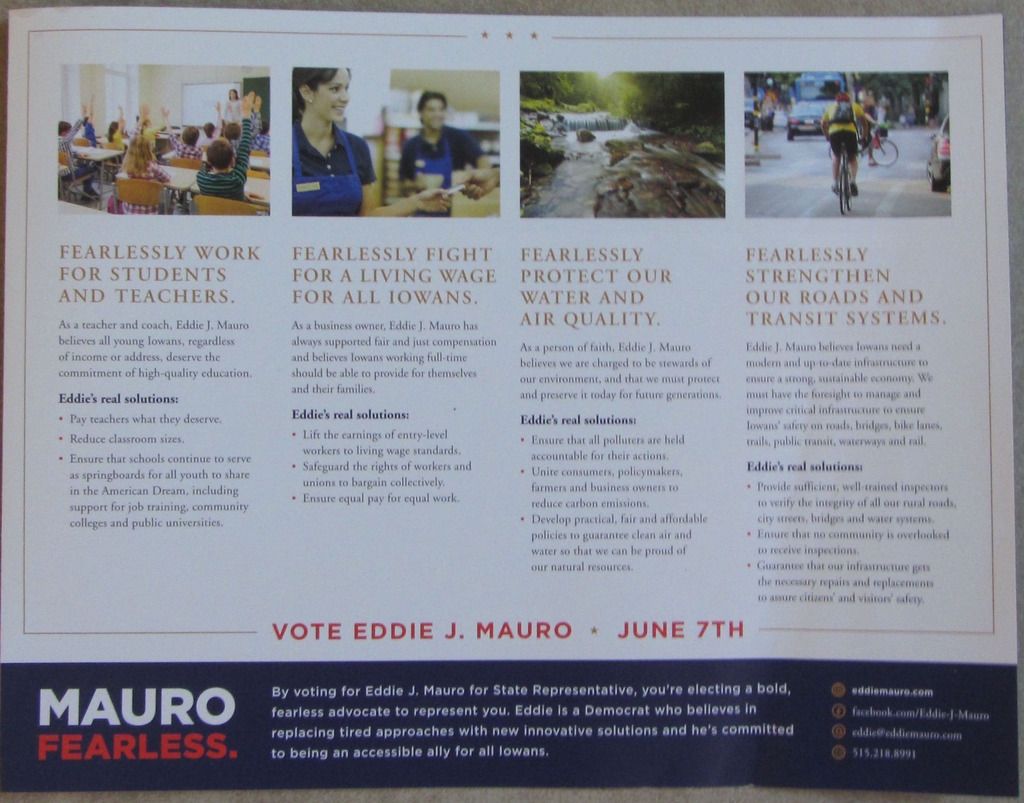 When I asked about objectionable votes by Oldson, Mauro did not name any specific bills but argued that he's been working on peace and justice and other progressive issues for a long time.
She's been there 14 years, and there's a wind of change going on, some people think that's long enough. […] If there's somebody out there that might be a better player, then we should consider putting them in the game. I wouldn't be running if I didn't think I was the better player. I've got plenty of things going on in my life.
One of Mauro's first pieces to reach voters raised alarm bells for some pro-choice women, because it referred to the candidate's "bedrock faith and family values" as well as to his membership in the Knights of Columbus.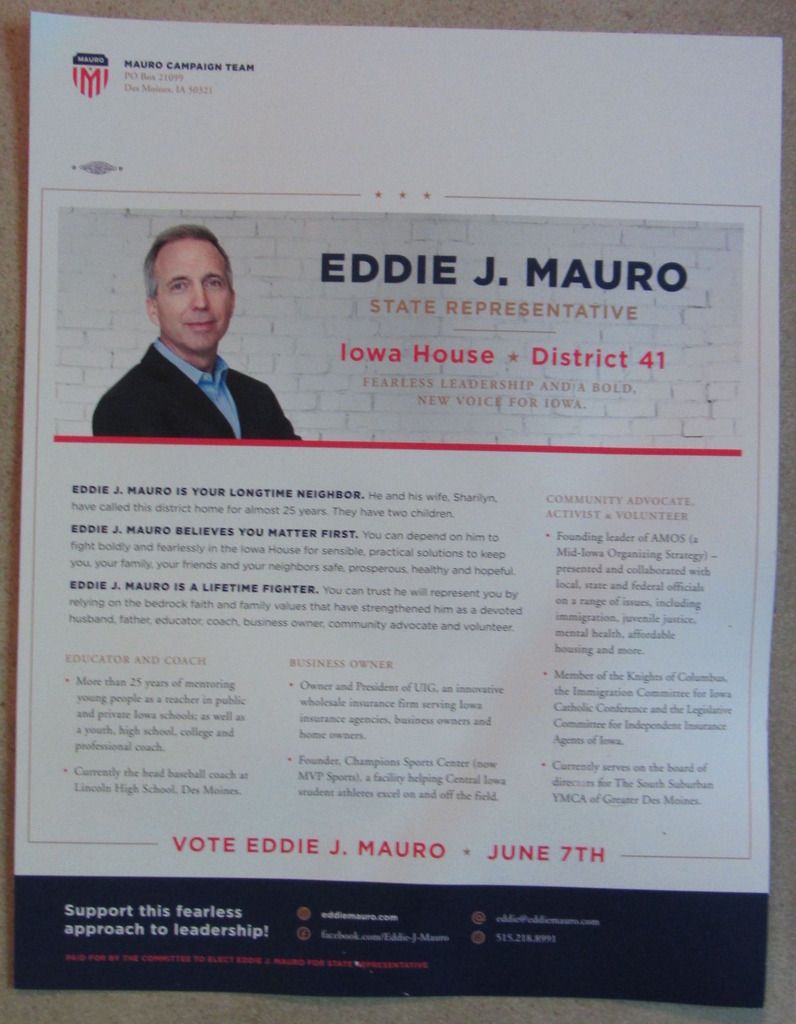 Noting that "faith and family values" is sometimes code language for politicians like Bob Vander Plaats, I asked Mauro what he meant by the phrase. He seemed surprised by the question. "So a Catholic can't be a good Democrat?" I clarified I was asking because in American political discourse, we hear that terminology more often from social conservatives. "I guess I didn't pigeonhole it in that way. I'm my own person. I've got a very strong faith life, and I try to be Christ-like in everything that I do."
Mauro doesn't see much commonality between his political views and those of someone like Vander Plaats. He supports marriage equality and current state policy on funding for Planned Parenthood's non-abortion services. "I think Planned Parenthood does a great job with some of the services that it provides," adding that the organization provides important health care for men as well as women.
Responding to my question about abortion rights, Mauro said, "I would like to tell my brothers and sisters in the Republican Party: if they're really concerned about abortion, that they would do a better job of helping promote life" by making sure all children are adequately fed, clothed, and educated. "That would help some women maybe choose life more. Right now my Republican brothers and sisters are more concerned about just, pro-birth. I want you to have that baby, and oh by the way, you're on your own after that."
As for a 20-week abortion ban, which Iowa House Republicans and a few Democrats passed in 2011, Mauro said, "I think any legislation that's going to curtail abortion is a waste of time. Again, I don't think that's where the fight should be. We've had this wrestling match going on for 40-plus years, and it's not solving anything. So I'm coming in with a fearless new approach. Let's look at, how can we safe a life today? How can we help a woman choose life today? If you're really interested in that, let's get around the table and talk about that." He said he doesn't oppose the use of telemedicine to provide medical abortions.
My impression is that Mauro's campaign has run into a fair amount of resistance from women in the district, which isn't surprising, given Oldson's solid record on women's issues. I would also guess rhetoric about "fearless" leadership and "put me in, coach," and even the Mauro campaign logo, which resembles a superhero shield, has more appeal for men. Shortly before the primary election, Mauro's campaign sent the following letter to many Democratic women in the district.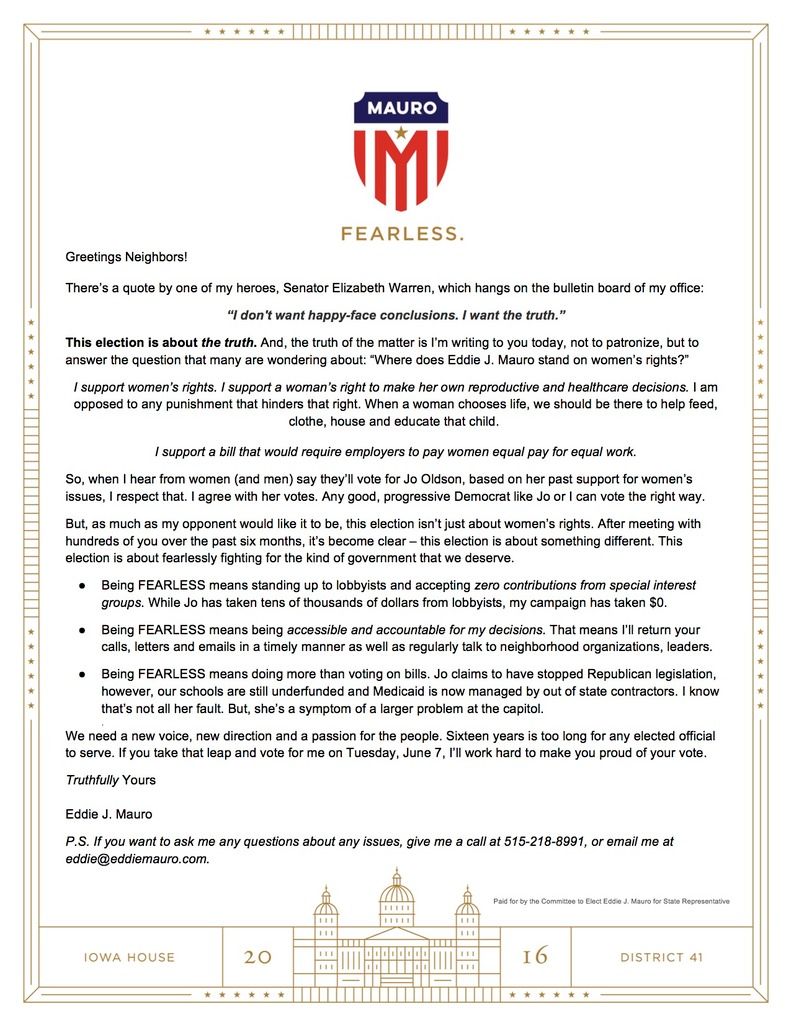 Some of my acquaintances characterized the letter as "mansplaining," but if Mauro wins the primary–which Democrats on both sides of the race see as possible–it's good to have him on the record supporting reproductive rights.
Regarding the "special interest groups" mentioned in that letter, Oldson has raised more money overall than Mauro has, and in 2015, most of her campaign contributions came from PACs. (Many of those PACs donate to dozens of Iowa legislative incumbents in both parties.) Oldson has received more funds from individuals than from PACs this year, presumably spurred to do more fundraising because of Mauro's challenge. Still, without the PAC money, she would have raised less than Mauro did between January and May.
Compared to some state lawmakers, Oldson's never been one to draw a lot of attention to herself. Speaking to Iowa Starting Line's Pat Rynard, she delivered what you might call her "elevator speech" to voters.
"I don't believe it is in the best interest of the voters to give up the strong experience I bring to this role." […]

"I have been a leader in expanding health care to 17,000 Iowans, raising the minimum wage, protecting marriage equality, guaranteeing women have access to reproductive health care, raising teacher pay and making sure every four year old has access to free preschool," Oldson said. "However, there is still much work to be done. We need to fully fund our schools, again raise the minimum wage, protect access to women's health care and provide equal pay for equal work, and create comprehensive solutions to our water quality issues.
Those points come through in the various mailers Democrats in House district 41 have received on Oldson's behalf. This one focused on education: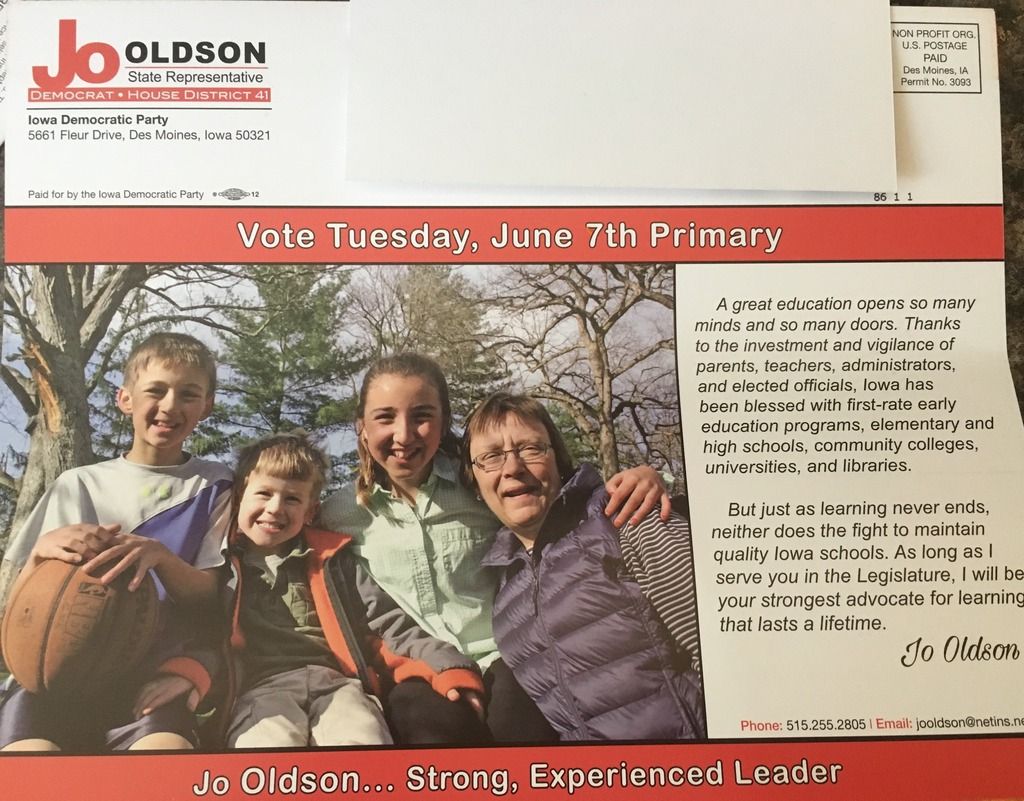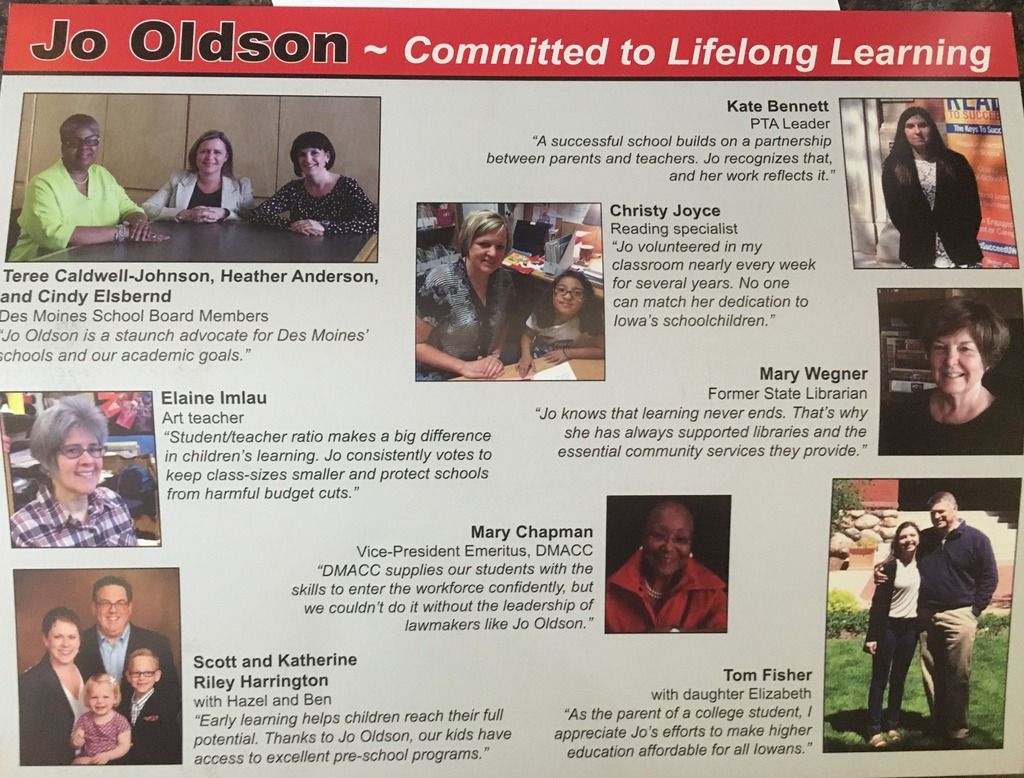 This piece mentions several other issues of great importance to progressives: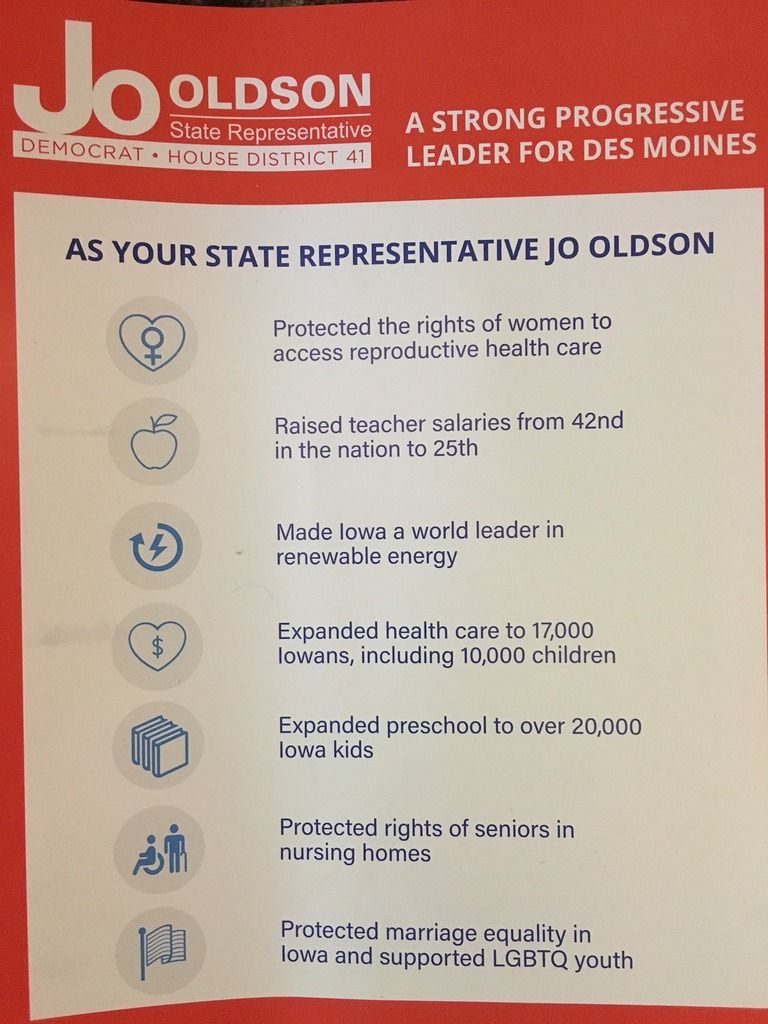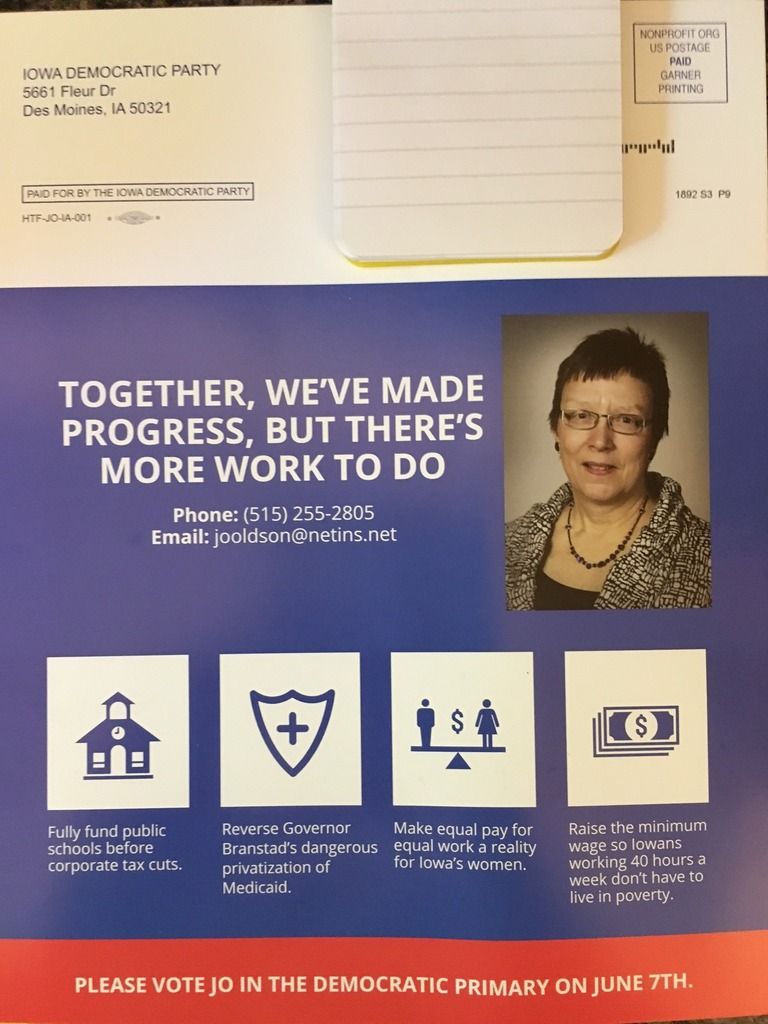 Here Oldson emphasizes her efforts to battle the Republican agenda at the statehouse. In fairness, House Democrats can't claim credit for stopping the policies listed here. We can thank the Iowa Senate majority for that.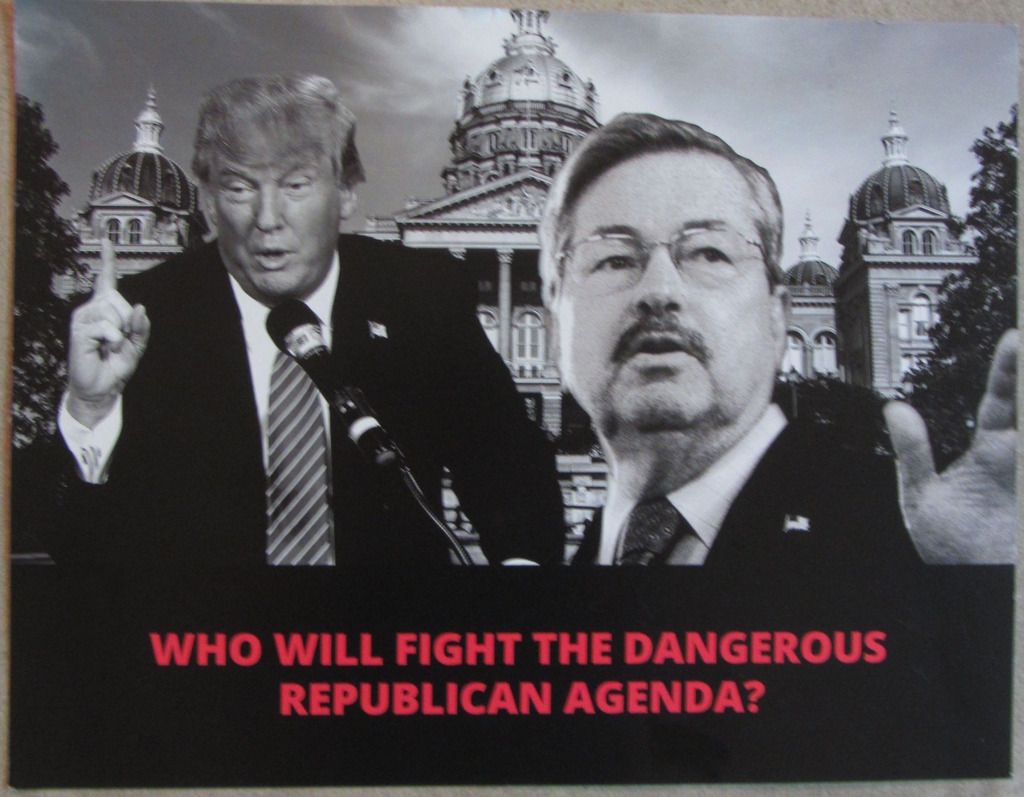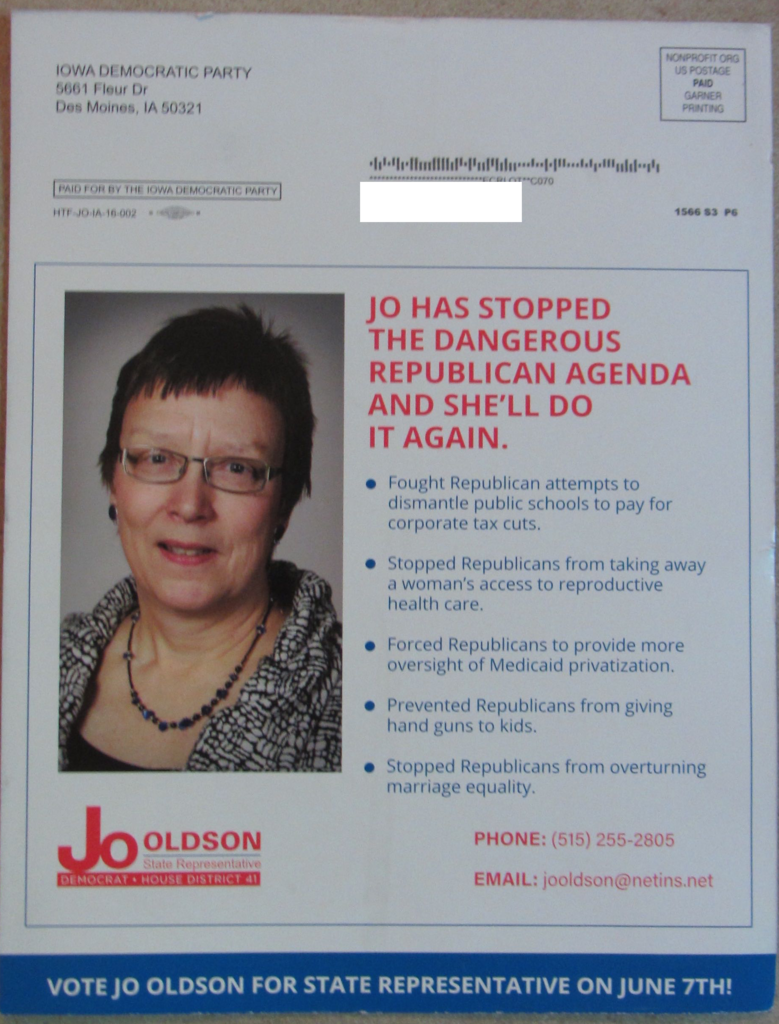 This postcard made a case for the incumbent's judgment and leadership skills: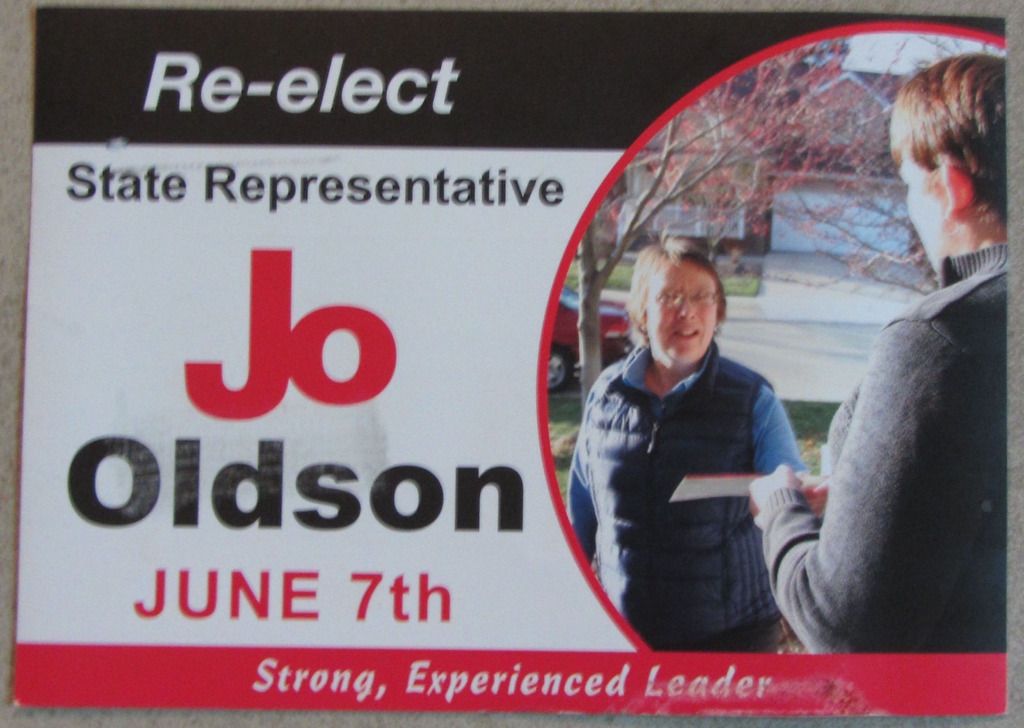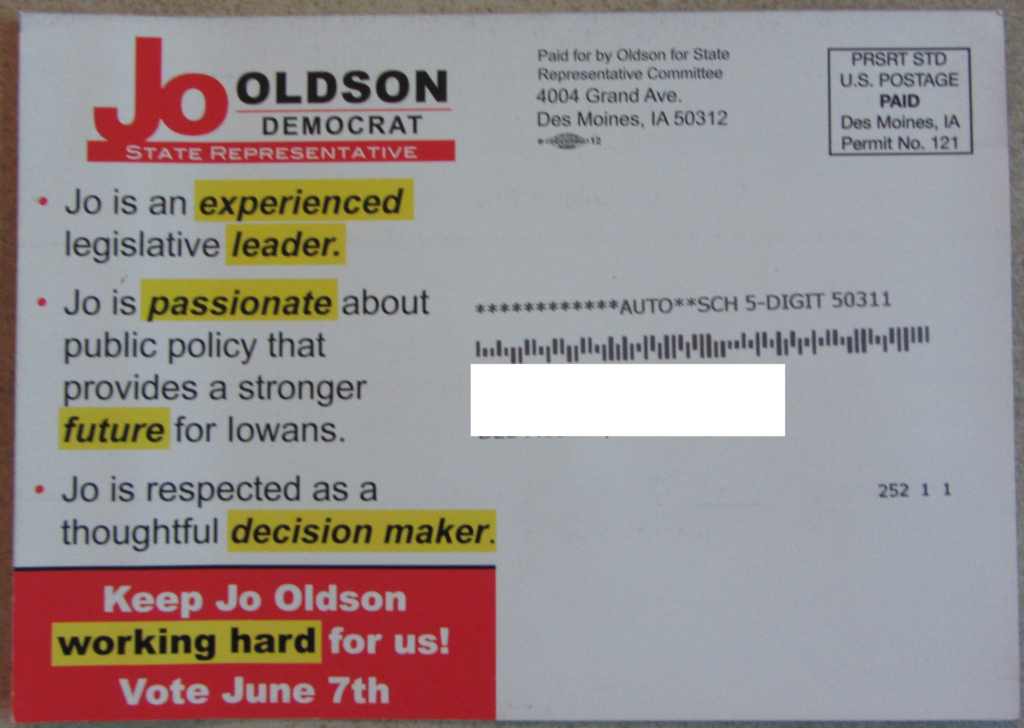 FINAL NOTE: MAURO'S FEARLESS FIGHT OVER A FACEBOOK MEME
One strange episode in the House district 41 campaign deserves special mention. On May 26, the Mauro campaign posted the following meme on its Facebook page: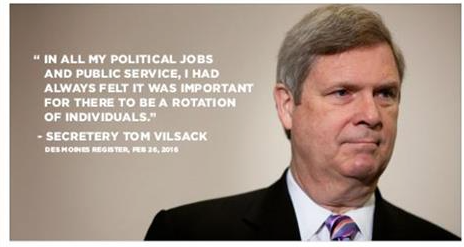 In his current role as U.S. secretary of agriculture, former Iowa Governor Tom Vilsack is not supposed to endorse political candidates. (He couldn't even appear on campaign materials for his wife Christie Vilsack's Congressional bid in 2012.) Furthermore, Vilsack has close ties to Oldson, who worked as one of his advisers before winning her first Iowa House race in 2002.
The post drew unusual attention when the USDA's general counsel demanded that Mauro take down the meme: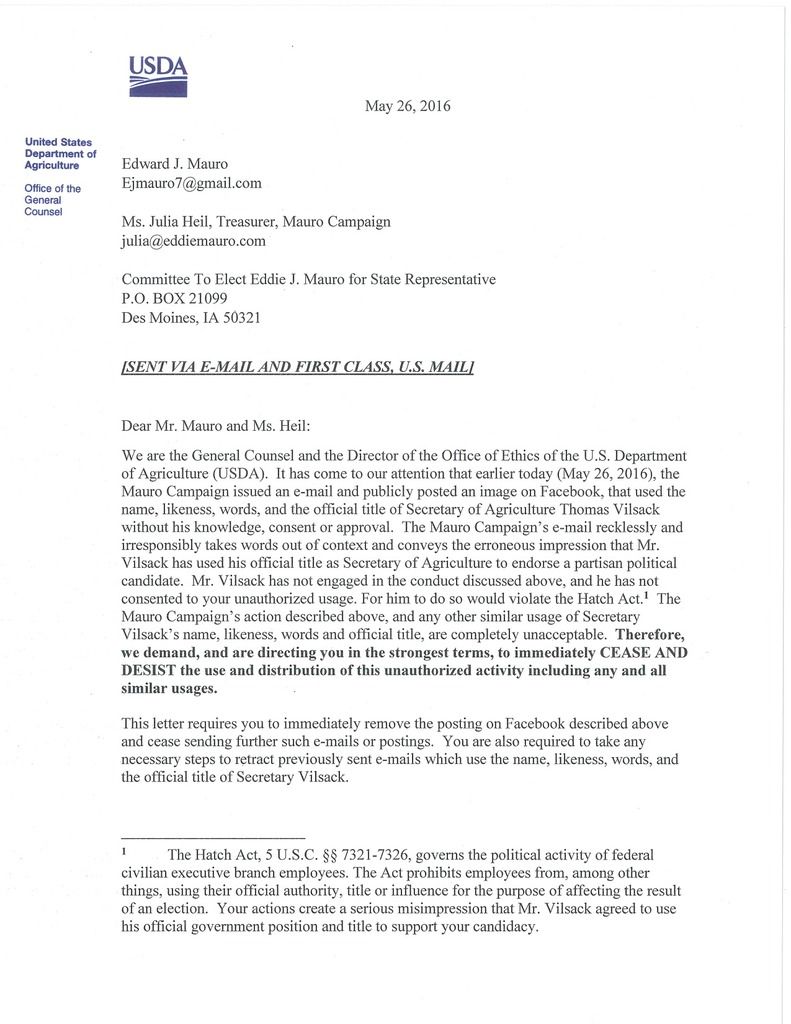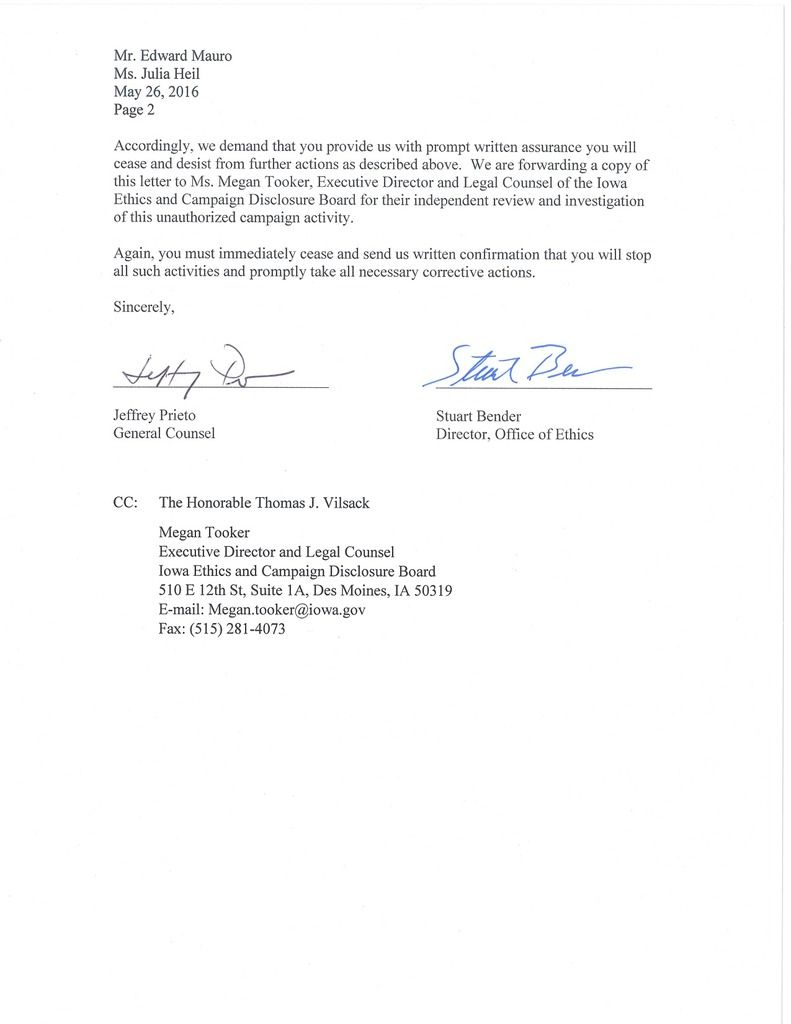 Initially, Mauro's campaign removed the post. They later put it back on the page, and eventually replaced it with a similar meme, this time not misspelling the word "Secretary":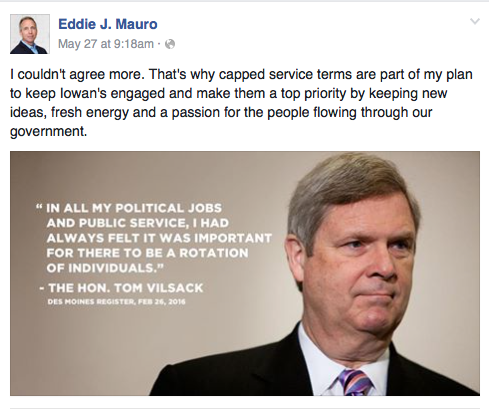 In his response to the USDA counsel, Mauro stated, "The use of Mr. Vilsack's likeness in my social media effort does not imply in any way that he endorses my campaign. To the contrary, it is my campaign that is endorsing Mr. Vilsack's statement–not the other way around."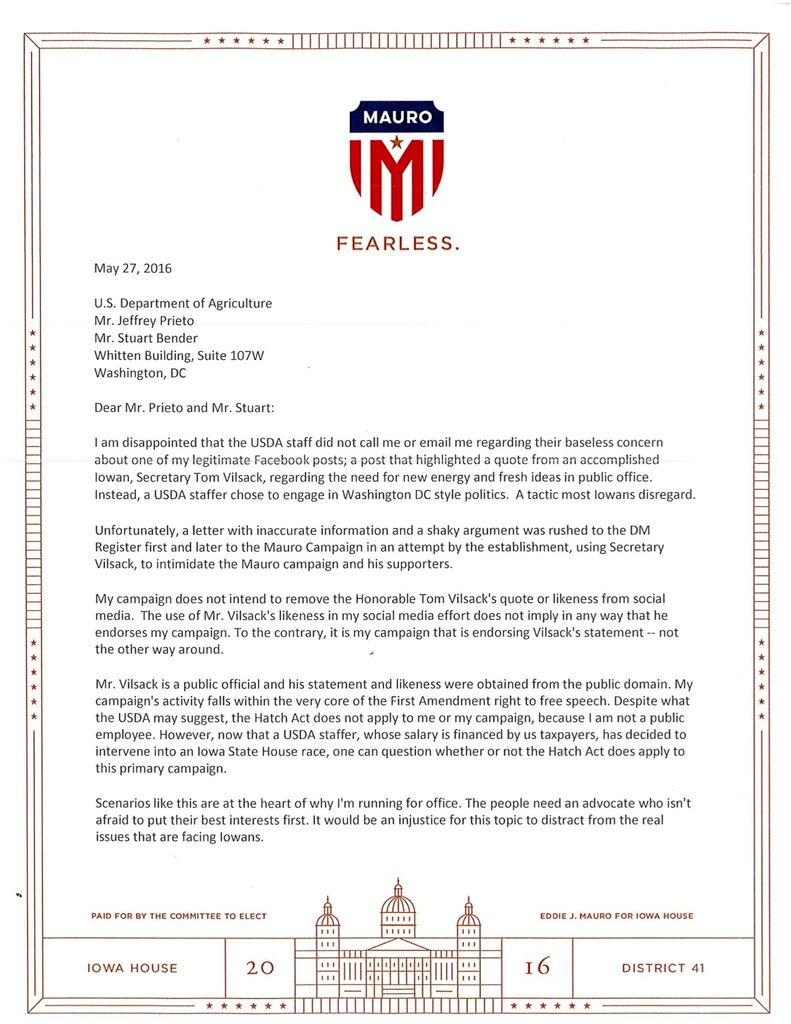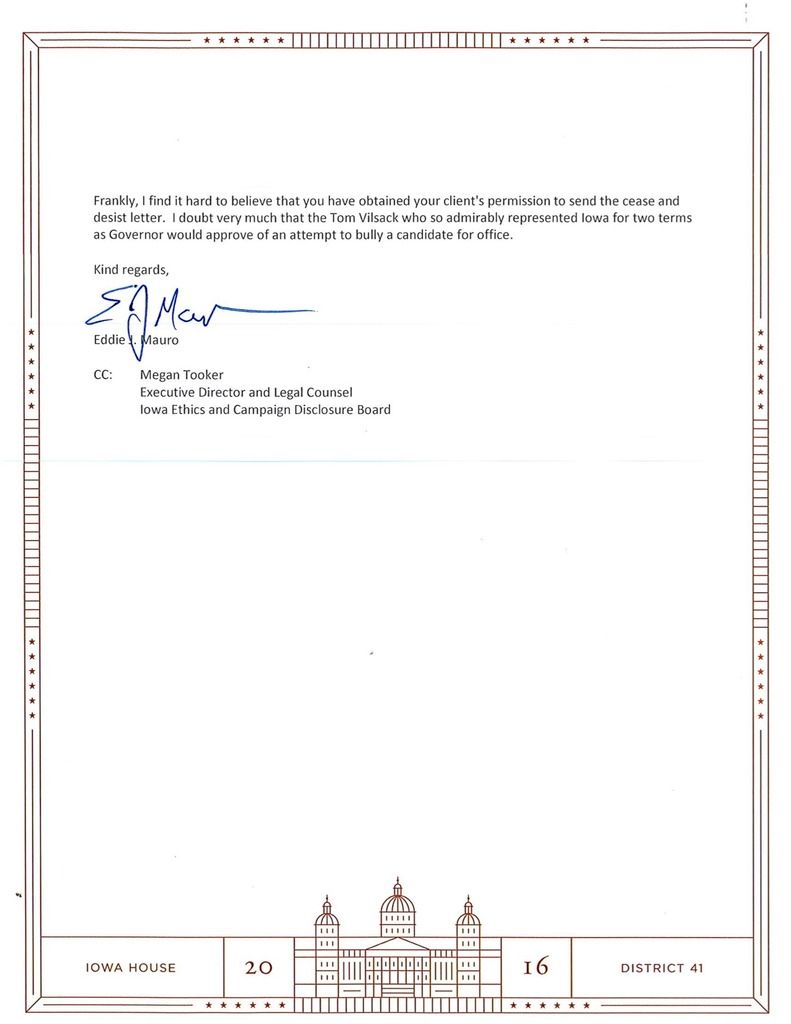 Mauro later asserted to me via e-mail,
The purpose was to note Tom Vilsack's position on rotation of positions and how we support that.

While I am ok with the query from the USDA, although shortsighted and lacking merit, I am troubled in that it appears the DM Register received a copy of the letter a couple hours before I did. Jason Noble first called me around 3:00 PM on May 26, 2016. I was heading into a meeting. In the meeting I checked my email and voice mail and found no communication attempts from the USDA. I did finally get an email from the USDA at 4:44 PM with a copy of the letter attached.

It seems the person or persons trying to coordinate this effort attempted to position the timing in a way that would use the DM Register and Jason in particular. Readers may deserve to know what may have been orchestrated.

It is this kind of maneuvering that has voters looking for change. It is this kind of activity that inspired me to run.
My initial reaction to the spat was that even though Mauro's use of the Vilsack photo and quotation could be considered fair use, he made a rookie mistake by seeking to align himself with a political figure who could not endorse his campaign–and would not even if he could. As Vilsack told the Des Moines Register's Jason Noble,
Mauro could have avoided that trouble, he said, by referring to Vilsack as a former governor or another identifier [rather than using his federal title]— and by asking for permission beforehand.

"He didn't call, which is unfortunate," Vilsack said. "I frankly think he should have."
I agree, he should have asked for permission. On the other hand, picking a fight over the unauthorized use of Vilsack's words and image got Mauro some ink in the Des Moines Register two days running, less than two weeks before the primary. Furthermore, standing up to pressure from a federal government bureaucrat reinforced Mauro's messaging as a "fearless" fighter who will take on the establishment. So arguably, he got much more traction from the dispute than he would have from the original Facebook post, if the USDA had left it alone. Leaking the story to Noble was presumably supposed to make Mauro look bad, but the tactic might have backfired.
Any comments about the House district 41 race are welcome in this thread.
P.S.- According to a Democratic activist in the area, many Republicans in Des Moines precinct 65 on the south side have been changing their party registration today in order to vote for Mauro. There is no competitive GOP statewide primary this year, and Representative David Young's GOP challenger in the third Congressional district is a joke.