Zach Wahls announced his candidacy today in Iowa Senate district 37, where Democratic State Senator Bob Dvorsky plans to retire at the end of 2018. Janice Weiner launched her campaign for the same seat earlier this week, but Wahls will be heavily favored to win the Democratic nomination.
Follow me after the jump for background on both candidates and the political landscape in this must-hold district for Democrats.

Wahls became an instant celebrity in early 2011, when he spoke out against banning same-sex marriage at an Iowa House hearing.
The video went viral, landing Wahls appearances on national television and "fundamentally" altering his life, he reflected five years later.
The bio page on Wahls' new campaign website notes,
He is an advocate for LGBTQ rights and co-founder of Scouts for Equality, the national campaign to end discrimination in the Boy Scouts of America.

Wahls is also the author of the bestselling book My Two Moms: Lessons of Love, Strength, and What Makes a Family. Recently, he and his sister created The Woman Cards, a deck of playing cards featuring 15 original, hand-drawn portraits of American women who changed the world.

A longtime resident of the senate district, Wahls is a graduate of Iowa City West High School and the University of Iowa, and will receive his master's degree in public policy from Princeton University's Woodrow Wilson School in Spring 2018.
Within hours of Wahls' campaign launch, nationally-known progressives including Jason Kander (leader of Let America Vote), Dan Pfeiffer (former senior adviser to President Barack Obama), and essayist Sean McElwee had tweeted out their support, helping @zachwahls to become a trending handle on Twitter.
At this writing, Wahls had raised more than $16,000 for his campaign in less than a day. Some Iowa legislative incumbents don't raise that much in a year. UPDATE: About 30 hours after Wahls announced, he had raised nearly $25,000.
Having looked at dozens of Iowa House or Senate candidate websites, I've rarely seen more detail than Wahls has provided on his issues page. His priorities will be health care, education, and workers' rights.
Janice Weiner made her candidacy in Senate district 37 official on December 18. From her news release:
Ms. Weiner said, "I am running for the Iowa Senate because I care deeply about Iowa's future." In 2017, the Republican-dominated Iowa legislature enacted the most regressive changes to law in modern memory. Their failures will haunt our children and grandchildren all their lives unless we act now. "Iowa's children all deserve the opportunity to thrive, grow and succeed, just as I had growing up in Coralville."

That means standing up for public education. "I owe my success in life to the excellence of my Iowa education," Ms. Weiner stated. We must fully fund our public schools, continually improve our K-12 programs, and support our teachers. We must ensure a living wage for hard working Iowans and restore the collective bargaining rights that the current Administration stripped away last year.

We must end the cycle of tax breaks for massive corporations and put our communities back in the center of economic development, where they belong. And we must have a healthcare and social services system – including mental healthcare – that serves all. We can again be the independent-minded, creative and progressive Iowa that values all its citizens – a state that truly puts its people first.

Janice Weiner grew up in Coralville, and is a graduate of West High, Princeton University, and Stanford Law School. She served her country for 26 years as a Foreign Service Officer for the U.S. State Department, contributing to policy formulation and building relationships with people of all political views and walks of life. Janice is a member of the board of Shelter House in Iowa City, the board of Agudas Achim Congregation, and serves on the program committee of the Iowa City Foreign Relations Council. She enjoys playing in the Community Band, and watching both kinds of football.
Weiner told me she ran GOTV for Johnson County Democrats in 1984, the first year Tom Harkin was elected to the U.S. Senate. Since moving back to Coralville, she ran for a seat on the Iowa City school board, finishing a distant third in a July 2016 special election. She was a Democratic field organizer before last year's general election.
Her campaign website is not live yet, but she has a Facebook page with more background on her education and Foreign Service career.
I doubt any other Democrats will run for this seat. Coralville City Council member Mitch Gross and State Representative Dave Jacoby (House district 74) already ruled out the race.
Senate district 37 covers all of Cedar County and part of Johnson County, including some Iowa City neighborhoods, Coralville, and Solon.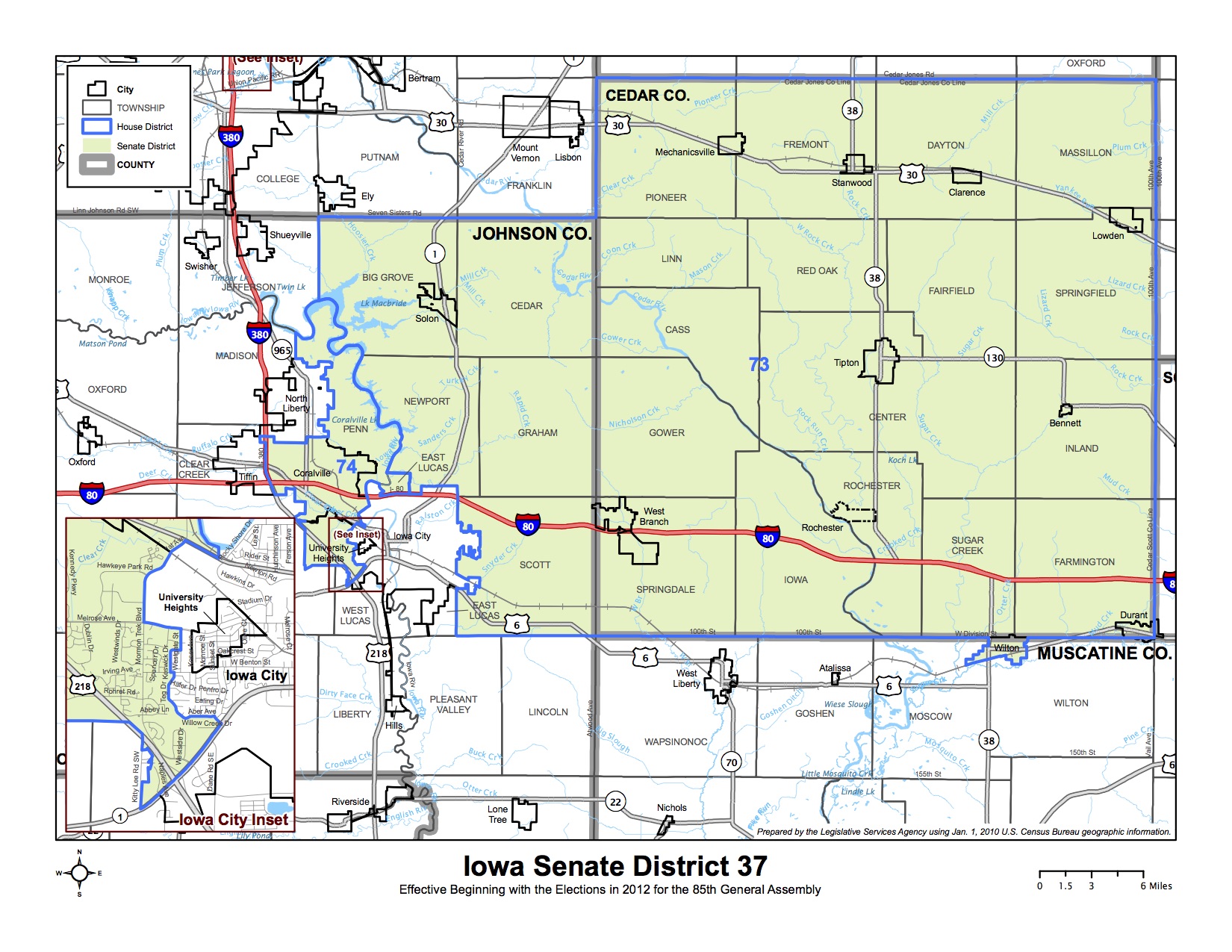 Democrats currently hold 20 Iowa Senate seats, while Republicans hold 29 and will be gunning for independent State Senator David Johnson's seat next year. Democrats don't have many promising pickup opportunities in the upper chamber and cannot afford to lose Dvorsky's seat next November.
Fortunately, the district should be an easy hold, with 15,338 active registered Democrats, 10,269 Republicans, and 13,911 no-party voters according to the latest figures from the Iowa Secretary of State's office.
The recent voting history indicates an even stronger Democratic tilt, because independents in the Iowa City area tend to be more liberal than no-party voters are in many other parts of Iowa. Residents of Senate district 37 favored Hillary Clinton over Donald Trump for president by 56.2 percent to 38.1 percent. Bruce Braley outpolled Joni Ernst in the 2014 U.S. Senate race by 54.9 percent to 42.0 percent.
I have not heard of any Republicans planning to run for Senate district 37, and I doubt the GOP will play for this seat, unless State Representative Bobby Kaufmann (the son of state party leader Jeff Kaufmann) takes a shot at it. I don't expect the younger Kaufmann, who has easily held House district 73 for the last couple of cycles, to roll the dice on seeking office in a more Democratic-leaning Senate district.
Final note: I greatly appreciate Dvorsky's sense of fair play in announcing his retirement earlier this fall. Too many incumbents in both parties have kept such plans secret until a day or two before the filing deadline for major-party candidates in mid-March, restricting the field to a chosen insider.
LATE UPDATE: University of Iowa law school student Eric Dirth announced on January 17 that he will also seek the Democratic nomination in Senate district 37 (website, Facebook, Twitter). I expect him to struggle to win over Democrats, since he has recently been involved with at least two conservative groups, the Federalist Society and the Christian Legal Society. In December 2016, Dirth wrote a guest editorial for the Cedar Rapids Gazette, arguing that Donald Trump "is in a position to make the biggest environmental difference since President Nixon," because his "unwavering support from his constituents and his policy flexibility allow him to move ahead with unprecedented freedom, and his self-financed campaign and detachment from the Republican establishment further distance him from outside interests. When I asked Dirth about that column recent, he responded, "I absolutely stand by its substance, but clearly he [Trump] did not follow the path I hoped he would follow. Now we are in one of the worst environmental crises in our country's history. (He nominated Pruitt shortly after publication and the EPA has been turned into a dumpster fire)."