Declaring the two-party system "badly broken," State Senator David Johnson announced this morning that he will seek re-election as an independent in Iowa Senate district 1 next year. The former Republican won his first state House race in 1998 and was a successful candidate for the state Senate four times, serving for a decade as an assistant leader of the GOP caucus. He left the party in June 2016 to protest the nomination of Donald Trump as president.
In a statement enclosed in full below, Johnson said, "Politics in Des Moines has reached a bitterly partisan tipping point. Principle must come before party." He added that "constituents of all political stripes have encouraged him to run again," and that the "storied history of the House and Senate includes legislators who have not been affiliated with major parties." According to Johnson, the last candidate to win an Iowa Senate race as an independent was William Schmedika in 1923.
Johnson didn't face an opponent in his last two Senate races, but next year's campaign is sure to be a hard-fought battle.

Senate district 1 covers Clay, Dickinson, Lyon, Osceola and Palo Alto counties in northwest Iowa: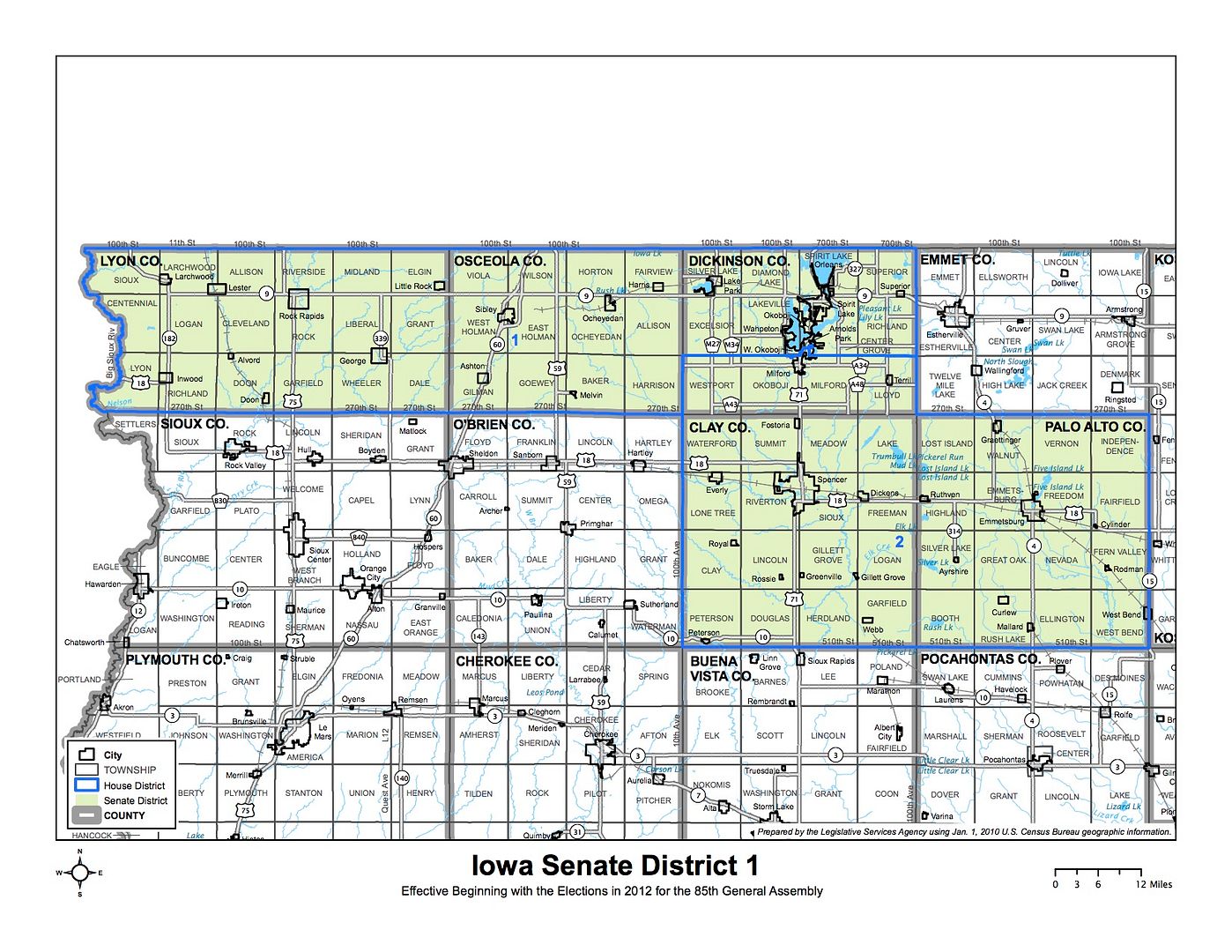 Of Iowa's 50 state Senate districts, the seat Johnson holds is one of the most heavily Republican. The latest figures from the Iowa Secretary of State's office indicate that these five counties contain 7,465 active registered Democrats, 20,877 Republicans, and 13,376 no-party voters. Donald Trump outpolled Hillary Clinton in this district by 70.9 percent to 24.7 percent. In the last midterm election, Senate district 1 voters favored GOP candidate Joni Ernst over Democrat Bruce Braley by 67.4 percent to 28.6 percent.
To win a fifth term, Johnson would need support from an overwhelming majority of his Democratic and independent constituents, plus a significant number of Republicans who have voted for him in the past.
Democrats will not recruit a candidate here next year. Even as a Republican lawmaker, Johnson occasionally broke ranks with his party--for instance, to oppose the rushed privatization of Medicaid. As an independent during the 2017 legislative session, Johnson stood with Senate Democrats in many big fights, opposing GOP efforts to create new barriers for voting, eliminate most public employee collective bargaining rights, lower the minimum wage in several counties, reduce workers' compensation benefits, and allow Iowans to carry concealed weapons in the state Capitol.
I expect a crowded GOP primary to represent Senate district 1. So far, the only declared candidate is Zach Whiting, a staffer to U.S. Representative Steve King. I would welcome tips on other possible contenders.
Republicans are likely to spend a substantial sum of money to help the eventual nominee defeat Johnson. Meanwhile, they are undermining his ability to represent his constituents by refusing to grant him full committee assignments. Last month, Johnson asked to be recognized as a member of a separate minority caucus, and therefore entitled to serve on six Senate standing committees. He noted that after being elected as an independent in 1923, Schmedika was a "fully engaged member" of several committees.
GOP leaders have said Johnson may serve on committees only if Democrats are willing to give him one of their slots. Democrats assigned Johnson one of their Natural Resources Committee seats for the 2018 session, as they did this year. But in a December 5 telephone interview with Bleeding Heartland, Johnson said he is inclined to give that seat back to the Democrats. He added that he won't accept additional committee assignments if they are offered on the condition of reducing the number of Democrats on each panel. "That's not addressing the issue. I'm not a registered Democrat."
Johnson told me he had had a "very disappointing" meeting on December 5 with Senate President Jack Whitver, Whitver's senior aide Mary Earnhardt, and Secretary of the Senate Charlie Smithson. He was told that Republican leaders redrafted the rules on committee assignments before the 2017 session at his request. Yet "I was not invited to those meetings [....] if it was at my request, I should have been at those meetings to work something out. So we're at an impasse right now."
Whitver did not respond to my inquiries on this subject. Smithson--who is technically a non-partisan staffer but serves at the pleasure of Majority Leader Bill Dix--declined to comment on his interpretation of the rules, saying "it would not be appropriate for me to discuss a meeting involving Senators." According to Johnson, GOP leaders and Smithson contend that Senate Rule 34 assumes there can be only two caucuses: one majority, one minority. But Johnson maintains that neither the chamber rules nor the Iowa Constitution define "majority" and "minority" to mean that there can be only Democratic and Republican caucuses.
One solution Johnson has floated: Dix could name him to six standing committees, appointing one extra Republican to each of them. Dix surely won't agree to that, especially not after Johnson told WOI-TV's Sarah Beckman that the majority leader should step down as a way of accepting responsibility for allowing sexual harassment to continue at the statehouse for years.
Any relevant comments are welcome in this thread. Depending on the outcome of tomorrow's special election in Senate district 3, Republicans will hold either a 29-20-1 majority or a 28-21-1 majority in the upper chamber during the coming legislative session.
UPDATE: Some readers believe Johnson will cruise to victory in this district, on the strength of his ties to voters who have supported him before. Keep in mind that the Senate Republicans will have the capacity to spend hundreds of thousands of dollars on direct mail and tv ads trashing the incumbent, who has never had to raise much money for his own campaigns.
Republicans outspent all the targeted Iowa Senate Democrats in 2016, even though then Senate Majority Leader Mike Gronstal was able to spend hundreds of thousands of dollars defending incumbents in key districts. Johnson won't have that kind of infrastructure backing him up.
December 11 press release from Senator David Johnson:
Johnson to run again for Iowa Senate

State Sen. David Johnson has announced his intention to seek re-election to a fifth term in 2018 in a rare but not unprecedented campaign.

The Ocheyedan lawmaker changed his voter registration to "no party" in June 2016, joining a growing number of statehouse independents across the nation.

"While my fellow independents from Maine to Alaska don't share a rigid issues agenda, we do share the undeniable view that the two-party system is badly broken. Our goal is to find common ground in our respective statehouses," Johnson said. "Politics in Des Moines has reached a bitterly partisan tipping point. Principle must come before party. Constituents must come first, of course, but there are times that call for leadership. This is one of those times."

He represents Senate District 1, which comprises Clay, Dickinson, Lyon, Osceola and Palo Alto counties. Johnson said constituents of all political stripes have encouraged him to run again. "They are Republicans, Democrats and independents, and I am honored and humbled by their support. I believe in representing everyone to the best of my ability."

Johnson was elected to the Iowa House of Representatives as a Republican in 1998 after winning a three-way primary. Voters gave him a second House term, then Johnson went on to win four Senate terms. Now running as an independent, if re-elected Johnson would be the first declared independent to win an Iowa Senate seat since 1923. The last independent House member served in 1971-72.

"This challenge is nothing new in the Iowa General Assembly," he said. "The storied history of the House and Senate includes legislators who have not been affiliated with major parties."

Johnson, 66, was a journalist over three decades, including 10 years as the award-winning owner of the newspaper in his hometown of West Branch, Iowa. After moving to northwest Iowa, he worked full-time and part-time on an Osceola County dairy farm for 15 years.

He continues to be a sharp critic of the state's move to privatize its Medicaid program, the state-federal compact providing health care to lower-income and disabled Iowans. "Our former governor made the change without legislative input or approval. Putting three private insurance companies in charge of Medicaid is failing the entire health delivery system, from hospitals to medical and dental clinics, from mental-health treatment to drug and alcohol abuse prevention," Johnson said. "That means we are failing the least among us who need a hand up. It's yet another blow to rural Iowa."

He also wants to do more for K-12 schools and Iowa's community colleges. "This will be another tough budget year, but the best economic development program is a solid, skills-based education. We can't continue to slowly starve our schools and expect a growing economy."

In addition to being an assistant Senate leader for 10 years, Johnson was Republican chair of the Senate Agriculture Committee for four years and co-leader of the Senate Health and Human Services Budget Subcommittee. He has been a leader in protecting Iowa's natural resources and promoting child-safety policies. Johnson is the recipient of numerous legislative awards and honors.

He currently serves on the board of directors for Iowans for Life, a leading pro-life advocacy group, and the Herbert Hoover Presidential Foundation Board of Trustees. He is a member and lector at St. Joseph Catholic Church in Milford.