Zach Whiting, a staffer for U.S. Representative Steve King, will run for the Iowa Senate in 2018 against Republican State Senator David Johnson, Tom Lawrence reported today for nwestiowa.com. Whiting told Lawrence, "David Johnson's decision to leave the Republican Party has left his constituents without a representative, without an effective representative." Johnson announced on June 7 that he was changing his registration to no-party because of Donald Trump's "racist remarks and judicial jihad." I assume he will rejoin the GOP soon after the November election, though he has not promised to do so.
Lawrence's article did not mention another likely motivation for Whiting's bid: Johnson supported and donated to Iowa Senate colleague Rick Bertrand's challenge to King in the fourth Congressional district this year. King won just under 65 percent of the Republican primary vote. Johnson later told the Sioux City Journal he would support Bertrand for Congress again, adding, "There is too much blind loyalty to Steve King."
Follow me after the jump for more about the political make-up of Iowa Senate district 1, background on both candidates, and first thoughts on Whiting's chances.

Iowa Senate district 1 covers Lyon, Osceola, Dickinson, Clay, and Palo Alto counties in northwest Iowa: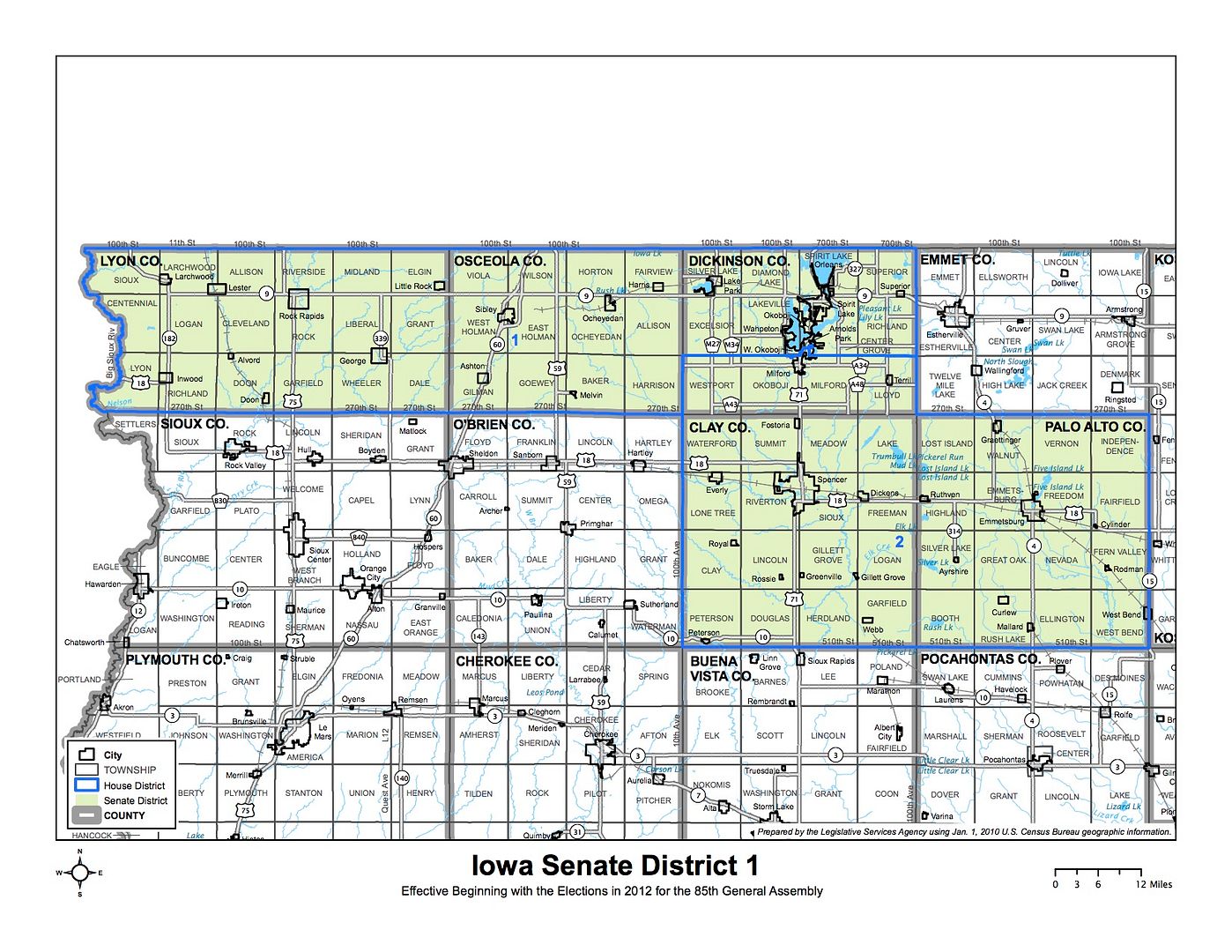 King tweeted a link to Lawrence's story Sunday morning, along with the comment, "Congratulations to Zach Whiting, the next Senator for the most Republican district in the state of Iowa!"
Almost: neighboring district 2 is the most Republican of the 50 Senate seats, according to voter registration numbers and the top of the ticket performance in 2012 and 2014. But Senate district 1 is close, with more than twice as many registered Republicans as Democrats. Mitt Romney received 62.61 percent of the vote here against President Barack Obama, and in her 2014 U.S. Senate bid, Joni Ernst received 67.35 percent among Senate district 1 voters.
Consequently, the winner of the 2018 primary is highly likely to win the state Senate seat in November. Democrats did not field a candidate against Johnson in 2010 or 2014. That said, either Johnson or Whiting could run as an independent after losing the GOP primary in Senate district 1. Unlike 47 other states, Iowa has no "sore loser" law.
Johnson has been serving in the upper chamber longer than any other GOP senator aside from Jerry Behn. Here's his official bio from the Iowa Senate Republicans website, where at this writing, he is still listed as a member despite leaving the party and losing his committee assignments more than two months ago. Note that the bio was never updated to reflect Johnson being re-elected again in 2010 and 2014:
Senator David Johnson of Ocheyedan was first elected to the Iowa Senate in 2002, and won re-election to a second term in 2006. He previously served two terms in the Iowa House of Representatives.

A former chair of the Senate Agriculture Committee, Senator Johnson currently is president of State Agriculture and Rural Leaders, whose members are key rural policy lawmakers from the United States and Canada. When the Iowa Legislature is not in session, he works on an Osceola County dairy farm.

Born and raised in West Branch, he is the third generation in his family involved in agribusiness.

After graduating from West Branch High School, Senator Johnson received a B.A. in history from Beloit College in Wisconsin. He later was camp manager on three scientific expeditions to Antarctica and the Arctic. Returning to Iowa, he became a newspaper publisher and editor, winning numerous state and national awards for journalistic excellence. He helped lead local historic preservation and economic development efforts, and served several years as Chamber of Commerce president.

Today, Senator Johnson is a member of chambers of commerce in eight Northwest Iowa communities and is involved in various dairy, cattle, farm agribusiness and natural resources, wildlife and conservation organizations. He is a member of St. Mary's Catholic Church in Ashton.

Honors and Awards:

Distinguished Service Award, Iowa Newspaper Association, Iowa FFA and Iowa High School Football Coaches Association; Legislator of the Year, Iowa Izaak Walton League, Iowa Agribusiness Association, Iowa Biotechnology Association and Iowa Safe Kids Coalition; Guardian of Small Business Award — National Federation of Independent Business; Iowa Association of Municipal Utilities, Iowa Health Care Association and Iowa Dental Association; Honorary Member, Conservation Districts of Iowa; Friend of Iowa County Fairs
Most Iowa Senate votes on controversial bills fall along party lines, but Johnson has occasionally shown an independent streak. Earlier this year, he was one of three Senate Republicans voting to terminate Medicaid privatization, and later one of six Republicans to vote for a Democratic bill on Medicaid oversight. He is also the state legislature's leading Republican voice on conservation funding and backs raising Iowa's sales tax by 3/8th of 1 cent to fill the Natural Resources and Outdoor Recreation Trust Fund.
Lawrence told Whiting's personal story in today's report. The 28-year-old grew up in Spirit Lake and has been interested in politics since the age of 3:
In 2010, at 22 years old, he ran for the Republican nomination for the open state House District 6 seat. He lost to Jeff Smith by 55 votes. [...]

Whiting graduated from Stetson University in Florida graduating summa cum laude with Phi Beta Kappa distinction with a bachelor of arts in political science. After the narrow loss in 2010, he attended law school, first at Drake University in Des Moines for a year and then completing his studies at Regent College School of Law in Virginia Beach, VA.

He started working for King as an intern, where he met his future wife, Juliana, who also was an intern in the office. The couple has been married for four years and have a 3-month-old son, Jack. [...]

In 2015, he took a job with King as a policy adviser, but when Juliana became pregnant, they decided to return to Iowa. After considering a job in the Mason City office, he chose to work in Spencer. The couple moved there last week and still are getting settled.
Generally speaking, challenging an Iowa legislative incumbent in a primary is a low-percentage game. Under normal circumstances, a young man who has never held elected office would have no chance to beat a four-term senator from his own party.
But Whiting would not be a typical primary challenger. He will have King's strong support, which carries a lot of weight in northwest Iowa. Here are the results from the Senate district 1 counties in this year's fourth Congressional district GOP race between King and Bertrand:
IA-04 GOP primary votes in 2016
County
Percent for King
Percent for Bertrand
votes cast in 2016 primary
registered Rs in county
Clay
55.9
43.8
3,475
5,778
Dickinson
56.8
43.0
767
5,400
Lyon
72.9
27.1
738
5,432
Osceola
70.8
29.2
634
2,517
Palo Alto
67.8
31.9
339
1,773
Note: Clay and Dickinson were weaker for King than most of the other 39 counties in IA-04.
Under normal circumstances, the whole party establishment would circle the wagons behind the incumbent with a long list of honors and awards. But Johnson is not a typical incumbent. Whiting is well-positioned to gain the backing of many local Republicans, such as the activists who signed an open letter last month warning Johnson,
"Your personal decision left us, as chairs, past chairs, central committee members for over 18 years, in a situation where we cannot, and will not, in good faith, continue to support you as our senator. You recklessly abandoned your party, your supporters, your constituents and your friends by declaring a 'no affiliation' status." [...]

The letter acknowledged Johnson's personal decision to publicly state he would not support the presumptive Republican presidential nominee is certainly his choice as a voter.

"However, to go public, selfishly rejecting the Republican Party, and all affiliated with our GOP, including your constituents from the 1st District goes beyond the pale," according to the letter. "In our opinion, your comments comparing the GOP to racists and fascists was unworthy of you, and us, as your constituents. Then, without hesitation, to rush to the media, eagerly creating a fanfare of celebrity for making such a 'bold' move, was insulting and hurtful to every voter who has ever supported you." [...]

"We recognize you have decidedly left our Iowa Republican Party, and we feel strongly you have deserted our district as our Republican senator. As a result of your action, we, the 1st District party chairs, affirm that a consequence of your decision is you will receive no support of any kind from us as county parties. We will make every effort to elect persons who support the party of Lincoln and the values we hold dear."
Whiting told Lawrence, "David Johnson has made this about himself," he said. "I'm not making this about myself. I want to serve."
Johnson's obvious comeback will be that he left the party to stand on principle against a "bigot" who is "unfit to be president." That's not a popular opinion in the Republican Party now, but if Trump goes down in flames this November, having opposed him him might look better in the spring of 2018 than in does today.
The big question facing voters in Iowa Senate district 1 will be whether Johnson's disloyalty this year to the GOP's presidential nominee and to King should count for more than nearly two decades of service in the state legislature. Johnson has built up a lot of relationships, not just in politics but also in the business community, while Whiting will be a new kid in town. UPDATE: Johnson may not run for re-election as a Republican; see comments posted below.
Any relevant comments are welcome in this thread.
UPDATE: King was in Spirit Lake last Wednesday. Russ Mitchell covered his visit for the Spencer Daily Reporter on August 25:
"I've never had a cross word with David Johnson, although he's had a few cross words for me," King said. "I don't understand why that is -- but it seems to be, he's had those cross words for everybody up and down the political spectrum from Donald Trump to the governor and I presume the lieutenant governor and right on down the line.

"It's clear that David Johnson has turned his back on the people that elected him," King went on to say. "And, this is a Republican district and they want a Republican agenda advanced. If Donald Trump's agenda is wrong for David Johnson and my agenda's wrong for David Johnson and Governor Branstad's agenda is wrong for David Johnson, I wonder what agenda or what candidate would be right for him."

Johnson responded by saying King likes to talk, but "he's all hat and no cattle."

"That's because he's a poor listener," Johnson said. "My challenge to Iowa's top Republican elected officials is not with their agendas, as he states. My challenge for state GOP leaders is to put principle before party, conscience before party and country before party."
Mitchell paraphrases Johnson as saying he will not caucus with Democrats or Republicans during next year's legislative session. If his return to the GOP would give Republicans the 26 seats they need for an Iowa Senate majority, though, I expect him to return to the fold. AUGUST 30 UPDATE: Speaking by telephone on August 30, Johnson said it was "too early" to talk about seeking another term in 2018. He confirmed that he will not rejoin the Republican Party for the 2017 legislative session, regardless of the outcome of this November's elections. Assuming Johnson stays outside the party, he may run for re-election as an independent. In that case, Whiting would likely face other Republican candidates in a primary. This seat will be too enticing for GOP activists in five counties to let a young Congressional aide take the nomination without a fight.
SECOND UPDATE: The Cedar Rapids Gazette published an excellent guest column by Johnson on August 28. I recommend reading "Lawmakers, look at what you've done to rural Iowa" in its entirety, but here are some excerpts:
There's apparently a new industry standard for pork producers: Get under the regulations and rules. Do the least required. Build smaller, build more.

Hardin County is already Hog Heaven, yet our drive from Iowa County showed the smaller units are going up there, too. Barb and Bob Havens of Eldora had extended an invitation to drop by. We found their driveway, located directly across from a 1,200-head unit under construction, and marveled at their home surrounded by woodlands near Upper Pine Lake.

There was time to accept their suggestion to see the public beach at Pine Lake State Park. There's sand. There's algae, often related to high phosphorus levels tied to soil erosion. And there's the "Water Quality Advisory" posted warning of recent high readings of E. coli bacteria. "Swim at own risk," the sign states clearly. [...]

On the return trip home we were reminded of a similar "fact-finding," "got to see it to believe it" visit to scenic Allamakee in June. Near Lansing, in a valley at the end of a dead-end gravel road, bulldozers, concrete mixers and backhoes will spring up as early as this week to build a confinement that state regulators say should not be placed there. Under current law, those regulators are powerless to stop it. The confinement falls in the category of being below the threshold of stricter rules and regs.

Neighbors and area residents, environmental experts and DNR director Chuck Gipp have publicly stated their opposition to the confinement location, which is upstream from naturally reproducing trout, a Bible camp and a $3.3 million visitor center to showcase the unique natural features of the area, including its geologic history. [...]

The confinement owner, who lives two counties away in Chickasaw County, has a stack of violations already for his more than 50 units in operation. They include manure spills and overflows, and not following MMPs filed with the DNR. It's worth mentioning he serves on the 15-member National Pork Producers Council board of directors.