Many Iowa Democrats expect to have the wind at their backs for the 2018 elections, due to surging progressive activism, an unpopular Republican president, and backlash against GOP lawmakers who used their power this year to take rights away from hundreds of thousands of workers, lower wages for tens of thousands more, and undermine protections for those who suffer workplace injuries.
It's too early to predict the political climate next fall, but Democrats need to hope for favorable external conditions as well as strong recruits and well-run campaigns. New calculations of last year's presidential election results by state legislative district point to a very steep climb back to 51 seats in the Iowa House and 26 seats in the Senate. This post will survey the terrain in the upper chamber.

Going into the 2014 election cycle, Democrats held 26 of the 50 Iowa Senate seats and had realistic hopes to pick up three more: an open seat and two districts Barack Obama had carried in 2012, where Republican incumbents had won their first races by narrow margins in 2010.
Only one of those opportunities panned out: Kevin Kinney won the open Senate district 39, allowing Democrats to hold the majority in the upper chamber despite Senator Daryl Beall's loss in Senate district 5. But GOP State Senator Rick Bertrand defeated his challenger in Senate district 7 by a comfortable 3,000-vote margin, and Mark Chelgren held on to Senate district 41 by a little less than 400 votes.
Last November, Democrats lost six Iowa Senate seats, including one race (Tom Courtney's in Senate district 44) that hadn't been on either party's radar. Even if you count independent State Senator David Johnson, who voted with the 20 Democrats on many issues during the 2017 legislative session, Democrats would need to pick up five GOP-held seats to regain the majority in the upper chamber. Only ten of the 29 Republican senators are up for re-election in 2018.
Jeff Singer of Daily Kos Elections posted an updated spreadsheet yesterday showing presidential voting in all 50 Iowa Senate districts for 2012 and 2016, as well as district-level results in the 2014 statewide races. Politics junkies should bookmark that page for reference, along with the spreadsheet with the same data for Iowa House districts.
Digging into the numbers the Daily Kos team compiled, three Senate districts present the most promising pickup opportunities for Democrats in 2018, but none looks like an easy win. Meanwhile, at least five Democratic senators could face well-funded Republican challengers.
REPUBLICAN-HELD SEATS IN PLAY
Senate district 7
Bertrand's district covering most of Sioux City swung from a 56.7 percent Obama/41.9 percent for Mitt Romney in 2012 to just 44.9 percent for Hillary Clinton and 49.7 percent for Donald Trump in 2016. Bertrand challenged Representative Steve King in the fourth Congressional district GOP primary in 2016 and said last summer he was unlikely to seek a third term in the state Senate.
I suspect Bertrand will run for re-election in 2018. If he does, he will probably be favored, though four-term Democratic State Representative Chris Hall is considering this race and would make it instantly competitive.
Senate district 7 contains 11,268 active registered Democrats, 9,523 Republicans, and 10,166 no-party voters, according to the latest figures from the Iowa Secretary of State's office.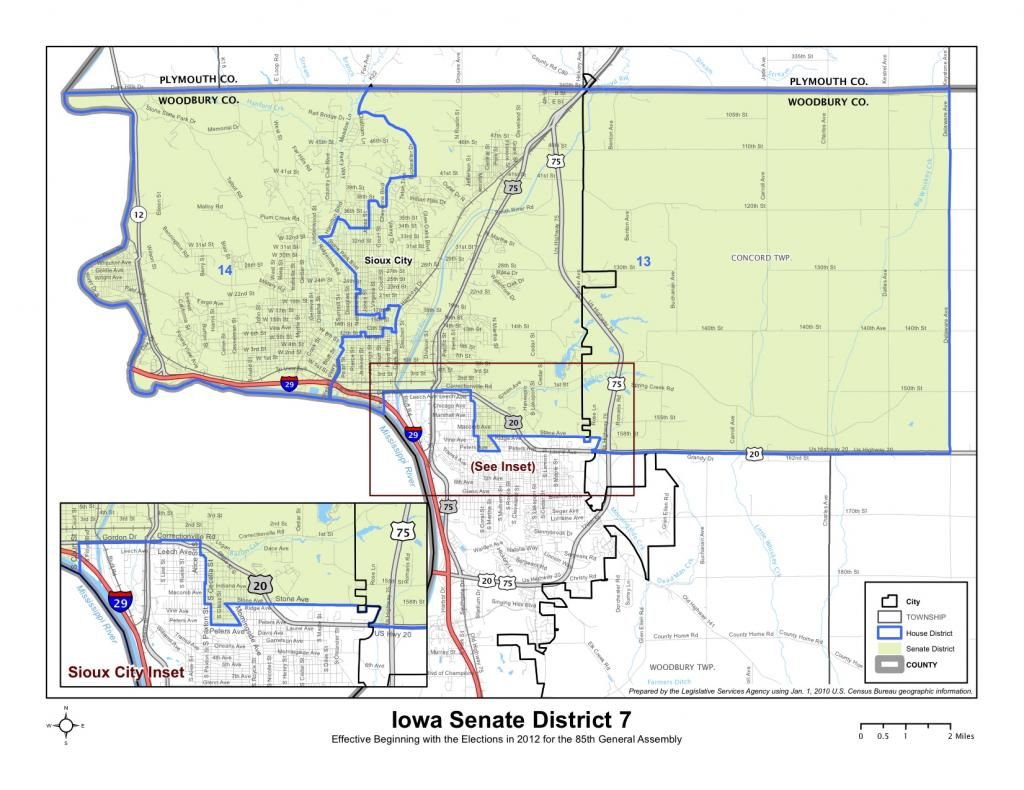 Senate district 41
Chelgren's district, covering all of Davis and Van Buren counties, plus the population centers of Wapello and Jefferson counties, swung from 52.9 percent Obama/45.1 percent Romney in 2012 to 37.9 percent Clinton/56.9 percent Trump in 2016.
Chelgren launched but later chickened out of a race against Representative Dave Loebsack in the second Congressional district in 2016. He may regret that decision after seeing the Republican swing in southeast Iowa and Loebsack's single-digit margin against an underfunded challenger.
Though Chelgren has been mentioned as a possible challenger to Loebsack next year, I expect him to seek a third term in the Senate instead. He made national news during this year's legislative session, and not in a good way.
At least two Democrats plan to run against Chelgren. Wapello County Supervisor Steve Siegel was the 2014 Democratic nominee and has been a strong supporter of raising the minimum wage in his county. (State-level Republicans including Chelgren blocked local minimum-wage ordinances during the recent legislative session.) Jaime Allen is a newcomer to campaigning.
Senate district 41 contains 13,339 active registered Democrats, 11,069 Republicans, and 11,262 no-party voters, according to the latest figures from the Iowa Secretary of State's office.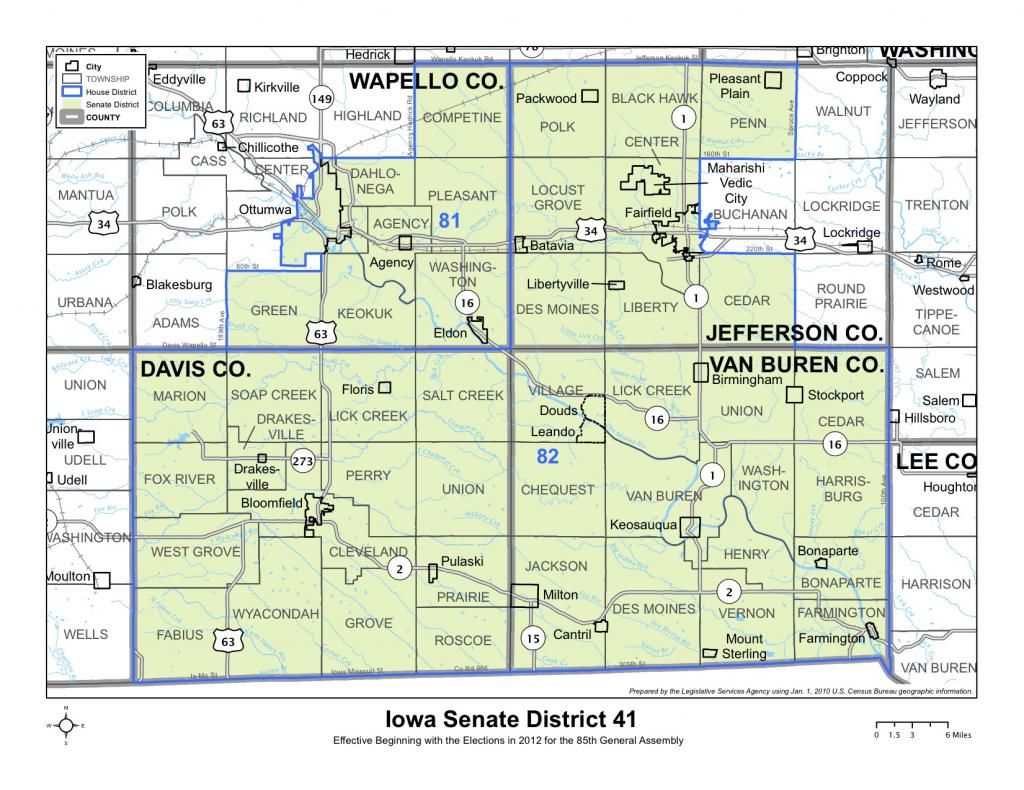 Senate district 47
Two-term State Senator Roby Smith is the only GOP senator up for re-election next year who represents a district Clinton carried. Senate district 47, covering Bettendorf and some other parts of Scott County, moved from 50.7 percent Obama/48.3 percent Romney to 47.1 percent Clinton/46.5 percent Trump.
Some have speculated Smith may run against Loebsack, but I will be very surprised if he seeks higher office. Having won re-election by more than 3,000 votes in 2014, he will be favored if he seeks a third term, though Democrats are sure to put some resources behind a challenger here.
I am not aware of any declared candidates against Smith. His 2012 challenger, Maria Bribriesco, is rumored to be planning another campaign, and a local source indicates at least one other Democrat is considering the race.
Senate district 47 contains 13,235 active registered Democrats, 15,347 Republicans, and 17,506 no-party voters, according to the latest figures from the Iowa Secretary of State's office.
DEMOCRATIC-HELD SEATS IN PLAY
Senate district 15
Former Newton Mayor Chaz Allen is a first-termer representing most of Jasper County and a large part of eastern Polk County. This mostly working-class area saw a large swing from 51.7 percent Obama/46.8 percent Romney to 39.5 percent Clinton/54.1 percent Trump.
Republicans made a play for the open seat during the 2014 campaign, but Allen won by about 1,300 votes in a GOP wave year.
I expect the GOP to spend money on this race in 2018, provided they can recruit a strong challenger. I haven't heard any names mentioned yet.
On paper, Senate district 15 is one of the state's most politically balanced, with 14,372 active registered Democrats, 13,828 Republicans, and 14,730 no-party voters according to the latest figures from the Iowa Secretary of State's office.
Final point worth noting: Allen voted for the major gun bill including "Stand Your Ground" provisions during the 2017 legislative session. I don't know whether that will be enough to inoculate him from big spending by pro-gun groups that attacked several Democratic senators during last year's campaign.
Senate district 27
Four-term State Senator Amanda Ragan became the second-ranking Democrat in the upper chamber soon after last year's election. Her district covering most of Cerro Gordo and Butler counties and part of Franklin County moved from 53.0 percent Obama/45.9 percent Romney to 39.8 percent Clinton/54.8 percent Trump.
Despite a voter registration advantage, Republicans failed to recruit a strong candidate here in 2014, as Ragan has historically had strong crossover appeal. She won her third term by nearly 3,000 votes.
Senate district 27 now contains 10,389 active registered Democrats, 13,298 Republicans, and 15,712 no-party voters, according to the latest figures from the Iowa Secretary of State's office.
I am not aware of any declared challengers, but one rumored contender is Steve Minert, who along with his father runs the Mason City Harley Davidson business.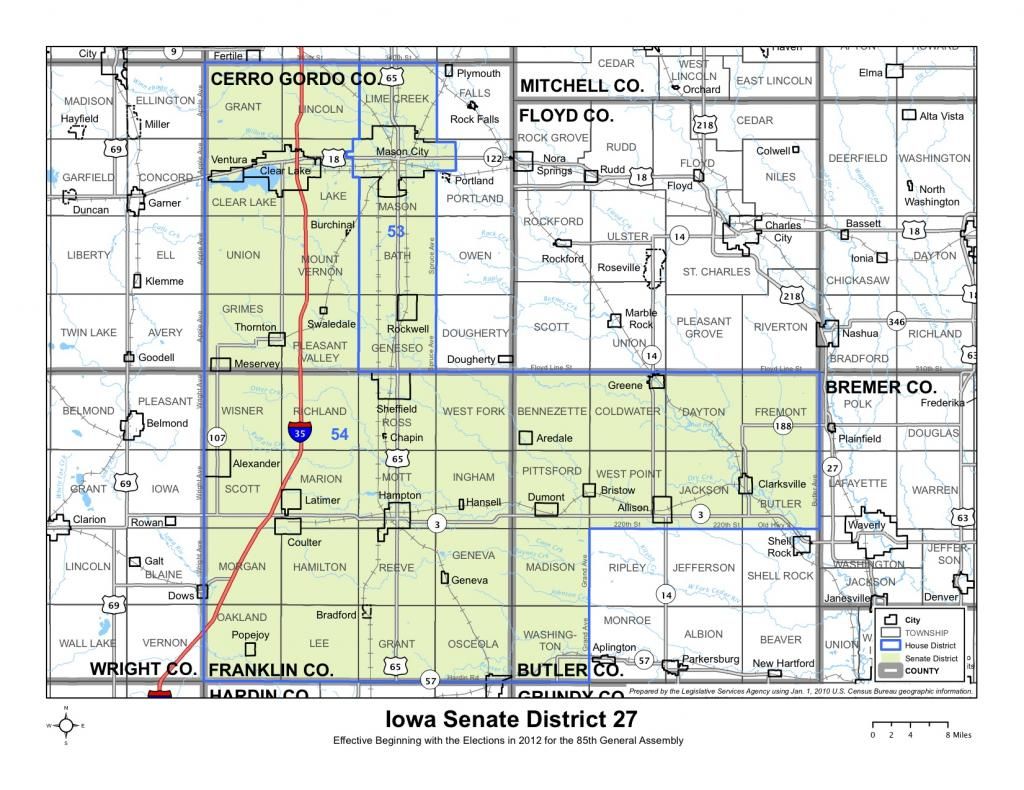 Senate district 29
After a very close call in his first Senate race, Tod Bowman won re-election in 2014 by more than 2,000 votes. That's a good result in a GOP landslide year, but Bowman's challenger was weak, and Republicans didn't put any money behind his campaign.
Senate district 29 covers all of Jackson County, part of Jones County and most of Dubuque County outside the city of Dubuque. The latest figures from the Iowa Secretary of State's office show 14,583 active registered Democrats, 11,903 Republicans, and 16,972 no-party voters.
Singer of Daily Kos called Bowman's area the "Trumpiest seat" among the Democratic-held Iowa Senate districts that will be on the ballot in 2018. Senate district 29 moved from 52.2 percent Obama/46.8 percent Romney to 37.2 percent Clinton/57.7 percent Trump, and Republican candidates Shannon Lundgren and Andy McKean won both of the open Iowa House seats that are part of this Senate district. I anticipate a strong GOP effort to recruit a Senate challenger to Bowman but haven't heard any names yet.
During the 2017 legislative session, Bowman voted for the Republican gun bill and for the first version of a bill banning most abortions after 20 weeks. He voted against the final version of that bill, which contained several additional abortion restrictions and eliminated any exception for women seeking abortions after 20 weeks due to severe fetal abnormalities.
Senate district 39
Kevin Kinney won an open-seat race in 2014 by a little more than 1,000 votes. His district includes much of Johnson County outside Iowa City and Coralville, all of Keokuk County, and most of Washington County. Johnson was one of only two Iowa counties where Trump underperformed Romney, which explains why Senate district 39's swing was not particularly large, from 52.8 percent Obama/45.6 percent Romney to 44.9 percent Clinton/48.7 percent Trump.
The latest figures from the Iowa Secretary of State's office show Kinney's district contains 12,784 active registered Democrats, 13,818 Republicans, and 14,807 no-party voters.
I'm not aware of any GOP candidates here yet.
Like Bowman, Kinney voted for the first version of a 20-week abortion ban but against the more extreme bill that Governor Terry Branstad signed into law.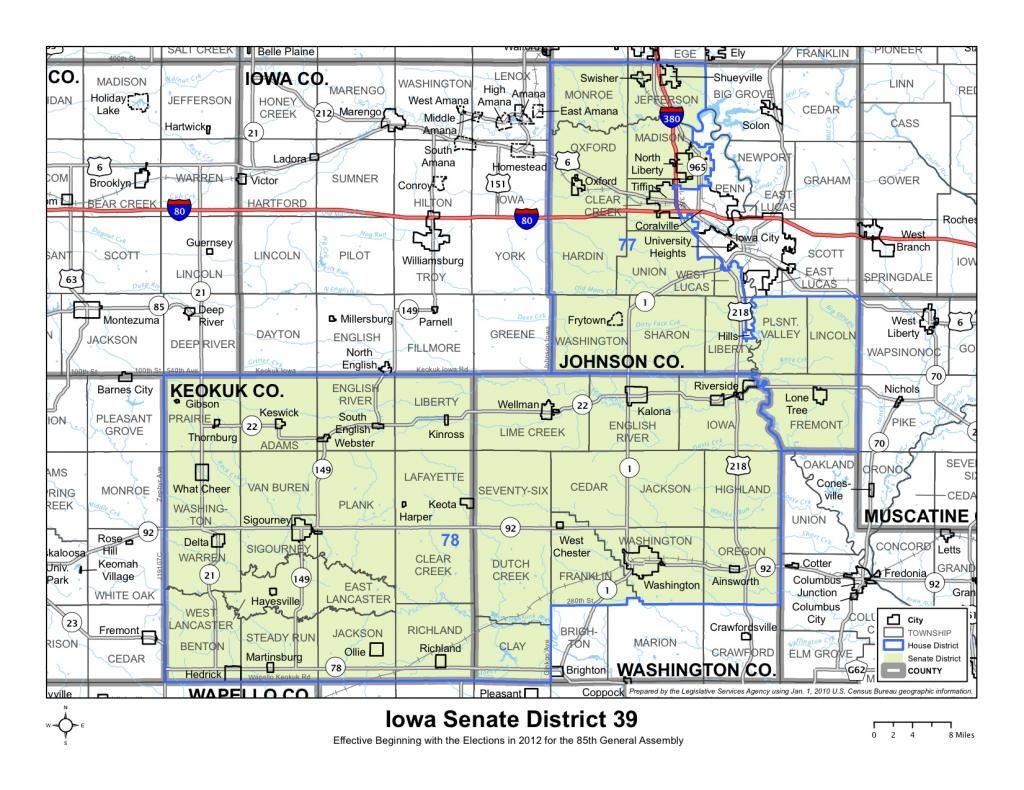 Senate district 49
After Iowa's last round of redistricting, no incumbent lived in this district covering all of Clinton County and part of northern Scott County. Rita Hart won the open seat in 2012 and had to be on the ballot again with all the other odd-numbered Senate districts two years later. She won re-election to a four-year term by a little less than 900 votes in 2014.
Hart is often mentioned as a possible running mate for the eventual Democratic gubernatorial candidate. If she were nominated for lieutenant governor, she would have to withdraw from the Senate district 49 race. Assuming she runs for re-election in 2018, I expect Republicans to spend money here, given the shift from 57.4 percent Obama/41.3 percent Romney to 42.0 percent Clinton/51.0 percent Trump. I haven't heard about any GOP challengers.
Senate district 49 now contains 11,971 active registered Democrats, 10,985 Republicans, and 17,202 no-party voters, according to the latest figures from the Iowa Secretary of State's office.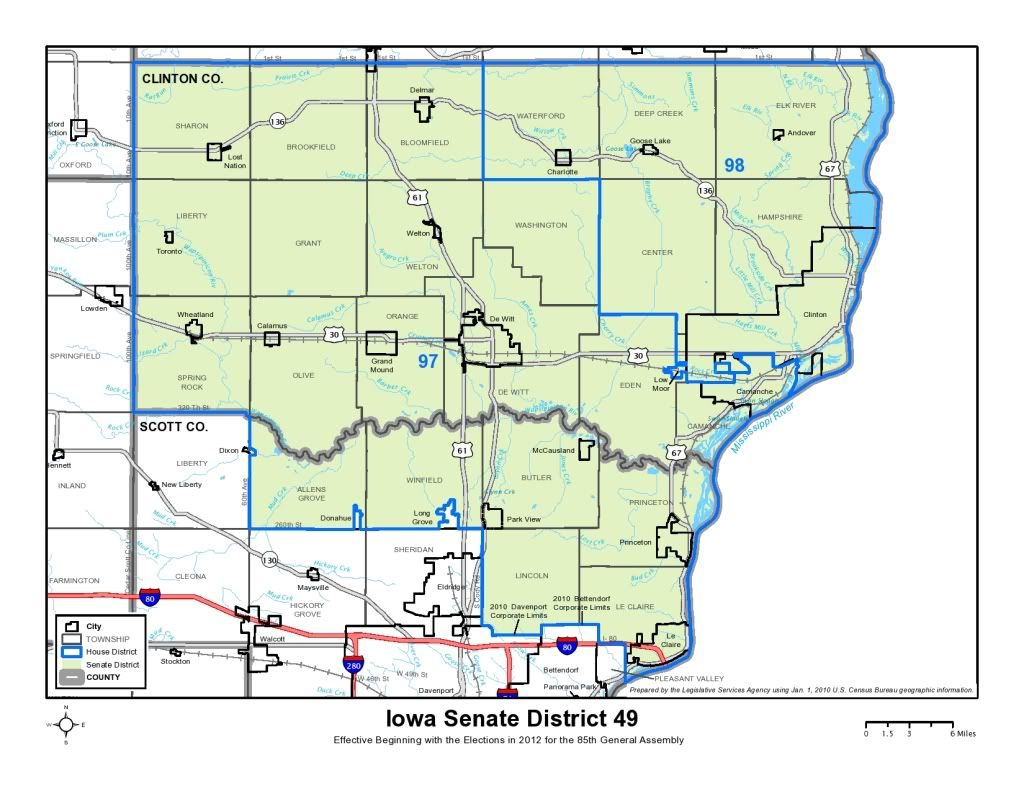 THE WILD CARD: SENATE DISTRICT 1
State Senator David Johnson has not confirmed whether he will run for re-election in 2018. The lifelong Republican became an independent last summer to protest Trump becoming his party's presidential nominee. During the 2017 legislative session, he voted for new restrictions on abortion but against the Republican budget bills and lots of other controversial measures, including the wide-ranging gun bill, the destruction of almost all public employee collective bargaining rights, legislation blocking local minimum wage ordinances, and major changes to the workers' compensation system. So while Democrats hold only 20 Iowa Senate seats, Johnson gave them a 21st vote on many important roll calls.
Senate district 1 is one of Iowa's reddest seats, covering Lyon, Osceola, Dickinson, Clay, and Palo Alto counties. There are as many active registered Republican voters in Johnson's district (20,967) as there are Democrats and no-party voters combined (7,537 and 13,095, respectively).
The eventual GOP nominee will be favored to win here. Only Zach Whiting has declared, but bank on a competitive primary.
Assuming Democrats don't field a candidate in district 1, Johnson has a chance to win a fifth term with support from Democrats, independents, and moderate Republicans who respect his willingness to put principles over partisan politics. John Deeth pointed out that Iowa's new voter ID law, which also bans straight-ticket voting, may work in Johnson's favor. Thousands of voters who might have filled in only the Republican oval will now either leave down-ballot races blank or vote on every line. If they get to the Senate race, some may choose Johnson over the GOP nominee, who will have lower name recognition.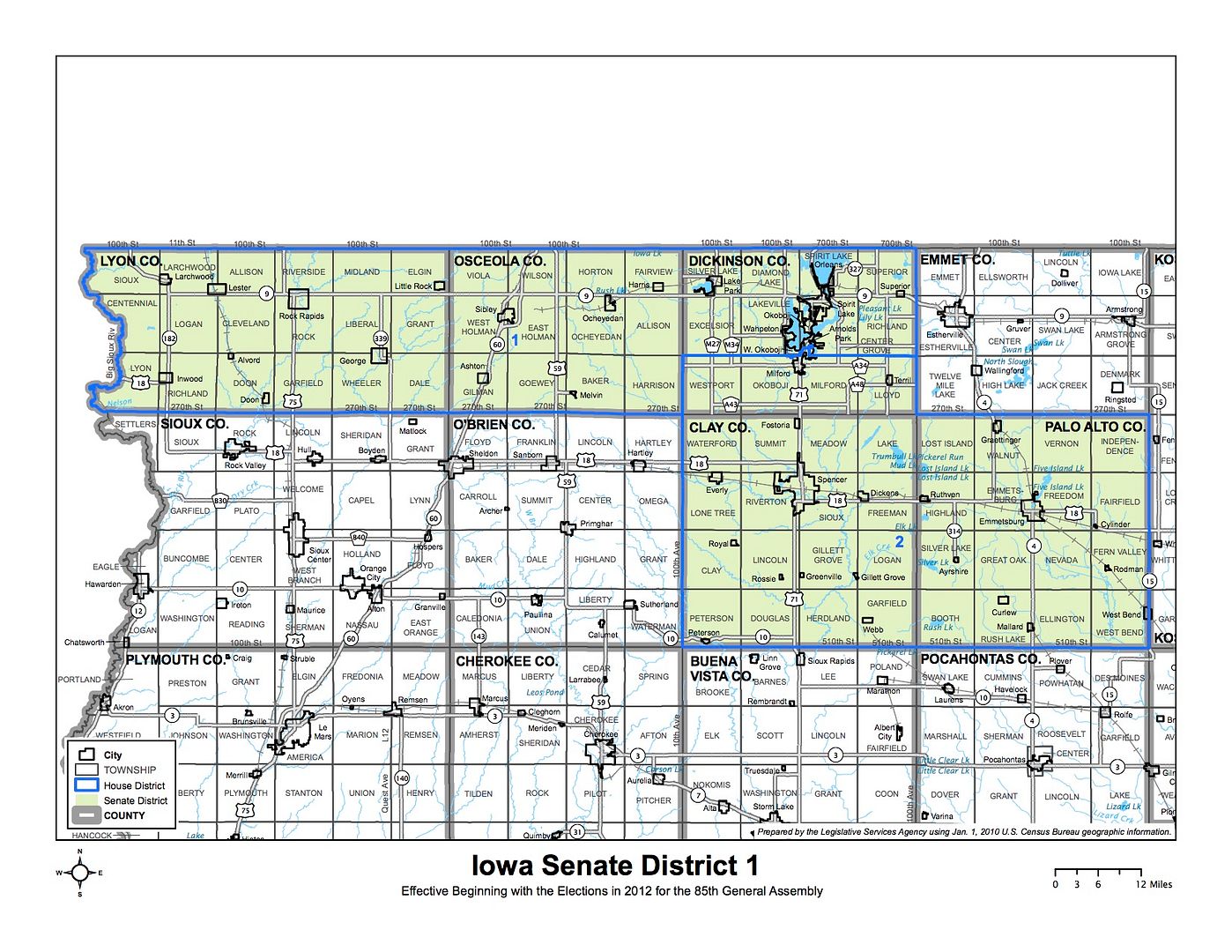 Any comments about next year's Iowa Senate races are welcome in this thread.