During the last week before the filing deadline, Republican State Senators Mark Chelgren and Rick Bertrand announced that they will not seek re-election in 2018. Iowa Senate districts 41 and 7 were already the best Democratic pickup opportunities on a difficult midterm election map. Of the 29 Republicans now serving in the upper chamber, only four–Chelgren, Bertrand, Dan Dawson, and Tom Greene–hold seats where registered Democrats outnumber Republicans (barely in Dawson's district). Dawson and Greene won't be up for re-election until 2020.
Winning an open seat is usually easier than defeating a legislative incumbent, and Bertrand's retirement clearly improves Democratic chances in Senate district 7.
But Republicans have likely increased their odds of holding Senate district 41 by swapping out Chelgren for Mariannette Miller-Meeks.

IOWA SENATE DISTRICT 7
Bertrand has represented the north and west sides of Sioux City and some rural Woodbury County precincts for the past eight years.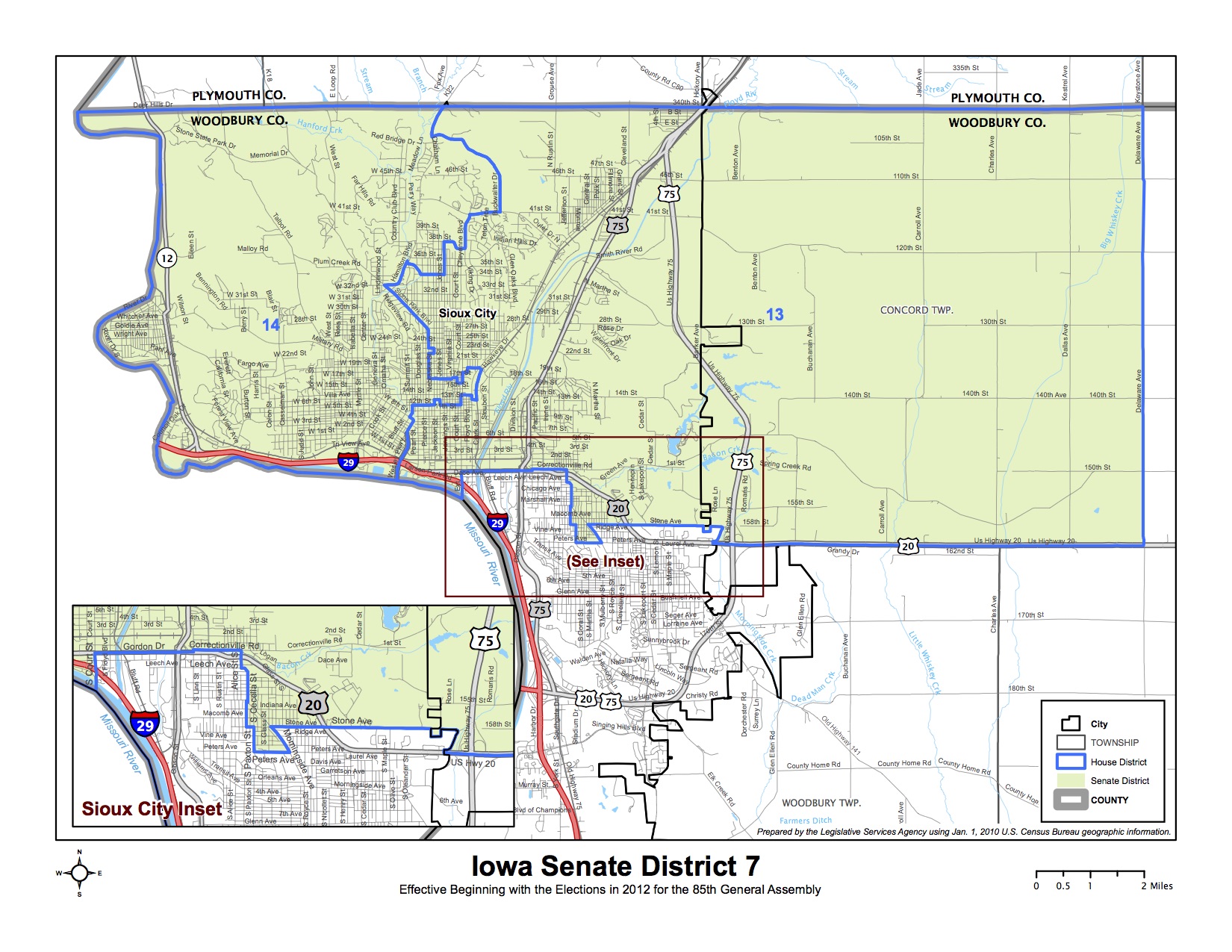 After a well-liked Democratic incumbent retired in 2010, Bertrand won this seat by just 222 votes amid a statewide GOP landslide. Democrats failed to mount a strong challenge here in 2014, and Bertrand was re-elected by more than 3,000 votes.
Bertrand would be favored to win a third term. But he announced on March 13 that he's sticking to earlier promises not to be a long-serving lawmaker.
He's been on the outs with his party's leaders for some time. In 2016, he challenged U.S. Representative Steve King for the nomination in the fourth Congressional district. He won about 35 percent of the GOP primary vote, as most of the Iowa Republican establishment coalesced behind King.
After the 2017 legislative session, Bertrand lost his committee chairmanship for reasons that remain unclear. A few months later, he was an outspoken supporter of replacing Bill Dix as Iowa Senate majority leader following the trial in Kirsten Anderson's sexual harassment case. Republicans rarely cross party lines in Senate floor votes, but earlier this month, Bertrand voted against final passage of an energy bill that could be among the most significant proposals considered this year. He also opposed Republican legislation that would require an Iowa Supreme Court super-majority to strike down state laws.
Speaking to the Sioux City Journal's Bret Hayworth on March 13, Bertrand said he may run for mayor, county supervisor, or Congress in the coming years. He didn't mention any names of Republicans who might try to replace him in Senate district 7. At this writing, no GOP candidate has qualified for the ballot. UPDATE: Steve Stokes filed nominating papers on March 16. I haven't found any campaign website or Facebook page. Stokes is apparently a Sioux City landlord.
Bertrand's retirement will put Senate district 7 at the top of the Democratic target list. The latest figures from the Iowa Secretary of State's office indicate that the district contains 10,830 active registered Democrats, 9,092 Republicans, and 10,216 no-party voters. No one should assume this race will be an easy takeover, though. In the 2014 midterm election, voters here favored Republican Joni Ernst over Bruce Braley in the U.S. Senate race by 50.0 percent to 44.7 percent. Donald Trump outpolled Hillary Clinton in the district by 49.7 percent to 44.9 percent in 2016.
Former Woodbury County Supervisor Jackie Smith already filed her papers and appears to be the only candidate seeking the Democratic nomination. Hayworth reported in January,
Smith served eight years on the county board, losing her bid for a third, four-year term in November 2016 to Republican Keith Radig, 55 percent to 45 percent. She represented supervisor District 1, which takes in much of the same territory in Sioux City as Senate District 7.

People from the entire county vote for supervisor seats. Smith said she is positioned to perform well in the senate race, since she got 11,273 votes and Radig got 10,358 in territory that lies in the senate district.
Launching her candidacy in February, Smith emphasized economic issues and education.
Smith, the daughter of the late community activist Betty Strong and Darrell Strong said one of her top priorities in the Iowa Senate would be job creation and worker training.

As chairwoman of the Woodbury County Board of Supervisors, Smith worked with business leaders to bring one of Iowa's largest economic development projects to Woodbury County.

"In the Iowa Senate, I will work to bring business to Iowa, but not on the backs of the working class and our most vulnerable citizens," she said. "That means investing more resources in our community colleges, job training and apprenticeship to ensure that more workers are ready to fill good-paying jobs today, tomorrow and next year."

Smith said that the people of Woodbury County are also interested in having the Legislature focus more energy on improving K-12 schools for Iowa children and grandchildren, ensuring access to affordable health for more Iowans, restoring the rights and dignity of working class families, and expanding access to cultural and recreational opportunities.

Smith is married to Dennis Smith, a retired high school math teacher. They previously owned and operated a small clothing business for 15 years. The experience taught them a lot about the challenges and rewards of owning and operating a small business.

"I understand a balance sheet, which helped me with budgeting principles when I was a county supervisor," she said. "I will take that expertise to the Senate and will work hard to protect taxpayers' money."
Smith's campaign has a website and Facebook page.
State Representative Chris Hall has long been seen as a promising candidate for Bertrand's Senate seat. But yesterday he filed to run for a fifth term in House district 13. Hall told Bleeding Heartland, "We have a great candidate running for the Senate with Jackie Smith, and I'm personally committed to electing a Democratic majority in the Iowa House. It took a great deal of thought to arrive at that place, but the strength of our candidates in both chambers gives me comfort to do so."
IOWA SENATE DISTRICT 41
Mark Chelgren should never have won one state Senate election, let alone two. The Republican Party didn't target his race in 2010, since the Ottumwa area had been a Democratic stronghold for decades. The incumbent here spent the weekend before that election knocking doors for endangered colleague Becky Schmitz in the district next door. Chelgren ran a relatively low-budget campaign and squeaked by with a ten-vote advantage out of nearly 20,000 votes cast.
In addition to running in a GOP landslide year against an incumbent who took his eye off the ball, Chelgren had another lucky break in his first Senate campaign. The Republican challenger to U.S. Representative Dave Loebsack in 2010 was longtime Ottumwa resident Mariannette Miller-Meeks. Though she fell short in the Congressional race, she beat Loebsack in Wapello County. Strong turnout for her presumably aided Chelgren.
When Iowa's maps were redrawn following the 2010 census, Chelgren's territory changed. His district still includes most Wapello County residents, plus all of Davis and Van Buren counties and most of Jefferson County, including the Fairfield area.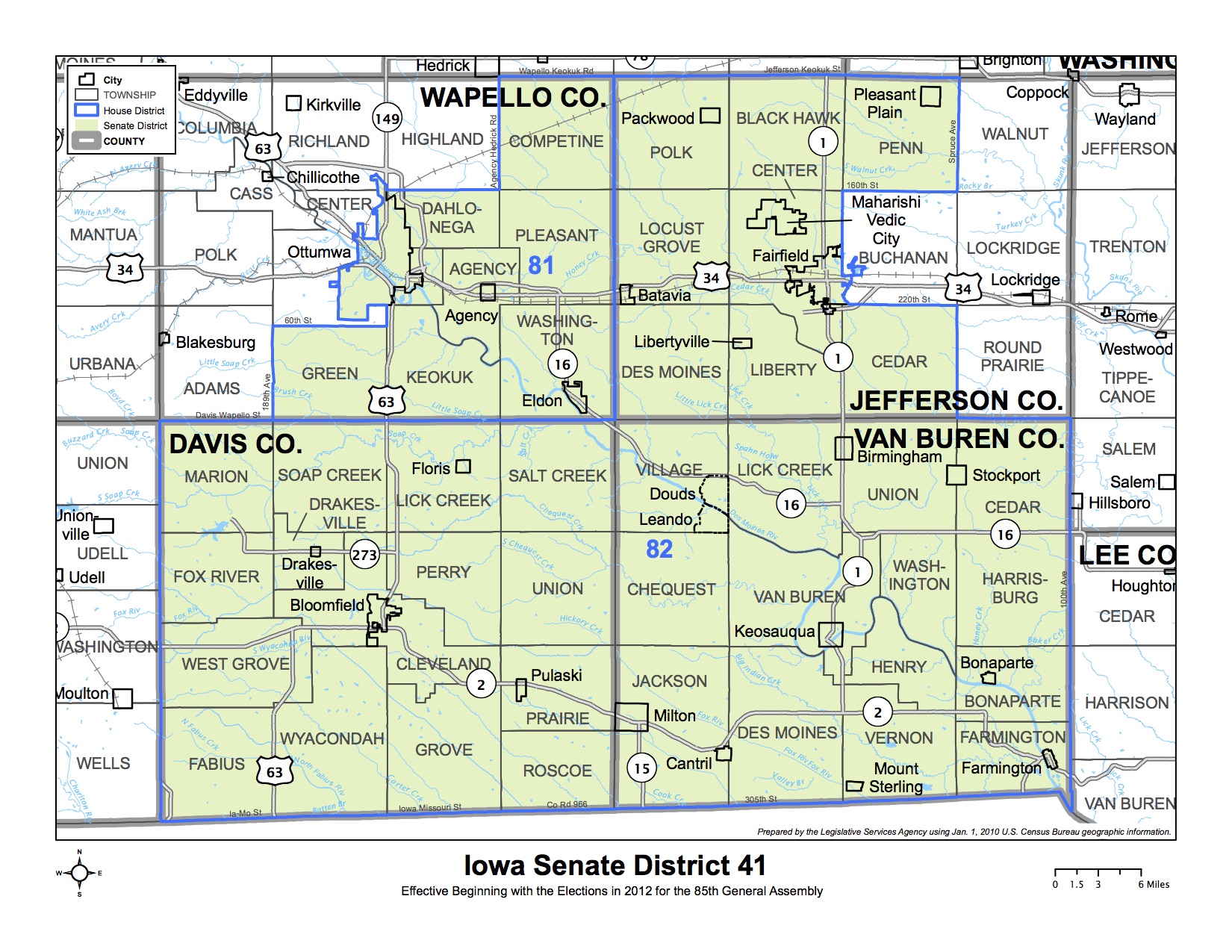 The Republican looked like a one-termer to me. But Democratic challenger Steve Siegel's ill-advised snarky comments about abortion became the centerpiece for a devastating attack ad in 2014. Chelgren won a second term by a little less than 400 votes.
Senate district 41 contains 12,868 active registered Democrats, 10,717 Republicans, and 11,322 no-party voters. However, Trump won 56.9 percent of the vote here in 2016, to just 37.9 percent for Clinton. The district's voters preferred Ernst to Braley in the 2014 U.S. Senate race by 49.3 percent to 45.5 percent.
One wonders whether Chelgren would have been re-elected four years ago if Democrats had realized and made voters aware that the senator was padding his resume. Corky Siemaszko of NBC News gained national attention for reporting in 2017 that the "business degree" Chelgren claimed to have earned was in fact a management course offered by the Sizzler restaurant chain. And while Chelgren's bio asserted that he "completed his education in Astro- and Geo-Physics at the University of California in Riverside," he was a student at that university for only one year.
The Ottumwa Courier editors called for the senator to resign last March, saying his "integrity has been compromised."
What is stunning is that Chelgren invited such attention to his views on education policy with the full knowledge that his educational credentials were falsified.

It was the latest example of Chelgren's sense of self-importance getting the best of him to the detriment of his ability to represent his constituents.

He has gotten into shouting matches on the Senate floor. He sulks like a spoiled child when reminded that he represents this area and that it deserves better. Those incidents already undermined his reputation at the state level.

Now, he has made Ottumwa a national punch line.
The past year's special legislative races have brought out an energized Democratic electorate. Last August, Phil Miller won convincingly in Iowa House district 82, which makes up the less Democratic half of Senate district 41.
Even a small swing toward Democrats would have threatened Chelgren's prospects. So it was a happy day for Republicans at the March 10 Wapello County GOP convention, where Chelgren confirmed plans to retire and Miller-Meeks announced her candidacy. The U.S. Army veteran and ophthalmologist ran a practice in Ottumwa for many years and has volunteered her medical services in the community. She has an impressive record of accomplishments and will never be a target of ridicule.
Democrats may criticize some of Miller-Meeks' actions as Iowa Department of Public Health director from 2011 to early 2014. Notably, she oversaw deep cuts to smoking cessation efforts and tried unsuccessfully to eliminate her department's top smoking prevention job. That episode was a factor in Senate Democrats' refusal to confirm Miller-Meeks to a position on a state board in 2016, though more broadly that vote was fallout from Governor Terry Branstad's Medicaid privatization. Democrats voiced concern that the nominee would not be a watchdog for children facing possible cuts to their health care services.
Another problematic aspect of Miller-Meeks' time in state government was the IDPH's treatment of LGBTQ Iowans. Couples filed lawsuits after the department refused to list the names of non-birthing same-sex parents on birth certificates or babies' death certificates. The Iowa Supreme Court unanimously ruled against the department's position in the birth certificate case in 2013. The same year, the department declined to appeal a lower-court decision ordering that both same-sex parents' names be listed on a death certificate following a stillbirth. Fairfield is more LGBTQ-friendly than many other small Iowa towns, so this issue could drive turnout against Miller-Meeks there.
Daniel Cesar will also appear on the GOP primary ballot in Senate district 41. He was previously a third-party candidate in a crucial 2009 Iowa House special election. The following year, he announced plans to run for state Senate as a Republican but did not follow through. He has virtually no chance to win the nomination against Miller-Meeks.
Two Democrats have been campaigning in Senate district 41. At this writing, only Mary Stewart has qualified for the ballot. The retired administrator from Indian Hills Community College has been running since last August. From the "about" page on her campaign's Facebook page and website:
I have spent my 33 year career in education, providing economic development opportunities and job training skills to students and constituents.

While supervising up to 65 employees I provided Iowans with job readiness skills and vocational training for new and expanding companies in southern Iowa.

I have experience in creating skill training and job opportunities for workers affected by plant closings. I also worked with local school districts across southern Iowa to provide programs to help students receive high school diplomas and technical job skills. I am also proud to have provided services to students with disabilities, ensuring them success in finding jobs.
Her issues page has links to brief statements about Employment and Training Programs, Education, Workers' Rights (she comes from a union family), Environmental Issues, Health Care, and Incentives for Rural Communities ("Not all Iowans want to or can afford to live in large metropolitan cities and they shouldn't have to").
Fairfield Mayor Ed Malloy has also been campaigning for Senate district 41 since January (website, Facebook, Twitter). His "vision" page includes brief statements about economic development, education, the environment, and health and wellness. Malloy wants to reverse the Medicaid privatization as well. His bio emphasizes his record as an experienced leader "with broad appeal and influence, bipartisan recognition and respect, decades of public service, and private sector accomplishments" as a city council member beginning in 1991 and mayor since 2001. Excerpts:
Early on he led a city-wide strategic planning and economic development study that envisioned the City of Fairfield as a rising star of Iowa cities with its diverse arts and culture, dynamic economy, tourism-caliber attractions, and leadership on sustainability and wellness initiatives. Other accomplishments that have led to accolades from across the state and country for Fairfield during his tenure as Mayor include:

2003: Fairfield received the "Grassroots Rural Entrepreneurship Award" as the "Most Entrepreneurial City in America" (with population under 10,000). In conjunction with this distinction, Ed was honored with the Grassroots Leadership Award from the National Association of Small Towns and Townships and the Kaufman Foundation.
2004: the "Most Entrepreneurial City" title was again bestowed on Fairfield, this time by Iowa State University's Center for Community Vitality, which distinguished Fairfield from all Iowa cities.
2006: Fairfield was named an "Iowa Great Place" by the Iowa Department of Cultural Affairs which led to an award of a Community Attractions and Tourism Grant from Vision Iowa for the construction of the Fairfield Arts and Convention Center.
2007: Mother Earth News named Fairfield "One of the Best Places to Live that You've Never Heard Of."
2008: Mayor Malloy commissioned a strategic planning study focused on building a sustainable city. The "Go Green 2020" plan was published in 2009 and drew national attention, with Ed being named one of the 15 Greenest Mayors in America by msn.com and reported by Grist online magazine (see side-bar story). The green plan included the city reducing its energy consumption by 8.5 percent and spawning two new solar companies that have become leaders in the state, contributing over 2 megawatts of solar energy in Fairfield.
2011: Fairfield opened a $9 million, 16-mile walking and biking trail around the city. The Jefferson County Loop Trail was a collaboration of local, county and state governments along with many local partners and is one of the premier trails in the state.
2011: Oprah Winfrey made a documentary about Fairfield which was featured as an hour-long special on the OWN Network.
2013: Smithsonian Magazine named Fairfield "#7 in the Top 10 Small Cities to Visit in America."
2015: Buzzfeed.com named Fairfield the "#2 Best Place to Do a Road Trip".
2018, Expedia.com recognized Fairfield as one of the top "50 Best Escapes in All 50 States."

Improving Our Quality of Life
Ed's work in public service has continued to be defined by the success of bringing together public/private partnerships to develop new amenities to the city including: a combined new outdoor pool and indoor sports complex, the renovation of downtown retail facades, and lifestyle programs such as the establishment of an Iowa Blue Zones designation, the Iowa Sustainability Coalition, the Fairfield Beautification Commission and numerous cultural initiatives.

Taken altogether, these broad-based community initiatives have given rise to an increase in the city's population and the retention of a younger demographic as evidenced by Jefferson County's population growth of 7.4 percent since the 2010 U.S. Census — the highest of any rural county in the state!
Either Stewart or Malloy should be able to mount a strong general election campaign. Although Miller-Meeks will be a tougher opponent than Chelgren, this race should be highly competitive.
I'll update this post as needed once the Democratic and Republican primary ballots are finalized in Senate districts 7 and 41.