Competitive races for governor and in three of the state's four Congressional districts drove Democratic turnout for the 2018 primary far beyond the level reached in any previous year. Bleeding Heartland compiled some of the notable numbers.

1. Turnout for Tuesday's election exceeded the previous record turnout for an Iowa Democratic primary by nearly 20 percent.*
In 2006, 148,751 Iowans voted for one of the four Democratic candidates for governor.
Unofficial results on June 7 indicate that 176,700 cast ballots in this year's governor's race.
*CORRECTION: 200,305 Iowans cast ballots in the 1990 Democratic primary. So this year's primary turnout was the highest in 28 years, but not a new record. Fred Hubbell's vote total was record-setting, because the 1990 primary was much more competitive. Don Avenson won the nomination with 79,022 votes to 63,364 for Tom Miller and 52,170 for John Chrystal. (Two other candidates received far less support.)
2. The 2018 primary turnout surpassed voter participation in the 2016 Democratic caucuses.
The Iowa Democratic Party said more than 171,000 people attended precinct caucuses in February 2016 to support either Hillary Clinton, Bernie Sanders, or Martin O'Malley. That was considered high turnout, even though it was far below the nearly 240,000 caucus-goers who showed up in 2008.
Although many politics watchers expected this year's primary turnout to break the 2006 record, I didn't hear many predict more than 175,000 voters would take part.
3. Fred Hubbell's vote total nearly matched the entire 2016 primary turnout.
Hubbell won the Democratic nomination for governor with 98,125 votes (55.5 percent), according to unofficial results on June 7.
The four-way Democratic primary for U.S. Senate in 2016 drew 101,991 voters.
4. Hubbell won 96 of Iowa's 99 counties.
The only counties he didn't carry were Louisa (containing Nate Boulton's home town of Columbus Junction), Montgomery (containing John Norris' home town of Red Oak), and Mills (where Cathy Glasson won 31 percent of the 290 votes cast).
Hubbell's dominating showing contrasts sharply with the 2006 Democratic primary results. Chet Culver won the nomination with about 39 percent to 34 percent for Mike Blouin and 26 percent for Ed Fallon. In this map, courtesy of the U.S. Election Atlas website, counties Culver carried are in varying shades of red, Blouin counties are blue, and Fallon counties are green. Fallon carried the state's most populous county (Polk), while Blouin won a plurality in several other large counties (Linn, Johnson, Dubuque).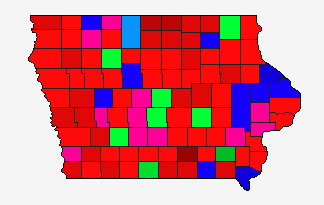 6. Hubbell won a majority of all votes for governor in 76 counties.
Even taking into account Hubbell's massive campaign spending compared to his Democratic rivals, clearing the 50 percent threshold in a field of six candidates is a remarkable feat. Hubbell's vote share was above that level in three-quarters of the counties. He won more than 60 percent of the vote in 44 counties, including Linn (the second-largest) and Woodbury (including Sioux City).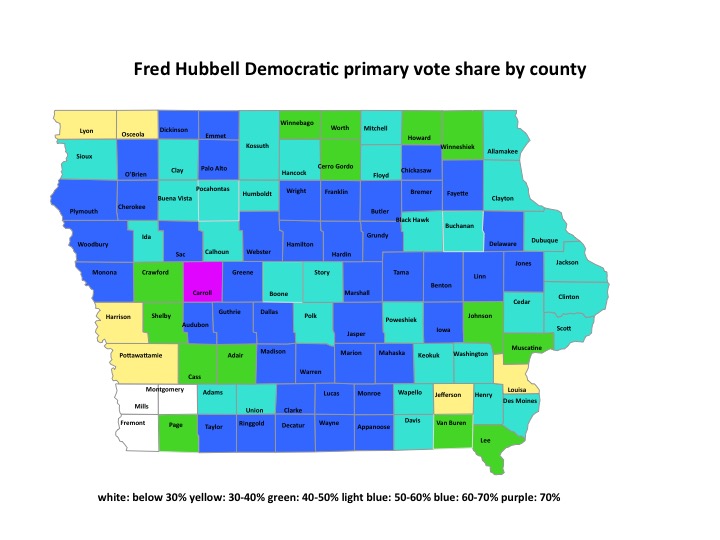 Hubbell hit the 70 percent mark in Carroll County. Perhaps the Carroll Daily Times-Herald's endorsement pushed him over the edge.
Democrats gave Hubbell less than 30 percent of their votes in just three counties, all with small populations. The nominee was below 40 percent in only six more. In the remaining fourteen counties, he received between 40 and 50 percent of the vote.
7. Ten counties accounted for two-thirds of Hubbell's votes.
The counties that typically produce the most votes for Democratic candidates contain Iowa's largest metro areas and/or state universities.
Unofficial results show Hubbell received the most raw votes in the following ten counties.
Polk (Des Moines and most of its suburbs): 23,706
Linn (Cedar Rapids area): 9,845
Johnson (Iowa City area): 7,511
Dubuque: 4,603
Scott (Quad Cities): 3,987
Story (Ames/Iowa State University): 3,814
Black Hawk (Waterloo/Cedar Falls): 3,885
Dallas (suburbs west of Des Moines): 2,939
Woodbury (Sioux City): 2,471
Warren (Indianola): 2,114
Total: 64,875 votes
That's about 66 percent of Hubbell's statewide total of 98,125 votes.
Side note: If you're primarily interested in raw votes and percentages for the top three candidates for governor in each county, the New York Times results page is easier to use than this section of the Secretary of State's website.
8. Johnson County shattered its previous primary turnout record by more than any other Iowa county.
The "People's Republic" has long had unusually strong voter participation, probably because it has a high proportion of adults with college degrees compared to the rest of Iowa. Since the Republican Party is not competitive there at the county level, Democratic primaries often determine the outcome of the November election. Johnson County also has a rapidly-growing population, especially around Coralville and North Liberty.
The governor's race and an intense three-way contest for two county supervisor seats drove turnout to an unprecedented level. Unofficial results show Johnson County residents cast 16,882 votes for a candidate for governor this year. That's more than 50 percent higher than the previous record of 10,786 votes in the 2006 governor's race.
Incidentally, voters in the "People's Republic" cast about 7.3 percent of the 148,751 Democratic primary ballots for governor in 2006. This year, they contributed nearly 9.6 percent of the 176,700 votes for a gubernatorial contender.
9. Turnout was highest in the third Congressional district, largely because of Polk County.
According to the Secretary of State's website, 55,383 people voted for one of the Democratic candidates in Iowa's third Congressional district. That was nearly double the 28,339 who voted in the three-way Congressional primary in the fourth district. In the first district, where four Democrats were competing for the nomination, 44,134 people cast ballots. U.S. Representative Dave Loebsack was unopposed in the second district and received 42,542 votes.
Polk County contains about two-thirds of registered Democrats in IA-03, but its residents accounted for about 74 percent of the district's votes for Congressional candidates Cindy Axne, Pete D'Alessandro, and Eddie Mauro. Most of the candidates for governor live in Des Moines, and several hard-fought local races, such as Matt McCoy against John Mauro in a county supervisor district, inspired strong GOTV efforts.
Polk County residents cast 28,271 (19.0 percent) of the 148,751 ballots in the 2006 primary for governor.
They cast 41,063 (23.3 percent) of the 176,700 ballots in this year's race for governor.
Another sign of high engagement in Polk County: 8,783 people voted for either Claire Celsi or Connie Ryan in Iowa Senate district 21, covering parts of Des Moines and West Des Moines.
In the other two hottest Democratic primaries for state Senate seats, 6,545 people cast ballots in Senate district 37 (where the main competitors were Zach Wahls and Janice Weiner), and 4,989 voted for either Mary Stewart or Ed Malloy in Senate district 41.
10. About 18,000 people who cast a Democratic ballot for governor did not weigh in on the secretary of state race.
First-time candidate Deidre DeJear narrowly won the chance to take on Secretary of State Paul Pate with 81,040 votes (51.1 percent) to 77,367 (48.8 percent) for Jim Mowrer.
The total number of votes cast in that race, including write-ins, was 158,695. DeJear's advantage over Mowrer was less than one-fourth as large as the number of under-votes.
Any comments about the 2018 primary elections are welcome in this thread.
Final note: the Secretary of State's office erroneously announced on June 5 that overall turnout for this year's primary was record-setting. In fact, turnout for all the 2018 major-party primaries (279,124 unofficially) was below the level reached in 2002 (303,656 Democratic and Republican voters) and 2010 (302,950).
If Ron Corbett had not failed to qualify for the GOP primary ballot, this year's total Iowa primary turnout would surely have surpassed the 2002 and 2010 numbers, by a lot. Governor Kim Reynolds' campaign would have devoted major resources to GOTV if she had had any competition for the Republican nomination.