Watch out, Paul Pate: Deidre DeJear just won the Democratic nomination for secretary of state. She will be a terrific candidate in the general election.
Commentary about DeJear has often focused on her potential to make history. She is the first African American nominated by a major party for a statewide office in Iowa. That is obviously significant in a state where white people have long dominated government. But DeJear brings much more to the ticket than diversity.

DeJear conveys a positive energy that is rare on the campaign trail, especially coming from a challenger who needs to make a case for replacing the incumbent. I posted the audio of one of her early stump speeches here, and I encourage you to listen or read the transcript.
More than two dozen Democratic candidates each had just two minutes to address Polk County convention delegates in March. Listen to the "voting nerd" connect with the crowd:
My transcript:
Good morning, Polk County! I am Deidre DeJear, and I'm running for secretary of state. I hail from the southeast side of Des Moines. [cheers] South-sider. I'm a small business owner, and I started that business in college at Drake to help other businesses get started, and to help other businesses grow.

I'm also a voting nerd. I traveled throughout state in 2012 working on the Obama campaign. My job was to get hard-to-reach populations to vote.

I also care so much about voting that my friends convinced me to run school board races. And in those races, I realized it was so important to get people engaged in local elections. Our small elections get 5 to 10 percent turnout throughout our state. Five to 10 percent. Those are the elections where the rubber meets the road, where we can convince and persuade voters that their vote matters. Those are the elections that we can get people engaged in today and tomorrow. And we can do a better job than what we're doing now.

We have a secretary of state who has dedicated his efforts to putting barriers in front of people and the vote. No take-backs, folks. Our country has come too far. The very first election that we had, when we elected George Washington, only white male landowners could vote. Now women can vote. Students can vote. African Americans can vote.

We are no longer going to stand in the way of our community of disabilities, our disenfranchised communities. We are no longer going to stand in the way of anybody's vote, because the vote is so valuable. It's our most fundamental right that we have.

The time is now to elect a secretary of state that will stand in the gap for each and every voter throughout our state. Our young voters, our young at heart voters, our rural voters, our urban voters. We need a secretary of state that will be a champion for each and every one of your voices. And I believe it's me, folks. I believe it's me. [cheers, applause]
When I interviewed DeJear last summer, she described her passion for helping people vote and her experience in the small business world. She told part of that story on her website and in mailings her campaign sent to thousands of voters before the primary (scans enclosed below).
DeJear has already demonstrated the capacity to raise money for a statewide race against a much better-known rival. A long list of prominent Iowa Democrats endorsed her candidacy. Her campaign may also get a boost from outside groups. During this primary, she landed the backing of prominent labor unions (AFSCME and SEIU), women's groups (NARAL, EMILY's List, Iowa Women for Progressive Change), the Bernie Sanders off-shoot Our Revolution, and organizations focused on building black political power (The Collective PAC and Higher Heights).
As more Iowans get to know DeJear, I am confident they will like what they see.
Front of a fold-out mailing from Deidre DeJear's campaign: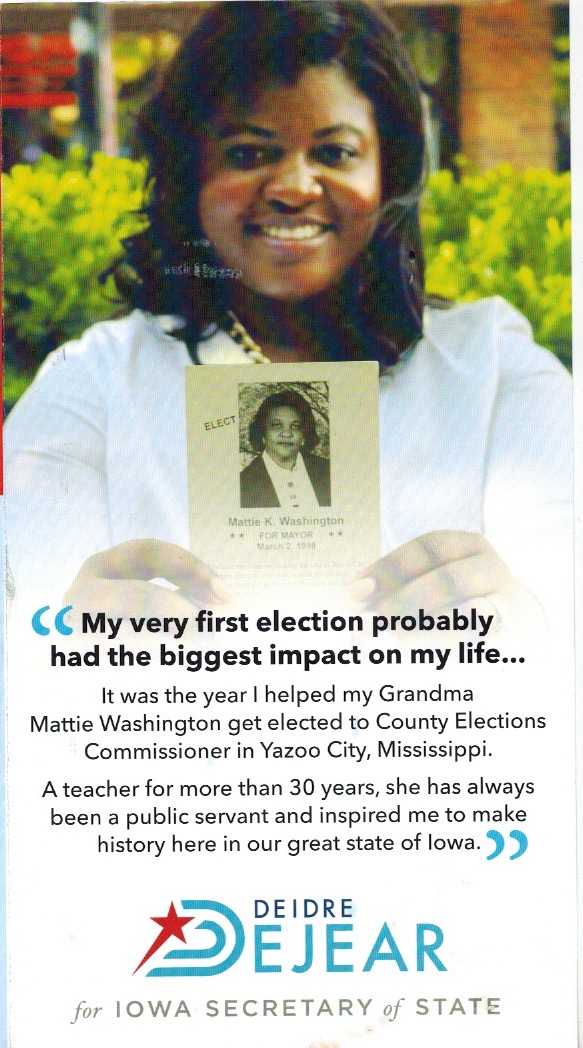 Interior: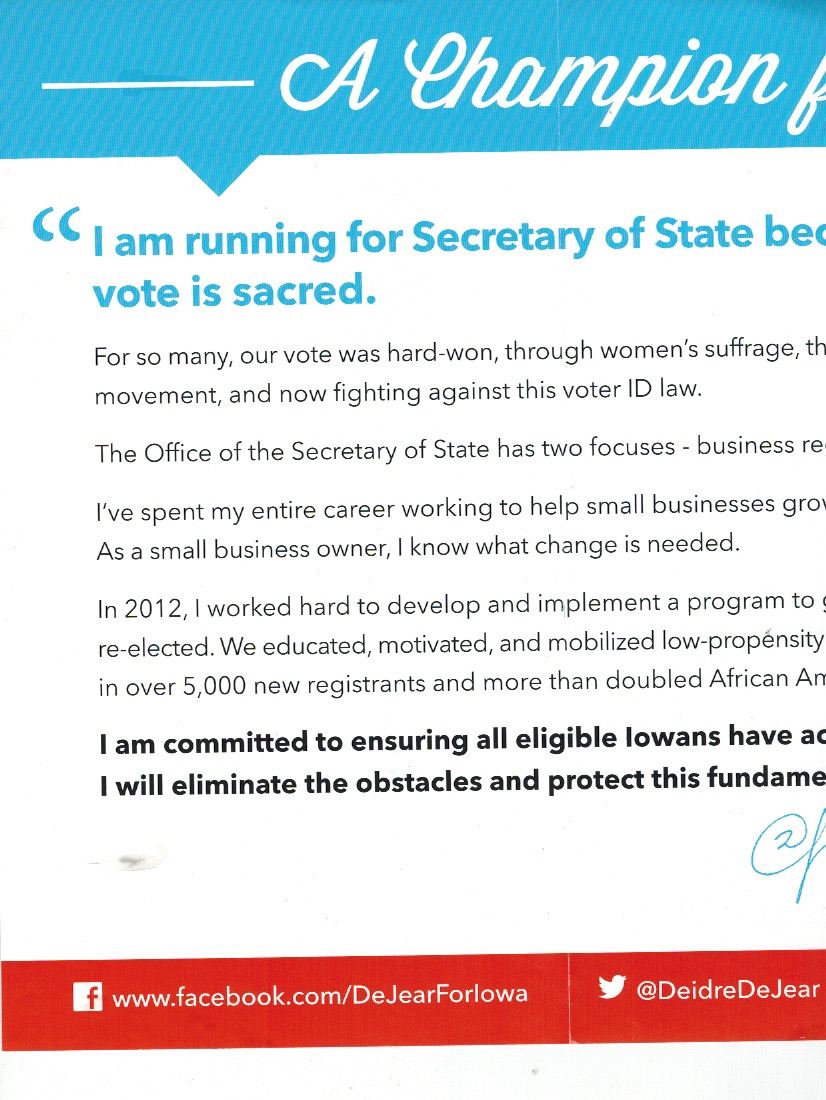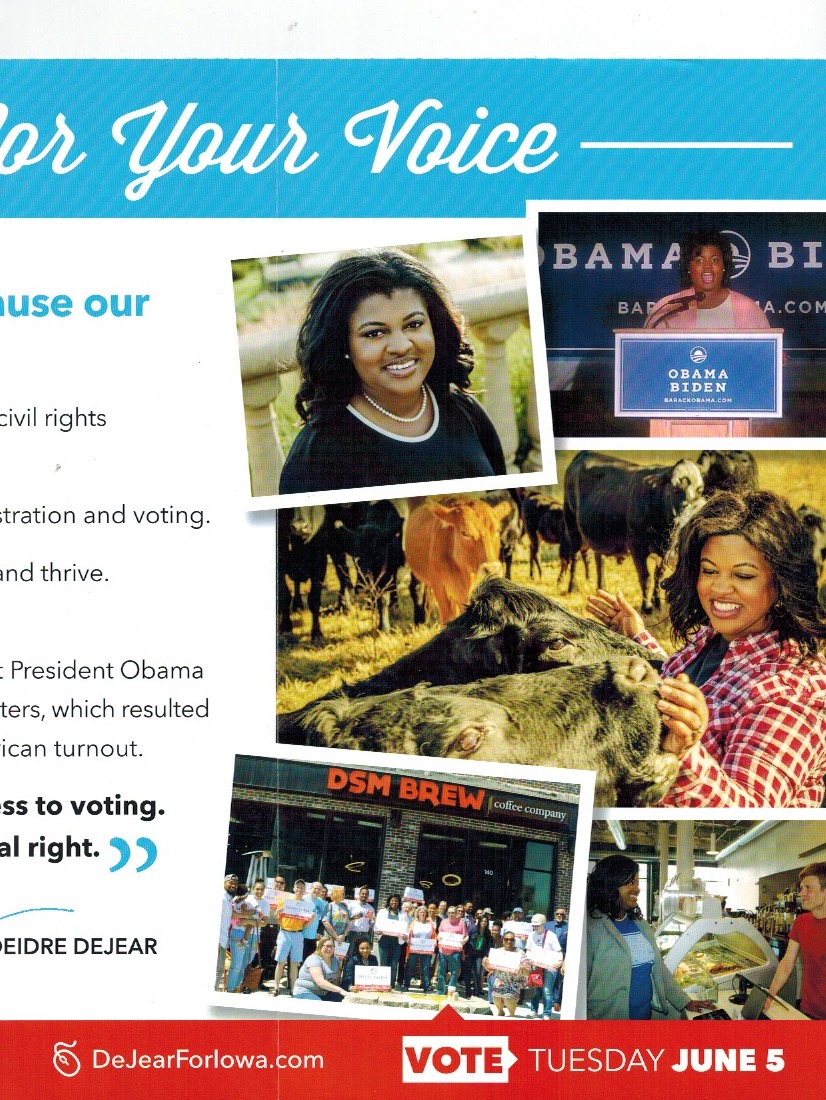 Part of back (endorsers):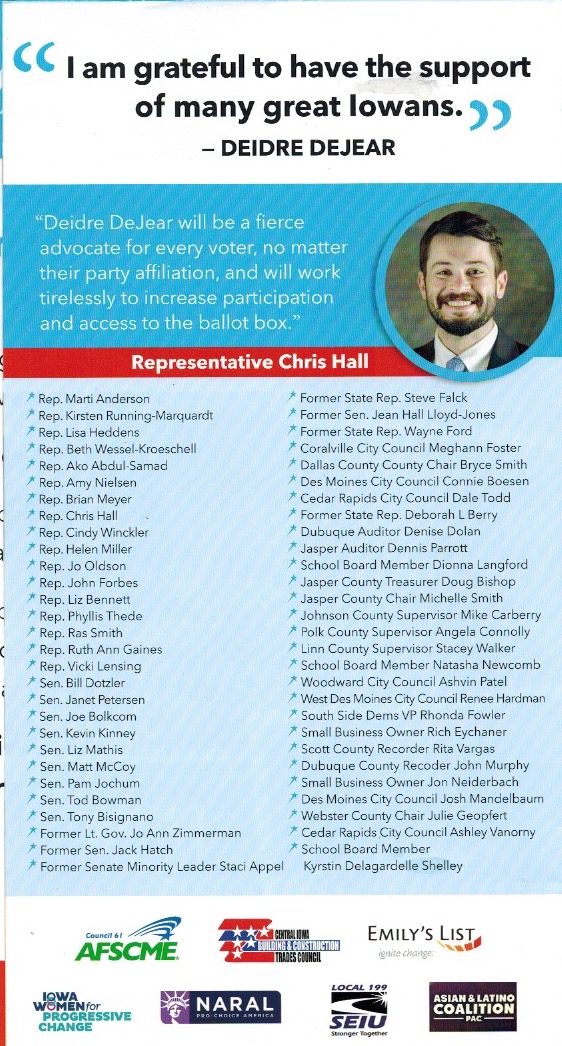 Rest of the back: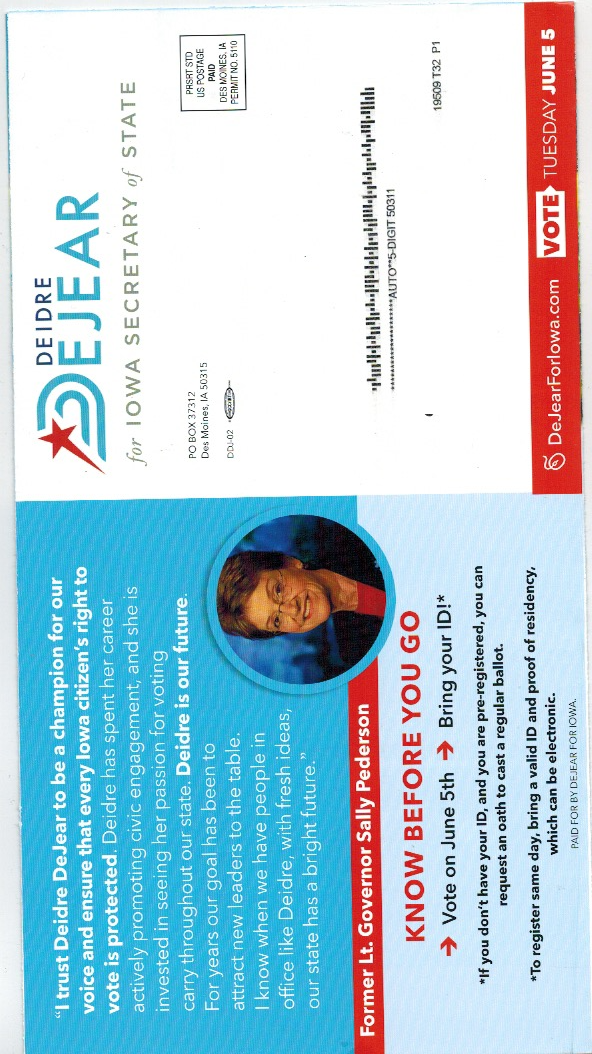 Front of two-sided mailing: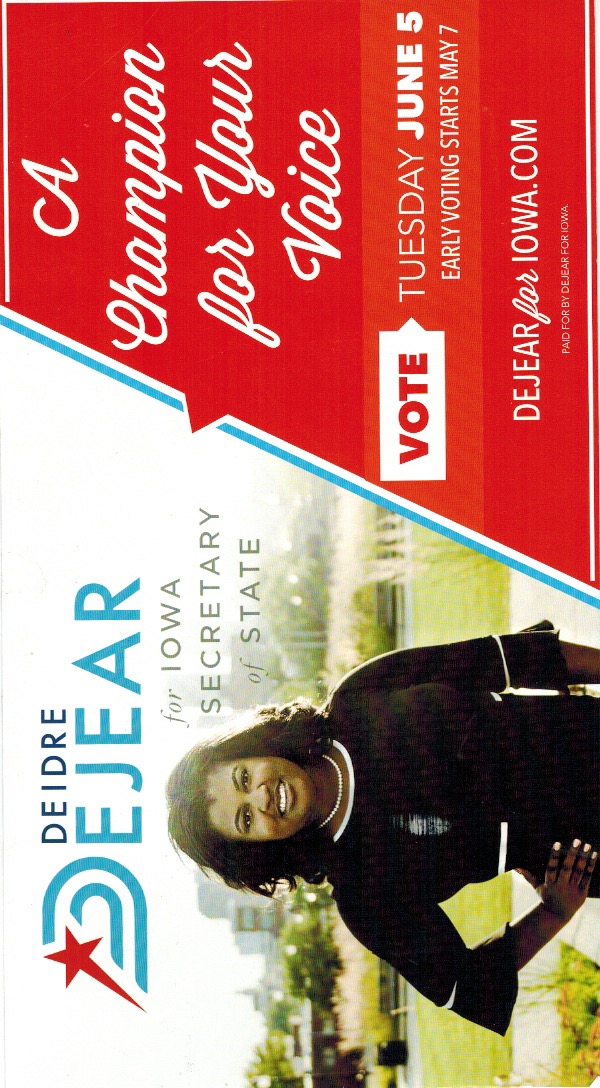 Back: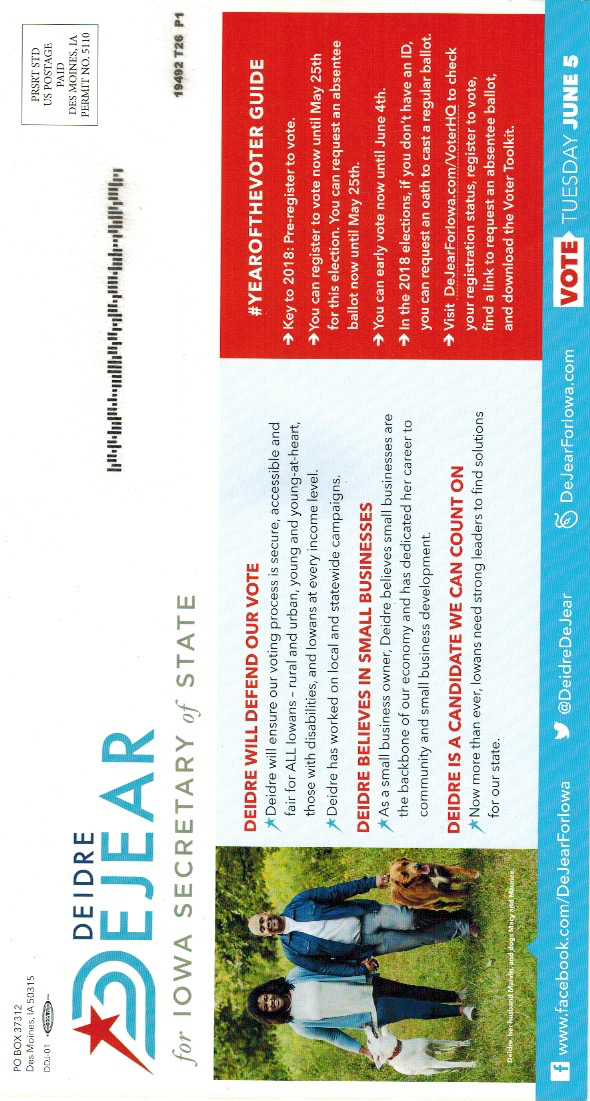 UPDATE: Let America Vote endorsed DeJear on June 6. Excerpt from the news release:
"Deidre DeJear believes that our democracy is stronger when more eligible voters participate in elections, which is why Let America Vote is proud to endorse her," Let America Vote President Jason Kander said. "Deidre is a grassroots candidate who has devoted her political career to registering voters and ensuring Iowans make it to the polls. She has proven her commitment to Iowa voters, and that's how I know she'll make a great secretary of state.

"As the first ever African-American nominee for statewide office in Iowa, Deidre has already made history," Kander said. "Now, Let America Vote is going to put in the work to make sure Deidre wins this election and that Iowans have a secretary of state who will stand up for them."

Starting this summer, Let America Vote's Iowa field operation will work across the state to support Deidre DeJear and other pro-democracy candidates up and down the ballot.

Deidre is running against incumbent Iowa Secretary of State Paul Pate, who Let America Vote inducted into its Voter Suppression Hall of Shame last year for his role in enacting Iowa's expensive and unnecessary voter ID law.
SECOND UPDATE: Radio Iowa's O.Kay Henderson pointed out,
Almo Hawkins, the 1998 Republican nominee for lieutenant governor, was the first African American nominated for statewide office, but she was selected by GOP convention delegates after Jim Ross Lightfoot, the Republican nominee for governor in 1998, announced he wanted Hawkins as his running mate.