A former leader of the Iowa State Bar Association is waging an unprecedented campaign for a seat on the panel that chooses finalists for Iowa's two highest courts.
Many attorneys received a mailing on December 28 promoting the candidacy of Robert Waterman, Jr., a partner in the Davenport firm Lane & Waterman. The mailing appears to have targeted every member of the bar in 24 counties that make up the second Congressional district. The paid postage mark indicates that the Republican political consulting firm Victory Enterprises handled the mailing.

Under Iowa's merit-based selection system, the State Judicial Nominating Commission picks three finalists for vacancies on either the Iowa Supreme Court or Iowa Court of Appeals. The governor has 30 days to choose the judge from that short list.
Commissioners serve staggered six-year terms. Eight are political appointees, a man and woman from each Congressional district. Currently all are Republicans named by Governor Kim Reynolds or her predecessor Terry Branstad. Members of the Iowa bar elect attorneys for the remaining eight spots on the judicial selection panel, a man and woman from each Congressional district.
Between January 1 and January 31, attorneys will vote for a man from the second district, a woman from the third district, and a woman from the fourth district to serve terms beginning on July 1, 2019. Lawyers now seeking those positions will not participate in next month's interviews for seats on the Supreme Court and Court of Appeals.
Multiple attorneys told Bleeding Heartland on December 28 that while lawyers sometimes send peers letters or e-mails making their case to serve on a judicial nominating commission, no one has ever produced a campaign-style mailing like this one for Bob Waterman.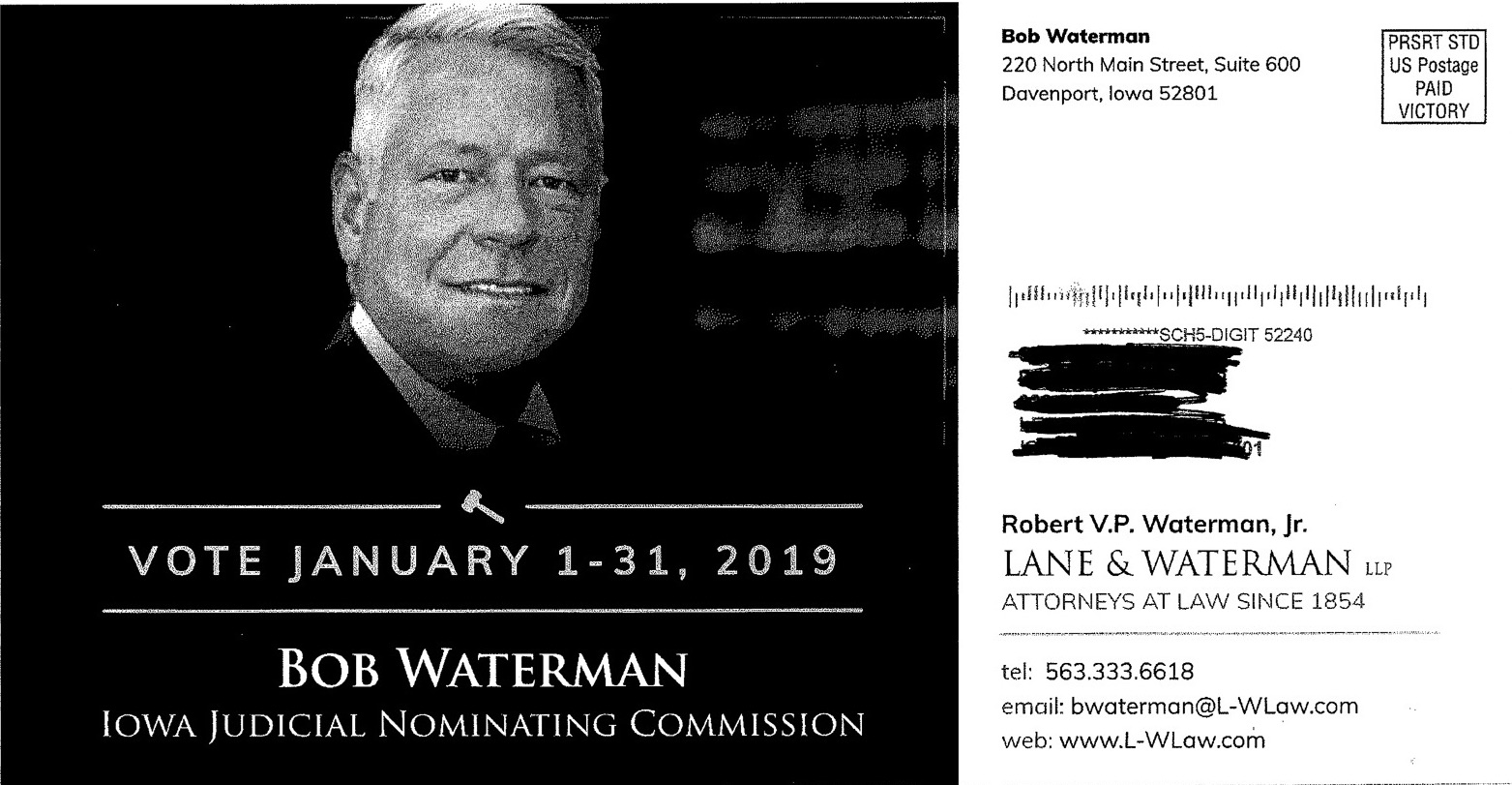 The back side lists Waterman's professional associations including president of the Iowa State Bar Association from 2011 to 2012, director of the Iowa State Bar Foundation from 2006 to 2018, and member of a regional judicial nominating commission from 1999 to 2005.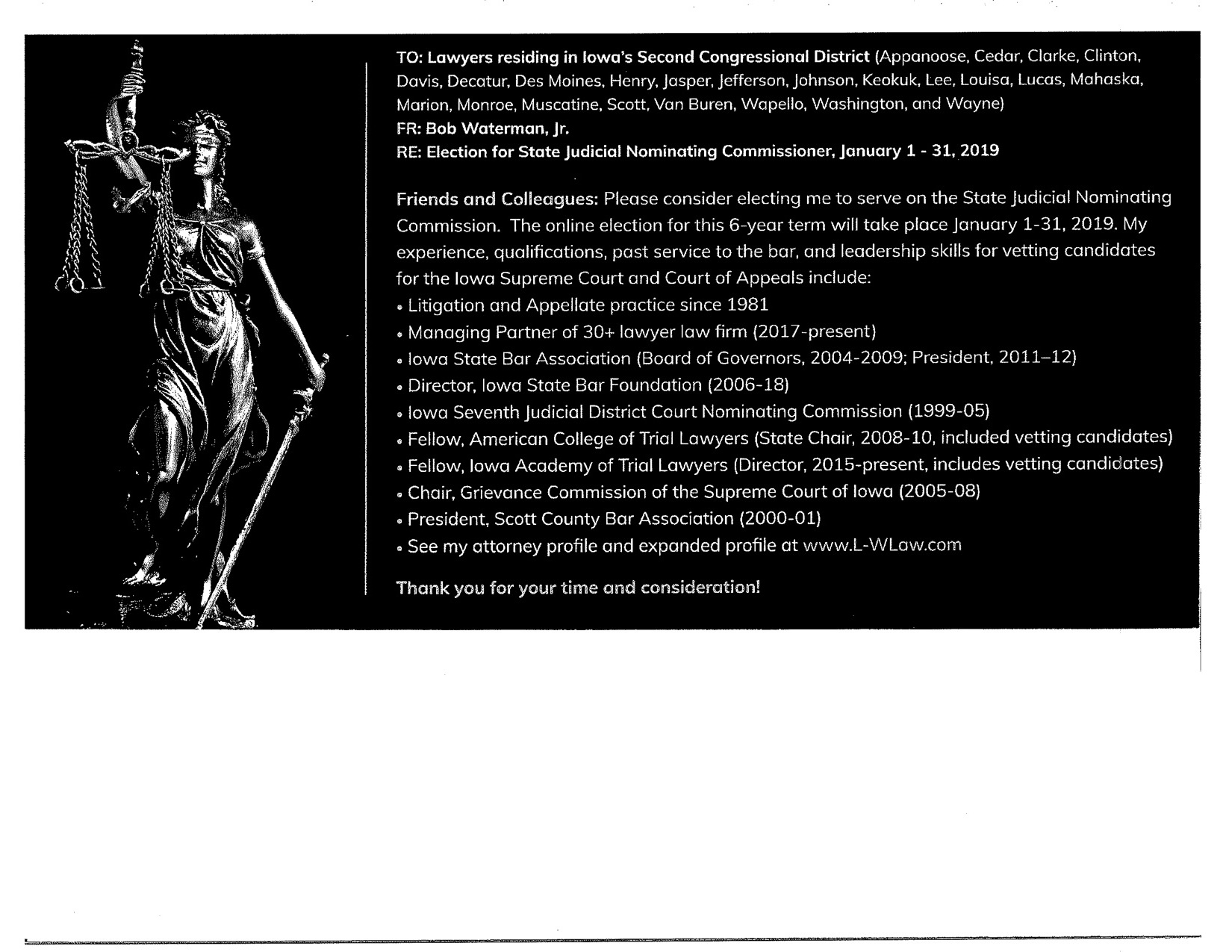 Data from the Iowa Ethics and Campaign Disclosure Board's website indicate that Waterman has donated to candidates from both parties over the years, as well as to the state bar association's political action committee. His largest contributions have been to Republicans: the Branstad and Reynolds campaigns. Branstad appointed his brother Thomas Waterman to the Iowa Supreme Court in 2011.
Direct mail campaigns often involve multiple pieces, so I will update this post as needed with pictures of other mailings for Waterman.
Iowans enacted the merit-based system in 1962 in order to reduce political influence over the courts, but Republican lawmakers will consider legislation next year to give conservatives more control over the process.
Major changes to judicial selection could happen only with a constitutional amendment, which would require approval by two separately elected legislatures, then a statewide vote in the 2022 general election. Republicans could change how judicial nominating commissions are formed with an ordinary law, though. One option would be to eliminate attorneys from the equation, giving the governor near-total control over the panels that send her finalists for the bench.
Judicial nominating commissions are not subject to the partisan balance rules that affect most of Iowa's state boards. Branstad and Reynolds have appointed only Republicans to the state and district-level commissions that interview applicants hoping to become judges.
FEBRUARY 2019 UPDATE: Waterman did not send any additional campaign-style mailings before the attorney elections ended on January 31, sources in eastern Iowa confirmed to Bleeding Heartland. He lost the race in the second district to Leon Spies. However, those results will likely be irrelevant, since Republican lawmakers are pushing a bill to remove elected lawyers from all judicial nominating commissions.