New things I learned this weekend: Rev. Dr. Martin Luther King, Jr. spoke at University Christian Church in the Drake neighborhood of Des Moines in 1959 and at Coe College in Cedar Rapids in 1962.
After the jump I've posted several links related to civil rights and Dr. King's work.

On this day last year, Linn County Supervisor Stacey Walker spoke about institutional racism, injustice, and discrimination at an event in Cedar Rapids. Some excerpts from those remarks, which you can read in full here:
Great is the person who can understand how the present fits into the larger picture of history. The battles we fight today may be obscured and distorted by the detractors, but we fight for the future, knowing full well that one day, history will affirm the moral certainty of our cause. […]

My career has been dedicated to those women and men on the other side; the forgotten. Those without a voice. The people who are crushed by the weight of the same institutions that are designed to protect, uplift, and safeguard everyone in society. The only challenge that is greater than changing institutions that have grown stronger over generations, is changing the culture here in America that permits our institutions to do harm.

There seems to be a general resistance to progress – especially in the area of justice reform – because people believe they should be against the messenger – whether the messenger is a political Party or a person – or simply because change is uneasy. Either way, we cannot let the substance of the issue get lost in all of the noise.

It seems as if people are unable or unwilling to see injustice. There is a knee-jerk reaction in this country that happens anytime someone offers a critique against certain institutions. We are programmed at a young age to have only respect – never criticism – for our military, our police officers, and our firefighters and so on. […]

When the poor and minorities are given harsher sentences, slapped with fees they can never pay, and sold into a prison system that exploits their labor for private profit.

When realtors and bankers conspire with one another to keep entire sections of the community white, confining minorities to rundown areas without sufficient services or resources; when these practices are codified by law.

When political boundaries are drawn to concentrate minorities – who are often disenfranchised through new iterations of the poll tax – in a single district, to water down their political influence.

When you're cast as anti-cop for speaking out against the extrajudicial murder of unarmed Black women and men and the legal process fails to convict the offending officer, despite clear evidence of wrongdoing.

When one bad police officer – whose actions adversely affect people of color – can be protected by the awesome power of the institution of law enforcement, then we perpetuate the devastation of not only a race of people, but we destroy the promise of our democracy in the process.

When local county attorneys can investigate and prosecute police officers that they know; when victims are not afforded the ability to testify and speak their own truth; when body microphones worn by police officers conveniently malfunction; when citizens are made to feel as if they are somehow less patriotic because they question or critique the practices of one of our most essential systems. This is how institutional racism works.

The sum of all of these acts is how injustice persists through time. This is how we transmit cultural information about the worth of certain races. This is how we communicate our priorities and our values as a people. Sartre reminds us that we are the sum of our choices – or all of the things we permit.

We may no longer be red-lining neighborhoods, but many of these issues are still alive and well. As it turns out, institutions are resilient, but so are we.
Side note: Walker won a second term in November 2018 and earlier this month became the first African American to chair the Linn County Board of Supervisors.
Dr. King is almost universally praised now, but his cause and his methods were unpopular among (white) Americans during his lifetime. Beatrice Dupuy reported for Newsweek in January 2018,
A 1966 Gallup poll found that almost two-thirds of Americans had an unfavorable opinion of Dr. King and a third had a positive opinion, a 26 point unfavorable rate increase from 1963.

"He was not searching for popularity," Clayborne Carson, director of the Martin Luther King Jr. Institute at Stanford, told Newsweek. "What he was trying to put forward was what he thought was the right course of action."

King's popularity began to wane after he received the Nobel Peace Prize in 1964. Carson said that King began to lose his momentum as he moved his attention from civil rights in the south to the north— to Chicago to tackle segregation and poverty among black Americans.

"It is one thing to talk about the desegregation of the University of Alabama," he said. "It's quite another thing to talk about the desegregation of neighborhoods in Chicago." […]

King then went on to take a stand against the Vietnam War in 1967, another unpopular move.
Historian Peter Shulman tweeted this graphic last April, on the 50th anniversary of King's assassination.
US Apr '68: When you heard the news of the assassination of Dr. Martin Luther King, Jr., which one of the things listed on the card was your strongest reaction? pic.twitter.com/DAu5ZrfWmD

— Historical Opinion (@HistOpinion) April 4, 2018
In 1983, a Washington Post/ABC News poll found Americans evenly divided on whether there should be a holiday to honor King's legacy.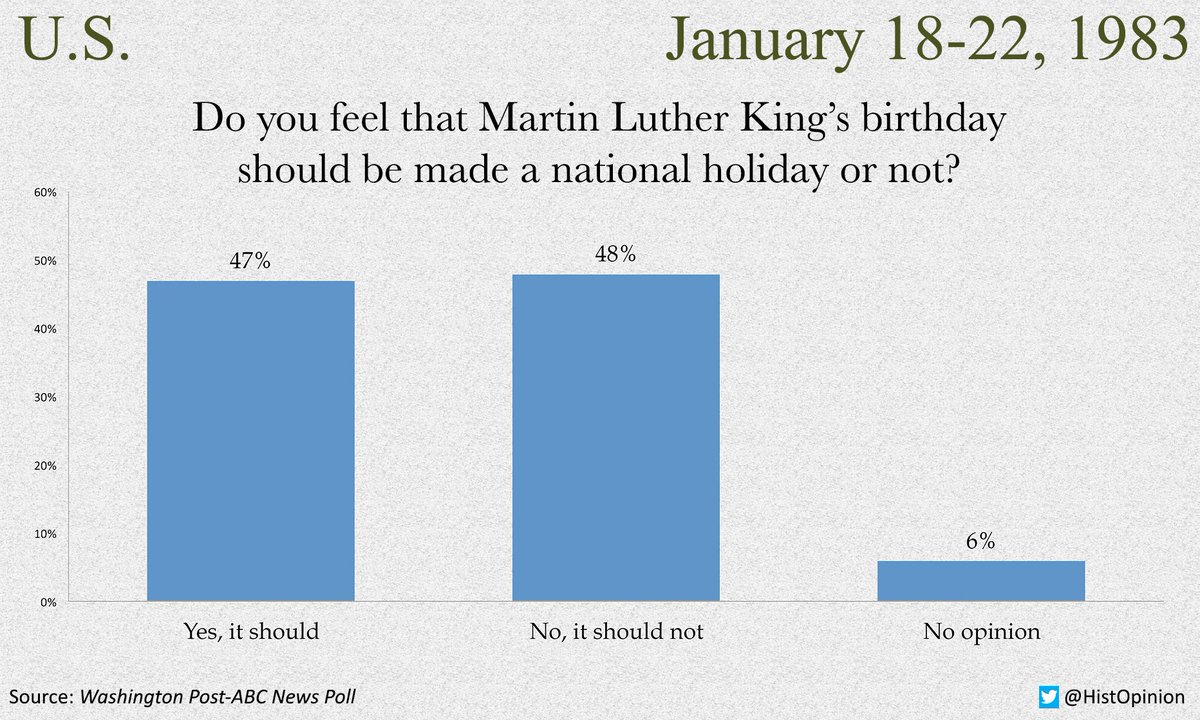 Since Senator John McCain died and Senator Orrin Hatch retired last year, only two current members of the U.S. Senate voted against establishing this national holiday: Richard Shelby of Alabama and Iowa's own Chuck Grassley.
Dr. King's daughter Bernice King posted on Twitter this morning,
There will be an overflow of King quotes today.

May there be an overflow of his love for humanity & his heartfelt commitment to eradicating injustice.

We can't, with truth and consciousness, quote my father, while dehumanizing each other & sanctioning hate.
Speaking of invoking King's name while promoting dehumanizing policies, look at what Vice President Mike Pence said on the CBS program "Face the Nation" January 20. Host Margaret Brennan had asked Pence why President Donald Trump hadn't consulted with Democrats before floating a supposed deal to end the shutdown the previous day.
Pence responded by reciting Trump administration talking points before adding a surprise comparison of the president to Martin Luther King Jr. to sell the proposed border wall.

"Honestly, you know, the hearts and minds of the American people today are thinking a lot about it being the weekend we are remembering the life and the work of Reverend Martin Luther King Jr. One of my favorite quotes from Dr. King was, 'Now is the time to make real the the promises of democracy,'" he said, quoting a passage from Dr. King's famous "I Have a Dream" speech.

Pence continued on to argue that like MLK, Trump has also "inspired us to change." "You think of how he changed America, he inspired us to change through the legislative process, to become a more perfect union," he said. "That's exactly what President Trump is calling on the Congress to do, come to the table in a spirit of good faith."
The president demonstrated his "respect" for King this morning by stopping at the memorial to the civil rights leader "for approximately two minutes." Trump said nothing about King's life or work. He simply laid a wreath, then commented, "Good morning, everybody. Great day. Beautiful day. Thank you for being here. Appreciate it."
In a written statement to celebrate Dr. King's legacy, Iowa Democratic Party Vice Chair June Owens asked for suggestions on how to improve the party's outreach to people of color:
"Although it may not feel like it sometimes, we have made incredible strides in the decades since Dr. Martin Luther King Jr. inspired a generation to claim their share of the American Dream.

At the same time, we know that Iowa Democrats must continually strive to do more. Like Dr. King, we must be vigilant in our mission to realize our nation's values, including the notion that we all created equally, in our nation's laws and leadership. And we will only achieve this if we lead by example, which is why today the Iowa Democratic Party is renewing our commitment to elevating diverse voices in our leadership and improving outreach to communities of color in every corner of our state.

We also know that we don't have the market cornered on good ideas about how to accomplish this. Have a suggestion? We'd love to hear from you. Submit your feedback here."
The African-American Museum of Iowa tweeted this afternoon, "MLK Day is a great time to consider the accomplishments of African American leaders in your community. If you would like to nominate one of these individuals for a 2019 History Makers recognition, fill out our nomination form by February 11."
Final note: Brian Morelli wrote a good feature for the Cedar Rapids Gazette about an intense civil rights controversy 20 years ago this month. On a 3-2 vote, the Cedar Rapids City Council passed an ordinance "to discourage discrimination based on sexual orientation in workplaces, housing, education, credit, and public accommodation." Critics warned of "dire and lasting repercussions," but of course none of their doomsday scenarios came to pass.