Matt Chapman has closely followed this year's legislative proposals targeting Iowans on public assistance. -promoted by Laura Belin
A bill requiring more frequent reviews of Iowans' eligibility for public assistance programs would cost the state an additional $40 million during the first two years alone, according to analysis by the nonpartisan Legislative Services Agency. The federal government would be on the hook for an additional $35 million during the same period.

Republican State Senator Jason Schultz introduced Senate File 334 in his role as leader of the Senate Business and Labor Relations Committee. The bill would instruct the Iowa Department of Human Services to "obtain and review" nine types of information "at least quarterly" to determine ongoing eligibility for public assistance. An outside vendor could be hired to help collect the data.
Schultz has sponsored at least five bills aimed at the social safety net this year, even though 18 percent of residents in his home county (Crawford) live below the federal poverty level. As Bleeding Heartland previously discussed, increasing red tape for some 600,000 Iowans on Medicaid could force thousands of eligible people off the rolls.
The Legislative Service Agency's fiscal note revealed that quarterly reviews would come with a large price tag.
• During fiscal year 2020, which begins on July 1, the new policy would cost some $36 million, with the state of Iowa responsible for nearly $16 million.
• The total cost would rise to some $39 million in fiscal year 2021, which runs from July 2020 through June of the following year. The state would be responsible for about $24 million of that amount.
Read the whole fiscal note here:
Table 1 shows that the Department of Human Services would need to fund more than 521 additional full-time equivalent positions in order to process so many extra case reviews for Medicaid, the Family Investment Program (FIP), and the Supplemental Nutrition Assistance Program (SNAP, formerly known as food stamps).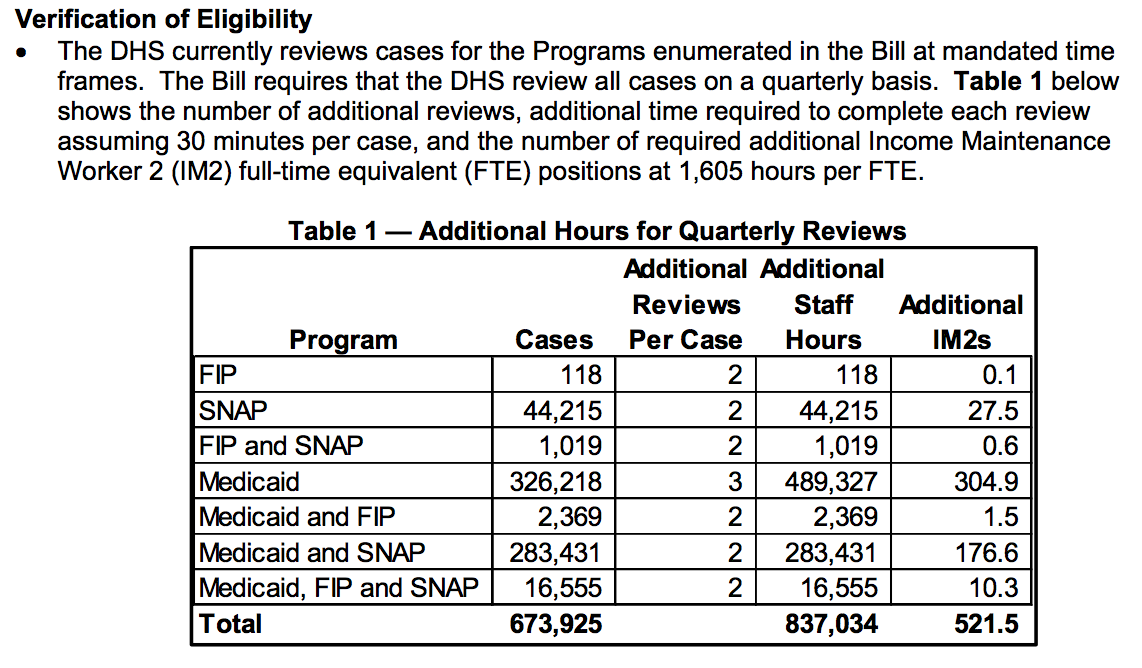 Table 2 breaks down the extra costs, which mostly would accrue in the DHS budget. Extra fraud investigations would also add a small amount to the Department of Inspections and Appeals budget.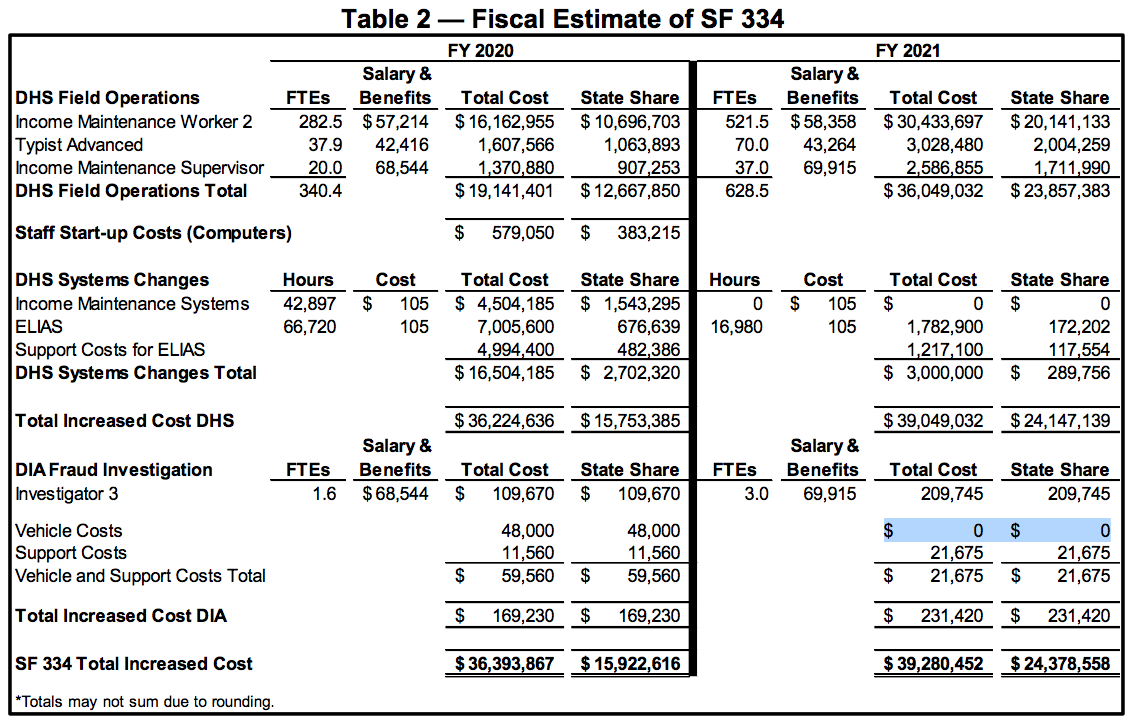 But won't this bill save money? Not according to the nonpartisan analysis (emphasis added):
Quarterly reviews have the potential to reduce public assistance program enrollment, but no significant savings are expected because many items that would be reviewed quarterly are currently checked on a frequent basis. These items include unemployment/SSI income, incarceration, death, and benefits in multiple states.
If the current system is working--"many items that would be reviewed quarterly are currently checked on a frequent basis"--how could the state ever recoup the $40 million cost over two years, let alone pay an outside vendor for services that mostly duplicate current procedures?
The obvious answer would be to make the process more difficult to navigate, resulting in eligible Iowans being kicked off the rolls. Another one of Schultz's bills, Senate File 538 (formerly known as Senate Study Bill 1134), deals with "workfare" and dovetails with SF 334 by requiring even more frequent input from beneficiaries.
A similar approach in Arkansas can "lock out" beneficiaries for up to nine months for a single mistake, Benjamin Hardy reported for the Arkansas Times in November. Senate File 538 instructs Iowa to request a waiver from the federal Center for Medicare and Medicaid Services applying to members of the Iowa Health and Wellness Plan (our state's version of Medicaid expansion). Since the same groups that drafted and are lobbying for Schultz's proposals have written legislation in other states, it stands to reason that Iowans would experience the same lock-outs now occurring in Arkansas.
LOBBYISTS PRESENT SKEWED DATA
The Arkansas DHS put out a press release in December 2017 celebrating the removal of 80,000 Arkansans from the Medicaid rolls. They had been among 140,000 beneficiaries not reviewed for some time.
It turned out that the backlog dated to 2014, meaning many of the 140,000 hadn't had their eligibility checked in three years.
About 25,000 of the 80,000 Arkansans removed from the rolls were said to have been registered in more than one state. Multiple lobbyists have cited that number as proof of alleged Medicaid fraud.
Reasonable questions about the data the lobbyists are supplying include:
• Of those 25,000 registered in multiple states, how many had simply moved, but not had their accounts updated by the Arkansas DHS?
• How many had contacted Arkansas DHS but were not being reviewed?
• How many were charged with fraud?
• How many of 25,000 alleged to be registered in multiple states were improperly removed?
• How many had a health issue while visiting a neighboring state, and were enrolled in Medicaid after needing medical attention there? States sometimes do that to recoup costs.
• How would a person profit from going to doctors in multiple states? And is it really fraud if the Arkansas DHS is incompetent?
LOBBYISTS FRAME ARKANSAS BENEFICIARIES AS CRIMINALS
At the first subcommittee meeting for the bill now numbered SF 334, a lobbyist from a credit rating company, who hadn't registered as supporting the bill, gave some selling points about the vendor he was lobbying to get a contract for.
He bragged about having caught the Arkansas 25,000 on Medicaid in multiple states. He didn't provide any context about the state failing to review beneficiaries for three years.
Another lobbyist sent this letter to a senator, who shared it on social media.
Dear Senator,

SF 334, a bill increasing the oversight of Iowa's public assistance programs, becomes eligible for debate on Tuesday, 2/26. ITR (Iowans For Tax Relief) supports this legislation. Other states that have enacted similar legislation have found substantial abuse, including Arkansas, which found 25,000 Medicaid enrollees no longer living in the state.

Verifying eligibility is a commonsense solution that protects not only the taxpayer, but more importantly, it ensures that every dollar is being spent on those with genuine and urgent need. ITR encourages you to protect the taxpayers by supporting this legislation.
Not only is no context given for the figure from Arkansas, "substantial abuse" implies that the beneficiaries purged were abusing the system. Remember, Arkansas DHS are the ones who dropped the ball here.
Instead of misrepresenting the facts, those claiming to be concerned about taxpayer dollars should note that this legislation would cost the state budget alone $40 million over two years. That's a lot to spend to increase the suffering of some vulnerable Iowans.
THE GROUPS BEHIND THE WAR ON THE POOR
Every year, groups like Americans for Prosperity and Iowans for Tax Relief urge our lawmakers to enact legislation to further the welfare programs for the donor class.
Four out of Schultz's five bills regarding public assistance, including SF 334 and SF 538, were written by Opportunity Solutions Project. That group is under the Koch funding umbrella (like AFP and ALEC) and has advocated similar legislation in other states.
These groups hire well-paid and effective lobbyists to promote their agenda in Republican-controlled legislatures.
All of the bills targeting Iowans on public assistance are eligible for debate in the Senate and may be brought to the floor in the coming weeks. The Legislative Services Agency will post fiscal notes as staff complete their research on expected costs.
Please be vigilant for those on the bottom who have no voice but ours. Send those letters and make those calls. They will affect whether these bills come up for a vote.
600,000 Iowans on Medicaid are counting on us.
Top photo: State Senator Jason Schultz.