State Representative Andy McKean has left the Republican caucus. His official page on the Iowa legislature's website now lists "no party specified," and the Iowa House Republicans website no longer lists him as a member. His legislative page also indicates that he has lost all House committee assignments, as of April 23. McKean had chaired the House Ethics Committee and served on the Environmental Protection, Judiciary, Local Government, and State Government committees.

A lifelong Republican until this week, McKean served in the Iowa House for fourteen years and in the Senate for ten years before retiring from the legislature in 2002. He later was elected several times as a Jones County supervisor before running for House district 58, an open seat, in 2016. McKean won re-election with nearly 70 percent of the vote in 2018, even though his district has long had a Democratic voter registration advantage.
McKean has voted against some high-profile Republican bills, including the 2017 legislation to eviscerate public employee collective bargaining rights and the 2018 effort to ban most abortions after a fetal heartbeat could be detected. He has opposed this year's proposals to change Iowa's system for choosing judges and add a surcharge to small-scale solar power users. McKean also voted against a bill to allow supervised children to hunt deer with a "pistol or revolver."
Republicans now hold 53 seats in the Iowa House, while Democrats hold 46 seats and McKean is the first member of the lower chamber in decades not to have a party affiliation. Former State Senator David Johnson left the GOP in 2016 and served for two years without belonging to either caucus. He retired from the Iowa Senate in 2018.
If McKean joins the Democratic caucus, as some sources indicate, the GOP majority would be 53 to 47. UPDATE: McKean confirmed at a news conference that he will become a Democrat.
House district 58 covers Jackson County, much of of Jones County, and a small area in rural Dubuque County. The latest figures from the Secretary of State's office show that the district contains 6,587 active registered Democrats, 5,245 Republicans, and 9,364 no-party voters.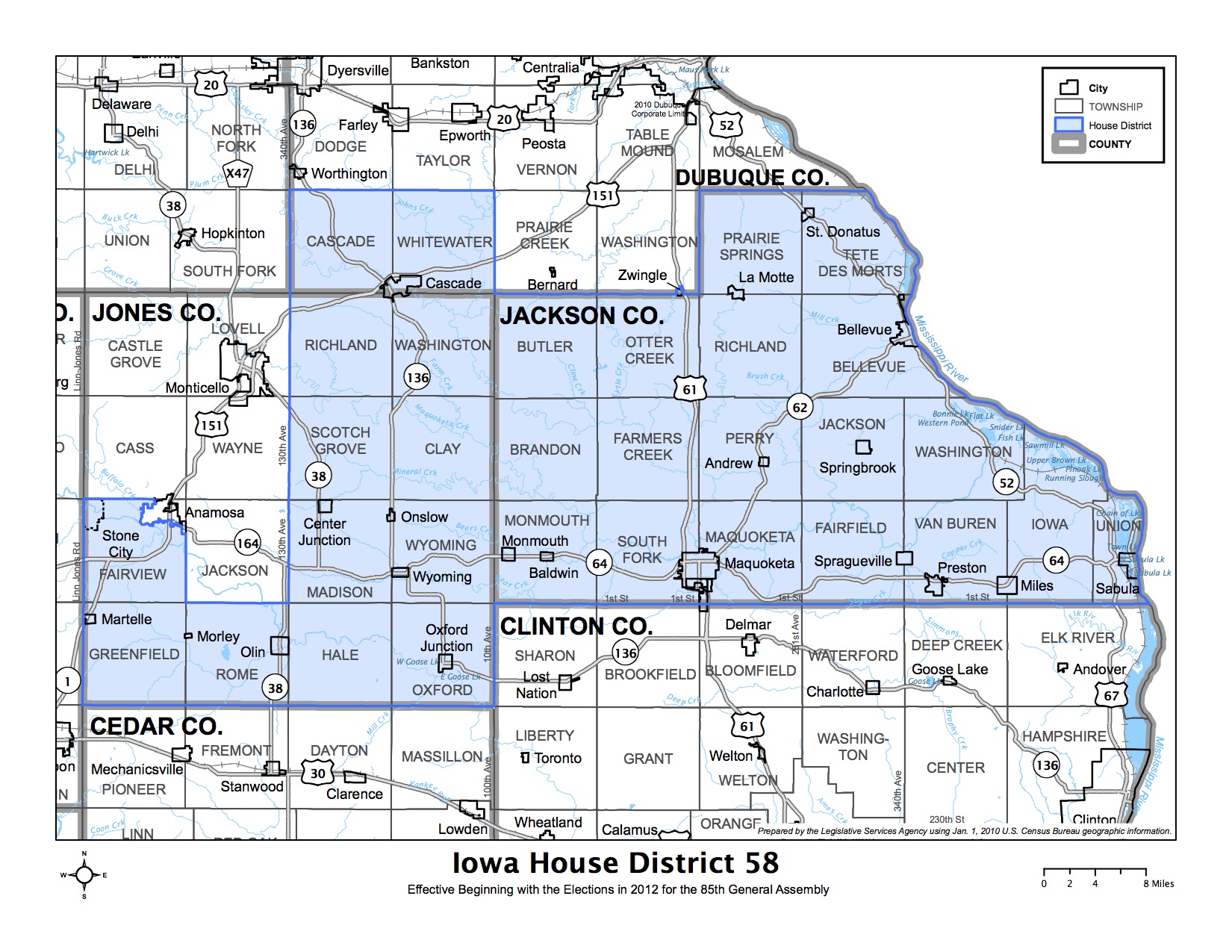 UPDATE: McKean released this statement explaining his decision.
"I was first elected to the legislature back in 1978 when I was still in my late 20s. After serving 7 terms in the House, I moved to the Senate for 3 terms where I served as Chair of the Judiciary Committee and President Pro Tem. Highlights of those years included the opportunity to play a role in the passage of non-partisan redistricting legislation and the creation of REAP, developing the first legislation addressing sentencing reform and elderly abuse, and floor managing what at that time was considered one of the toughest drunk driving laws in the nation. While my emphasis was on bi-partisan undertakings, I was comfortable with my party's priorities and felt at home in the Republican caucus. Governor Ray was in office when I first served and was a wonderful mentor. I continue to believe that he epitomizes what is best about public service.

In 2002, after 24 years in the legislature, I made the decision to retire and return to Jones County to serve as a county supervisor. Our 4 children were in or approaching their teenage years and I felt I was needed at home. I had missed some very important times in my children's lives and wished to make up for some of the time I had lost. And with college expenses on the horizon, I also needed to put more time into my law practice.

In 2015, I retired after 35 years of practicing law. Now that the children were on their own, I looked forward to having more time for our grandchildren, traveling, and interests that had been on the back burner during the busy years of raising a family and making a living. However, as so often happens, a chance event led to a change in my plans. In March, 2016, I learned that Brian Moore had decided not to seek re-election to the House and was urged to return to the legislature. I don't think I was quite ready for retirement. After so many active years of public service, wondering where to travel to next and working on my Spanish and fiddle playing seemed a bit self-indulgent. I felt I had more to contribute and about a week before the filing deadline and against my wife's advice, made the decision to return to politics. I won a 3-way Republican primary and in November was elected in a tough district against a credible and well-financed opponent. I looked forward to returning to the legislature without the responsibilities of a young family and a busy law practice.

Upon returning to Des Moines after a 15 year hiatus, I found a very different place. As Bill Petroski mentioned in his speech last month and as long-time legislators and lobbyists will attest to, the legislature is considerably more partisan and regimented than it used to be. I have found that difficult to adjust to and believe it often stands in the way of good legislation. I'm also concerned by the increasing influence big money is having on the legislative process.

In addition, I found a very changed Republican caucus. Although I have great respect for the Speaker and Majority Leader and appreciate their efforts to find a role for me in the caucus, I found myself increasingly uncomfortable with the stance of my party on the vast majority of high profile issues and often sympathetic with concerns raised by the minority caucus. I voted against many of these priorities, spoke in opposition to them in committee and on the floor, or worked for changes to make what I considered questionable legislation somewhat better. At any rate, I know that I have disappointed and angered at least some of my caucus in the process. It is not a role I relish and perhaps I've been unfair to both my caucus and to myself by continuing to serve in it. I appreciate the members of my caucus, respect their passion for what they believe in, and am sorry that I haven't been able to be a better team player.

I might have limped along attempting to work within my caucus for what I felt was best for the people I represent if it hadn't been for another factor. With the 2020 presidential election looming on the horizon, I feel, as a Republican, that I need to be able to support the standard bearer of our party. Unfortunately, that is something I'm unable to do.

I believe that it is just a matter of time before our country pays a heavy price for President Trump's reckless spending and short-sighted financial policies, his erratic, destabilizing foreign policy, and his disregard for environmental concerns. Furthermore, he sets, in my opinion, a poor example for the nation and particularly for our children by personally insulting, often in a crude and juvenile fashion, those who disagree with him, being a bully at a time when we're attempting to discourage bullying, his frequent disregard for the truth, and has willingness to ridicule or marginalize people for their appearance, ethnicity, or disability. I believe that his actions have coarsened political discourse, have resulted in unprecedented divisiveness, and have created an atmosphere that is a breeding ground for hateful rhetoric and actions. Some would excuse this behavior as telling it like it is and the new normal. If this is the new normal, I want no part of it. Unacceptable behavior should be called out for what is and Americans of all parties should insist on something far better in the leader of their country and the free world.

Later this week back home in Jones County, I intend to change my voter registration from Republican to Democrat and will be joining the minority caucus. This has been a very difficult decision for me and has only come after considerable reflection, much prayer, and many restless nights. I've been a registered Republican for close to half a century, a Republican office holder for 35 years, am the longest serving Republican currently in the Iowa legislature, and am proud of many good things that the Republican party has accomplished over many years. I am also all too aware that my decision will be a disappointment to many friends and colleagues who have supported me over the years. However, the time comes when you have to be true to yourself and follow the dictates of your conscience. For me, that time has come."
In conversations with Iowans who served in the legislature between the 1970s and 1990s, I've heard many echo McKean's sentiments about the statehouse becoming more rigid and partisan, hindering good public policy work.
House Minority Leader Todd Prichard said in a statement,
"We are thrilled to welcome Rep. McKean to the Iowa House Democratic Caucus today. Rep. McKean has a long history of bi-partisanship and understands the value of working together to get things done in the Legislature.

Rep. McKean has always kept the best interests of his constituents at heart, regardless of party labels, and that remains true today. He will continue to be a strong, pragmatic voice for the people of House District 58 and we look forward to working with him."