State Auditor Rob Sand warned the Iowa Department of Human Services on June 26 that service cuts to two quadriplegic Iowans indicate that Amerigroup and UnitedHealthcare "have failed to comply" with their state contracts. Sand said the managed-care organizations (MCOs) have pushed both Medicaid recipients to move into assisted living, rather than meeting their contractual obligations to ensure members have access to covered benefits and adequate health care services.

In his letter to interim DHS Director Gerd Clabaugh (enclosed in full below), the auditor said the two quadriplegics recently received a 30-day notice that their health care provider was terminating their in-home services. Despite many phone calls and other efforts to "ensure continuity of their care," Sand said, "both MCOs failed to solve these individuals' issues in a reasonable time frame, resulting in reduced care, additional expenses, and anxiety and stress [...]."
Sand asserted that the facts of the case also point to violations of some federal regulations, and that staff at DHS are aware of these two Iowans' problems but have not yet resolved the situations.
Finally, Sand noted that UnitedHealthcare, which is leaving Iowa's Medicaid program as of July 1, has "refused to appoint a liaison for their member's transition concerns." The auditor flagged that contractual obligation shortly after the MCO's impending departure became public knowledge. The company has interpreted that clause to require only a liaison "to interface between United and DHS," Sand wrote to the DHS interim director.
Communications staff for DHS told Bleeding Heartland, "We have received the Auditor's letter and will look into the issues he's raised."
Speaking to reporters at a June 26 news conference (video), Sand said his goal in performing these "compliance audits" was "to figure out how big of a problem this is. Once we know how big of a problem non-compliance is in the state of Iowa, at that point, the state of Iowa has a lot of decisions to make."
"More than a few" other Iowans have contacted the auditor's office after experiencing similar problems with access to services covered under Medicaid, Sand said. He did not pursue some of those cases, because after reviewing the documents, he found the MCO was "in compliance with the contract."
The auditor told reporters he wants Iowans on Medicaid to know someone is trying to determine whether MCOs are "doing the bare minimum." He added that the bare minimum is not what we would expect from the insurance companies--"in fact, when they were brought in, we were told that quality of care was going to improve, that access was going to improve and costs were going to go down."
Asked whether he worried this kind of scrutiny, or possible financial penalties imposed by state, could prompt more MCOs to pull out of Iowa's Medicaid system, Sand said, "If you don't think you can provide the services that are in the contract, don't sign the contract."
Final note: Sand's predecessor Mary Mosiman never exercised her authority to perform a compliance audit on a company managing care for hundreds of thousands of Iowans, even though the MCOs pay for such audits, under their contracts with the state. Elections have consequences.
Appendix: Key excerpts from State Auditor Rob Sand's June 26 letter to Iowa DHS, released with redactions to protect patient privacy:
Because of that failure, Amerigroup's member, [REDACTED], is suffering through reduced care. A portion of the remaining care she does get is only because she asked her non- medical assistants to attend to her needs outside of their employment, without pay. United member [REDACTED] is now being required to travel to a hospital daily to be cleaned and dressed, which is not only inconvenient for him but also results in additional hospital expenses for taxpayers. These appear to be violations of Clause 4.1 ("For members who require individualized, enhanced staffing patterns to support them in a less-restrictive setting, the [MCO] shall not reduce the enhanced staffing arbitrarily or without a supporting reduction in clinical need as documented by provider records"), Clause 4.3.2 (MCOs "shall facilitate access to covered benefits and monitor the receipt of services to ensure member's needs are being adequately met") and Clause 4.3.7 (MCOs must "immediately respond" to "service gaps"). No reasonable definition of "immediate" would cover a failure to prevent a service gap after 30 days' notice. Moreover, under Clause 6.1.2.2.2, the MCOs should have required the provider to continue to serve these Iowans until they were transitioned to a new provider. This is "regardless of any other provision in the provider agreement" and "may exceed thirty days from the date of notice."

It is also concerning contractually, legally, and financially for taxpayers, that both MCOs appear to have pushed [REDACTED] and [REDACTED] towards moving out of their homes and into nursing homes. Under Clause 4.3.10, MCOs must have terms with providers that "protect an individual from involuntary discharge that may lead to a placement in an inappropriate or more restrictive setting." In [REDACTED] case, a United employee told the Managed Care Ombudsman that as of June 16, United had "exhausted all options" and [REDACTED] "chose not to consider alternatives." But [REDACTED] reports the only alternative presented was to be moved into a nursing home, at great stress and displeasure to himself and a higher cost to taxpayers. Indeed, one of their case managers stated that it was cheaper for taxpayers to have them at home rather than nursing facilities.

One alternative that neither MCO appears to have considered is a small reimbursement increase that would have ensured a provider's costs to visit these Iowans' rural homes was covered, yet kept costs below the that of nursing home placement. It does not appear that either MCO made an Exception to Policy Request to DHS. If this issue does stem from the members' rural location, away from service providers, then under clause 6.2.3.1, the MCOs should be addressing equity of access for rural Iowans.
Full text of letter (pdf version):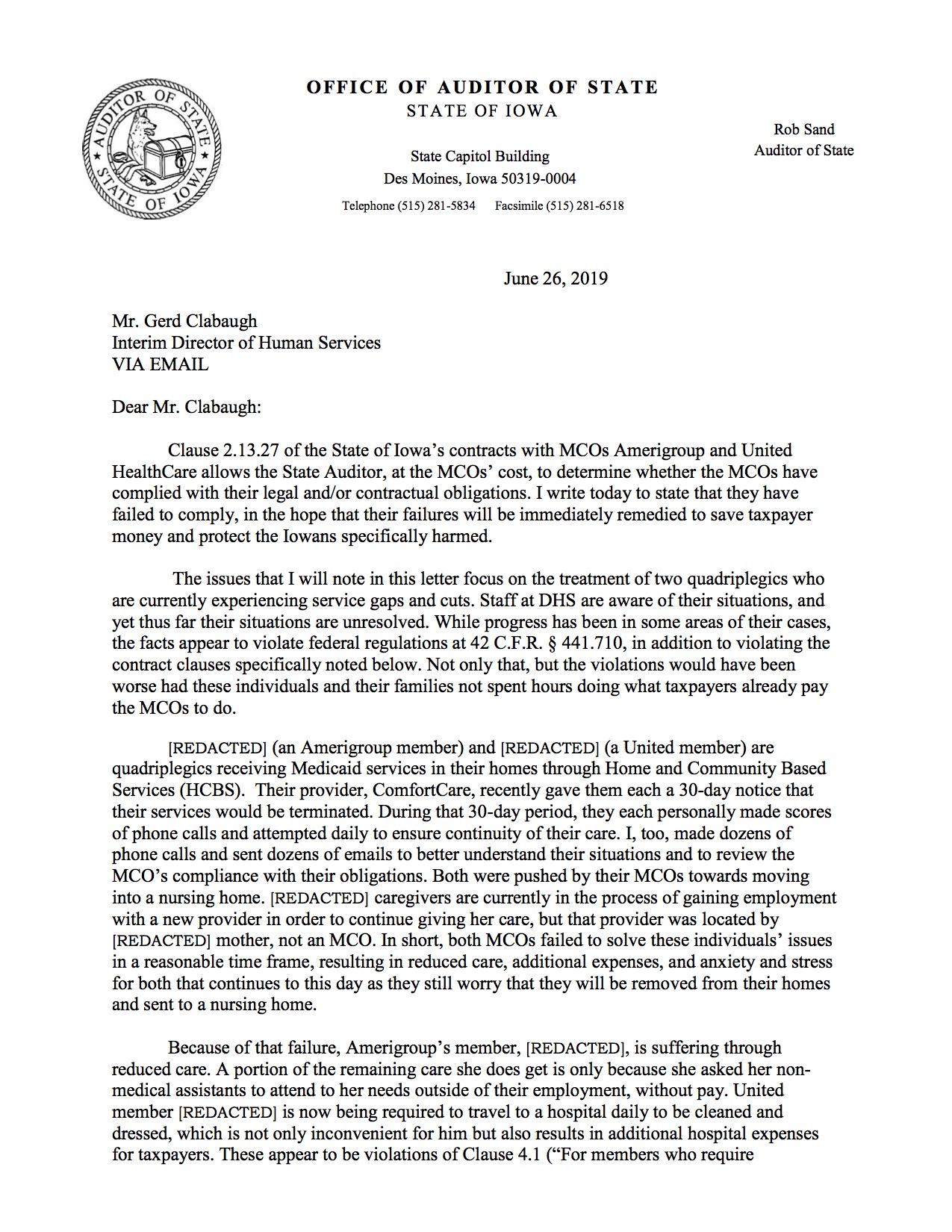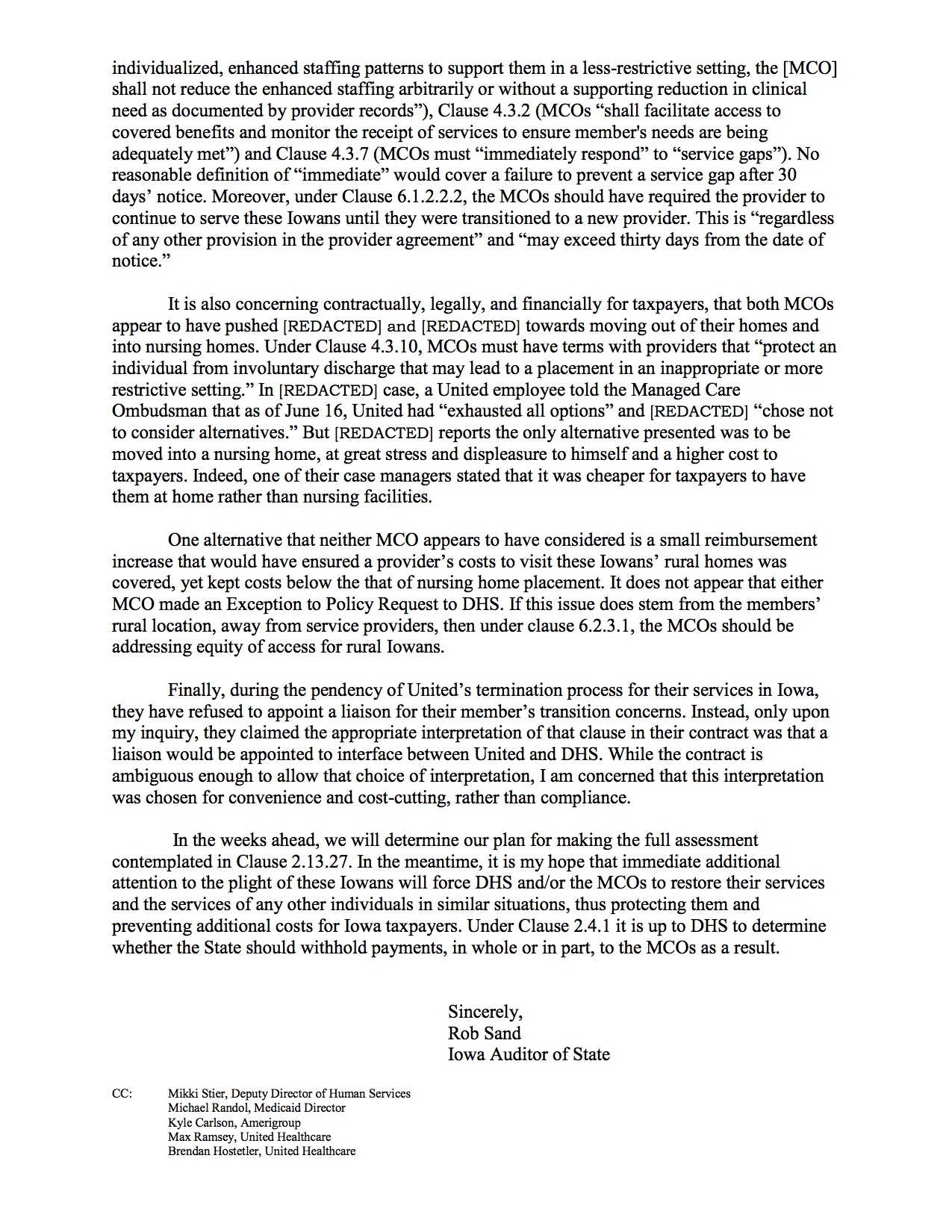 Top image: State Auditor Rob Sand speaking at a June 26 news conference, cropped from a photo by State Senator Claire Celsi.