UPDATE: Scholten launched his campaign on August 5.
Art Cullen reported in the Storm Lake Times on July 31 that while J.D. Scholten "has not formally announced whether he will run" for Congress again in Iowa's fourth district,
He is running.

"Let me put it this way," he said. "Last cycle we hoped to win. This cycle we intend to win."

I assume that means Scholten is in.

He swore off running against Sen. Joni Ernst.
It's time to revisit Bleeding Heartland's 2018 analysis of what it would take for Scholten to win a district with a partisan voting index of R+11. I see six essential elements to an upset victory:

1. Steve King winning the primary.
The biggest factor is wholly outside Scholten's control. In a district where Republicans outnumber Democrats by more than 70,000, only a weak GOP nominee could lose.
King is weak. He defeated Scholten by 157,676 votes to 147,246 (50.3 percent to 47.0 percent) last November--a remarkably close result.
To appreciate how badly King underperformed, click on any county on this interactive map to bring up local results for the 2018 races for Congress and governor. Governor Kim Reynolds received a substantially higher vote share everywhere--even in King's home county (Sac).
County Name
| | | | |
| --- | --- | --- | --- |
| D | Canidate 1 | 61% | 30390 |
| R | Canidate 2 | 39% | 10390 |
King won with less than 50%
Scholten won with less than 50%
Scholten between 50% and 60%
Here are the same results in a table. Each county's line contains the 2018 vote numbers for Congress and governor. I listed the 23 counties where King has held town hall meetings this year at the top, in chronological order by date of the meeting. After the line break, other counties are in descending order from most to least ballots cast in last year's general election.
Votes for Congress and governor in IA-04 counties, 2018
County
King votes
Scholten votes
Reynolds votes
Hubbell votes
O'Brien
3,795
1,916
4,472
1,296
Lyon
3,716
1,355
4,281
853
Ida
1,757
1,117
2,196
713
Harrison
3,559
2,237
3,931
1,912
Calhoun
2,318
1,842
2,710
1,464
Kossuth
3,942
3,171
4,642
2,588
Crawford
3,025
2,248
3,579
1,735
Plymouth
6,503
4,084
7,941
2,717
Hancock
2,765
1,843
3,257
1,464
Hamilton
3,215
2,942
3,703
2,560
Pocahontas
1,831
1,201
2,091
962
Cherokee
2,702
2,359
3,327
1,715
Greene
1,999
1,945
2,326
1,675
Carroll
4,652
4,075
5,676
3,186
Webster
6,706
6,918
7,727
6,132
Woodbury
15,708
18,686
19,630
15,024
Sioux
10,284
3,682
12,840
1,955
Chickasaw
2,671
2,345
3,021
2,103
Franklin
2,229
1,717
2,647
1,379
Butler
3,675
2,199
3,952
2,064
Humboldt
2,481
1,465
2,797
1,200
Story
13,474
27,569
16,535
25,155
Shelby
3,070
1,817
3,537
1,450
Cerro Gordo
7,620
10,688
9,651
9,011
Boone
5,350
6,353
6,107
5,810
Dickinson
4,676
3,931
5,564
3,134
Hardin
3,917
3,027
4,407
2,689
Clay
3,555
3,125
4,364
2,417
Buena Vista
3,228
3,178
3,771
2,649
Floyd
2,841
3,205
3,366
2,812
Grundy
3,540
1,996
3,785
1,875
Wright
2,650
2,085
3,049
1,788
Winnebago
2,233
2,181
2,726
1,788
Sac
2,549
1,686
2,965
1,253
Monona
2,055
1,671
2,556
1,171
Palo Alto
1,925
1,701
2,320
1,398
Emmet
1,879
1,743
2,298
1,383
Audubon
1,378
1,234
1,658
990
Osceola
1,663
709
1,922
481
District-wide
157,676
147,246
187,327
121,951
Another sign of King's residual weakness: his share of the vote in 2016 was 61.2 percent, barely more than Donald Trump's 60.9 percent in the IA-04 counties. Iowa's other three U.S. House representatives did significantly better than their party's presidential nominee in 2016.
Cullen quoted Scholten as saying he expects King to win next year's GOP primary. I agree, though I feel less sure of that outcome than I did earlier in the year.
Assuming King fends off State Senator Randy Feenstra and other GOP challengers, what else does Scholten need?
2. More than 200,000 votes next November.
Academics and Democratic and Republican analysts agree that 2020 turnout could be the highest in a century.
If you'd told me before last November that 147,246 people would vote for Scholten, I would have guessed that would be enough to win. But turnout for Iowa's 2018 election far surpassed the typical midterm level.
Official results show 387,555 residents of the IA-04 counties cast ballots in the 2016 general election. Surely a much larger number will vote in 2020. I don't know what a win number for Scholten would be, but he'd likely need to exceed 200,000 votes.
3. Record-breaking Democratic turnout.
The latest voter registration totals indicate that the 39 counties in IA-04 contain 117,690 active registered Democrats, 188,369 Republicans, and 174,222 no-party voters, little changed from two years ago. The total number for each party, including "inactive" registered voters, is 126,009 Democrats, 196,911 Republicans, and 189,900 no-party voters.
Statewide statistical reports show that about 76.9 percent of registered Iowa Democrats cast ballots in the 2012 general election, and 74.0 percent did so in 2016.
Turnout around 75 percent would translate into about 95,000 Democratic voters in the IA-04 counties next November. If turnout hit 80 percent, Scholten could receive 100,000 votes from Democrats. A historic turnout around 85 percent might produce more than 105,000 Democratic votes for Scholten--perhaps halfway to his win number.
Scholten can't win just by maximizing Democratic turnout, but strong GOTV would greatly help his cause. Having Trump on the ballot should take care of this point.
4. A large number of Republicans defecting from King.
Trump should inspire very high participation by his supporters as well as his opponents. Given the GOP's voter registration advantage in IA-04, Scholten needs to bring a lot of Republicans over to his side.
About 82.2 percent of registered Iowa Republicans voted in the 2012 presidential election, and 80.9 percent did in 2016. In 2008--a wave year for Democrats--GOP turnout was only slightly lower: 80.1 percent.
Assuming 80 percent of registered Republicans vote next November, at least 155,000 Republicans in the IA-04 counties will cast ballots. Bump that up to 165,000 if Trump brings turnout to 85 percent. If King held on to 90 percent of his own party's voters, that would take him a long way toward a tenth term.
Scholten couldn't have come so close in 2018 without a lot of crossover votes from disaffected Republicans. And remember, 2020 will be the first presidential election since Iowa GOP lawmakers eliminated straight-ticket voting. That's going to hurt King, because thousands of people who might have filled in the Republican oval will now have to choose a Congressional candidate. Every Republican who leaves that ballot line empty or votes for a third-party candidate is half as good as a Republican who marks a ballot for Scholten. The Libertarian nominee in IA-04 received 2 percent of the vote in 2018, and an independent candidate won 0.6 percent.
Picking numbers out of the air, let's say 10 percent of GOP voters support Scholten in November and another 15 percent decline to vote for King. That scenario still leaves Scholten below 125,000 total votes.
One question mark is how much support King would get from the party establishment. Would the National Republican Congressional Committee cut him off, as they did in 2018? Reynolds and U.S. Senators Chuck Grassley and Joni Ernst have all said they will remain neutral in next year's GOP primary. If King becomes the nominee, I assume they will endorse him. But I doubt they will spend a lot of time campaigning for him. Re-electing Ernst will be the Iowa GOP's top priority.
5. A solid majority among independents.
No-party voters are far more likely to participate in presidential elections than in midterms. Statewide, 45.9 percent of Iowa's independents cast ballots last November. But 62.7 percent did in the 2012 presidential election, and 60.2 percent did in 2016.
Historically high turnout of around 70 percent would translate into at least 130,000 people affiliated with neither Democrats nor Republicans voting in the IA-04 counties. To reach a majority of all votes cast, Scholten would need a commanding margin among no-party voters, probably at least two-thirds of them.
6. Resources to campaign district-wide.
When I first pulled my thoughts together on this subject in June 2018, it wasn't clear that Scholten could raise enough money to campaign effectively in 39 counties spanning five media markets. We know the answer now. Scholten raised more than $3.2 million during the 2018 cycle, most of it in the last few months before the election. He'll have more early financial support this time, having shown he can compete with King.
The Democratic Congressional Campaign Committee spent almost nothing in IA-04 last cycle. That will change if Scholten faces King again. The DCCC put this district on its target list in January. According to Cullen, "DCCC Chair Rep. Cheri Bustos of the Quad Cities is enthusiastic about Scholten and courted him to run again."
Meanwhile, King barely has enough in the bank to keep paying his staff. He'll need to spend whatever he raises before next June to fight for the GOP nomination. Entrenched incumbents can usually outspend their opponents, but that is unlikely to be true for King in 2020.
Any comments about the IA-04 race are welcome in this thread.
Here's the Congressional map: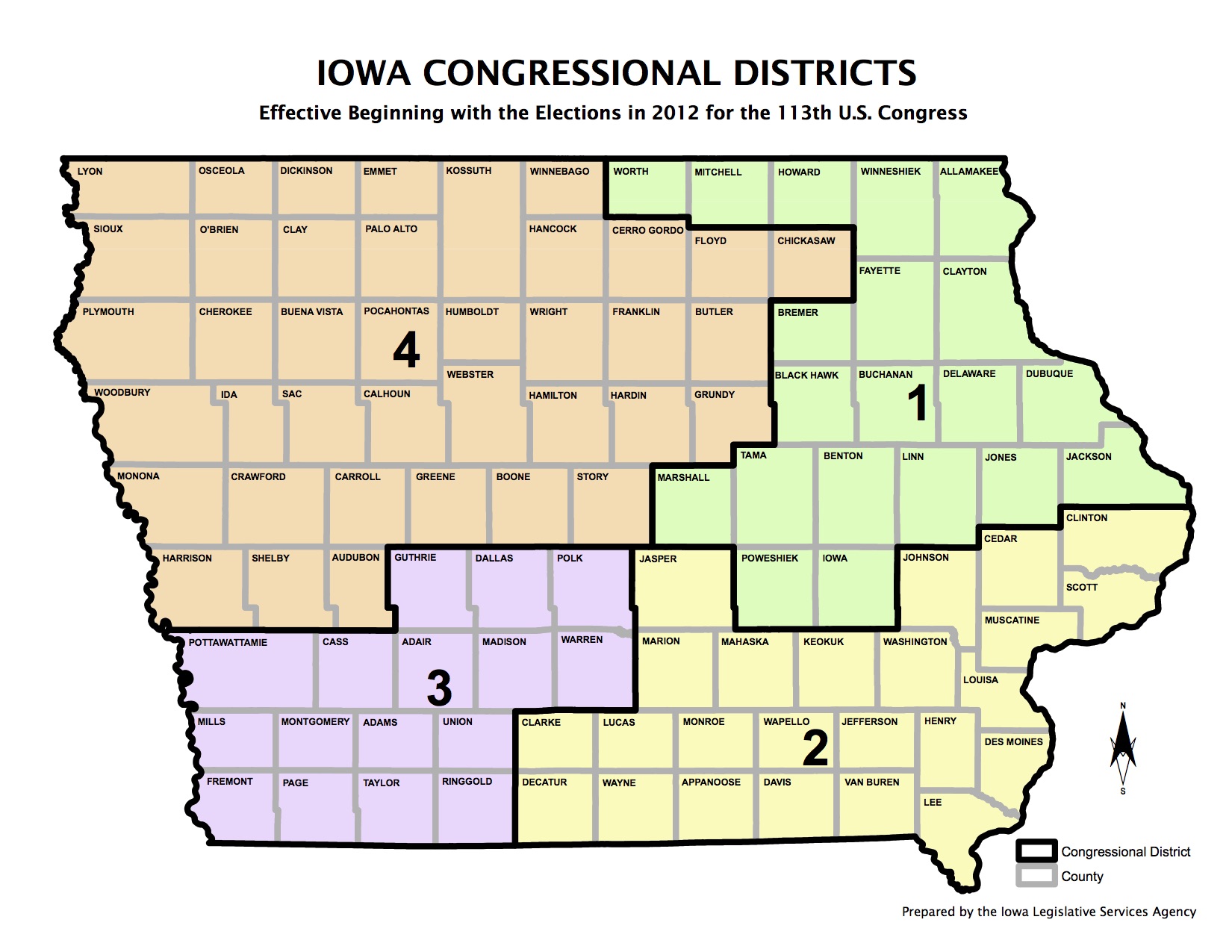 And here's the map of Iowa media markets: