Two more horrific gun crimes devastated American cities this weekend. Hours after an attacker fueled by anti-immigrant hate killed 20 and wounded dozens at a shopping center in El Paso, Texas, a shooter using a high-capacity magazine in Dayton, Ohio killed nine people and injured 26 in less than a minute. Last weekend, a famous annual garlic festival in California joined the long list of venues where shooters have killed many people in minutes.
Bar
Home
Office
Airport
Temple
Church
College
Mosque
Concert
Hospital
Walmart
Nightclub
Newsroom
Pre-school
Synagogue
Yoga studio
High school
City building
Military base
Bowling alley
Street corner
Garlic festival
Movie theater
Political event
Middle school
Elementary school

— Michael Skolnik (@MichaelSkolnik) August 3, 2019
While no one law would would end all mass shootings in the United States, a few gun violence prevention policies could reduce the carnage that is almost unknown in countries with stricter limits on firearms ownership or access.
Iowa's U.S. Senators Chuck Grassley and Joni Ernst have consistently opposed those policies.

Everytown for Gun Safety's research on mass shootings indicates that a few patterns often underlie such crimes.
"the shooter was prohibited from purchasing or possessing a firearm";
"there were several other warning signs that the shooter posed a dangerous risk";
the shooter had "a history of domestic violence";
the killer was "armed with a semi-automatic rifle that was equipped with high-capacity magazines."
Everytown's research points to four policies that would keep lethal weapons out of the hands of some would-be mass murderers.
"Background checks on all firearm sales to prevent prohibited people from buying guns";
"Red flag laws that allow family members and law enforcement to seek the temporary removal of guns from individuals who have exhibited recent dangerous behavior";
"Strong domestic violence laws that keep guns away from abusers";
"Restrictions on the purchase, possession, and manufacture of high-capacity magazines that limit the rounds of ammunition shooters can fire without reloading."
The following list covers the most significant gun legislation that has come before the U.S. Senate during the past three decades. In addition to Bleeding Heartland's past reporting on this issue, I relied on coverage by NPR's Danielle Kurtzleben, ProPublica, USA Today's Gregory Korte, and the Progressive Punch database.
Note that few gun control measures have come to the Senate floor since Ernst began serving in 2015, because Republicans have controlled the chamber during her entire tenure. For instance, Senate Majority Leader Mitch McConnell has buried background check bills that cleared the U.S. House earlier this year. Ernst hasn't voted on other Democratic proposals such as raising the minimum age to buy assault weapons from 18 to 21.
1. Brady Bill (1993)
One of the most significant laws enacted during Bill Clinton's presidency was the Brady Handgun Violence Prevention Act. Named for President Ronald Reagan's press secretary Jim Brady, who was severely wounded during John Hinckley's attempt to assassinate Reagan, the law "mandated federal background checks on firearm purchasers in the United States, and imposed a five-day waiting period on purchases."
Grassley voted against this bill.
2. Assault weapons ban (1994)
One section of the 1994 crime bill imposed a ten-year ban "the manufacture, transfer, or possession of 'semiautomatic assault weapons,' as defined by the Act," with a number of exemptions.
Grassley voted against adding this provision to the crime bill and against passing the final version that emerged from a House and Senate conference committee. (He had voted for an earlier version of the crime bill.)
While studies have shown the assault weapons ban did not measurably affect gun violence as a whole, the evidence suggests it reduced the number of mass shootings during the years it was in efffect. Researchers for Mother Jones magazine have compiled a database on mass shootings in the U.S. since 1982. Wikipedia user GliderMaven created this graphic using the Mother Jones data from 1982 to 2017.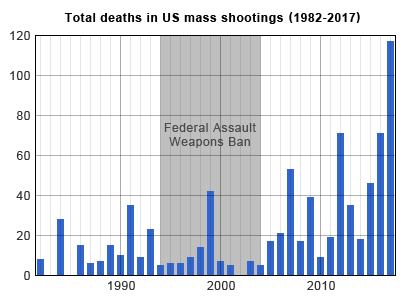 3. Gun show loophole (1999)
This proposal did not become law. It would have "required people purchasing guns at gun shows to undergo a background check and a three-day waiting period."
Grassley voted against it.
4. Immunity for gun manufacturers and dealers (2005)
The Giffords Law Center to Prevent Gun Violence has published a good explainer on this law, which "provides broad immunity to gun manufacturers and dealers in federal and state court." The upshot: "With nearly every American industry and product, civil liability can be used as an important check on irresponsible manufacturers and sellers—but not the gun industry."
Grassley voted for this bill.
5. Gun show and online sales loophole (2013)
The Democratic-controlled Senate drafted the Safe Communities, Safe Schools Act of 2013 in response to the December 2012 massacre at an elementary school in Newtown, Connecticut. Commonly known as the "Manchin-Toomey amendment" after its leading sponsors, Democratic Senator Joe Manchin and Republican Senator Pat Toomey, this proposal was designed to "require background checks for all gun sales including at gun shows and online, though not for the transfer of guns between friends and family members."
Grassley voted against this amendment, which fell short of the 60-vote threshold needed to pass most legislation in the Senate.
6. Concealed carry permit reciprocity (2013)
This amendment to the Safe Communities, Safe Schools Act failed to pass on the same day as the Manchin-Toomey proposal. It would have reduced concealed carry regulations nationwide to the lowest common denominator, allowing a "person with a concealed-carry permit in one state to legally carry a concealed firearm in other states."
Grassley voted for the amendment.
A 2017 version of the same bill passed the GOP-controlled U.S. House but never came up for a vote in the Senate. Both Ernst and Grassley were co-sponsors.
7. Gun show and online sales loophole (2015)
The Manchin-Toomey proposal came before the Senate again as an amendment to an unrelated bill in December 2015, following a mass shooting in San Bernadino, California. Its goal was to "ensure that all individuals who should be prohibited from buying a firearm are listed in the National Instant Criminal Background Check System, and provide a responsible and consistent background check process."
Ernst and Grassley voted against closing the loophole.
8. Gun show and online sales loophole (2016)
Democratic Senator Chris Murphy held a talking filibuster after a massacre at a nightclub in Orlando, resulting in Republican leaders allowing Senate votes on a few gun control proposals, offered as amendments to an appropriations bill. One of them was Murphy's proposal to expand background checks, eliminating the gun show loophole.
In a clever bit of kabuki theater that Bleeding Heartland discussed in detail here, Republicans drafted their own versions of the Democratic amendments. They claimed the GOP proposals would have the same impact, but if that were accurate, why didn't the National Rifle Association engage against the Republican amendments? The group lobbied against the Democratic proposals.
Grassley spoke at length on the Senate floor against the Democratic amendments and offered the GOP alternative to Murphy's background checks proposals. He claimed Murphy's bill was unnecessary because anyone buying from a commercial gun dealer at gun show is already subject to a background check. Grassley's amendment would not close the loophole on private sales, on the grounds that the government should not regulate "two adults engaged in a personal transaction," wherever that occurs.
Just as there is no background check required in your driveway, there generally is no background check required when that private, peer-to-peer sale happens to occur at a gun show.

This is not a loophole in the pejorative sense of the word; this is an American lawfully selling their property to another without federal government involvement.
Grassley asserted that his amendment "modernizes the prohibition on those with certain mental illness or involuntary commitments from acquiring or possessing firearms," providing "critical due process protections for individuals like veterans and others prior to an adjudication of mental incompetence." Democrats said the measure "would reduce current protections" in place to keep guns out of the hands of those who pose a danger to themselves and others.
Ernst and Grassley voted against the Murphy amendment and voted for the Grassley amendment. Neither proposal received the 60 votes needed to overcome a filibuster. Written statements released by both Iowa senators played up their alleged support for stronger background checks.
Note: The overwhelming majority of mentally ill people are not violent and do not pose a threat to public safety. Moreover, mental illness isn't more prevalent in the U.S. than in other countries that experience far less gun violence.
9. Terrorist watch list (2016)
On the same day in June 2016, a similar dynamic played out on a second set of amendments. The NRA opposed Democrat Dianne Feinstein's proposal but didn't lift a finger against the GOP alternative offered by Republican John Cornyn. The Center for American Progress Action Fund summarized the differences this way:
Feinstein Amendment #4720, Terror gap: Gives the Attorney General the discretion to block gun sales to a known terror suspect based on a reasonable suspicion that the individual is engaging in, preparing for, or providing material support to an act of terrorism. This amendment provides a process for individuals erroneously denied a gun on this basis to seek to have that determination reversed and their gun rights restored.
Cornyn Amendment #4749, Terror gap: An individual on the terror watchlist will be able to purchase a gun unless the Attorney General can prove in court that the suspect will actually commit an act of terrorism. The accused individual must have an opportunity to be present to contest the evidence against him/her and present their own – all of which must occur within 3 business days.
Grassley and Ernst voted against the Feinstein amendment, but their news releases emphasized their votes for the Cornyn amendment. Again, neither proposal gained 60 votes.
10. Limiting gun sales to those on the no-fly list (2016)
A few days after the failed gun control votes in June 2016, a bipartisan group of senators led by Republican Susan Collins rolled out new legislation to keep people on federal watch lists from buying firearms. From their summary:
The bipartisan "Terrorist Firearms Prevention Act of 2016" would prevent people who are on the No Fly List or the Selectee List from purchasing firearms. If our government has determined that an individual is too dangerous to fly on an airplane, that person should not have the opportunity make a legal firearm purchase. Due process principles require that Americans denied their right to purchase a firearm under this provision have the opportunity to appeal this denial to a federal court.
Bleeding Heartland reported on "the McConnell two-step to defeat this proposal."
First, the Senate majority leader scheduled a vote to table (kill) the Collins amendment, rather than a vote to add it to the Commerce, Justice, Science appropriations bill. Forty-six Republicans including Iowa's Senators Chuck Grassley and Joni Ernst voted to table the Collins amendment; 44 Democrats and eight Republicans kept it alive by voting against the motion to table. But 52 votes was eight short of the 60 that would be needed to overcome a filibuster.

Then, McConnell brought up for a vote a proposal from Senator Ron Johnson of Wisconsin, which hardly anyone had heard about, much less had time to read.
Alexander Bolton covered the intrigue for The Hill.
The last-minute measure [from Johnson] had no chance of passing the Senate but gave political cover for Johnson and Republican Sens. John McCain (Ariz.), Rob Portman (Ohio), Richard Burr (N.C.), Roy Blunt (Mo.) and Marco Rubio (Fla.), who are all in challenging reelection races this fall.

All six voted against the Collins bill but in favor of the Johnson measure.

Sponsors of the Collins bill say their measure could have passed if McConnell had set up a positive vote to add it to the bill instead of a negative vote to kill it and if he had offered it cleanly without a competing side-by-side alternative. […]

Collins lamented that the way McConnell set up the votes made it tough to know how much support her proposal could have garnered had it been offered cleanly.
You guessed it: Ernst and Grassley voted to table (kill) the bipartisan bill, opposed tabling the Johnson bill, then released written statements touting their votes to keep terrorists from buying firearms.
11. Taking some mentally ill people off the background check database (2017)
In January 2016, President Barack Obama issued executive orders designed to reduce gun violence through stronger background checks, technology improvements, and better information sharing among states about "people barred from owning guns for mental health reasons." Grassley and Ernst had criticized those orders at the time.
In February 2017, the GOP-controlled House and Senate approved a joint resolution revoking an Obama administration rule, which
would have required the Social Security Administration to add about 75,000 people, currently on disability support, to the national background check database and deny them gun purchases. These individuals suffer schizophrenia, psychotic disorders and other problems to such an extent that they are unable to manage their financial affairs and other basic tasks without help.

Allowing them to buy guns poses an inordinate and needless risk to public safety. An existing law bars gun purchases to people "adjudicated as a mental defective" or involuntarily committed to a mental institution. But enforcement of that law has been spotty, because medical records often aren't added to the federal databases — thus prompting the Obama administration to create the Social Security rule.
Grassley and Ernst voted for this resolution. Reacting to yet another atrocity a year later (the mass shooting at Marjory Stoneman Douglas High School in Parkland, Florida), Grassley said, "we have not done a very good job of making sure that people that have mental reasons for not being able to handle a gun getting their name into the FBI files and we need to concentrate on that." Ernst told Iowa reporters soon after the Parkland shootings,
"The root cause is not that we have the Second Amendment," she said, referring to the constitutional right to own firearms. "It is that we're not adequately addressing mental illness across the United States. We need to focus on that, and we need to focus on substance abuse."
As mentioned above, mental illness is not more widespread in the U.S. than in countries that experience few or no mass shootings.
Final note: Ernst and Grassley responded to the August 3 mass killing in El Paso with their usual platitudes.
My heart is with the El Paso community this evening, especially with the victims of this violent act, their loved ones, the brave first responders, and all those affected by this senseless tragedy.

— Joni Ernst (@SenJoniErnst) August 4, 2019
Heartbreaking for those in El Paso Thx to law enforcement/1st responders Strong community will support one another thru this difficult time

— ChuckGrassley (@ChuckGrassley) August 4, 2019
Talk is cheap, Senators.