Barb Kalbach is the Board President of Iowa Citizens for Community Improvement Action and a fourth generation family farmer from Adair County. -promoted by Laura Belin
Caucus season means endless polls constantly taking the temperature of how Iowans are dividing themselves among this year's over-abundant crop of charismatic politicians. At the Polk County Steak Fry the paid staff and supporters of the campaigns competed to hold the most signs and chant their candidate's name the loudest.
What gets lost in the caucus circus is how much unites us beyond the candidates, like the Selzer Iowa poll for the Des Moines Register in March, which showed 91 percent support among Iowa Democratic caucus-goers for the Green New Deal, 84 percent for Medicare for All, and 76 percent for tuition-free public college.

Just across town, on the same day as the Steak Fry, Iowa Citizens for Community Improvement Action Fund's Iowa People's Presidential Forum focused on the struggles and solutions that unite us – not the candidates. CCI Action and over 2000 Iowans asked the invited candidates – Elizabeth Warren, Julian Castro, Bernie Sanders, and Pete Buttigieg – to answer tough questions from all of us who have so much at stake in the upcoming elections.
We are facing some of the biggest crises we've ever faced: the climate crisis, exploding inequality, and corrupt politicians who are fueling a rise in white nationalism to shift the blame from the few at the top to the poor and working class, immigrants, and Black people.
Business as usual politics aren't enough to meet this moment. We need "Movement Politics" that is centered on real people, our stories, our struggles, our hopes, and the ways we are all connected to one another.
At the People's Forum, Warren, Castro, Sanders, and Buttigieg heard testimonies and answered questions from people like third generation independent family farmer, Larry Ginter, who stood with Honduran farmworker organizer Ahrax Mayorga to talk about how the transnational corporate agribusiness model drives farmers in Iowa to suicide and also assassinates farmworkers in Central America.
Veteran Kenn Bowen talked about the struggle to get the care he needed for his cirrhosis of the liver. Then Iowa State University student Chris Simmons spoke about his struggle to afford in-state tuition. Both Kenn and Chris emphasized how for-profit institutions are operating business models that deny them both, old and young, their human rights to health and education.
Those who are most impacted by these issues asked Warren, Castro, Sanders and Buttigieg tough questions at the People's Forum. And more importantly, CCI Action showed that whether we are white, brown, or Black, rural or urban, young or old, most of us who call Iowa home all want the same things. We want to provide for our families, make sure they are healthy and safe, are treated fairly, and have the opportunity to prosper. We have common struggles, common enemies, and we know our common solutions: Medicare for All, the Green New Deal, Free College, and more.
This isn't about left versus right. It's about all of us at the bottom versus the few at the top. The wealthy are investing millions in Iowa to break down the consensus among us. While big, bold policy solutions are still overwhelmingly popular, corporate power's campaign of division and fear is gnawing away at what unites us.
The multi-racial, working class people gathered at the People's Forum are the mighty force necessary to fight back against the corporate and political establishment. And the Forum was only a beginning. Iowa CCI Action will be hosting a statewide People First Virtual Townhall on Sunday, October 20, from 6:30pm – 7:30pm to make connections with every attendee to organize on our issues, and fight for each other every day until the caucuses and beyond. For more information, join our mailing list at cciaction.org.
Business as usual politics is focused on candidates, not issues. That won't give us the transformative change we need. It will take the movement politics of organized people working together to build the world we need and deserve.
Barb Kalbach at the People's Forum: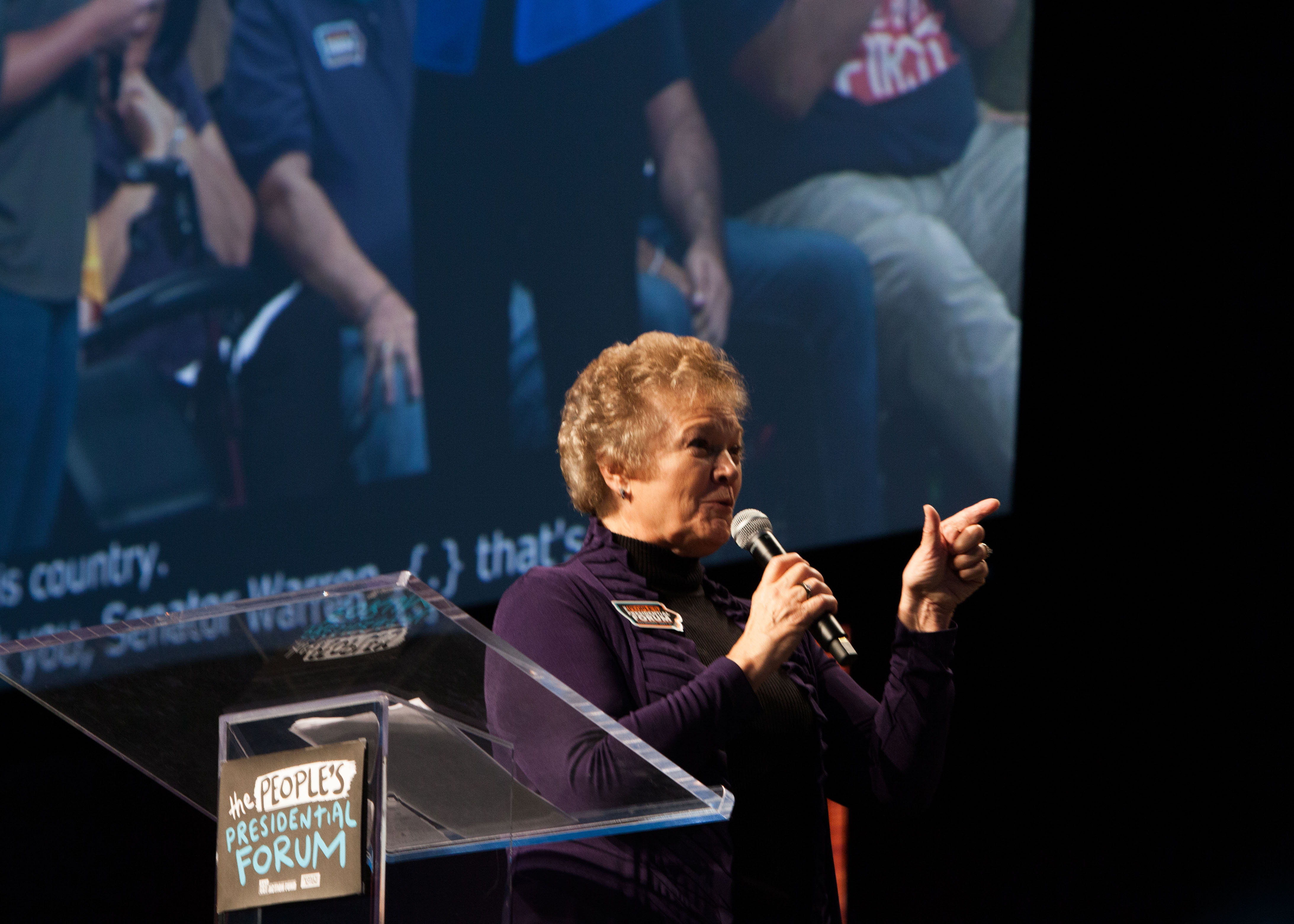 Pictures taken at the People's Forum, including the photo at the top of this post, provided by Iowa Citizens for Community Improvement Action and published with permission.