Nancy Bobo is a retired non-profit executive, founder of the Democratic group Women for a Stronger America, and a Democratic volunteer in Des Moines. -promoted by Laura Belin
Door-knocking the past few months, I've come to realize that most people are undecided about who they will support in the Iowa caucuses and very few people know much about Cory Booker. Yet the most recent Iowa Poll by Selzer & Co for the Des Moines Register indicated that Booker has one of the highest favorability ratings among all the presidential candidates. He possesses all the qualities that Iowans identified as necessary to be elected: someone who represents a new generation of leadership; someone who will seek common ground with Republicans; and someone who will take the high road on the campaign trail and in leading our country.
Simply put, in this very fluid race, Cory Booker fits the bill and deserves your consideration.

Since becoming involved in political campaigns at the age of 12, I have found very few candidates who inspire me like Cory Booker. I originally supported a candidate considered a "front-runner," but switched gears after doing further research and coming to know Cory Booker. All of the qualities I was looking for in a candidate I found in him.
Booker is a bright, proven and inspirational leader who has the toughness to deal with complicated issues on the national and international scenes but also the heart and compassion for fellow man that is so deeply lacking in our current president and needed by our country today.
Cory's pedigree is unique and it is exceptional. He grew up in a middle-class home (his parents were two of the first black executives with IBM), earned a football scholarship to Stanford and completed his bachelor's and master's degrees there. He was president of his senior class at Stanford and a member of the PAC-10 All American Academic Team. He went on to become a Rhodes Scholar at Oxford and a graduate of Yale Law School.
With these credentials, he had a "VIP ticket" to life, but he chose a "general admission ticket," moving to one of the most poverty-stricken areas in Newark and becoming a tenant's rights attorney. He chose to live in one of the most drug and crime infested low-income housing projects in Newark so that he could best understand and work amongst the poor and those downtrodden in life. He still lives in the area today.
Booker's first run for mayor against a highly corrupt but popular incumbent was chronicled in the documentary Street Fight, an Oscar-nominated film that is still available on YouTube and Amazon. The film showcases Cory's character, integrity and tenacity in battling illegal and unethical campaign tactics by his opponent. (Sound familiar?) He got beat in that race, but won the race four years later with 72 percent of the vote.
As mayor of our country's second poorest city, Booker inherited a $118 million budget deficit in a city that had lost half its population in the previous 50 years. Its infrastructure, business development, failing schools, and violent crime had greatly compromised the lives of its citizens. The police department was so underfunded that officers took their cars home at night to repair them, and police records were still done manually. Booker inherited all of those issues at the time of the Great Recession, when public funds dried up and change was direly needed.
Where other candidates also espouse policies that we Democrats find appealing, Booker's track record and proven success in the most challenging of circumstances puts him in a league of his own. He left office as mayor with a balanced budget, $3 billion in business development, a population that was finally growing after 50 years of decline, expansion of 50 acres of city parks and recreation – a feat the city hadn't seen in decades — and a 40 percent drop in violent crime in his first two years in office. Booker raised $400 million in private philanthropic support to boost its schools and other projects, he doubled affordable housing, and cut his own salary twice. He left office with a 75 percent approval rating by Newark citizens.
In 2013, Booker went on to become one of only a handful of African-American senators in our country's history. He's lived abroad and has a keen understanding of international issues through his service on the Foreign Relations Committee and engagement with foreign leaders. He's also played a leadership role on the Senate Judiciary Committee, as well as Small Business, Environment and Public Works and Commerce committees.
Even in these intensely divisive political times, Booker has demonstrated an ability to reach across the aisle and get things done. He sponsored and led a successful bipartisan effort to pass the First Step Act, a landmark bill to reform the criminal justice system and the ONLY major bipartisan legislation that has become law since Trump became president. Booker got it done!
Booker has the highest environmental rating in the Senate and among all candidates by Greenpeace, and has called for requiring a "green lens" in all legislation; his policy on gun violence and mass incarceration is the most comprehensive of all candidates, his support of health care legislation to expand Obamacare, drop the Medicare age to 55, decrease pharmaceutical costs and increase accessibility aligns with what most Americans want. He will also prioritize comprehensive immigration reform.
And Booker inspires! At a time when this country is so deeply divided that even friends and neighbors have difficulty discussing issues together, he has called for unity and compassion for all, including those who disagree with us. This is not just campaign talk. Cory has led his life this way. Wherever he speaks, the audience is roused to its feet by his inspiring and nearly spiritual message of civic grace, love for our fellow humans and kindness toward all.
Regardless of where the impeachment proceedings end up, these are traits that will be needed to heal our democracy and move our country forward – traits unique to Cory Booker. For these reasons and others, I wholeheartedly support Cory Booker for president and ask that you give him your thoughtful consideration in the Iowa Caucuses.
Top photo of Nancy Bobo with Cory Booker at the Iowa Democratic Wing Ding in Clear Lake (August 2019) and photo below of the two marching to the Polk County Steak Fry in Des Moines (September 2019) provided by the author and published with permission.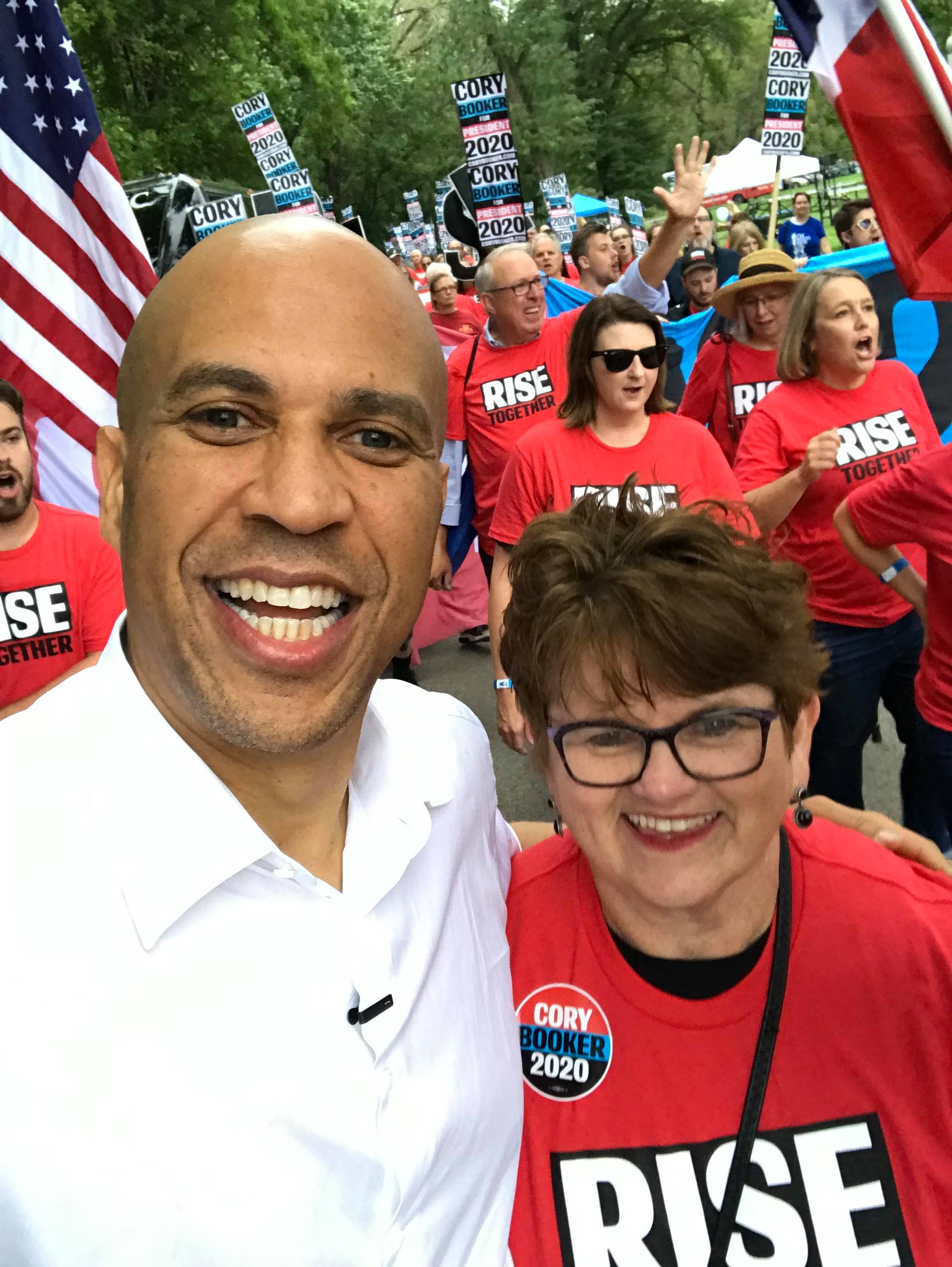 Editor's note: Bleeding Heartland welcomes guest posts related to the Iowa caucuses, including but not limited to candidate endorsements. Please read these guidelines and contact Laura Belin if you are interested in writing.