A rematch is brewing in one of the six Iowa Senate districts Republicans picked up in 2016. Longtime Muscatine firefighter Chris Brase announced on November 12 that he will run for Senate district 46, which he represented for four years before losing to current State Senator Mark Lofgren.

POLITICAL LANDSCAPE OF AN OBAMA/TRUMP DISTRICT
Senate district 46 covers part of Muscatine County, including the city of Muscatine, and part of Scott County, including Blue Grass, Eldridge, Walcott, and some neighborhoods in Davenport. Click on the map to enlarge.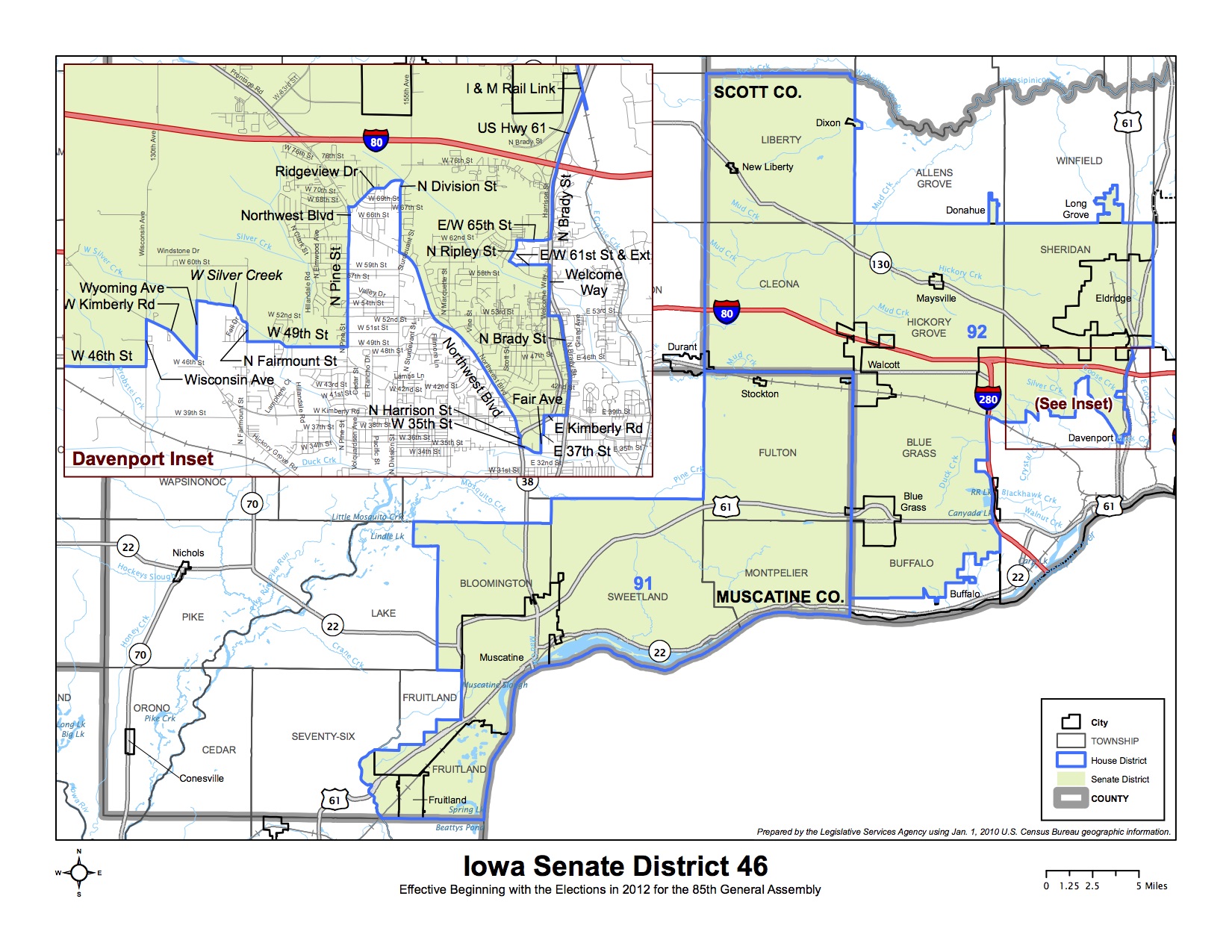 Looking only at voter registrations, the parties seem evenly matched here, with 11,209 active registered Democrats, 11,588 Republicans, and 16,680 no-party voters according to the latest official figures.
Recent voting patterns are not as encouraging for Democrats. As in the other Iowa Senate districts the party lost in 2016 (and eighteen of chamber's 50 districts*), voters favored Barack Obama in 2012 but Donald Trump in the last presidential election. Residents of Senate district 46 voted to re-elect Obama by a margin of 55.6 percent to 43.1 percent, then voted for Trump by 50.8 percent to 42.9 percent. Governor Kim Reynolds carried this district in the 2018 governor's race by 51.6 percent to 46.3 percent for Fred Hubbell.
On the plus side, the swing toward Republicans was not as large in this district as in the northeast corner of Iowa. Senate districts 26 and 32 (also GOP pickups in 2016) voted for Trump and Reynolds by significantly larger margins than did Senate district 46.
Brase defeated GOP State Senator Shawn Hamerlinck in 2012, aided by Obama's coat-tails and several other factors. Iowa's new map following the 2010 census put Hamerlinck and fellow Republican Senator James Hahn in the same district. Hamerlinck outworked Hahn to win a low-turnout primary, but he was from the "wrong" part of the district for the general election. (Hahn had strong roots in Muscatine.)
Democrats also spent more than $300,000 supporting Brase's candidacy, more than ten times what Senate Republicans spent defending the seat. Brase won by about 2,000 votes (53.3 percent to 46.6 percent). He kept the race competitive in Scott County and crushed the Republican in the Muscatine County precincts.
Lofgren represented House district 91, which makes up half of this Senate district, for two terms. His victory over a Democratic incumbent in 2010 could be chalked up to a GOP wave. (The party had a net gain of sixteen state House seats that year). But Lofgren demonstrated his personal appeal two years later by substantially outperforming the top of the ticket.
Obama outpolled Mitt Romney in House district 91 by 57.6 percent to 41.0 percent, a roughly 2,400 vote margin. Yet Lofgren defeated his Democratic challenger John Dabeet by more than 900 votes.
Following the 2012 election, the GOP majority in the Iowa House shrank from 60-40 to 53-47. No Republican left in the caucus represented a tougher seat than Lofgren.
He would have been re-elected to the legislature easily in 2014, but Lofgren chose to run for Congress in Iowa's second district instead. He proved to be a surprisingly poor fundraiser (see also here) and lost the GOP primary to Mariannette Miller-Meeks, who went on to lose to U.S. Representative Dave Loebsack.
Senate district 46 provided a perfect comeback opportunity two years later. Each party spent more than $500,000 to influence the outcome, and it was also one of the top-targeted races for the National Rifle Association's Iowa affiliate.
Lofgren won the Muscatine precincts handily and racked up an even larger lead in the Scott County portion. Overall, his winning margin was nearly 4,000 votes (56.7 percent for Lofgren, 43.2 percent for Brase). As bad as that sounds, Democratic senators in the northeast corner of the state (Mary Jo Wilhelm in Senate district 26 and Brian Schoenjahn in Senate district 32) fared worse, losing by around 20 points.
BACKGROUND ON THE CANDIDATES
Lofgren has not been a leader in his caucus. During the 2019 legislative session, he served as vice chair of the Senate Government Oversight Committee, which rarely met and accomplished little. He is also a member of the Appropriations, Education, Local Government, and Veterans Affairs committees. Lofgren has not floor managed any high-profile bills (see here and here).
His official bio notes that he works in real estate in one of the Scott County communities he represents.
Senator Mark Lofgren earned his B.B.A in finance from the University of Iowa. His professional experience includes careers in both the real estate and investment industries, formerly owning and operating Lofgren Investments, and a real estate business. His current position is a real estate associate with Re/Max People in Blue Grass, where he specializes in both residential and commercial real estate. He has earned Chartered Financial Consultant, Certified Residential Specialist, Graduate of Real Estate Institute, and Accredited Commercial Professional designations. He has also served two terms in the Iowa House.

Senator Lofgren is a lifelong resident of Iowa. He has been married to his wife, Paula, for 29 years. They have four children: Emily, Olivia, Maggie, and Markus, and four granddaughters. Senator Lofgren is a former track, basketball, and soccer coach for the Muscatine Community Y and Youth Sports Foundation. He also is an avid runner in his free time.
During his one term in the Senate, Brase chaired the Administration and Regulation Appropriations subcommittee, was vice chair of the Natural Resources and Environment committee, and also served on the Agriculture, Labor and Business Relations, Local Government, and Transportation panels. Brase discussed his legislative work in the November 12 news release announcing his candidacy.
"I am running for the Iowa Senate because our current Statehouse leaders are taking our state in the wrong direction," Brase said. "Our current State Senator and other politicians in Des Moines are listening to the special interests instead of doing what's best for workers, small businesses, seniors and farmers in Scott and Muscatine counties.

Brase added: "In the Iowa Senate, I will listen to my constituents and work hard every day to create better paying jobs, expand educational opportunities for our next generation of Iowa workers, and ensuring quality health care for all Iowan, including fixing the mess created by Medicaid privatization."

Brase said that during his time in the Iowa Senate, he focused on putting Iowa families first, including:

* Providing incentives to boost production of renewable energy, which results in creating jobs in Iowa that won't be exported to another state or country.

* Balancing the state's budget without raising taxes.

* Approving the largest tax-cut in the state's history by reducing taxes on all businesses.

* Holding down tuition costs at our community colleges so workers can get the training they need for 21st century jobs.

Brase recently retired after more than 29 years with the Muscatine Fire Department. Brase and his wife Donna have been married for 26 years. Brase is a graduate of North Scott High School and he attended Scott Community College, where he received his EMT Certificate.

Brase said his campaign will focus on talking personally with voters.

"I believe that listening is one of the best ways to learn," said Brase. "People are welcome to call me anytime at (563) 260-5416 or email me at cbrase27@gmail.com."
Brase already has a fundraising page online but won't hold his official campaign kickoff events until next month (December 13 in Eldridge and the following day in Muscatine).
FACTORS FAVORING EACH CONTENDER
All other things being equal, Iowans generally re-elect incumbents. It's way too early to know whether the prevailing political winds next fall will favor Democrats (as in 2012) or Republicans (as in 2016), but Lofgren showed in 2012 that he has the ability to do well even in a not-great year for his party. So he starts the campaign as the favorite.
On the other hand, he has a lot more baggage now than he did as a House Republican in 2012. Although the GOP controlled the lower chamber at that time, the Democratic majority in the Iowa Senate blocked their most ambitious proposals. In contrast, Lofgren has served in the Senate as part of a Republican trifecta. He is on record supporting every controversial law the GOP has enacted since 2017.
Any resident of Senate district 46 who lost collective bargaining rights, was adversely affected by Medicaid privatization, suffered a workplace injury following a workers' comp overhaul that slashed benefits, or faces higher tuition at Muscatine Community College has Lofgren to thank.
In addition, since Brase is now retired as a firefighter, he can direct his full attention to this race. A dedicated candidate can make personal contact with thousands of voters over the course of an election year, knocking doors and attending various community events.
Muscatine is among the mid-sized Iowa cities where voters have been moving away from Democrats over the past decade. However, the trendlines here are not as bad as in some parts of Iowa that swung toward Trump and Republicans in 2016.
Final note: Muscatine has the fourth-highest percentage of Latino residents (18.3 percent) among Iowa's 99 counties, according to the State Data Center's Latinos in Iowa: 2018 report. About 19.4 percent of those who live in the city of Muscatine are Hispanic or Latino, according to the latest U.S. Census Bureau data. Several Democratic presidential campaigns are working hard to identify and mobilize supporters in the Latinx community, where Trump's racist rhetoric and cruel policies toward immigrants and asylum seekers are unpopular. Brase could benefit if that work produces higher turnout in the 2020 caucuses and general election.
Any comments about the Senate district 46 race are welcome in this thread.
---
*The eighteen Iowa Senate districts that voted for Obama in 2012 and Trump in 2016 were Senate districts 7, 8, 15, 24, 26, 27, 28, 29, 32, 36, 38, 39, 41, 42, 44, 46, 48, and 49. You can find the 2012, 2014, 2016, and 2016 results for all 50 Iowa Senate districts on this Daily Kos spreadsheet.
Top image: State Senator Mark Lofgren (left) and former State Senator Chris Brase (right).