The Iowa Firearms Coalition, an affiliate of the National Rifle Association, has formed a political action committee that is targeting four Democratic-held Iowa Senate districts in its effort to strip power from "anti-gun Senate majority leaders." The strategy is logical, because in recent years several high-profile gun bills died in the upper chamber after clearing the Republican-controlled Iowa House.
However, I was surprised to see a couple of Senate races missing from the Iowa Firearms Coalition PAC's list.

THE IOWA FIREARMS COALITION'S TOP SENATE TARGETS
Brianne Pfannenstiel's front-page story in the June 22 Des Moines Register led with Democratic State Senator Matt McCoy's promise to introduce an assault weapons ban during the 2017 Iowa legislative session. Getting any gun control bill through the Senate would be challenge even under Democratic control, and if gun advocates have anything to say about it, McCoy's bill won't have a prayer.
But the Iowa Firearms Coalition, an affiliate of the National Rifle Association, already has called upon its network of activists to oppose [McCoy's] bill and to actively campaign against a handful of senators it perceives as vulnerable in November's general election. The goal, said coalition President Barry Snell, is to flip control of the Senate from Democrats to Republicans to create a legislative climate more favorable to gun owners. [...]

"IFC does have a (political action committee), and we've been very successful — beyond my wildest dreams — raising money for our PAC," Snell said. "So as November gets closer, you'll see IFC doing more print media, television and radio ads, and signage in various districts."

The four senators targeted by the group are incumbent Democrats Sen. Mary Jo Wilhelm, Sen. Jeff Danielson, Sen. Brian Schoenjahn and Sen. Steve Sodders. [...]

Snell said his organization has identified about 100 dedicated volunteers who are willing to knock on doors and campaign at the grassroots level.
On its website, the Iowa Firearms Coalition PAC explains these races were chosen because they are "considered to be the most tightly contested in the state."
Two-term incumbent Wilhelm faces Waylon Brown in Iowa Senate district 26, covering all or part of seven counties in northeast Iowa (map here). She won re-election to the Iowa Senate by the narrowest margin in 2012, beating GOP State Senator Merlin "Build my fence" Bartz by only 126 votes. The latest voter registration numbers show the district contains 11,138 active registered Democrats, 11,636 Republicans, and 16,487 no-party voters. Residents of Senate district 26 supported President Barack Obama over Mitt Romney by 55.62 percent to 43.18 percent, substantially more than Obama's statewide winning margin.
Three-term incumbent Danielson faces Bonnie Sadler in Iowa Senate district 30, covering Cedar Falls, Hudson, parts of Waterloo, and some rural precincts in Black Hawk County. Danielson barely survived his 2008 re-election campaign, winning by only 22 votes out of more than 32,000 cast. A top target for Republicans in 2012, he was re-elected to a third term by 681 votes over hard-working challenger Matt Reisetter. The president outpolled Romney in Senate district 30 by about 2,500 votes; his 53.08 percent to 45.72 percent margin was a bit larger than his statewide edge over Romney. The latest voter registration numbers show the district contains 12,261 active registered Democrats, 12,646 Republicans, and 14,373 no-party voters. Danielson's district includes the University of Northern Iowa campus.
Three-term incumbent Schoenjahn faces Craig Johnson in Iowa Senate district 32, covering Bremer County and parts of Fayette, Buchanan, and Black Hawk counties. He was re-elected by nearly 2,000 votes in 2012, as Obama carried 53.66 percent of the vote in his district. Latest voter registration numbers: 10,258 active registered Democrats, 11,275 Republicans, and 16,922 no-party voters.
Two-term incumbent Sodders faces Jeff Edler in Iowa Senate district 36, covering Marshall and Tama counties and a few precincts in Black Hawk County. He was re-elected by more than 2,300 votes in 2012 as Obama won about 53.5 percent of the vote in his district. Latest figures from the Iowa Secretary of State's office: 10,765 active registered Democrats, 11,536 Republicans, and 13,984 no-party voters. The Marshalltown area has a relatively large and growing Latino population, so should be a focus of Democratic efforts to register new voters who oppose Donald Trump.
Two Senate races were noticeably absent from the Iowa Firearms Coalition's wish list. Senate Majority Leader Mike Gronstal is a bogeyman on the PAC's website because of various "Gronstalled gun bills," which passed the Iowa House but not the Senate. Gronstal controls which legislation reaches the Senate floor, and Democratic committee chairs appointed by him kept most of the NRA's proposals bottled up in subcommittee.
I've long been confident voters in Senate district 8 would re-elect Gronstal, but Iowa Republicans have been talking up their recruit Dan Dawson. Senate district 8 covers Council Bluffs and Carter Lake in Pottawattamie County. Gronstal won re-election by nearly 2,400 votes in 2012 despite big Republican spending and an unprecedented "voter caging" effort in the district. Obama won about 54.4 percent of the vote here against Romney. The latest figures show Senate district 8 contains 10,247 active registered Democrats, 9,788 Republicans, and 11,466 no-party voters.
The Iowa Firearms Coalition PAC website explains why leaders decided targeting Gronstal would not be worth the effort.
Here's what you need to know though, Senator Gronstal lives in a district that is very favorable to candidates like him, and he's an excellent campaigner who is known for his ability to raise large amounts of money. Unseating him would require a tremendous amount of resources. [...]

Rather than fight an uphill battle in an unfavorable district, we put our time, energy and resources in to races where we can make a measurable impact. Remember, if we can net just two wins we've flipped the Senate. That means Mike Gronstal and his cohort of anti-gun committee chairmen are suddenly in the minority party, and that means our chances of passing pro-gun owner legislation go up dramatically.
Understood.
Omitting Senate district 46 was more mysterious. Although first-term Democratic Senator Chris Brase beat GOP Senator Shawn Hamerlinck by about 2,000 votes in 2012, and 55.6 percent of voters in the district backed Obama, Republicans landed a strong recruit here in Mark Lofgren. He represented the Muscatine area in the Iowa House for two terms and won re-election in 2012 even as Obama carried his district with 57.61 percent of the vote. No other Republican-held Iowa House seat had a larger vote share for the president. Lofgren was a poor fundraiser as a Congressional hopeful in 2014 but is raising decent money for his state Senate race. The latest voter registration numbers: 11,572 active registered Democrats, 12,012 Republicans, and 15,062 no-party voters.
I'm not aware of Lofgren opposing any NRA-backed gun bills during his four years in the Iowa House, so I sought comment from Snell on why Senate district 46 isn't a targeted race. Has Brase been supportive of the Iowa Firearms Coalition agenda, or did the group determine his race to be non-competitive for some other reason? Snell replied frankly by e-mail,
IFC PAC made the tentative decision to remain out of the District 46 race because Senator Brase has worked with the Iowa Firearms Coalition in the past, and we are loyal to those who have aligned with our issues and common sense. Senator Brase's party affiliation is virtually irrelevant in our opinion; his willingness to work with us and his pro-rights positions on the Second Amendment are all we are concerned with. I understand this appears contradictory to IFC PAC's seemingly partisan goal of changing the Iowa Senate majority to Republican, but both IFC and IFC PAC are non-partisan, and the aim in flipping the Senate is merely to achieve a majority more responsive to and supportive of our pro-civil rights legislative agenda. Iowans deserve more respect than to constantly have their civil rights ignored, restricted, or outright denied by a select few out-of-touch Democrat Senators, and at the end of the day the only way to fix that problem is to change the majority. We regret that this may put us somewhat at odds with Senator Brase, however we feel that remaining out of the District 46 race is a middle ground that balances and respects our non-partisan position, our positive working relationship with Senator Brase, and our goal of flipping the Senate. We would gladly welcome Senator Brase changing parties, which would solve the problem altogether and likely be a better reflection of the conservative values of his district and of Iowa.
HOW MUCH MONEY CAN GUN ADVOCATES PUT INTO THESE IOWA SENATE RACES?
When Snell told Pfannenstiel his PAC's fundraising had been successful "beyond my wildest dreams," enabling the group to run "print media, television and radio ads, and signage in various districts," I turned to the Iowa Ethics and Campaign Disclosure Board's website to see what kind of money he was talking about. To my surprise, the Iowa Firearms Coalition PAC did not file disclosures in either January or May of this year.
In Iowa, PACs are supposed to file statements of organization within ten days of raising or spending at least $1,000, and must subsequently file campaign disclosure reports at regular intervals with the IECDB.
I turned to Snell again. He explained,
IFC PAC is pretty new, so there hasn't been a report made yet. IFC itself has been around for over a decade and we've never really felt the need to have a PAC until now. We would still prefer not to have a PAC at all, but sadly, the unresponsiveness of just a few Democrat Senators painted us into a corner where we have no choice but to get directly involved with elections to clear the roadblocks.
That wasn't quite accurate. An Iowa Firearms Coalition PAC filed a statement of organization with the IECDB in 2011. According to the agency's Executive Director Megan Tooker, that PAC was dissolved later the same year after reporting no fundraising or spending activity.
Snell may not know this history because he joined the Iowa Firearms Coalition in 2014. I asked the group's former president Jeff Burkett about the abortive effort to create a PAC. He replied, "we had volunteer turnover and lack of man power given everything going on at the time, also issues with filing things correctly so just shut it down until we had more ducks in a row and manpower."
A new statement of organization for the Iowa Firearms Coalition PAC was filed on May 10 of this year. If the PAC raised at least $1,000 by May 14, it should have filed a disclosure form in time for the May 19 deadline. I asked Snell when the PAC had begun its wildly successful fundraising, but no dice.
I'm not at liberty to discuss the specifics of our fundraising. Between our attorneys and advising staff, we have the matter well in hand. I appreciate your concern, however.
The next round of Iowa PAC disclosure forms are due on July 19. At that time, we should get a sense of how much money the NRA's Iowa affiliate will be able to put into its four targeted Senate races.
THE IOWA FIREARMS COALITION POLICY WISH LIST
As mentioned above, the Iowa Firearms Coalition has vowed to fight Democratic State Senator McCoy's assault weapons ban, which he views as a "common-sense" measure in the wake of the Orlando Pulse club massacre.
Iowa hasn't passed any new restrictions on gun ownership in many years. On the contrary, gun control advocates continually have to fight bills seeking to make guns more widely available, or legal to carry and/or use in more situations. The gun lobby's biggest victory was the 2010 "shall issue" law, which made it easier for Iowans in many counties to obtain permits to carry concealed weapons. That law passed when Democrats controlled both chambers of the legislature as well as the governor's office.
Since 2011, the Iowa House has approved many other bills favored by the NRA and its allies. Only a few have made it through the state Senate as well. Here's a brief summary of the Iowa Firearms Coalition PAC's highest-priority "Gronstalled gun bills." If Republicans hold at least 26 state Senate seats and retain their House majority after November, most if not all of these measures are likely to reach Governor Terry Branstad's desk in 2017.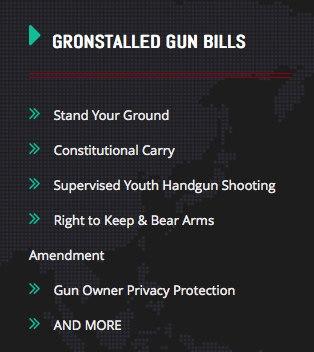 "Stand Your Ground" legislation would change the legal definitions of "reasonable force" and "justifiable use of deadly force," would remove legal references to a "duty to retreat," and would eliminate civil or criminal penalties for "justifiable" use of a firearm. A Stand Your Ground bill passed the Iowa House in 2012 over the strong objections of most Democrats, then died in a Senate subcommittee. This year's version of a Stand Your Ground bill never made it out of a House subcommittee.
"Constitutional Carry" refers to a bill that would allow Iowans to carry concealed weapons without a permit. It hasn't gone anywhere in the Senate (nor has the Republican-controlled House approved it).
"Supervised Youth Handgun Shooting" refers to a bill that would allow children under age 14 to fire handguns with a parent's permission. It became widely known as the "toddler militia" bill after Democratic State Representative Kirsten Running-Marquardt said during House floor debate in February, "We do not need a militia of toddlers." House File 2281 passed the lower chamber by 62 votes to 36, then died in an Iowa Senate subcommittee.
"Right to Keep and Bear Arms Amendment" refers to an effort to add language on gun rights to the Iowa Constitution. Wording resembling the Second Amendment of the U.S. Constitution ("The right of the people to keep and bear arms, shall not be infringed") would have bipartisan support in the Iowa legislature. But House Republicans passed a much broader constitutional amendment in 2012, which would prohibit any "licensing, registration, or special taxation as a condition of the exercise of this right" to keep and bear arms. It didn't even make it out of subcommittee in the Iowa Senate.
"Gun Owner Privacy Protection" means permits to carry weapons would become confidential records, not subject to open records requests. House File 2129, later House File 2314, passed the Iowa House by 97 votes to 1 in February. According to Cheryl Thomas, communications and policy director for Iowans for Gun Safety, the Senate Judiciary Committee chaired by Sodders recommended amending this bill before passage. One change would protect Iowans who have filed protective orders from revealing their identity to those about whom they are seeking information. The bill never reached the Senate floor and ended the year on the "unfinished business" calendar.
One more "Gronstalled" bill from this year's legislative session: House File 2280 would change Iowa regulations on firearms in the event of a public emergency. Iowans for Gun Safety explains, "This has been coined the 'Katrina bill' because of reports of confiscation in New Orleans in 2005. Current law in Iowa allows people to keep guns in their homes and places of business. Louisiana has basically no laws governing guns. The change would allow for the transfer and transportation of guns, and close gun stores only if all stores were closed. This would make it difficult for law enforcement to determine whether gun-carrying people had criminal intent or were seeking to protect. Protection of society should be up to law enforcement." The bill passed the Iowa House in February by 67 votes to 31, then died in a Senate subcommittee.
Thomas confirmed that two bills sought by the gun lobby became law during the 2016 legislative session:
House File 2279 legalized the manufacture and trade of suppressors (silencers), which had been a class D felony. Large bipartisan majorities in both chambers approved this bill. Branstad took the unusual step of signing it into law at the Brownell's gun store in Grinnell. Frank Brownell is president of the NRA Foundation, and his son Pete is an NRA vice president.
House File 2283 changed Iowa law on carrying guns while riding a snowmobile or all-terrain vehicle. Iowans for Gun Safety explains, "Current law requires guns to be in cases and unloaded, unless the person is nonambulatory, in which case the gun can be outside case, but still unloaded. The change would allow open carry with loaded weapons. As snowmobile and ATVs are recreational vehicles and usually noisy, this seems like a poor change, especially if these vehicles are used near inhabited areas." I share that view, but most House and Senate members voted for the bill, which Branstad signed.
Any relevant comments are welcome in this thread.