Only one Iowa Senate race in 2012 will pit Republican and Democratic incumbents against each other. First-term Democrat Mary Jo Wilhelm confirmed this week that she will seek re-election in the new Senate district 26. Her likely opponent is four-term Republican Senator Merlin Bartz. Follow me after the jump for a district map and first take on this matchup.
As a bonus, this post also covers the strangest failure to do basic damage control I've seen from a political veteran.
The new Senate District 26 includes all of Worth, Mitchell, Floyd, Howard and Chickasaw counties, part of Cerro Gordo County (but not Mason City or Clear Lake) and part of Winneshiek County (but not Decorah).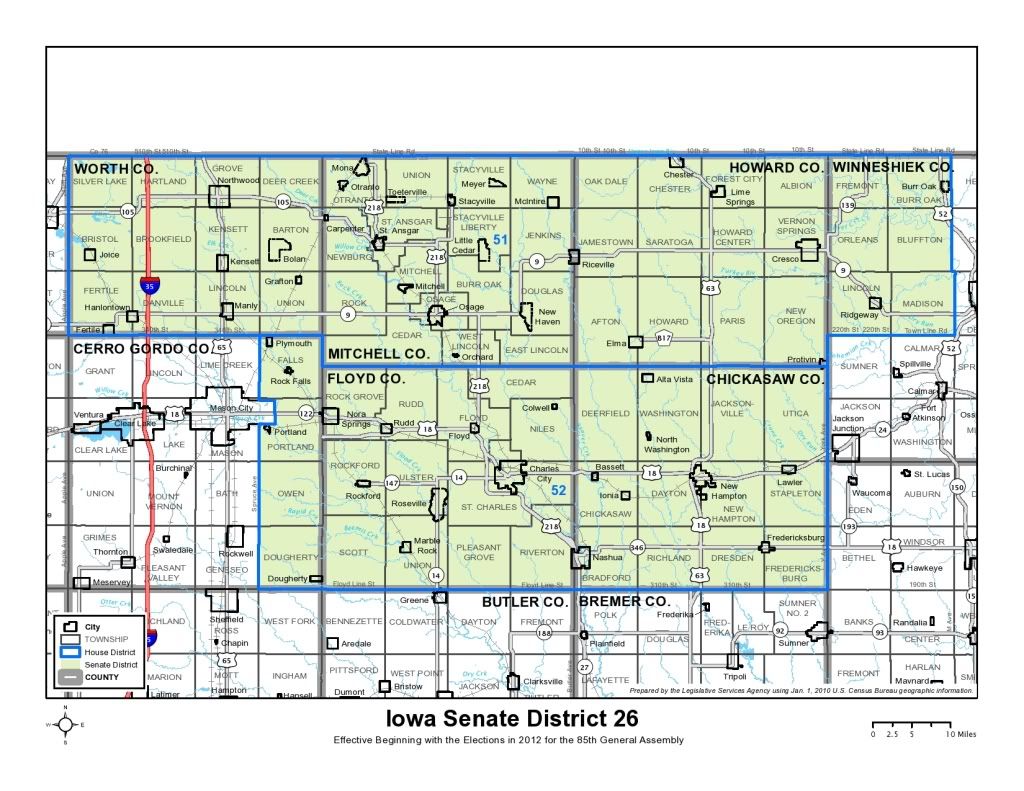 That's a lot of ground for candidates to cover. More of it lies in Wilhelm's current district than in Bartz's.
The new Senate district 26 leans slightly Democratic, with 12,775 registered Democrats, 11,468 Republicans, and 16,544 no-party voters as of April 2011. According to the Iowa Secretary of State's Office, no-party voters are a plurality of the electorate in all of the counties that make up the new Senate district 26. Democrats outnumber Republicans in all of those counties except for Mitchell. Wilhelm's path to re-election involves holding her own with no-party voters plus solid Democratic GOTV in a presidential election year, especially in her home county (Howard). Bartz will need to do well with independents and run up the score in Mitchell and his home base of Worth.
Democratic candidates higher up on the ticket may be working hard in the Senate district 26 counties. Christie Vilsack can't beat Republican Representative Steve King in Iowa's new fourth Congressional district without doing extremely well in the counties that lean Democratic and aren't part of King's current district. That list includes Chickasaw, Floyd and Cerro Gordo counties.
Representative Bruce Braley's new Congressional district includes Worth, Mitchell, Howard and Winneshiek Counties, none of which he has represented before. He would be wise to do extensive voter outreach in those portions of the new Senate district 26.
Wilhelm officially announced her re-election bid in this November 15 press release, using similar talking points to Democratic candidates all over the state:
"I am running for re-election to the Senate so that I can continue to create more job opportunities for the people in North Iowa," Wilhelm said. "I will continue to work hard to promote policies that create more high-wage jobs in our local communities, improve public safety, and create more opportunities for family farmers."

State Senator Amanda Ragan of Mason City praised Wilhelm's efforts on behalf of North Iowa families.

"Mary Jo Wilhelm listens to her constituents and works hard at the Capitol to get results and improve the quality of life for middle class families," Ragan said.

Wilhelm pointed to several recent accomplishments by the Legislature, including:

· Providing incentives to boost production of renewable energy, which results in creating jobs in Iowa that won't be exported to another state or country.

· Balancing the state's budget without raising taxes.

· Maintaining basic funding for local public schools and teachers.

· Preserving Iowa's successful voluntary preschool program so tens of thousands of Iowa children can continue to get a jumpstart on their education.

· Holding down tuition costs at our community colleges so workers can get the training they need for 21st century jobs.

Wilhelm is Chair of the Local Government Committee and a serves on the Commerce, Economic Growth/Rebuild Iowa, Education, and Human Resources committees and the Agriculture and Natural Resources Appropriations Subcommittee.

Mary Jo and her husband, Michael, have been married for 28 years. Michael works at the Donaldson Co. factory in Cresco. They have two sons: Ben lives in Iowa City and Alex lives in Cedar Rapids. Mike also has a son, Christopher, who lives in Decorah.

Mary Jo previously served 12 years on the Howard County Board of Supervisors, and she owns and operates a real estate appraisal business. […]

Bartz hasn't confirmed his plans, but observers in both parties expect him to seek a fifth term in the Iowa Senate. Last week he was re-elected as an assistant Senate minority leader. In contrast, Steve Kettering didn't seek to stay on the Senate GOP leadership team, because he is retiring in 2012.
Bartz is a farmer in Worth County and former chair of the Worth County Republicans. Beginning in 1990, he served for two years in the Iowa House and ten years in the Iowa Senate. Bartz held various positions in the U.S. Department of Agriculture during George W. Bush's administration. He returned to the Iowa Senate in 2008, when a fellow Republican retired from the current Senate district 6.
Bartz is the ranking member on the Senate Local Government Committee, which Wilhelm chairs. He also serves on the Senate Appropriations, Ways and Means and Rules and Administration Committees.
In addition, Bartz serves on the Administrative Rules Review Committee, made up of Iowa House and Senate members. He's a typical example of why I refer to the ARRC as the place "where good rules go to die." This year Bartz was in the majority when the ARRC delayed a proposed ban on lead shot for dove hunting. Last year Bartz spearheaded an unsuccessful effort to ditch the most important Iowa water quality rules adopted in the last decade.
During the spring of 2009, Bartz was one of the Iowa Senate's most outspoken critics of the Iowa Supreme Court's marriage ruling in Varnum v Brien. He used his official Iowa Senate website to promote a petition drive urging county recorders not to issue marriage licenses to same-sex couples. Bartz even tried to amend Iowa law to protect county recorders who refused to issue a particular marriage license "as a matter of conscience."
The persuasion campaign failed to win over any Iowa county recorders, but Bartz has remained "vigilant" (his word) against any state agency rule that extends new benefits to same-sex couples. In May 2010, that meant taking a stand against letting gay couples pitch more than one tent at a campsite.
Whereas Wilhelm rarely grabs the spotlight, Bartz comes across as one of Iowa's more publicity-hungry legislators. Lately his legal dispute with two neighbors has been making news in northern Iowa. His failure to resolve this matter quietly is baffling.
Background: Bartz needs to improve a stretch of fence in order to put livestock on a bit of pasture he owns. According to an Iowa law adopted more than 150 years ago, the owner of the adjacent property is required to pay half the cost of the fence, or erect a fence along half the property border. Bartz's neighbors, Julie and Brent Kuntz, don't want to pay for his improvements. They see no benefit to upgrading the fence, since they are corn and soybean farmers who don't raise livestock. As a matter of principle, they view the law as archaic.
You learn something new every day, and this week I learned that Iowa townships have trustees who act as "fence viewers" in disputes such as this one. The local fence viewers sided with Bartz in early October:
The trustees ruled Bartz and Kuntz each build 350 feet of the 700-foot fence, that the Kuntz portion would have a value of $1,000 and that each party pay $110.50 in costs.

Brent and Julie Kuntz must build the fence within 60 days. They have the right to appeal the ruling to district court within 20 days.
I spoke with Julie Kuntz by telephone on November 16. She confirmed that she and her husband appealed the ruling of the fence viewers and are taking the case to civil court. No judge has been assigned to their case yet. They plan to request a jury trial. Kuntz acknowledged that their chances of winning the case are "slim to none," but they want to make a statement against what she described as an "obsolete" law. I also doubt a court will uphold the Kuntz appeal, but perhaps the publicity associated with this case will prompt efforts to amend the fencing statute.
Kuntz told me that she is a registered Republican and emphasized that she is "not a political person" and not pursuing legal action against Bartz "for political reasons." She added that her family and the Bartz family belong to the same church and have gotten along in the past.
Now we're coming to the damage control failure I mentioned near the top of this post. To my mind, Bartz never should have let this problem become fodder for news stories. Once he learned that the Kuntzes were determined not to pay for half the fence, he should have dropped the matter. His official statement of economic interests (pdf) indicates that he receives income from various sources in addition to his salary as a state senator. Clearly he has the means to upgrade his own fence.
But no, Bartz insisted on making his neighbors pay what he considers their share. He took his case to the fence viewers, generating a round of local media coverage.
Shortly after the trustees weighed in, Julie Kuntz discussed the dispute on Jan Mickelson's popular WHO radio morning program. (I wasn't able to find that podcast on the station's website, because a guest host was filling in for Mickelson that day.) In response, Bartz was a guest on Mickelson's show the following week.
This October 19 podcast has to be heard to be believed. Mickelson had Bartz on for approximately half an hour, and they spent the whole time discussing this fence dispute.
Every time Mickelson went to a break, I would think, now Bartz will change the subject to something more important. He had an opportunity to raise his profile with Mickelson's large, conservative-leaning audience. It would cost a lot of money to buy that much air time on a WHO morning show.
But no, every time they came back from the break, Bartz kept explaining why he was in the right: the fencing law says such and such; good border fences benefit both property owners, not just livestock farmers; the Kuntzes declined our written request to meet; we offered to do this and that, but the Kuntzes refused; we had the laborers scheduled to be on site for such and such a date; the fence viewers agreed with us based on a valid interpretation of Iowa law; on and on.
Apparently Bartz thinks rehashing the details reflects well on him. I suspect that many people will react to the story the same way as the last caller during Mickelson's segment with Bartz (my transcript):
Caller Will: Good morning, Jan. Good morning, senator. I would love to pass on the business expenses of my business along to my neighbors, but [Mickelson cuts off caller, then asks Bartz to respond quickly]

Bartz: Well, the difference between that and this is that this is a property line, and it's not about livestock or a business expense, it's about defining the boundary.
With that, Mickelson thanked Bartz and moved on to the next guest. I wonder how many listeners were thinking what I was thinking: someone should sit this man down and tell him to pay for his own fence. The property line is already marked. Bartz wants a better fence in order to graze livestock nearby.
A novice like Herman Cain isn't supposed to know how to deal with a damaging news story, but Bartz has been around the block a few times. I am stunned that an experienced politician would rather keep talking about this controversy than move on.
Only two possible explanations make sense to me. Perhaps Bartz isn't used to worrying about unflattering media coverage. He was easily re-elected in 1996 and 2000, and he returned to the Iowa Senate in a safe Republican district for the 2008 election.
Alternatively, Bartz may believe this issue plays well in his district. He's a member of several agriculture groups that support current fencing law, such as the cattle producers and the Iowa Farm Bureau. In fact, one caller to Mickelson's show reacted favorably to Bartz's position. That caller told his own tale of woe about rural folk who don't always understand how Iowa fencing law works.
The fence problem may or may not receive another wave of local news coverage next year, depending on when the district court considers the case. Bartz told Mickelson that the Worth County attorney estimates a three-year delay if the Kuntzes insist on a jury trial.
To my knowledge, Wilhelm hasn't commented on Bartz's legal conflict. I wouldn't advise her to do so. She's better off sticking to her own message and making as many direct voter contacts as possible.
Any thoughts about the Senate district 26 race are welcome in this thread.
UPDATE: For those wondering why Iowa Senate Republican leaders didn't tell Bartz to get this story out of the news last month, then Senate Minority Leader Paul McKinley was vacationing out of the country during the first half of October. The other senior GOP senators may have been distracted by Bill Dix's failed leadership challenge and the special election campaign in Iowa Senate district 18.