After several months of recruiting efforts, Republicans finally have a candidate willing to run against two-term State Senator Mary Jo Wilhelm in Iowa Senate district 26. This race is among a half-dozen or so contests that will determine control of the upper chamber after the 2016 elections. Since Iowans elected Governor Terry Branstad and a GOP-controlled state House in 2010, the 26 to 24 Democratic majority in the state Senate has spared Iowa from various disastrous policies adopted in states like Kansas, Wisconsin, Michigan, Ohio, and Pennsylvania. Of the senators who make up that one-seat majority caucus, Wilhelm was re-elected by the narrowest margin: 126 votes out of nearly 31,000 cast in 2012.
I enclose below a map of Senate district 26, a review of its voter registration numbers and recent voting history, and background on Wilhelm and challenger Waylon Brown. Cautionary note: although Brown is the establishment's pick here, he is not guaranteed to win the nomination. "Tea party" candidates won some upset victories in the 2012 Iowa Senate Republican primaries, notably Jane Jech against former State Senator Larry McKibben in Senate district 36 and Dennis Guth against former State Senator James Black in Senate district 4.

Iowa Senate District 26 includes all of Worth, Mitchell, Floyd, Howard and Chickasaw counties, part of Cerro Gordo County (but not Mason City or Clear Lake) and part of Winneshiek County (but not Decorah).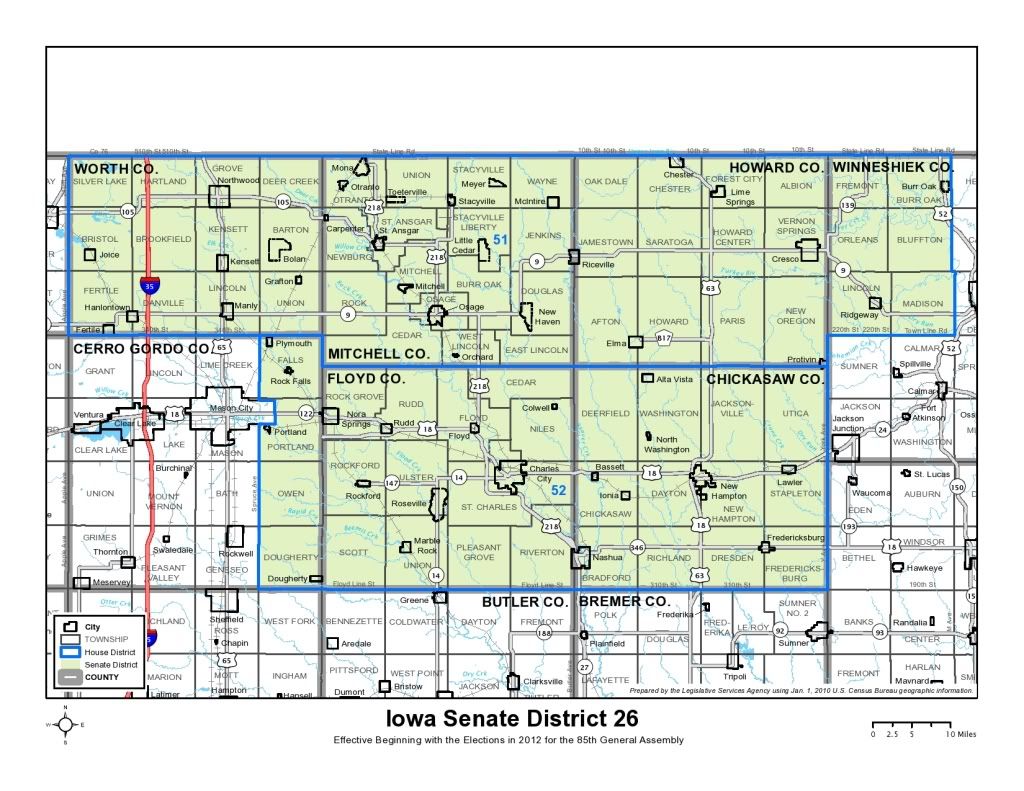 This district is one of the most evenly-split state legislative seats up for grabs in 2016, with 11,210 active registered Democrats, 11,104 Republicans, and 17,057 no-party voters as of October 2015. According to figures from the Iowa Secretary of State's Office, no-party voters are a plurality of the electorate in all of the Senate district 26 counties. Democrats outnumber Republicans in Floyd, Howard, and Chickasaw counties, while Republicans outnumber Democrats in Worth and Mitchell counties.
Most of this district lies in the "Driftless Area," a "true curiosity" because this "cluster of mostly rural counties and small towns in southeastern Minnesota, northeastern Iowa, southwestern Wisconsin and northwestern Illinois" voted more Democratic in 2012 than political analysts would expect, based on demographics and voting behavior in most rural areas.
In fact, Mitchell County was the whitest county in the country to vote for Barack Obama in 2012; Howard County was the fifth-whitest to do so. The Tri-County Democrats organization Kurt Meyer has led in Mitchell, Worth, and Howard counties deserves some of the credit, but the political culture of the "Driftless Area" played a role too.
Iowans living in Senate district 26 supported Obama over Mitt Romney by a margin of 55.62 percent to 43.18 percent, substantially more than Obama's statewide lead. In last year's U.S. Senate race, Joni Ernst outpolled Bruce Braley here by 48.49 percent to 46.95 percent of the vote, even as Ernst beat Braley by eight points statewide.
It's too early to know whether the likely Democratic presidential nominee Hillary Clinton would be a draw or a drag at the top of the ticket next fall, but she did carry most of the counties in Senate district 26 in the 2008 Iowa caucuses. To my knowledge, Wilhelm has not endorsed a candidate for president this year, and I am not aware of her publicly supporting any of the candidates before the 2008 caucuses.
Wilhelm served as a Howard County supervisor for twelve years before her first election to the Iowa Senate in 2008. She faced a tough re-election bid when redistricting following the 2010 census put her in the same area as longtime GOP State Senator Merlin "Build my fence" Bartz. She won that race by a margin of less than half of 1 percent. Shortly after the 2012 general election, U.S. Representative Steve King hired Bartz to run his district office in Mason City. Bartz still resides in Worth County, but he hasn't signaled any interest in running for the state Senate again.
Wilhelm is an assistant Senate majority leader and chairs the Agriculture and Natural Resources Appropriations Subcommittee. She also serves on the Senate's Human Resources, Education, Appropriations, and Economic Growth committees and is vice-chair of the Local Government committee. Here's more background from her official bio:
She has been a Certified Residential Appraiser since 2000 and started her own business, Wilhelm Appraisals, in June 2006.

Mary Jo and her husband, Michael, have been married for 31 years and live in Cresco, where they are members of Immanuel Lutheran Church. They have two sons: Ben, who lives in Iowa City, and Alex, who lives in Decorah.
The strongest Republican opponent for this district would have been three-term State Representative Josh Byrnes. He represents Iowa House district 51, which makes up half of Senate district 26, and was re-elected there easily in 2012. Only two Republican-held Iowa House seats went to Obama by a larger margin than House district 51. Fortunately for Democratic prospects to hold the Iowa Senate, Byrnes ruled out running against Wilhelm a few months ago.
Multiple sources in northeast Iowa have told Bleeding Heartland that Republicans sounded out other possible candidates before settling on Waylon Brown, who launched his campaign earlier this month. I wondered whether Byrnes might have second thoughts after losing to Linda Upmeyer in the vote for a new Iowa House speaker, but he was quoted in a Senate Republican press release as saying he looks forward "to having Waylon represent my family and I [sic] in the State Senate."
Brown is a vice president of the Mitchell County Farm Bureau Board. The press release provides more background on the candidate and the first version of what you might call his "elevator speech":
Brown, a St. Ansgar High School graduate, owns a construction company and also farms. He sits on the St. Ansgar Planning and Zoning Board. Brown and his wife Julie have two children. His children and their future were among the deciding factors for entering the Senate District 26 race, Brown said.

"Our parents taught us it is important to leave something in better condition than we received it, and that is my plan for the future of our state," Brown said. "For my seven-year-old twins and all of Iowa's children, I am running to give them the same opportunities we enjoyed growing up in Iowa. We received the best education in America, exciting career opportunities in our own state and tax climate that made us want to stay to raise our families. Unfortunately, our state now ranks among the least tax friendly states in the U.S., we face a skilled labor shortage and we no longer lead the way in education. Those opportunities we enjoyed are causing today's young people to leave Iowa. I want to play a role in reversing those trends."

Reversing those trends requires providing students the education to compete in a global economy, being fiscally responsible and giving job creators the necessary tools to grow the private sector workforce.

"Agriculture is Iowa's number one industry and our small business owners create a majority of jobs in our state," Brown said. "Due to the downturn in the agricultural industry, we face a reality of less money being available in our state budget. It is vital we approach state spending with sound and responsible accounting practices as well as assist job creators in developing new career opportunities for all Iowans. These factors will help grow and strengthen our economy."

Senate Republican Leader Bill Dix, R-Shell Rock, said Brown's agriculture and small business background will serve his district well.

"Waylon brings valuable farming and business experience to this race," Senator Dix said. "He is someone north central Iowa residents can depend upon to be their voice in the Iowa Statehouse."
The combination of Dix and Farm Bureau screams "establishment choice." But as mentioned above, Brown should take nothing for granted in the Republican primary if some outsider decides to take a shot here.
Assuming Brown is the nominee against Wilhelm, he will have all the financial resources he needs. In late July, the Republican State Leadership Committee (whose mission is "to elect down-ballot, state-level Republican officeholders") named the Iowa Senate an "offensive target." Dix is a strong fundraiser and has no choice but to fight for this seat. After the Muscatine-based Senate district 46, where Republicans have a strong challenger in former State Representative Mark Lofgren, Senate district 26 is probably the GOP's best pickup opportunity.
Brown won't have the name recognition or the advantages of incumbency that Bartz took into the 2012 race. His home base of Mitchell County has a somewhat larger population than Wilhelm's base in Howard County, but more voters reside in Floyd and Chickasaw counties, which Wilhelm has represented for years. Iowa Senate Majority Leader Mike Gronstal will have plenty to spend defending Wilhelm and any other incumbents who face strong challenges. Labor unions and progressive advocacy groups will target Senate district 26 as well, because so much is at stake if the Democratic firewall doesn't hold.
For those reasons, I consider Wilhelm slightly favored to win re-election, unless the national climate becomes toxic for Democratic candidates next fall.
Any relevant comments are welcome in this thread.
NOVEMBER UPDATE: The Iowa Senate Majority Fund sent out this press release on November 2.
Wilhelm to Seek Re-Election to the Iowa State Senate
State Senator Mary Jo Wilhelm of Cresco announced today that she is running for re-election to the Iowa State Senate in 2016.
Wilhelm is running in Senate District 26, which includes all of Worth, Mitchell, Floyd, Howard and Chickasaw counties, and part of Cerro Gordo and Winneshiek counties.
"I am running for re-election to the Senate so that I can continue to help create more opportunities for the people in North Iowa," Wilhelm said. "I will continue to work hard for the creation of good jobs in our local communities, to improve public safety, and to create more opportunities for family farmers.
"I listen to my constituents and I work hard at the Capitol to get results and improve the quality of life for middle class families across North Iowa."
Wilhelm pointed to several recent accomplishments by the Legislature, including:
* Providing incentives to boost production of renewable energy, which results in creating jobs in Iowa that won't be exported to another state or country.
* Balancing the state's budget without raising taxes.
* Maintaining basic funding for local public schools.
* Approving the largest tax-cut in the state's history by reducing taxes on all businesses — and helping small businesses the most — without shifting the burden to residential property owners.
* Holding down tuition costs at our community colleges so workers can get the training they need for 21st century jobs.
Wilhelm is Co-Chair of the Agriculture and Natural Resources Appropriations Subcommittee; and serves on the Appropriations, Local Government, Economic Growth, Education, and Human Resources committees.
Wilhelm and her husband, Michael, have been married for 32 years. Michael works at the Donaldson Co. factory in Cresco. They have two sons: Ben lives in Iowa City and Alex lives in Decorah.
Wilhelm previously served 12 years on the Howard County Board of Supervisors, and she owns and operates a real estate appraisal business.
Wilhelm said her campaign will continue to focus on talking personally with as many voters as possible.
"I believe that to properly represent your constituents, you need to listen to them. That's why I encourage anyone to call me anytime at my home, (563) 547-4156, or email me at mjwilhelm414@msn.com."