Iowa House district 54 shouldn't be on the map of competitive 2020 state legislative races. Democrats haven't fielded a candidate in the district outgoing House Speaker Linda Upmeyer is vacating in any of the last four elections.
However, Republicans are no longer guaranteed to keep this seat in the GOP column.
Clear Lake City Council member Bennett Smith announced on December 5 that he may run for the Iowa House as an independent. Although it's been nearly a century since anyone with no party affiliation has won an Iowa legislative race, Smith would be a credible candidate.

POLITICAL LANDSCAPE
House district 54 covers all of Franklin County, much of Butler County, and about half of Cerro Gordo County.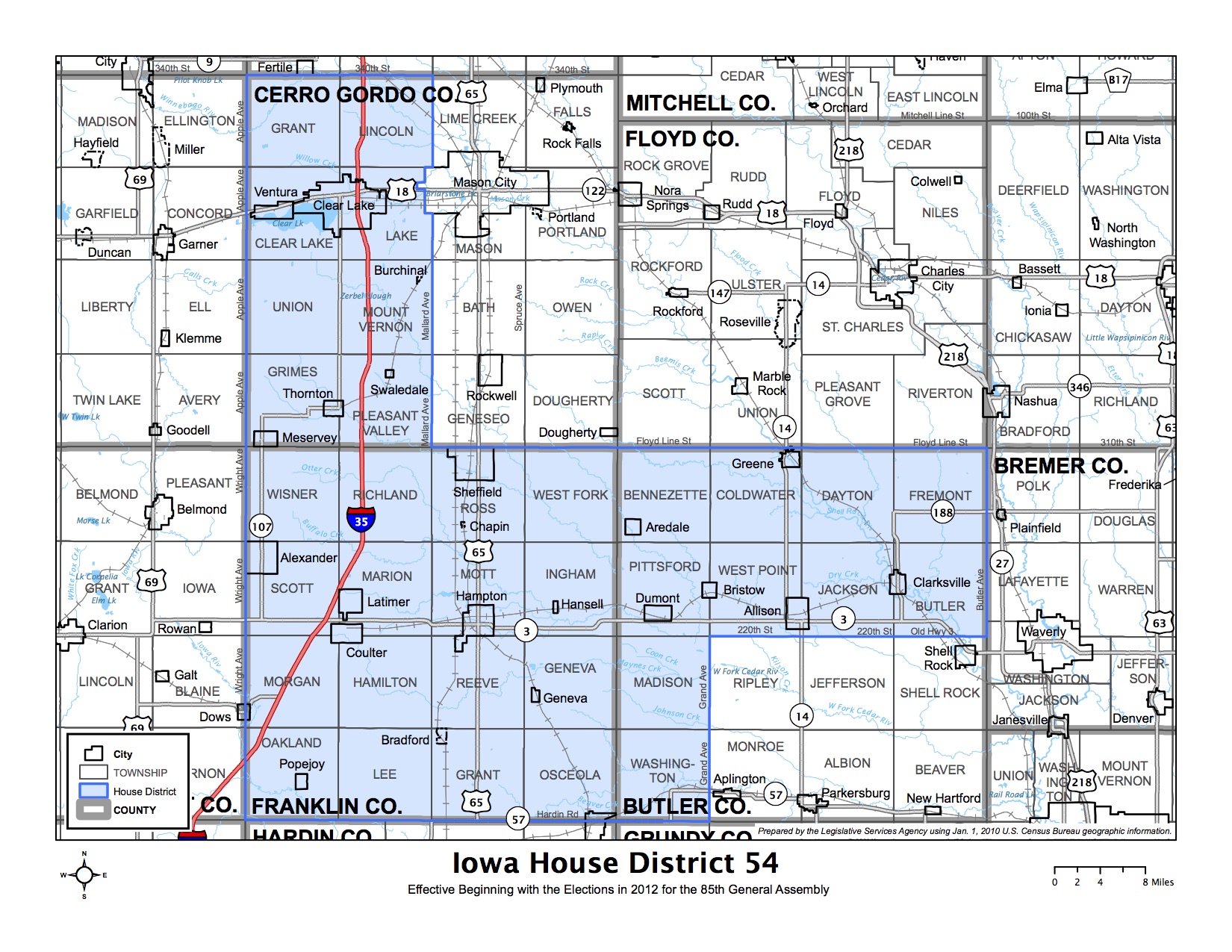 I took for granted that Republicans would hold the seat where Donald Trump and Governor Kim Reynolds each received about 63 percent of the vote. The latest official figures show House district 54 contains 3,810 active registered Democrats, 8,150 Republicans, and 7,444 no-party voters.
To my surprise, more than two months after Upmeyer said she would not seek re-election in 2020, no Republican has declared here.
POSSIBLE REPUBLICAN CANDIDATES
Bleeding Heartland sought comment on December 5 from several people whose names are often mentioned as potential GOP candidates. Shannon Latham said in a telephone interview that she is considering the race. She declined to specify a time frame for making a decision, other than to note that the filing deadline for candidates is in March. Latham was the 2018 challenger to Democratic Senator Amanda Ragan in Iowa Senate district 27 and lost by only 501 votes.
If Latham ran for House district 54, she probably could clear the Republican field. But she may prefer to wait until 2022, when she could take another crack at the state Senate seat, maybe with a map more favorable to Republicans. The GOP majority in the upper chamber (currently 32-18) is much more secure than in the lower chamber (now 53-47).
Emily Sukup Schmitt, general counsel at Sukup Manufacturing in Clear Lake, did not respond to Bleeding Heartland's e-mail and phone messages. UPDATE: Schmitt replied by e-mail on December 6,
I grew up very close to this House seat, walking in parades for my dad [former State Representative Steve Sukup] and watching legislative action from the floor of the House Chamber. After completing law school and returning to the area, I watched Linda Upmeyer admirably serve our district and later break barriers as Iowa's first female Speaker of the House. As we think about the future of House District 54, I believe Shannon Latham would be an excellent candidate to represent us. In addition to working for a successful family business in the agriculture industry, she has also started her own business venture aimed at improving the quality of life in rural Iowa. Shannon has strong support among local community members, and I personally would stand behind her 100% as the candidate for our district.
Carolyn Haugland, who once interned for Upmeyer and later clerked for then House Republican Sandy Greiner, has decided against running, her husband Gabe Haugland said via Facebook message. He added that he is leaning against becoming a candidate too. Gabe Haugland, a business owner in Clear Lake, was laying the groundwork in House district 54 in 2011. He changed plans when Upmeyer moved into the district to avoid a race against a fellow Republican lawmaker.
UPDATE: I've also reached out to Steve Minert, who manages the Harley-Davidson dealer in Mason City and is a possible successor to Upmeyer.
PROSPECTS FOR BENNETT SMITH
Smith was affiliated with the GOP for many years. But his news release (enclosed in full below) indicated that he is considering an independent bid. Smith confirmed in a December 5 telephone interview that he will not file for the Republican primary. He left the party about a year and a half ago. Why? "A lot has changed in the Republican Party with the rise of Donald Trump."
Under a new state law, independents and minor-party candidates must file nominating papers by mid-March. Smith anticipates deciding whether to run in a matter of weeks, not months. If he goes forward, he will be committed to the race, he said.
No doubt, he would start a campaign as an underdog. Most Iowa lawmakers who were independents or had no party affiliation served during the 19th century. The last candidate to win an Iowa legislative race as an independent was State Senator William Schmedika in a 1923 special election.
But Smith could not be counted out. He's already won a 2017 city council race in Clear Lake, the district's largest municipality (population around 7,500). He is an instructor at North Iowa Area Community College. Educators from both parties have often been successful legislative candidates, due to their many connections with former students and their relatives.
While Republicans greatly outnumber Democrats in House district 54, a sizable share of the electorate has no party affiliation. Assuming Democrats don't nominate a candidate, Smith could theoretically win with support from GOP moderates, most Democrats, and a majority of independents.
Republicans will spend heavily here, if necessary, to elect the eventual GOP nominee. They can't afford to let this seat go, given the number of Iowa House seats Democrats could play for in 2020. Smith would likely be at a financial disadvantage, having no party apparatus to cover his campaign expenses. He would need to raise quite a bit of money for direct mail, signs, literature, and paid media.
If Smith decides against running, House district 54 will remain a safe Republican seat. But if he goes for it, this could become a fascinating race to watch.
---
December 5 news release from Bennett Smith:
Clear Lake City Councilman Bennett Smith to explore running for the Iowa Legislature in House District 54

I want to take this opportunity to announce that I am exploring the possibility of becoming an independent candidate for the Iowa Legislature in House District 54 for the upcoming 2020 fall election. Over the next few weeks I look forward to hearing from citizens in the district regarding the various legislative issues that are of important concern to them and having the opportunity to share some of my views on public policy.

I believe in a politics that values problem-solving over partisanship with the goal of enhancing the quality of life for all Iowans. I am committed to public service and I believe that I have the ability, experience and judgement to make a positive difference in the Iowa Legislature.

If I enter the race my goal will be to build a coalition of Republicans, Democrats and Independents that want to move Iowa forward with a positive vision for conserving our natural resources, improving our educational outcomes, reforming our healthcare system, and promoting economic development across the State of Iowa. Feel free to contact me at bennett.smith@gmail.com with comments or questions regarding my potential candidacy for the House District 54 seat.

###

Bennett Smith is an instructor in history and political science at North Iowa Area Community College (NIACC). He is also an instructor in various lifelong learning programs including the NIACC Lifelong Learning Institute; the Osher Lifelong Learning Institute at Iowa State University and the LIFE program at Rochester Community and Technical College in Rochester, Minnesota. He holds a Bachelor of Science degree in speech communication and a Master of Arts degree in history from Iowa State University. He has also done graduate work at the University of Iowa in Social Foundations of Education. He is from Clear Lake, IA and currently serves on the Clear Lake City Council.