Five Democrats are now competing for the chance to take on U.S. Senator Joni Ernst next November. After making low-key appearances at Democratic events around Iowa for about six months, Cal Woods made his candidacy official on December 17.
Assuming all five candidates file nominating petitions in March, the crowded field increases the chance that no one will win the nomination outright in the June 3 primary.

WHAT DROVE CAL WOODS TO RUN
Woods plans to focus on health care and climate change as a Senate candidate. He favors strengthening the Affordable Care Act by allowing people to buy into public health insurance. His campaign announcement (enclosed in full below) explains,
"We didn't have to outlaw the horse and buggy, we just found more efficient ways to get around. And we don't have to ban private health insurance companies from competing with a public option, we out-compete them."
He has criticized the Republican incumbent for questioning whether human activity is driving the climate crisis: "In spite of overwhelming scientific evidence, Ernst joins the flat-earthers, climate deniers and alternative-fact people in her denial of the cause of our global climate change. Ignoring the challenge will not make it go away."
Speaking to Bleeding Heartland at his kickoff event in West Des Moines on December 17, Woods estimated he has visited around 30 counties since he began "testing the waters" in June. The Linn County native who has lived in the Des Moines area for many years has ventured far beyond the state's largest metro areas. His first event was a farm and labor rally in Keokuk, on Iowa's southeast tip. Also in June, Woods collected his first signature on a nominating petition near the far northwest corner (Rock Rapids in Lyon County).
How would he differentiate himself from the four Democrats who have been campaigning since the spring or summer? Woods started thinking about the Senate race in February or March. He waited to see whether high-profile candidates like former Governor Tom Vilsack, former Lieutenant Governor Sally Pederson, Senate Minority Leader Janet Petersen, or former Senate Majority Leader Mike Gronstal might run.
"When none of them did," he started thinking seriously about the race, because "I didn't see the level of intensity and the sense of urgency that I want to see in a candidate." Climate change is "an existential threat."
Does Woods think the other candidates are not concerned enough about that issue? (Kimberly Graham and Eddie Mauro have endorsed the Green New Deal, and Michael Franken has frequently discussed climate change at his campaign appearances.)
"I don't want to be critical" of them, Woods emphasized. But "it's a dereliction of duty if you're not shouting it from the rooftops how serious this challenge is."
Does he support the Green New Deal? "Absolutely," Woods said, "and more: our future is in cleaner, greener economics." He noted that the solar industry now employs more people than coal mining.
Woods said he plans to campaign full-time through the 2020 primary. He finished his last job as a fencing contractor in October and won't take on any other construction projects before next summer. Here's a look at the front and back of the literature he's been handing out.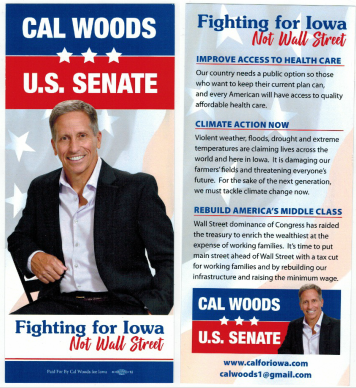 CROWDED FIELD COMPLICATES PRIMARY RACE
Under Iowa law, candidates need at least 35 percent of the vote to win the nomination outright in the primary. If the top vote-getter doesn't reach that threshold, delegates to the Democratic state convention will select the nominee later in June 2020.
Most Iowa Democrats dislike Ernst but know little about the alternatives and haven't focused on the Senate race, with so many presidential candidates scouring the state this year. It was unfortunate that the Iowa Democratic Party didn't give the Senate candidates a few minutes each to make a pitch to the crowd of some 13,000 people at the Liberty and Justice Celebration in early November.
Theresa Greenfield is the front-runner, having attracted numerous high-profile endorsers and raised more money than her competitors (and even more than Ernst during the third quarter). Some of the organizations supporting her, like the Democratic Senatorial Campaign Committee, EMILY's List, and the End Citizens United PAC, may spend serious money on Greenfield's behalf before the primary.
But Greenfield won't be the only candidate able to bring her message to Democratic voters. Mauro has loaned more than a million dollars to his campaign and started running television commercials statewide this month. His high-profile endorsers include State Representatives Ako Abdul-Samad, Ruth Ann Gaines, and Charlie McConkey, as well as progressives like Iowa City council members Mazahir Salih and Pauline Taylor, and climate activists Ed Fallon and Mike Delaney.
Graham is the only candidate in the field advocating for a single-payer health care system, tuition-free public college, and student loan forgiveness. For those reasons, she has attracted a lot of support on the party's progressive wing. Her endorsers include Linn County Supervisor Stacey Walker and the groups Brand New Congress, Women for Justice in the Midwest, and Sunrise Movement Cedar Rapids.
Franken is the only candidate who doesn't live in Polk County. (Many Democrats are tired of running statewide candidates from the Des Moines area.) His military credentials outshine those of Ernst, who has always made her National Guard service a central part of her political image. If he has the resources to boost his name ID, Franken might find a lot of receptive primary voters. His early endorsers include State Representative Tim Kacena.
A crowded field is no guarantee of a close result. Fred Hubbell easily cleared 50 percent of the vote in the six-way Democratic race for governor in 2018. But he spent nearly $7 million before the primary to do it.
With five Democratic candidates devoting nearly full-time effort to the Senate campaign, the nomination battle should be highly competitive.
To follow the Democratic Senate candidates:
Mike Franken: website, Facebook, Twitter
Kimberly Graham: website, Facebook, Twitter
Theresa Greenfield: website, Facebook, Twitter
Eddie Mauro: website, Facebook, Twitter
December 17 news release from Cal Woods:
Linn County native, former news reporter and now Des Moines contractor Cal Woods is announcing his candidacy for U.S. Senate today.

His campaign will focus on a health care system that works for ALL Americans, tackling the climate crisis, and a tax system that benefits the middle class, not the wealthiest one-tenth of one percent.

Cal grew up on a Linn County hog farm and served in the U.S. Navy in the navigation department on board the USS Chicago, a guided missile cruiser in the western Pacific. He graduated from the University of Iowa and worked for 16 years in the news business in Colorado and Iowa as a reporter and news manager.

Cal first started to talk with Iowans about a possible candidacy at a farm and labor rally earlier this year in Keokuk and in a visit to Rock Rapids and Larchwood in Lyon County last June.

"Iowans face life or death challenges in a health care system that threatens to leave behind our most vulnerable citizens," Woods said.

"Freshman Senator Joni Ernst has been part of an effort to chip away at the Affordable Care Act, threatening a loss of health insurance for more than a million Iowans including those with pre-existing conditions."

Woods favors a public option to address the nation's health care needs.

"We didn't have to outlaw the horse and buggy, we just found more efficient ways to get around. And we don't have to ban private health insurance companies from competing with a public option, we out-compete them."

"Americans now spend about $10,000 per year per capita on health care. Most industrialized countries spend about half that. About 20 percent of our health care dollar goes to insurance companies who have to pay marketing, advertising, sales people and CEO salaries. About 30 percent is wasted on administrative costs and 12 percent is wasted on the amount we overpay for prescription drugs compared to our friends in Canada and other western countries. Our current health care system works extremely well... for insurance and pharmaceutical companies. We need someone to stand up for working families and seniors. I will," said Woods.

On our looming climate crisis, Senator Joni Ernst says she is not convinced that burning fossil fuels is the cause.

"In spite of overwhelming scientific evidence, Ernst joins the flat-earthers, climate deniers and alternative-fact people in her denial of the cause of our global climate change. Ignoring the challenge will not make it go away," Woods said. We need an aggressive response by phasing out the $26 billion annual welfare subsidies to the fossil fuel industry and phasing in more research and development of clean, renewable energy.

Iowa is a leader in wind energy with 9,000 MW of capacity and more under construction right now. And Luther College in Decorah is a leader in solar energy with a 280 KW solar field that powers a student housing community on campus."

On taxes, Ernst voted for the Trump tax cut of 2017 which will benefit most, the wealthiest, and was supposed generate so much growth it would pay for itself. Since it was passed our national debt has jumped more than a trillion dollars.

"Ernst promised to go to Washington to 'make 'em squeal.' And she did. Wall Street billionaires are squealing with delight over their massive tax breaks," Woods said. "We need a tax system that works for working families and seniors, not just Wall Street."
Top image: Top row, from left: Joni Ernst, Mike Franken, Kimberly Graham. Bottom row, from left: Theresa Greenfield, Eddie Mauro, Cal Woods.