Eddie Mauro was looking for a fight as he became the first Iowa Democratic U.S. Senate candidate to run television commercials this cycle.

"SHE THINKS IT'S OK TO RUN ADS GLORIFYING GUNS"
One of four Democrats campaigning against Senator Joni Ernst, Mauro is spending six figures on ad buys for "Cool Under Fire." His campaign's December 5 news release described the spot as "controversial," explaining that it "borrows footage from Joni Ernst's infamous 2014 ad featuring the Senator shooting a copy of Obamacare, but replaces the ACA with the candidate himself, standing up to the shots Joni has fired at key policies protecting Iowans."
"The record is clear -- Joni Ernst has sold out Iowans. Despite promising to 'make them squeal,' Joni has been more than happy to help the NRA, Big Pharma, and the fossil fuel industry bring home the bacon," said Mauro. "I am ready to stand up to the special interests that shoot down progress and tackle the challenges we face today – from health care and climate change to campaign finance reform – with the urgency and courage they deserve."

The ad, which is set to begin airing on December 5, 2019, was produced in Iowa by a non-political media firm. Mauro's campaign will spend nearly $105,000 on the ad buy, with over half the budget dedicated to new media and digital channels and the remainder on cable/broadcast television. Different versions of "Cool Under Fire" are scheduled to run for three weeks.
All of the ads juxtapose clips of Ernst firing a gun in her 2014 ad with footage of Mauro walking in a field, speaking to the camera as shots hit nearby objects. The two-minute version, intended to be viewed online, refers to several issues in addition to gun violence ("shots taken at health care, education, our environment").
The 30-second version introduces Mauro to television viewers as a progressive Democrat concerned about gun violence.
My annotated transcript:
Mauro speaks to camera while walking in a field: Hi. My name is Eddie Mauro. I'm a progressive Democrat running for the United States Senate here in Iowa.

One of the reasons I'm running? Because our current Senator Joni Ernst, she thinks it's ok to run ads glorifying guns. [viewer sees a few seconds from Ernst's 2014 ad; she loads and fires a gun. As the shot is heard, the footage cuts to a bullet hitting a fence post]

Mauro speaks to camera, walking along fence: While she's afraid to stand up to the NRA for common-sense gun laws, I'm ready to stand up for Iowans, to keep our schools, our communities, our kids safe. [viewer sees bullet hit fence post just behind Mauro, then a clip of Ernst firing]

Close up of Mauro: I'm Eddie Mauro, and I approve this message.
The 15-second version is even more tightly focused.
Mauro speaks to camera while walking in front of a fence: Joni Ernst? She thinks it's ok to run ads glorifying guns. [viewer sees clip of Ernst shooting]

Mauro: While she's afraid to stand up to the NRA for common-sense gun laws, I'm ready to stand up for Iowans, to keep our schools, our communities, our kids safe. [viewer sees bullet hit fence post just behind Mauro, then a clip of Ernst firing]

Mauro: See how at EddieMauro.com .
Reaction in Democratic circles was mixed. Joe Gorton, a criminology professor at the University of Northern Iowa who is the state lead for the Iowa chapter of Brady United Against Gun Violence, praised Mauro's "great new ad" on Facebook. Gorton isn't endorsing a Senate candidate but noted, "It's easy to find politicians who say things like, 'we have to do more to reduce gun violence.' It's not so easy to find politicians who will make gun violence prevention an important part of their campaign."
But Amber Gustafson, who is the Iowa Volunteer Membership & Community Outreach Lead for Moms Demand, posted on Twitter that she was "disappointed" by the ad. "Joni Ernst deserves to be called out for her abysmal record on guns but this was inappropriate and disrespectful to survivors of gun violence. I hope in the future Mr Mauro will meet with survivors, listen and make better choices." In her personal capacity, Gustafson has endorsed Theresa Greenfield, another Democrat competing for the Senate nomination.
"WE NEED TO ADDRESS IT LIKE A NATIONAL EPIDEMIC"
Gorton interviewed Mauro recently to dig deeper into his views. Mauro told him gun violence will remain "at the forefront of our campaign," an issue he'll talk about "week in, week out" rather than waiting for the next major tragedy. Gorton asked what specific policies Mauro would support to reduce gun violence. My transcript:
So let's start with the research. Let's go invest in the CDC [Centers for Disease Control], the National Institutes of Health. Let's let them go do their work to find the data that's necessary. It's actually very disturbing that we're not allowing them to at least start with that [...] the data would be very helpful for us to have. Right now we're grabbing all the data from various sources, but it's not uniform enough. [...]

It would be good if our government would invest. That's the same way we invest in other national health matters that are important to us and national safety matters that are important to us. Just like car safety, and the amount of money we spent on the data there. And look how far we've come with that.

I think we need to talk about, then, good policies. Closing all the background check loopholes that are out there. We can't allow somebody to get a weapon that shouldn't get one.

I think we need to talk about a federal licensing program, so that everybody that owns a gun has a license. And we can better then assign responsibility for those licenses.

Obviously I think we need to talk about domestic violence and suicides, and a waiting period would be good to reduce both of those areas. You know, we've talked about this before, Joe, you and I, that we all wake up because of the tragic mass casualty shooting. But over the course of this ten minutes there's a suicide, right? There's going to be a domestic violence murder, there's going to be a murder in a community. We need to talk about all of our gun safety and gun violence issues and how we address all of them [....]

We need to pass the Violence Against Women Act. I'm very disappointed that Joni Ernst recently said that she wants to propose something new, which doesn't really have a gun provision in it, because she's kowtowing to the NRA. [Editor's note: Bleeding Heartland covered that dispute here.]

I think we need to make sure that we don't allow unlimited weapons to be bought by an individual at one time, that could be used for nefarious purposes.

We need red flag laws as well, that we can find someone that might be in a bad state, in a bad position, that we can take guns away from him or her at that time to protect that person from harming themself or somebody else. There are so many things that we need to be doing.
Mauro believes a "comprehensive" approach to the issue could reduce gun deaths by 80 percent in five years or less. He also said we have to broaden the conversation to include health care and economic matters that put pressure on people, sometimes inducing them to make bad choices, as well as criminal justice reform to help people break reinforcing cycles of crime. "This is a national epidemic, and we need to address it like a national epidemic."
ERNST CONDEMNS AD WITHOUT ENGAGING ON THE ISSUE
Ernst seized on the chance to condemn Mauro's commercial without engaging on substantive questions surrounding gun policies. She told Fox News on December 7 that she found the ad to be a "disgusting and appalling" smear on lawful gun owners.
I am a responsible law abiding gun owner. And for @eddiejmauro to insinuate that hundred of thousands of other law abiding gun owners in Iowa would participate in those types of heinous acts is disgusting and appalling. pic.twitter.com/f5cHRGEWQE

— Joni Ernst (@joniernst) December 7, 2019
She added that Mauro "is very desperate for attention, and well, he's got it now." Connecting her stance on guns to pre-existing conditions is "absolutely outrageous," in Ernst's view. She has relatives with pre-existing conditions and understands their needs. (The record shows Ernst repeatedly supported Republican bills that health care advocates determined would hurt people with pre-existing conditions.)
Mauro stood by his commercial, saying "Making the ad wasn't something I took lightly. Joni needs to think long and hard about taking shots at me, those of us with pre-existing conditions and everyone else helped by the Affordable Care Act."
The Democrat went on Fox News on December 8 to defend himself. Fox's Pete Hegseth wanted to know, was it ok for Mauro to imply Ernst was shooting at him?
Mauro said when he filmed the ad,
"I was thinking about how I was a teacher, and thinking about those students and teachers in Parkland. And I'm a parent, and thinking about those parents in Newtown, that are about to celebrate another dreadful anniversary. And I'm a churchgoer, and I'm thinking about those folks in Charleston or Texas and other places, that want to go to houses of worship and get injured and killed. And Joni Ernst--she takes $3.1 million from the NRA and has no solutions--"
Hegseth interrupted: Ernst and other law-abiding gun owners don't do those things. Wasn't Mauro's ad about getting attention?
The Democrat said his goal was "to bring about action on an issue that's very important to people" in Iowa and around the country. "Joni doesn't have any interest in finding solutions, because she's taken too much money from the gun lobby to come to the table and have a meaningful conversation." Mauro brought up the Violence Against Women Act, where Democrats want to take guns away from people who aren't law-abiding, who have harmed women, but "Ernst is trying to water down that legislation."
The Fox host interrupted again. Wasn't it irresponsible to edit an ad to make it look like someone is shooting at you, then pivot to talking about health care? Mauro pointed out that Ernst claimed on Fox News to have defended people with pre-existing conditions. But five times she's voted for legislation that would take health care away from people with pre-existing conditions. He explained that the 2014 Ernst ad showed her "shooting holes" at pre-existing conditions. "That's what the ad was."
At that point, Hegseth cut to commercial, three and a half minutes into what was supposed to be a seven-minute interview. Let's go to the tape. Here's "Shot," the second commercial from Ernst's 2014 Republican primary campaign.
As Ernst shoots at a target, the voice-over says, "Joni Ernst will take aim at wasteful spending, and once she sets her sights on Obamacare, Joni's gonna unload." The viewer sees Ernst holding the gun and the words "JONI ERNST SET SIGHTS ON OBAMACARE" on screen, immediately after which she fires six shots at the target.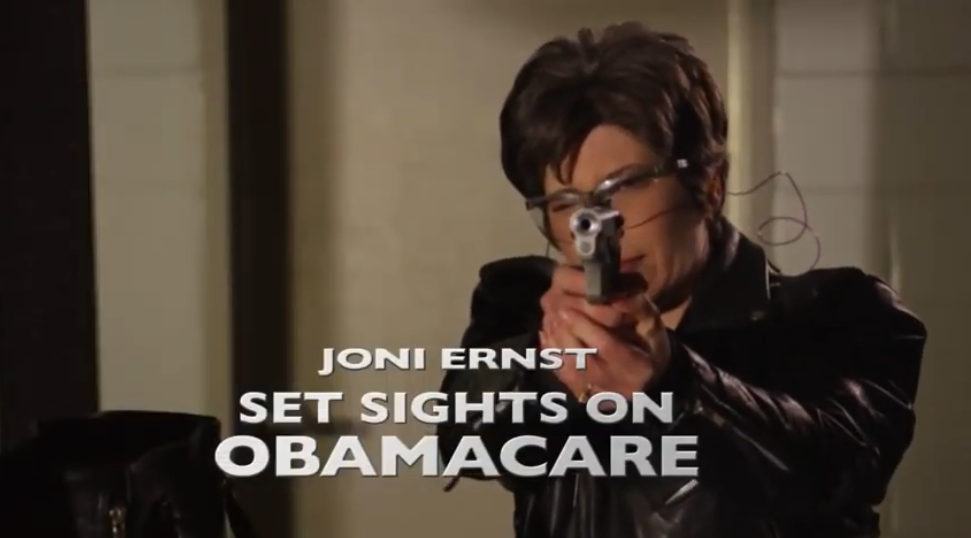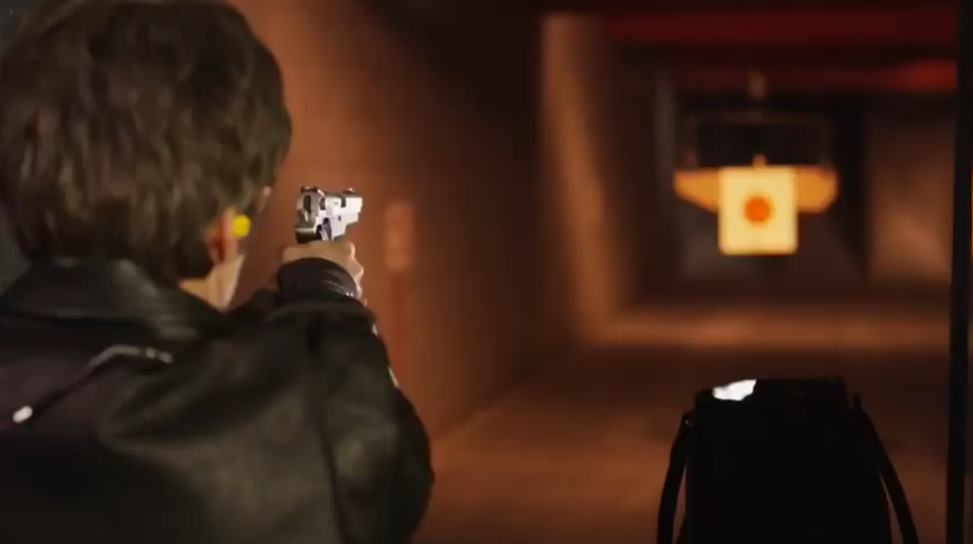 Was Mauro's ad successful? Arguably any publicity is good publicity in a Senate race that has mostly been overshadowed by the Iowa caucus campaign. Getting on national television probably raised Mauro's name recognition. We'll see in the next campaign finance disclosures whether he got a fundraising boost.
On the other hand, by suggesting that Ernst has recklessly fired guns at Iowans, the spot allowed the incumbent to portray herself as the victim of an unfair attack. Ernst has never displeased the NRA with any vote, to my knowledge. In her role as the lead negotiator for Senate Republicans on the Violence Against Women Act, she rejected language the NRA opposes, which would close the "boyfriend loophole." I favor calling attention to her record of opposing widely popular gun safety legislation in a less inflammatory way.
Top image: Screen shot of Eddie Mauro's first U.S. Senate campaign ad, showing a bullet hitting the fence the candidate just passed.