Iowans haven't voted out a sitting U.S. senator since 1984, but several recent events have caused political observers to question Senator Joni Ernst's strengths going into her first re-election bid.
Inside Elections changed its rating on Iowa's 2020 U.S. Senate race from "likely Republican" to "lean Republican" this month. (Sabato's Crystal Ball already rated the IA-Sen race "lean R," while the Cook Political Report still sees a GOP hold likely.) Writing at the National Journal on October 20, Josh Kraushaar cited several "major red flags suggesting Iowa is a much bigger battleground than Republicans anticipated at the beginning of the year."
Ernst told supporters at a closed-door fundraiser with Vice President Mike Pence this month that she is the fifth most-vulnerable senator, according to Jennifer Jacobs of Bloomberg News.
What's going on?

ONE POLLSTER FINDS LOWER APPROVAL NUMBERS
The Morning Consult tracking poll found Ernst with an underwater job-approval rating of 39/43, with more independents viewing her unfavorably than favorably. That's a shift from her net-positive job approval over the spring, which stood at 42/38.
That 43 percent disapproval rating made Ernst the country's fourth most unpopular senator, according to Morning Consult's third-quarter data.
I would caution Democrats against getting too excited about those numbers before other public polling confirms Ernst is in net negative territory. Morning Consult claims their findings, based on 5,405 Iowa voter contacts between July 1 and September 30, have a margin of error of plus or minus 1 percent. But that survey has not measured Ernst's approval rating above 47 percent since the beginning of 2017.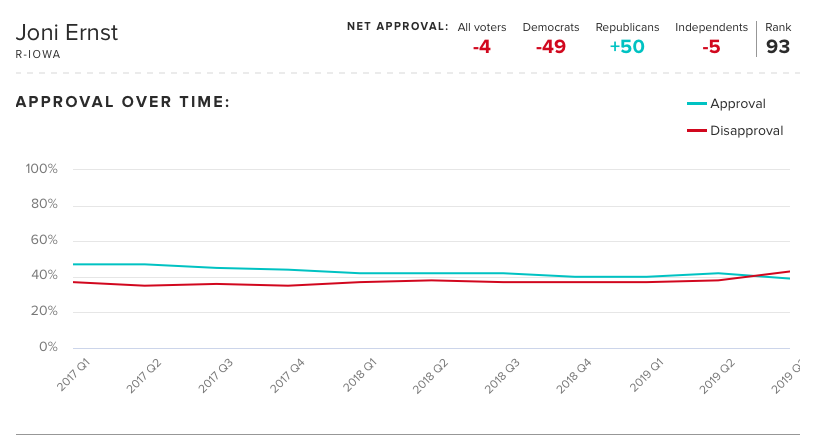 In the first quarter of this year, Morning Consult had Ernst at 40 percent approve/37 percent disapprove. But the Selzer & Co Iowa poll for the Des Moines Register, conducted in February, found Ernst's job performance ratings higher than ever: 57 percent of respondents approved, while 30 percent disapproved.
Last year, Selzer measured Ernst's approve/disapprove numbers at 51/33 in January and 47/31 in September. Meanwhile, Morning Consult found Ernst was at 44/35 in the first quarter of 2018, dropping to 42/37 later in the year.
Ernst had received sympathetic media coverage related to her divorce prior to Selzer's February poll, but it is hard to believe that fully accounts for the discrepancy in results. There appears to be some kind of "house effect" causing Morning Consult to sample respondents who think less well of Ernst than do the Iowa voters who participate in Selzer's surveys. I don't know who is closer to the mark but would not bet against Selzer. Unfortunately, the Des Moines Register's pollster hasn't measured our junior senator's approval since February, so we have no trendline to compare to Morning Consult's.
Also worth noting: Senator Chuck Grassley was the country's seventh most unpopular senator, according to Morning Consult's data for the third quarter of 2019. Grassley's standing has dropped quite a bit this decade, compared to the 2000s, when he was routinely over 60 percent approval and sometimes exceeded 70 percent. But I would like to see some other pollster confirm the latest Morning Consult numbers (43 percent approve/41 percent disapprove).
Whatever may be going on with Ernst's approval rating, other problems facing the senator are indisputable.
AFRAID TO CALL OUT TRUMP'S ABUSES OF POWER
Ernst could hardly have done more to align herself with Donald Trump during his ascendancy. She praised his foreign policy and security credentials at length in a nationally televised speech at the 2016 Republican National Convention. He was the featured guest at her second "Roast and Ride" fundraisier.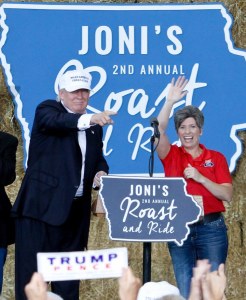 Congressional Quarterly's CQ Vote Watch has calculated that Ernst's voting record in the Senate has been consistent with Trump's priorities 98 percent of the time. I can't think of what votes accounted for the other 2 percent. She has stuck with the president even when a significant number of her GOP colleagues defected.
Ernst hasn't held a conference call with Iowa reporters since September 19 and has thereby mostly avoided public comment on the scandal that sparked the U.S. House to hold formal impeachment hearings. Although Ernst championed U.S. military aid to Ukraine earlier this year, her staff have not responded to my repeated questions about whether she finds it acceptable for the president to hold up Congressionally-approved aid, seeking political help from Ukrainian leaders.
When the whistleblower complaint about Trump's foreign policy decisions related to Ukraine was the biggest news story of the day, Ernst told Robert Costa of the Washington Post,
"I haven't read the full report." But, she added, "If you do want to talk about ethanol, I am happy to talk about ethanol because that's where all my efforts are right now."
Ernst's go-to line when asked about some outrageous Trump action is to say she can't control what the president does. Challenged by constituents at a town hall in August to speak out about some of Trump's policies, Ernst replied, "When there is an issue I don't agree with, I do speak out. [...] There's only one person in this country that I can control, and that's me."
Similarly, in an exchange that generated national media coverage this month, an Iowan confronted Ernst at a town hall in Templeton.
"Where is the line?" Iowa resident Amy Haskins asked in frustration. "When are you guys going to say, 'Enough,' and stand up and say, 'You know what? I'm not backing any of this.' "

"I can say, 'Yea, nay, whatever,' " Ernst replied. "The president is going to say what the president is going to do."
Ernst similarly dodged a CNN reporter's request for a yes or no answer on whether it was appropriate for Trump "to ask a foreign power to investigate a domestic political rival." Despite Trump saying on live television that he'd like China and Ukraine to investigate Joe Biden's family, Ernst insisted, "we'll have to wait. All that information is going to have to go to Senate Intelligence," adding that "we have a picture that's painted by media and we don't know what's accurate or not."
Other communications from Ernst to Iowans are just as non-responsive. A constituent gave me permission to share the message she received last week after calling Ernst's office twice to ask whether the senator approves of Trump "shaking down foreign governments in order to investigate his political rivals."
Dear Ms. [surname],

Thank you for taking the time to contact me about your perspective on President Trump. It is important for me to hear from folks in Iowa on matters such as these.

As you know, on November 8, 2016, Donald Trump was elected the 45th President of the United States. On December 19, 2016, the Electoral College voted to officially confirm his victory and on January 20, 2017, Donald Trump was officially sworn in as the 45th President of the United States. Those that did not support him have continued to raise concerns about his election and administration. I certainly respect these concerns, and I will continue to work in the Senate to fight for the issues of most importance to all Iowans and ensure three co-equal branches of government.

For two decades, I proudly wore our nation's uniform in the Iowa Army National Guard and the Army Reserves, and I am proud now to represent you in the United States Senate. As both an Army officer and a United States Senator, I swore an oath to support and defend the Constitution of the United States. This is an oath I take very seriously. I will keep fighting to defend the Constitution and stay focused on issues of importance to Iowans.

I am ready to make Washington work for you and please know that I will continue to keep your views in mind going forward. Please feel free to contact my office in the future with any further information, as I always enjoy hearing from Iowans.

Sincerely,

Joni K. Ernst
United States Senator
A generic dismissal of any objection to Trump is more insulting than not responding at all.
COVERING FOR TRUMP'S DISASTROUS AGRICULTURE POLICIES
As Ernst told the Washington Post's Costa, she has tried to keep her focus on biofuels and other issues affecting agriculture. She posted this video to her Twitter feed on October 1.
Folks in Iowa want Congress to focus on moving our country forward, not this impeachment circus. pic.twitter.com/Oua82APRyE

— Joni Ernst (@joniernst) October 1, 2019
Speaking to a Republican audience in Linn County on October 18, Ernst defended the president's record on matters affecting rural Iowans. Barbara Rodriguez reported for the Des Moines Register,
Standing on haystack and plywood, the U.S. senator from Iowa declared from the makeshift stage: "He really cares about farmers." [...]

Ernst described to about 100 people how she had worked with Iowa leaders to urge the president to restore the market for billions of gallons of renewable fuel waived through small refinery exemptions. The full impact of Trump's latest deal remains unclear to some farmers in Iowa.

Ernst, who is seeking reelection next year, said she spoke to Trump by phone on Friday, hours before the nighttime event at a farming property in Fairfax, located near Cedar Rapids.

"I said, 'I want to thank you again, Mr. President, for working on this ethanol issue for us,'" she recalled.
Reasonable minds can differ on how much Trump administration policies have contributed to the ethanol industry's problems, as opposed to over-production by manufacturers.
On the other hand, Trump's trade policies have indisputably affected Iowa's economy negatively. Republican State Senator Dan Zumbach, a farmer and chair of the Iowa Senate Agriculture Committee, asserted on October 18 that Trump "has worked his tail off to develop new markets with China and get a fair deal."
The numbers tell a different story. China has collapsed as an export market for Iowa soybean farmers, due to Trump's tariffs. Bloomberg Finance produced this chart, which was shared by Michael McDonough, chief economist for financial products at Bloomberg LP. He explained the graphic draws from "data originally reported by the China Customs General Administration."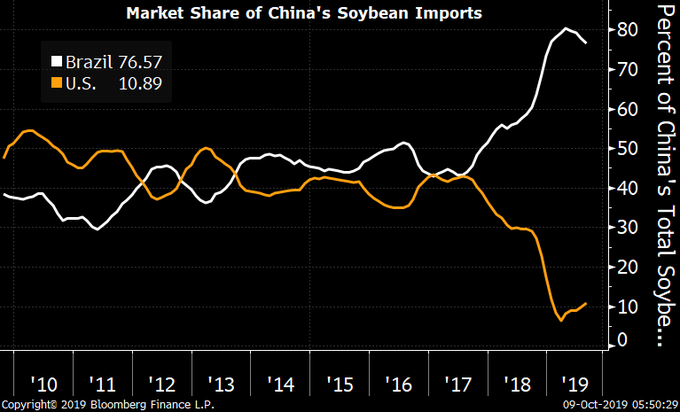 The Trump administration has approved $28 billion in funding to bail out farmers adversely affected by the trade policy. But Bloomberg's Mario Parker and Mike Dorning reported last month,
The bailout funds won't cover all of farmers' losses. Producers in Iowa received $973 million in direct payments from the first round of trade aid covering a period in which Iowa State University estimated the trade war cost them $1.7 billion.
Farmers relying on bailouts to stay solvent won't invest in new equipment. That's one reason John Deere is laying off 163 workers in the Quad Cities area, the company announced on October 1. (Nathan Gonzales cited the layoff as a factor in Inside Elections' ratings change for the IA-Sen race.) The agriculture slump is not a new problem; John Deere was laying off workers before Trump took office. But tariffs clearly haven't helped.
Ernst's tendency to make excuses for Trump was on display at her Roast and Ride fundraiser in June. Robin Opsahl reported for the Des Moines Register at the time,
The senator said she's happy to campaign with President Donald Trump whenever he wants to come to Iowa, but that doesn't mean they match up on every issue. Tariffs that impact Iowa farmers is one area where they disagree, she said.

"I've talked to the president," Ernst said. "He knows that I'm not necessarily a tariff gal, but he will tell me that 'I'm a tariff guy.' So I push back on it when I think it's necessary, but at the same time what I'm hearing from farmers across the state (is) that they are OK with the stance on China."
OUT-RAISED BY A DEMOCRATIC OPPONENT
Money is typically one of the biggest advantages of incumbency, and Ernst is well-positioned on that front. Her main campaign committee, Joni for Iowa, had $3,943,730.30 in the bank as of September 30.
However, her fundraising during the third quarter was one of the "red flags" Kraushaar mentioned in his latest National Journal article.
In Iowa, Sen. Joni Ernst failed even to hit the million-dollar mark in fundraising, a financial baseline of sorts for senators running for reelection. She was outraised by a Democratic outsider, businesswoman Theresa Greenfield, who raised $1.1 million despite facing a contested Democratic primary and refusing donations from corporate PACs.
Joni for Iowa reported total receipts of $955,966.44 during the third quarter. Only $700,129.49 was donated directly to the campaign committee. Individuals gave $507,679.49 (of which $142,146.98 was unitemized, indicating a large number of donors giving less than $200). The itemized contributions included many from donors who have maxed out at $5,600 for this election cycle.
The National Republican Senatorial Committee gave $44,600 on the last day of the quarter. I wonder whether the idea was to help push Ernst over $1 million, but they miscalculated.
A long list of corporate and conservative political action committees gave Ernst $147,850, and she transferred $255,836.13 in large contributions through Ernst Victory Iowa, a joint fundraising committee that benefits the senator's main campaign committee as well as her Jobs, Opportunity & New Ideas PAC (JONI PAC).
Ernst's campaign spent $450,538.31 during the third quarter, mostly on typical operating expenses. Big ticket items included salaries and fees for various services. Holloway Consulting alone received more than $100,000 for "finance consulting." Ernst's campaign paid another $26,000 to the America Rising Corporation for "survey/research." That company is linked to the America Rising super-PAC, which has video trackers following Ernst's Democratic challengers.
You might think that raises questions about illegal coordination between campaigns and political committees. My impression was that it's easy for politicians to get around those rules, which the Federal Election Commission has never properly enforced. Earlier this month, federal campaign finance law expert Larry Noble told me my hunch was correct.
Ernst can make expenditures to America Rising Corp for research services (it's not a donation if they got services in return), but having a SuperPAC connected to a SuperPAC presents opportunities for illegal coordination. But under the FEC's narrow interpretation of the coordination rules, you would have to show the campaign coordinated on specific activity of the SuperPAC.
Five Democrats have been campaigning for the U.S. Senate seat, but only four filed third-quarter reports with the FEC. (Cal Woods has appeared at some Democratic events but hasn't reported any fundraising yet.)
Greenfield raised $591,137.42 during the second quarter, even though she was only a candidate for the month of June. Individuals gave $416,137.42, PACs chipped in $162,500, and other political committees $12,500. Greenfield also transferred $36,942.74 from her 2018 campaign committee for the U.S. House.
I don't know anyone who expected Greenfield to exceed Ernst's fundraising during the third quarter. She reported total contributions of $1,011,761.87. Individuals contributed an astounding $867,661.87, including $279,305.23 in unitemized gifts. In other words, Greenfield received more from small donors and more from individuals as a whole than the incumbent. I am not aware of any non-incumbent Iowa candidate for U.S. senate raising that much from individuals in one quarter the year before the election.
The Democratic Senatorial Campaign Committee, which endorsed Greenfield almost immediately after she declared, donated $49,600, and various PACs affiliated with Democratic senators, labor unions, or aligned groups gave $94,500.
Joint fundraising committees transferred $102,000 to Greenfield's campaign as well.
Greenfield's burn rate was high: $466,560.72 in operating expenditures, covering typical campaign costs. Some of those payments (e.g. for database or list acquisition) won't recur in subsequent quarters, but payments for staff salaries, printing, mailing, and consulting will be ongoing expenses. Even so, the Democratic front-runner closed out the quarter with $1,240,264.40 cash on hand.
The Democratic Senate candidate with the second-largest campaign fund at this writing is Eddie Mauro. He loaned his campaign $100,000 during the second quarter and raised another $104,587.00 from other individuals. However, by my count fourteen donors maxed out with $5,600 contributions. Only $2,800 from any one person can be used before the primary, which means that at least $39,200 of what Mauro has raised is restricted for use in the 2020 general election campaign. If he doesn't win the nomination, he'll have to refund those gifts.
Mauro had $180,611.61 cash on hand as of June 30, which jumped to $1,071,532.44 when the candidate made loans totaling another $1 million on September 30. Other individuals gave $33,972.45 during the third quarter, and as far as I can tell, only one maxed out for the general election.
Mauro kept his campaign's expenditures well below Greenfield's, spending $142,807.12 in the third quarter on salaries and various services. It appears the campaign spent more on fundraising consulting than it raised from other individuals. Regardless, Mauro will have plenty of money to spend on a statewide race before next June.
Michael Franken, who launched his candidacy in late August, reported raising $150,314.59 over roughly five weeks remaining in the third quarter. The candidate gave $5,600 total, of which $5,500 came on the last day of the quarter, presumably to push the campaign over the $150,000 threshold. Other individuals gave $144,714.59. By my count, $5,000 of the funds raised so far are restricted for the general election campaign.
The Franken campaign spent $43,185.06 on expenses including staff salaries, consulting fees, and digital advertising, which left $107,129.53 cash on hand as of September 30.
Kimberly Graham increased her fundraising from $8,712.86 in the second quarter to $23,116.93 from July through September. Like Mauro and Franken, she did not raise anything from PACs or committees affiliated with Democratic office-holders. Graham raised more in small, unitemized contributions ($13,766.93) than in itemized gifts ($9,350). Only one donor gave the maximum $2,800 allowed for the primary election; the rest could give again.
Graham ran the leanest operation: $6,965.54 went toward campign expenses during the third quarter, plus a $250 donation to the LGBTQ advocacy group Iowa Safe Schools. As of September 30, her campaign had $20,152.73 cash on hand.
Any comments about the Senate race are welcome in this thread.
UPDATE: A reader provided this form letter, received via e-mail after contacting Ernst's office regarding impeachment.
Dear
Thank you for taking the time to contact me about our nation's impeachment process. It is important for me to hear from folks in Iowa on matters such as this.

According to Article II of the Constitution, the President, Vice President, and other federal officers shall be removed from office if convicted of "treason, bribery, or other high crimes and misdemeanors." As you know, when articles of impeachment are first offered, the House Judiciary Committee decides whether or not to proceed with the impeachment process. If the Committee agrees to move forward, it will send a resolution stating why impeachment is necessary to the full House of Representatives. The House will then vote on the articles of impeachment and a simple majority vote would be necessary to adopt the articles and impeach the President.

Once impeached by the House, the President's case then goes before the Senate for a trial where the House trial managers prosecute the case. The Chief Justice of the Supreme Court presides over the trial and the Senate acts as the jury. A two-thirds vote is required in the Senate in order to convict the President and the decision on whether to convict on each of the articles must be made separately.

On September 24, 2019, Speaker Pelosi announced the beginning of a formal impeachment inquiry. The House Judiciary Committee has begun its investigation, and may or may not recommend impeachment to the full House of Representatives.

I will be sure to keep your views in mind should the impeachment process come before the Senate. Feel free to contact my office with any further information, as I always enjoy hearing from Iowans.
Sincerely,

Joni K. Ernst
United States Senator
Top image cropped from the current profile picture on Senator Joni Ernst's official Facebook page.