Bryce Smith chairs the Dallas County Democrats. -promoted by Laura Belin
With the Iowa caucuses less than a month away, and millions of future voters relying on Iowa to help shape the future of the Democratic field, now is the time to hear why Cory Booker has a rapidly expanding network of caucus goers, the largest number of local endorsers in Iowa, and is ready to heal our nation.

I've been blessed and humbled to lead one of the fastest-growing county Democratic parties in the Midwest for the past three years. The experience has given me a back-stage pass to meeting, hearing from, and talking to every Democrat running for president in 2020.
I've never taken the responsibility as chair lightly. The decision on whom I will be caucusing for has been a tough yet enlightening experience. Now is the time to come together as Democrats and nominate the person who does not just defeat Donald Trump, but reclaims the moral standards needed to lead a diverse, robust America into a brighter future.
That is why I'm supporting Cory Booker for the Democratic nomination.
Cory Booker brings three unique and important qualities to the 2020 race:
The next generation of leadership
Being only 51 years old, Cory's generational difference in the field connects him to untapped potential of new and exciting support that the Democratic Party and our nation has not seen in more than a decade. Age does not equate to wisdom, and being wise does not require age. Cory's humble heart, open mind, and strong empathy for his fellow Americans makes him a qualified candidate to lead our nation.
Cory also knows that picking up the pieces of a damaging Trump administration will require more than just one person. He's committed to building a team, a coalition of public servants, who will work tirelessly and selflessly to advance a people driven government that looks and reflects America's heart and moral values.
Cory is also 100 percent committed to picking a female running mate, which puts a woman's voice and vision in the most powerful and highest office in the world.
A Realistic Progressive Agenda
Cory has a wealth of experiences: from Rhodes Scholar to law school graduate, moving back to his struggling community, and onward to public service as a city council member, then mayor of New Jersey's largest city, Newark, and now the fourth popularly elected African American senator in U.S. history.
His real-world experience shines a light on the important decisions and policies that impact people in everyday life. He knows a progressive agenda that includes everyone, protects everyone, and promotes everyone just on paper and in theory does no good to those struggling and facing regression everyday.
He's not just talking the talk but also walking the walk as a leader in D.C. Working with fellow senators to pass criminal justice reform and protecting and enhancing the Affordable Care Act. He knows a progressive agenda is passed only when people are brought together to achieve big goals, regardless of what party they belong to.
Cory knows that an all-or-nothing progressive agenda will fail in an unchecked government. He is the proven leader to create new coalitions and relationships that focus on problem solving and producing results rather than fancy policies stuck in thought. Given the chance, President Booker will take every single opportunity to advance towards a more progressive future!
An Inspiration to Americans
When you see and hear Cory Booker, his message of hope, courageous empathy, and radical love for fellow Americans resonates. You feel the unconditional love he has for his country, his fellow countrymen and women, and our planet. He's the right leader to walk into the Oval Office on day one and lead by example, an example we can be proud of and one that regains the trust of the world.
Cory's humble upbringing, determination through school and his dedication to public service, even in the face of adversity and discrimination, has led him to a life of giving. He is forever grateful for others who have entrusted him with the responsibility to listen and to act on behalf of others. His heart, his mind, and his vision for the future is one that includes everyone, and stands up for what is right, even when what is right is the harder path to choose, and cares about a future he may never see.
Cory Booker will lift the least among us without pulling others down. Cory has the generational leadership, the realistic progressive agenda and the inspirational message to heal a terribly divided country, rebuild an inclusive government run by and for the people and plant the seeds for a healthy and safe future for generations to come. Cory Booker is my choice for president and I will be caucusing for him on February 3.
Let's never forget that many of our greatest Democrats were never front runners and rather deemed the underdog. Let's beat Trump in 2020 with a leader who's guided by a moral compass seeking a more just and loving world.
Top image: Senator Cory Booker (left) with Bryce Smith in Winterset on December 13, 2019. Photo by Kevin Lowery, who works for the Booker campaign, provided by the author and published with permission, along with these pictures (also by Lowery):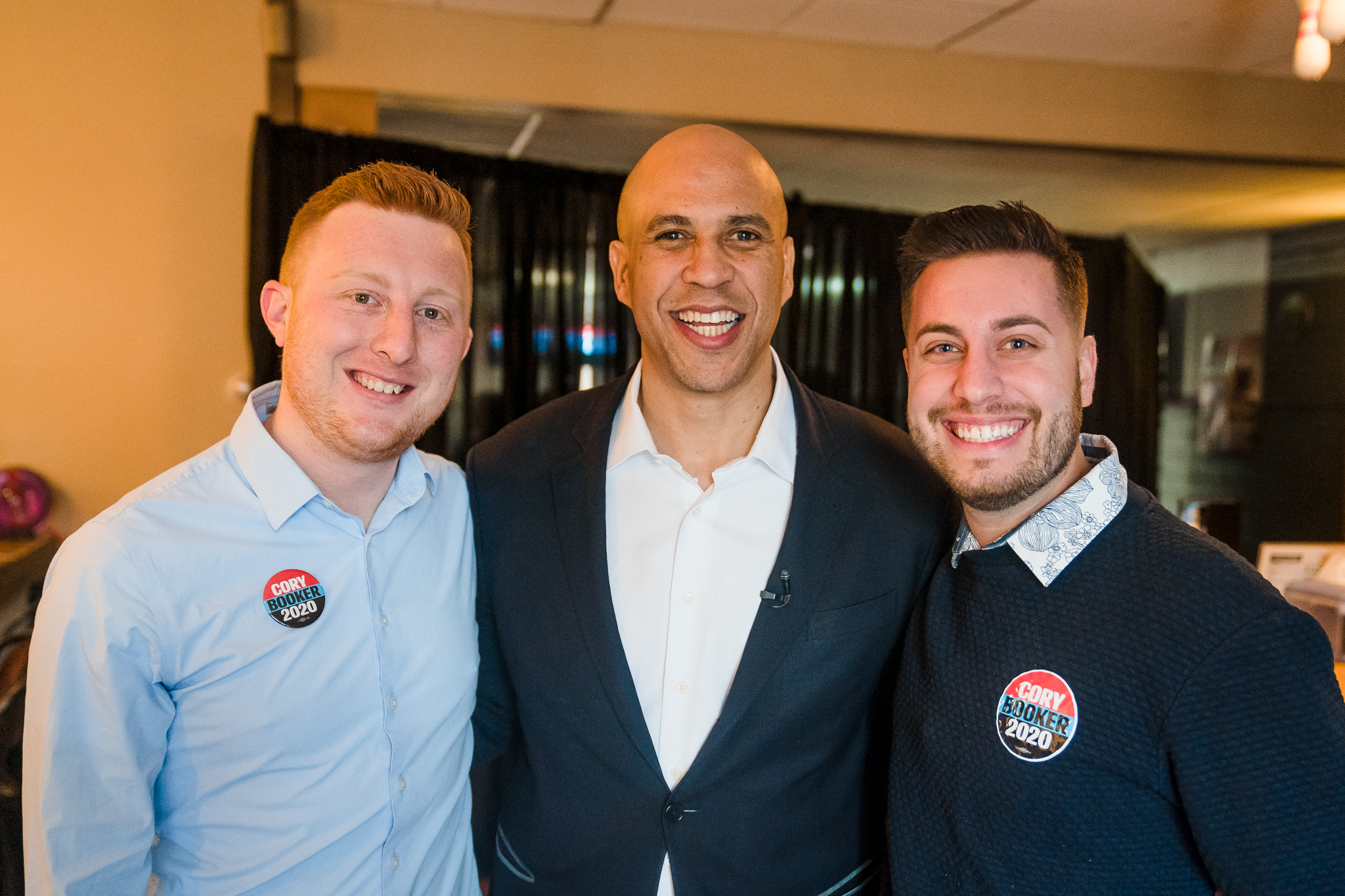 Bryce Smith and his husband Kale Smith (right) with Cory Booker in Adel, December 20, 2019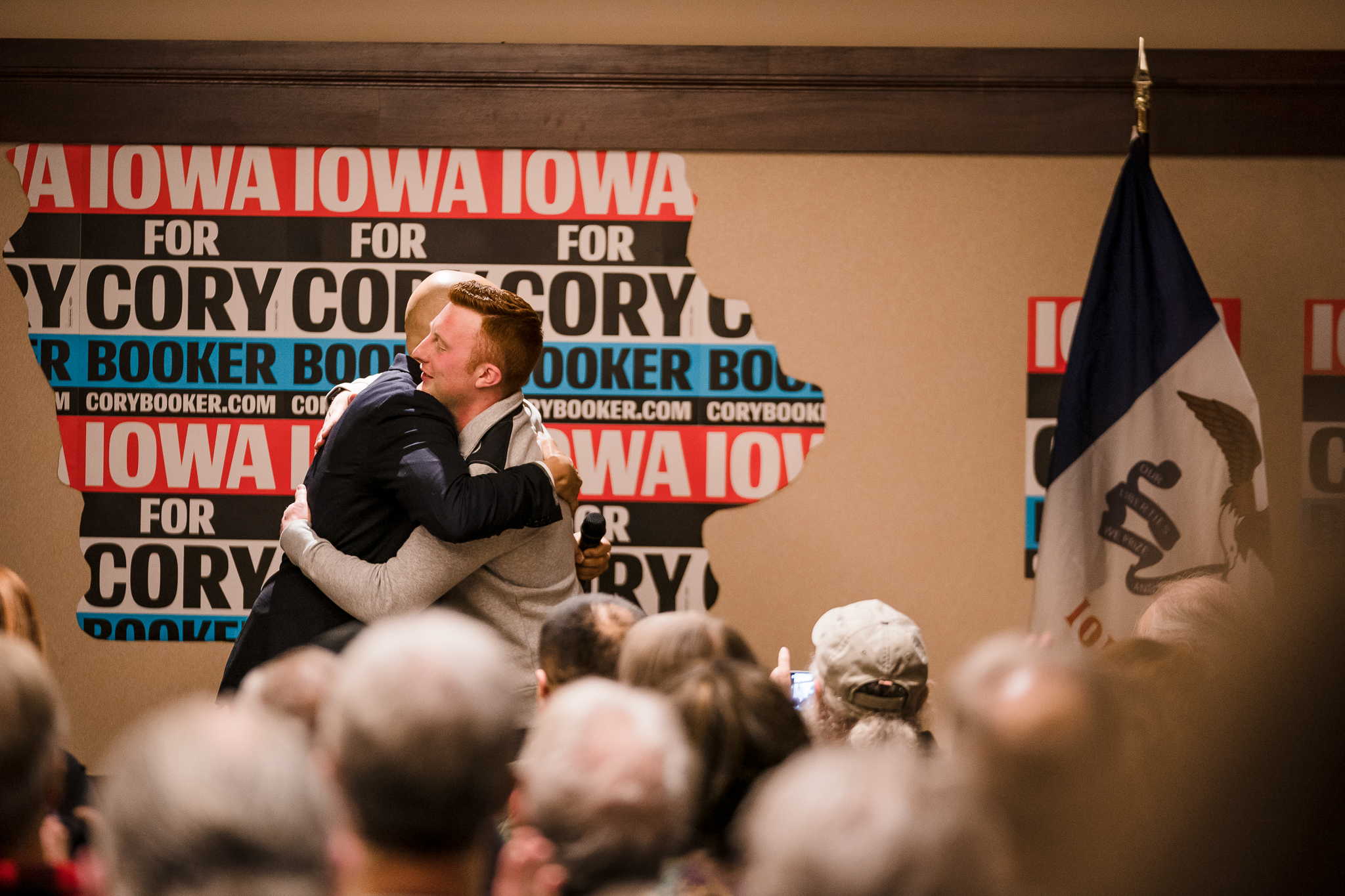 Bryce Smith hugging Cory Booker in Perry, January 1, 2020
Editor's note: Bleeding Heartland welcomes guest posts related to the Iowa caucuses, including but not limited to candidate endorsements. Please read these guidelines and contact Laura Belin if you are interested in writing.