Tanya Keith is a Democratic activist in Des Moines and author of the recently published Soccer Stars on the Pitch. -promoted by Laura Belin
I am the Cory Booker precinct captain for my precinct in the River Bend neighborhood of Des Moines. When I heard he dropped out last Monday morning, I was gutted. Senator Booker was a unique candidate of hope in a sometimes angry field.
I was so firmly in his camp, I told people I didn't need a second choice, I only needed to work hard to make him viable in my precinct. So after he left the race, I was lost, and I decided to go yell at a billionaire.

I had RSVP'd "interested" to a Tom Steyer event on Facebook, and I thought I would go have words with him to vent my frustration that the billionaires in this race are sucking all the oxygen out of Iowa, and my fantastic candidate had now dropped out, and I blame you, Tom Steyer. Yessir…I was going to give him a piece of my mind, this person I had never met or even bothered to read up on because he is obviously a billionaire on a vanity project, right?
I went to a lovely home in Des Moines and was a bit caught off guard to find huge climate change signs in the front yard. Wait…what? So, there's more to Steyer than "fraud and failure" ads that my 4-year-old can now recite? Whatever….onward to my billionaire slaying!
Inside I found the former principal of my kids' former elementary school. Now I know people who actually support this dude? What is going on here?
I talked to this most respected early childhood leader in our lives. I didn't really buy into his path to supporting Steyer, but he nevertheless made some sense. I sat down town between curiosity and rage.
Finally, Steyer got up to speak. He talked about his work on climate change and running his business. He talked about getting into philanthropy and his thoughts on our country.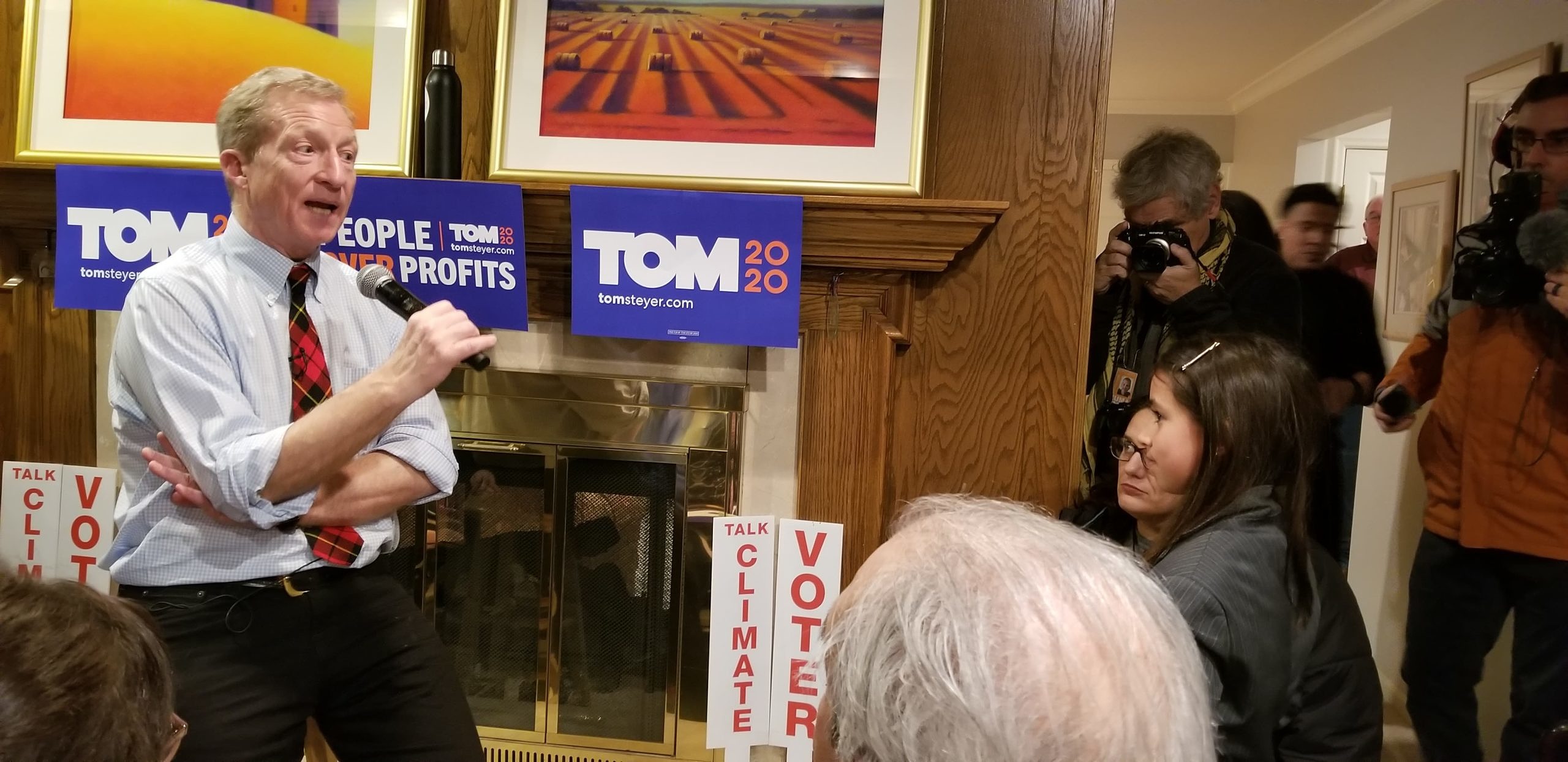 He was likable enough that I Googled him as he spoke. His wikipedia page said he worked in banking and financing, but he had also been a prolific fundraiser for Democrats, and more importantly, every Democrat presidential candidate I have caucused for in the past 20 years. With that I had my question:
"I'm a Democratic activist who has been a precinct captain for every candidate you supported since 2000, so my first question is why hasn't your field team reached out to me? Secondly, I am for Cory Booker, because he is the only candidate talking about the banking and food deserts happening in my neighborhood. I am a Jewish mother in a community of color, and I am deeply worried about the challenges my neighborhood faces and my kids face. Cory Booker said any Democrat will win the black vote, who is the best candidate to turn out black vote, because that's what we need to win. Why are you the best candidate to face these challenges as a white, wealthy man?"
BOOM…deal with that Tom Steyer.
Only, he did. First, he asked me to come up and he gave me a hug and said things about the emotional intensity of this race for marginalized communities. I wasn't ready for him to even remotely get it, so I joked that it was a good hug…but not Cory Booker good. That got a big laugh in the room.
But he kept going. He talked about the diversity not just in his campaign staff, but in his business before he was ever a candidate. He talked about the unfairness of school funding giving schools in low income neighborhoods lower funds that those in high income areas. He talked about reparations….IN A ROOM FULL OF WHITE PEOPLE.
At this point, I'm nodding with everything he's saying in spite of myself. Because he's making sense. A ton of sense. I met his wife, a smart, tattooed badass, Kat Taylor (huge fan of women who keep their names and the men who love them…no disrespect Michelle Obama). I met several campaign staffers, including a black woman named Laura who talked to me about why Steyer's numbers are skyrocketing in South Carolina (spoiler, it's about race).
On my way out, I was offered a plaid tie enamel pin. I had texted a friend a photo of Steyer's beaded belt and tie to a friend with the caption, "What's up with that belt and tie?" Turns out… there's something to it.
He wears a beaded belt he bought from a female artist in Kenya to remind him to not be so formal and that the world is a better place when we educate women and girls. His tie is a Wallace family tartan (think Braveheart). It's his way of dressing up for a battle for freedom. As a Keith, I think he should consider our tartan, with the motto "Veritas Vincit (truth conquers)," but maybe that's more appropriate for the general.
So I did go take my formidable Cory Booker sadness to a billionaire. Ultimately, the ridiculous amounts of money in this race aren't fair to anyone. Non-billionaires can't compete effectively, and billionaires are villainized no matter what they do with their money.
I'm seriously sick of the media throwing fuel on the fire by reducing candidates to caricature, then blaming Iowa for not supporting candidates of color when not one single vote has been cast. I grieve the candidates we have lost due to the Democratic National Committee's debate rules, which have done no great service to finding the best candidate in this epitome of important elections.
I wasn't ready that night to commit to anyone but Booker, but I'm asking all voters–in Iowa and beyond–to go to the source for every candidate in this race. After seeing Amy Klobuchar and Elizabeth Warren in person over the weekend and watching the New York Times endorsement videos this past week, I decided to caucus for Booker, then realign to Warren.
There's a joke in Iowa that we won't caucus for someone until we've looked them in the eye and shook their hand. While that might not happen outside Iowa, the age of YouTube etc. means you can listen to candidates give their pitch.
We can't count on the soundbites we're getting from the media or Russian trolls to make our judgement about which one of these people is best suited to take down Donald Trump. Or Joni Ernst. Or Mitch McConnell. Get out there and get engaged, and when this is all over, let's have a serious talk about how to keep more Bookers, Gillibrands, and Harrises on the debate and discussion stage until real people cast real votes.
Editor's note: Bleeding Heartland welcomes guest posts related to the Iowa caucuses. Please read these guidelines and contact Laura Belin if you are interested in writing.

Top photo of Tanya Keith with Tom Steyer and additional photo of Steyer speaking at a house party provided by the author and published with permission.