Patrick Swanson interrupts the winter hiatus of Bleeding Heartland's Iowa wildflowers series with some lovely pictures and useful tips. -promoted by Laura Belin
Here we are in the deep throes of winter. A wistful melancholy arises from memories of greener and more colorful landscapes, and the dark days and cold dampness of our climate this time of year seems to cage us indoors, leaving us restless with cabin fever.
But the winter landscape has its own serenity, and those adventurous enough to face the chill are often rewarded by sights and sounds unique to the season. 
Last year about this time, I posted an essay here with pictures from a winter snowshoe trek depicting how the new-fallen snow transformed plants on my prairie into more magical, snow-capped versions of themselves.

This year, a January freezing rain had the same effect.  Unfortunately, my iPhone balked at my efforts to capture many images from that day on my prairie, but I did leave with a couple pictures of a dead cedar and some purple prairie clover sheathed in ice, glinting in the sun.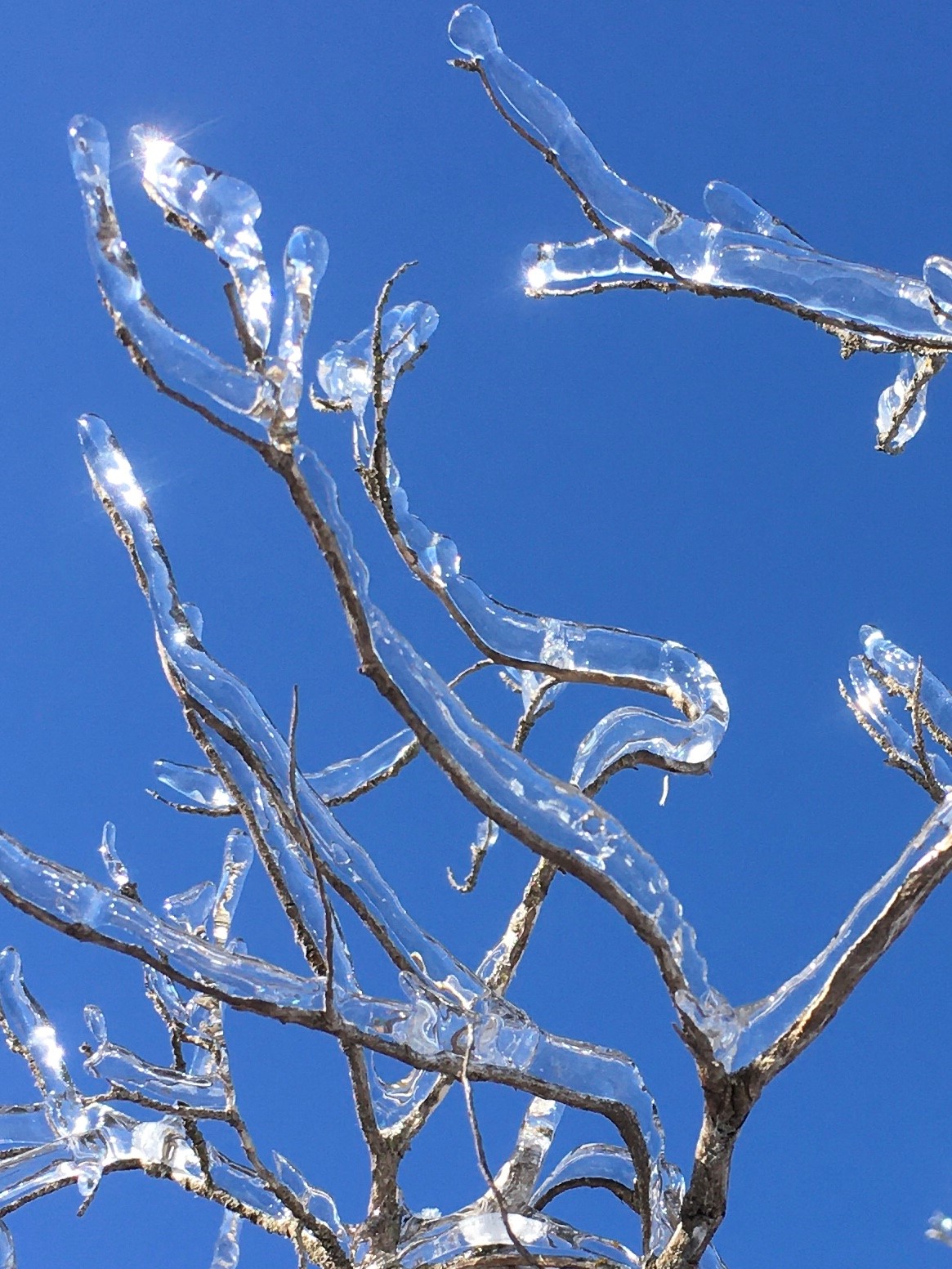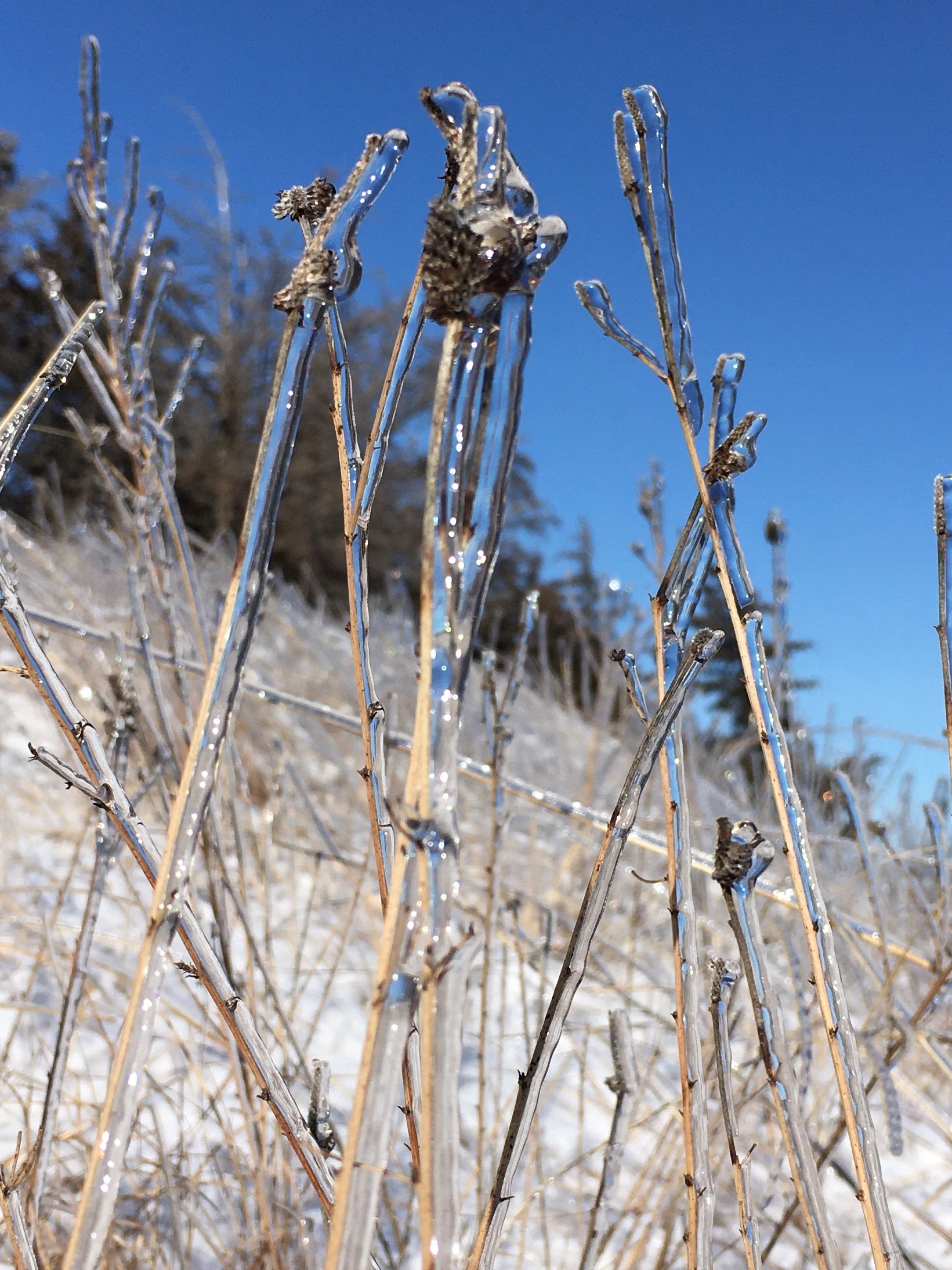 In this essay, I hope to offer encouragement to undertake a project to support our native solitary bees and wasps in the coming summer, using the dry remnants of our native plants.
As we have become more aware of the plights facing our native pollinators, so-called bee houses or condos have gained in popularity, but they can also be a bit costly to purchase. Here I describe my own do-it-yourself bee house made from scrap materials and plant stems from my prairie garden. This venture can provide a needed distraction from winter doldrums and can be a good way to involve kids in a nature producing activity.
For my project, which I started in early 2018, I took a piece of discarded plywood and some scrap pieces of 2×6 pine, and assembled a rough box with four compartments. I used another piece of plywood to create a low pitched roof with about a 6-inch overhang to keep the interior dry, and nailed an old shingle on top.
I mounted the box on a 6×6 post by the east side of my house, facing southeast to capture the morning sun.  This location is shaded in the afternoon to prevent the lodge from overheating in the summer, and is protected from north winds by the house and an evergreen hedge.
In two compartments, I placed 6×6 post pieces into which I drilled rows of holes of different sizes about 5 inches deep and angled slightly upwards.  Into the other two compartments, I inserted 14 and 28 oz tomato cans filled with hollow plant stems from my backyard prairie garden cut into roughly 6-inch lengths.
Cup plant turns out to be very useful for bee house construction, because its stiff hollow stems are the right diameter for mason bees, but I also included narrower stems from other plants like bee balm (also known as horsemint or wild bergamot). 
Into the leftover spaces, I stuffed dried big bluestem grass and fallen branches that I cut into lengths and into which I drilled a single hole.
One thing I learned from watching a recent episode of Growing a Greener World: avoid using plastic straws for these houses. Pollen harvested by bees contains moisture that needs to be wicked away by the nesting material, otherwise it will grow moldy and kill the larva.
I covered the front with some chicken wire fence. This serves two purposes. First, practically speaking, it helps keep the materials contained within the box. Second, it prevents woodpeckers from raiding the larder. 
How did I learn they will do this?  Well, with two bee condos I made some years ago using some split oak logs, I witnessed woodpeckers visiting to pick out the larvae. Of course that made sense when I observed it–this is what woodpeckers naturally do!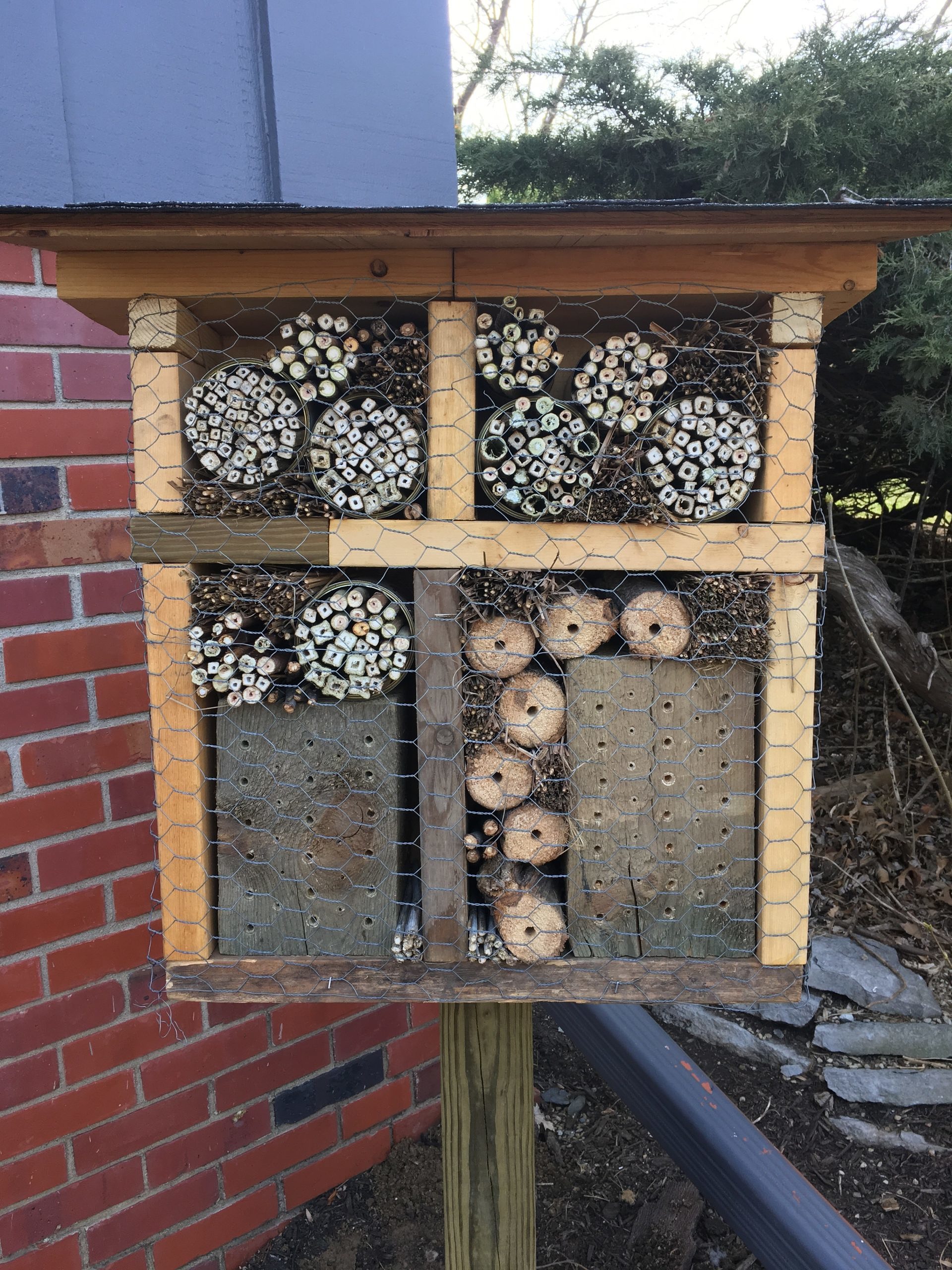 The first growing season saw limited use of my bee house, but last year the occupancy was very high.  The pictures below show many filled holes in both the drilled blocks and plant stems.  I observed about six species of native bees and wasps nesting in it.  It is important to note that these species are not aggressive at all, and won't sting unless they are physically restrained.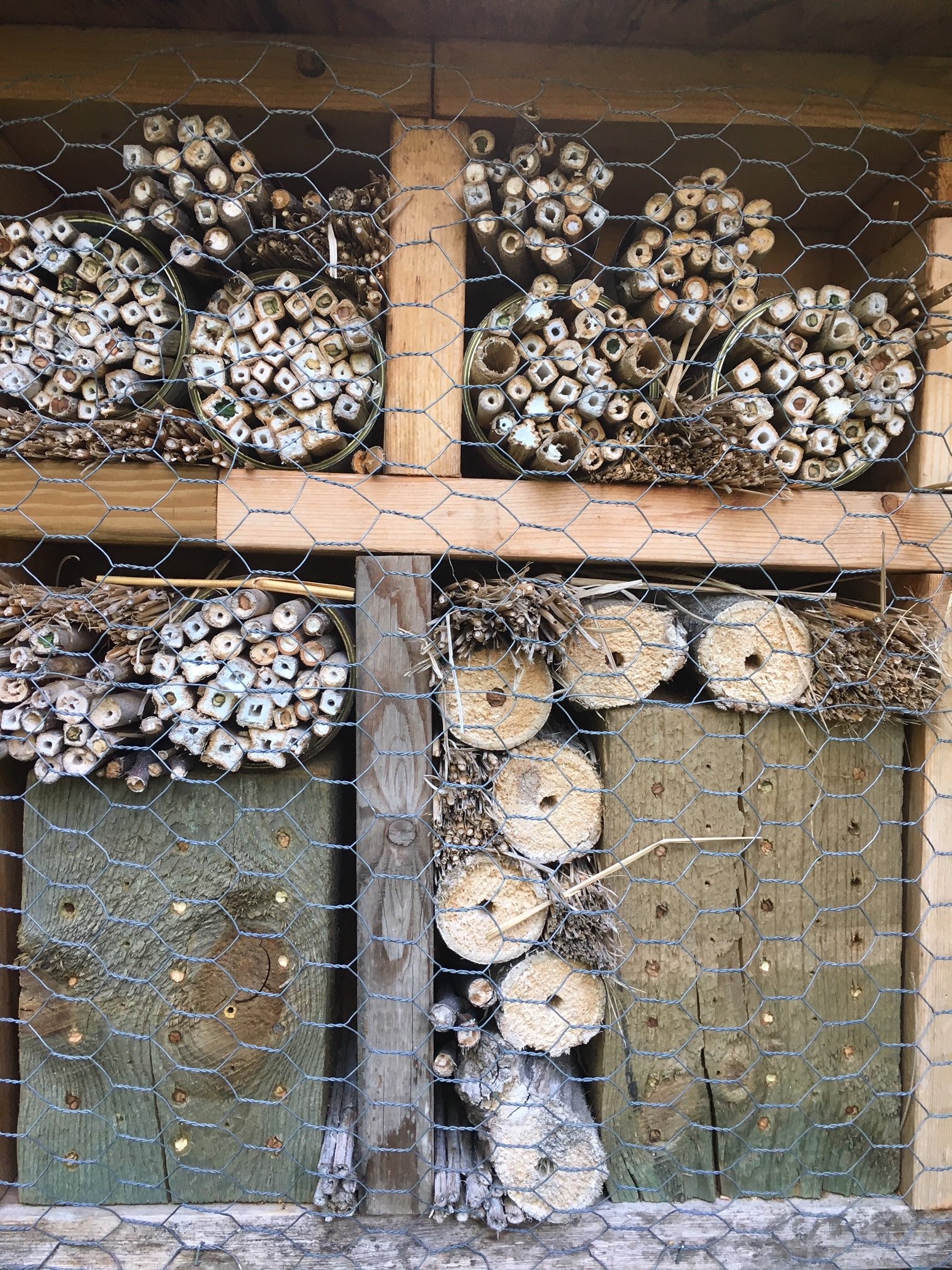 I admit my bee hotel is not a thing of beauty, but the bees and wasps don't seem to care about the aesthetics of the place. I find watching them build their nests during the growing season is very gratifying. Their excellent pollination skills also serve my prairie and vegetable gardens well.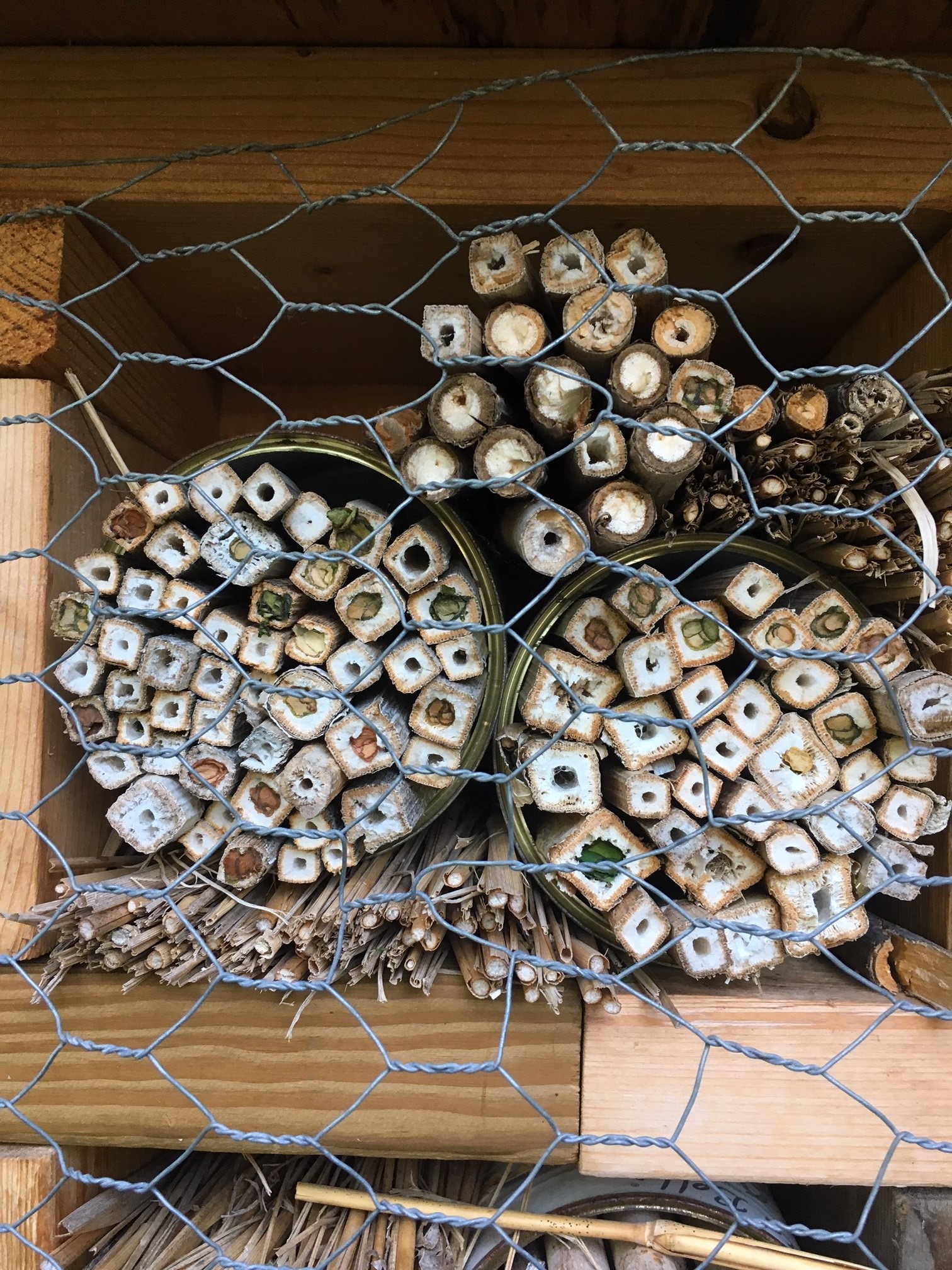 I think we can all agree that the plants of the prairie provide beauty in the summer. I hope the reader will now see how the same plants can be used after they have finished their life cycle to provide shelter for other small creatures living in our landscape.