Nine Iowa Republican legislators released an open letter on April 24 applauding Governor Kim Reynolds' plan "to open the state of Iowa for business as soon as possible," so Iowans can get "back to a sense of normalcy in a timely fashion."

Reynolds had announced at her morning news conference,
While there are some areas in our state where virus activity is still high, we have many more areas where it's manageable or even minimal. And this presents an opportunity to start to open Iowa back up in a phased and responsible manner.
Starting next week, health care facilities may begin scheduling and performing elective surgeries. In addition, farmers markets will be allowed "to begin limited operations with appropriate public health precautions." Reynolds promised to unveil more details about her plans on April 27, adding, "I want to thank every Iowan for making our comeback possible. Today we're taking the first steps to get life and business back to normal."
How the governor could allude to Iowa's "comeback" minutes after discussing the state's largest single-day totals for confirmed COVID-19 cases (521) and deaths (eleven) is a mystery that a forthcoming Bleeding Heartland post will explore in more detail.
Reynolds found a receptive audience in some conservative Republican legislators. The Iowa Standard website, which views lifting certain COVID-19 mitigation policies as "the restoration of our constitutional liberties," published the full text of the letter signed by State Senators Jake Chapman and Jason Schultz and State Representatives Jeff Shipley, Sandy Salmon, Tom Jeneary, Shannon Lundgren, Skyler Wheeler, Steve Holt, and Phil Thompson. Excerpt:
Recognizing there are some areas of the state that are more impacted than others by the spread of COVID-19, and the reality that we must take reasonable precautions to keep people safe, we support the Governor's efforts to open less impacted areas of our state as soon as possible. We ask for guidelines that allow businesses to open quickly, with recommendations for mitigation measures that will encourage safe practices.
Aside from Shipley, a top target for Democrats hoping to regain control of the Iowa House, most lawmakers who signed represent solid red districts. They're still taking a big risk, because today's "less impacted areas of our state" could be tomorrow's hot spots.
In a commentary published here earlier this month, Richard Lindgren speculated about the "misleading math of rural coronavirus."
If you are in one of the unshaded rural counties in Iowa or elsewhere in the country, it is understandable to be frustrated with the social and business consequences of lockdown orders. Surely, you may be thinking, this virus mostly impacts urban hellholes like New York City. Or you may think that your community's efforts have been so very successful that it is now time to resume normal life. Unfortunately, you are likely wrong.

What is the difference between the dark-red shaded Winneshiek County, Iowa (the top-right dark-red county) and say, Decatur County, down south on the Missouri state line, where I spent a lot of years? The answer may well be "Nothing."

We have seen this seemingly random pattern before. I have written in the past about the stochastic nature (randomness with an underlying probability distribution, like rolling two dice) of mass gun violence. […]

So, for sparsely-populated areas, I suggest that you think of the coronavirus as a shooter on a high perch with a "high-lethality" weapon, firing off in random directions. The odds are that he won't be pointing at you today, but he is pointing at someone, and maybe not for any particular reason. In the case of the virus, transmission may be as much a function of chance as it is intention or carelessness.
The most deadly outbreaks of COVID-19 in Iowa are happening in assisted living facilities, and the largest number of infections are linked to meatpacking plants.
At this writing, the state has confirmed coronavirus is spreading in thirteen nursing homes. Only one of the GOP lawmakers urging Reynolds to open up the state has constituents directly affected (Salmon represents Bremer County). But every state legislator has at least a few nursing homes in his or her district. Long-term care facilities have been closed to visitors since mid-March, but staff can introduce the virus, or residents may be exposed during medical appointments outside the building. UPDATE: The state has also announced an outbreak at a nursing home in Perry (Dallas County), which is part of Chapman's district.
Multiple meatpacking plants, including a Tyson facility in Perry, have suspended operations after dozens of workers tested positive. The community spread produced high per capita rates of COVID-19 infections in Louisa and Tama counties, which are demographically similar to the rural areas represented by the "getting back to work and back to liberty" crowd.
Iowa has hundreds of food processing facilities, of which 148 are regulated by the U.S. Department of Agriculture. They're the blue dots on this map (click here to find the interactive version on the USDA's website).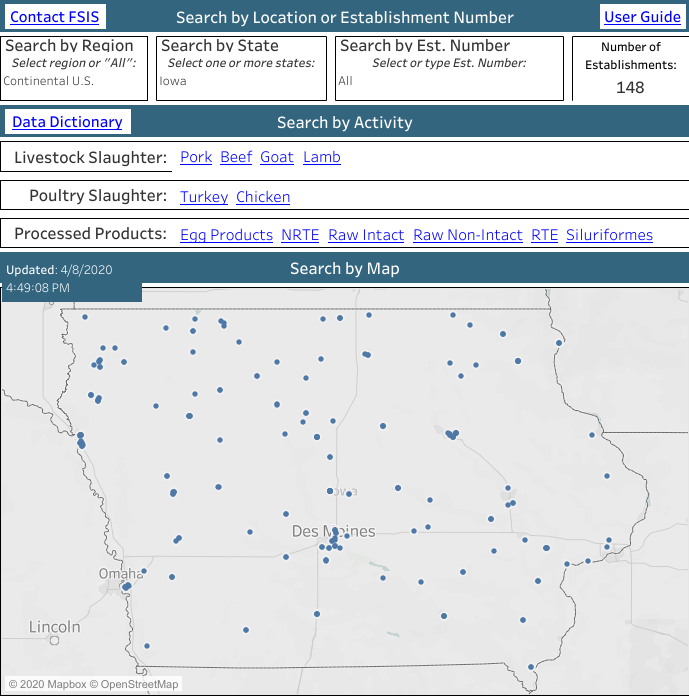 Chapman represents Perry (Dallas County), where a Tyson pork processing plant shut down several days ago because of COVID-19. Thompson's district is next door. There are multiple meat or poultry processors in the districts represented by Schultz, Holt, Jeneary, and Wheeler. Salmon, Lundgren, and Shipley probably have constituents working in large facilities not far from their district boundaries. (For instance, Shipley's district borders Wapello County, and a Swift pork plant is a major employer in Ottumwa.)
Other Iowa manufacturing plants have also seen COVID-19 outbreaks. The virus could hit a large employer in any county–especially if locals ease up on social distancing, emboldened by the governor declaring COVID-19 is "manageable" or perhaps not even present in their area.
Only dumb luck separates the communities where these nine Republican lawmakers live from those where Iowans have died or are clinging to life on ventilators. Relaxing policies that have flattened the curve elsewhere could have tragic consequences.
UPDATE: State Representatives Stan Gustafson and and Thomas Gerhold added their names to the letter on April 25, according to The Iowa Standard. Gerhold's Iowa House district includes Benton County, which is practically surrounded by COVID-19 hotspots (Tama County to the west, Black Hawk County to the north, Linn County to the east). Gustafson's district includes Madison County and parts of Warren County. Both have relatively low case numbers at this writing, but many residents of each county work or shop in Polk County, where confirmed infections are increasing rapidly.
Top image: Montage of Iowa GOP lawmakers, cropped from a thank-you message posted on the Facebook page of The Iowa Standard website. Top row, from left: State Senator Jason Schultz, State Representative Jeff Shipley, State Senator Jake Chapman. Middle row, from left: State Representative Sandy Salmon, State Representative Tom Jeneary, State Representative Shannon Lundgren. Bottom row: State Representative Skyler Wheeler, State Representative Steve Holt, State Representative Phil Thompson.