Governor Kim Reynolds said on May 11 that it's "too early" to decide whether to cancel this summer's county fairs or the Iowa State Fair, which is scheduled to run from August 13 through August 23.
As much as I enjoy the fair, it would be reckless to bring Iowans from every county to mingle at the State Fairgrounds three months from now.

The full video of the governor's latest news conference is available here. In this clip, Rod Boshart of the Cedar Rapids Gazette noted that organizers of other large summer events like RAGBRAI have already pulled the plug. Would Reynolds use her authority to call off the fairs?
My transcript of Reynolds' reply:
Well, it's too early, I think, to make that decision, and I know they're watching it very, very closely.

And hopefully, if we can continue to see some of the positive signs that we're seeing, especially on the eastern side of the state, where we've done extensive strategic and targeted testing, where we've seen the numbers go up but we've also seen them come back down. We're seeing the hospitalization trend start to go down. We've certainly been able to manage the resources so that we don't overwhelm the hospital systems.

And so now we're doing that similar type of testing in central Iowa and western Iowa. And you can see over--what is it, about a seven- to fourteen-day turnaround--you can see some significant changes, positive changes in the trends.

And so we'll continue to monitor the information that we're receiving. We'll continue to look at the virus activity, have targeted responses to what we're seeing. And so, you know, we're doing that on a daily and a weekly basis, and we're just learning more and more all the time.

So I know they're watching it, and we're watching it, and as we continue to learn more and we continue to, we have the ability to continue to test more, those decisions will be made in the near future.
Let's get real.
Total state fair attendance topped 1.1 million each of the last two years. If you've ever attended the fair, you know that even with a fraction of the usual number of fair-goers, it would be extremely difficult, if not impossible, to maintain social distancing in most areas. Keeping frequently touched surfaces sanitized would be equally hard.
Coronavirus has claimed at least 271 lives in Iowa already, with deaths now doubling approximately every thirteen days. In an optimistic scenario, where the doubling rate slows to every 30 days, we will have lost more than 2,000 Iowans by the time the state fair is scheduled to open.
Iowa is far from having conclusively turned the corner on COVID-19 infections. Hospitalizations have ticked down slightly statewide, but Sioux City's two major medical centers are experiencing a "flood of sick patients," taxing the expanded intensive care units.
Some counties where the virus hit early have seen new cases subside. But Democratic State Senator Rob Hogg noted in a May 11 news release that infections have accumulated more rapidly in the areas where Reynolds allowed some business activity to resume, effective May 1. The most recent daily totals on the state's official website "showed a 3.5% increase in the total number of confirmed COVID-19 cases (up 414 to 12,373), while the county-by-county data show that the 77 counties where Gov. Reynolds loosened restrictions on May 1 increase by 8.0% (up 116 new confirmed cases to 1,562)."
Hogg has been calling for stricter COVID-19 mitigation policies for the past two months. He compiled this chart comparing each day's increases in cases statewide and in the 77 counties where more businesses were allowed to reopen. (Reynolds has signaled she will further loosen restrictions as of May 15.)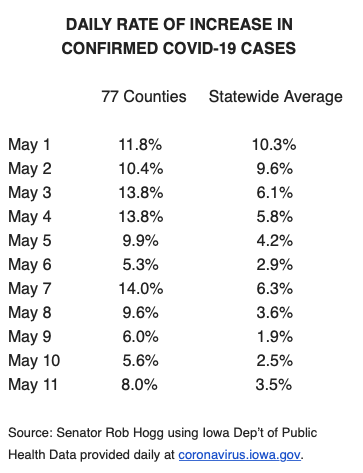 One of the counties with the fastest-growing case numbers is Wapello, which contains the Ottumwa area. Joey Aguirre reported for Iowa Starting Line on May 11 that organizers unanimously voted last week to cancel this year's fair.
"It really came down to our concern as a fair board with the safety of our fair-goers and volunteers," said Fred Jenkins, a member of the Wapello County Fair Board. "We weren't sure what the requirements would be and quite honestly, the case load down here (in Wapello County) is still increasing. We didn't feel like we could provide safety to our attendees and our fair volunteers, many who are over 60 years old." [...]

Jenkins says the fair typically attracts a few thousand attendees each year, and they didn't want the Wapello County Fair to be the reason COVID-19 spread. This will be the third time the Wapello County Fair hasn't been held, with the last two cancellations coming during World War I and II when the fairgrounds in Eldon were being used by the military.
The Linn and Benton County fairs also won't take place this year, Aguirre reported.
Tom Barnes, Executive Director of the Association of Iowa Fairs, says local fair boards have two main concerns — in addition to the safety of their volunteers, fair-goers and exhibitors.

"An underlying thing that we are concerned with is liability, what is our risk? And secondly, what financial hit will we have?" Barnes says.
Iowa State Fair CEO and fair manager Gary Slater said in a May 6 written statement that organizers will decide "in early to mid-June" how to proceed, in consultation with counterparts in other states "and other Iowa tourism destinations as well as our elected officials and our public health department."
The safety and health of our staff, volunteers, and Fairgoers is our top priority. We never want someone to feel unsafe working or attending the Fair. It is because of this that we are carefully considering all our options. Although planning the best 11 days in August takes time, we believe at a minimum, our Fair partners and grounds crews require 60-70 days.
Even if COVID-19 infections are on a downward trend statewide this summer, clusters will continue to appear in some communities. That makes any large gathering risky, especially an event that draws people from every corner of Iowa. We know that a significant percentage of people infected with coronavirus show no symptoms but can spread the virus to others.
Kenneth C. Davis wrote for Smithsonian magazine in September 2018 about the disastrous decision by Philadelphia leaders to hold a massive parade 100 years earlier during an influenza pandemic. The "fallout was swift and deadly."
Two days after the parade, the city's public health director Wilmer Krusen, issued a grim pronouncement: "The epidemic is now present in the civilian population and is assuming the type found in naval stations and cantonments [army camps]."

Within 72 hours of the parade, every bed in Philadelphia's 31 hospitals was filled. In the week ending October 5, some 2,600 people in Philadelphia had died from the flu or its complications. A week later, that number rose to more than 4,500. With many of the city's health professionals pressed into military service [during World War I], Philadelphia was unprepared for this deluge of death. [...]

With summer, the Spanish flu seemed to subside. But the killer was merely laying in wait, set to return in the fall and winter—typical peak flu season—more lethal than before. As Philadelphia planned its parade, bound to be a large gathering, director of public health Krusen had ignored the growing concerns of other medical experts and allowed the parade to proceed, even as a deadly outbreak raged on nearby military bases.
Reynolds clearly relishes the time she spends at the fair. But the well-being of Iowans demands that she set aside wishful thinking and stop floating the idea that any gathering of thousands could safely take place this summer.
Top image: "Happy Fair Goers," photo by Carol Van Hook taken at the Iowa State Fair on August 13, 2016, available via Wikimedia Commons.