Racial disparities continue to widen as the number of novel coronavirus cases grows in Iowa.
Data published on the state's COVID-19 website on May 17 indicate that Latinos make up 25.1 percent of Iowa's 14,651 confirmed COVID-19 cases. That's more than four times the share of Latinos in the state population (6.2 percent according to the latest Census Bureau estimate).
Another 57.1 of Iowans who have tested positive are not Hispanic or Latino, while the remaining 17.8 percent of cases are pending further investigation of the person's ethnicity.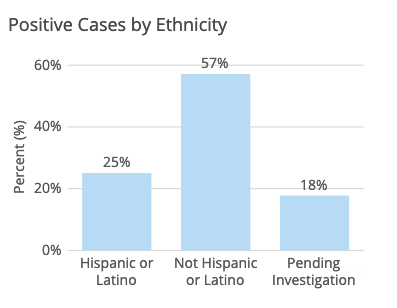 The proportion could rise further in the coming days, when more results come in from the Test Iowa drive-through site that opened on May 16 in Storm Lake. Buena Vista County is about 26 percent Latino, the highest percentage for any Iowa county.
Meatpacking plants have been the source of Iowa's largest COVID-19 outbreaks, and people of color make up most of the workforce in those facilities. At this writing, the ten Iowa counties with the most coronavirus cases per capita all contain large food processing plants.

Many immigrants from Africa or Asia also work in meatpacking, which is one reason those communities are disproportionately represented among Iowans who have tested positive for COVID-19. At this writing, 12.4 percent of confirmed cases are African Americans, more than three times the share of Black people in the state population (4.0 percent). Asians or Pacific Islanders now account for 10.0 percent of COVID-19 cases, while only 2.8 percent of Iowans are part of those communities.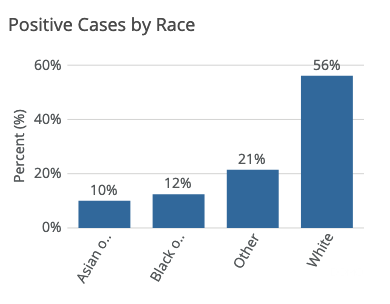 Since not all Iowa meatpacking plants are universally testing their workforce, the racial disparities in COVID-19 cases are likely wider than official statistics reflect.
Racial disparities are less pronounced in Iowa's coronavirus deaths, probably because the majority of Iowans who have died in the pandemic were living in nursing homes (a predominantly white population). At this writing, an estimated 274 of the 351 Iowans who have died (78.0 percent) were white. Seven who died were Pacific Islanders (2.0 percent), ten were Asians (2.9 percent), nineteen were African Americans (5.5 percent), and at least seventeen were Latinos (4.9 percent). Some cases are pending further investigation.
Deaths directly or indirectly tied to food processing facilities include Husen Jagir, an immigrant from Eritrea who worked at a Sioux City pork plant; Axel Kabeya, a prominent member of Waterloo's Congolese community who worked at Tyson Foods; and Jose Gabriel Martinez of West Liberty, who caught COVID-19 from his wife, an egg factory worker.
According to Joe Henry, political director for the League of United Latin American Citizens in Iowa (LULAC), a Latino employee at the JBS pork processing plant in Marshalltown died of COVID-19 on May 15. His name has not been released, and it's not clear whether his death is counted as a Latino fatality in state numbers published today. LULAC has been sounding the alarm about unsafe working conditions at that facility since late March.
UPDATE: Jose Andrade Garcia is the latest casualty from an Iowa meatpacking plant. He had worked at JBS in Marshalltown for more than 20 years and was only a week from retirement when he fell ill last month, Joe Henry posted. His family hope to bury him in Mexico.
SECOND UPDATE: Buena Vista County's COVID-19 numbers increased significantly during the first several days of testing there. Tom Cullen of the Storm Lake Times reported that Tyson "promised to test every one of its 3,500 employees" in the area.
According to the state's website on May 19, Latinos now make up 26 percent of Iowa's confirmed coronavirus cases.
Top image: Photos published by the League of United Latin American Citizens, taken at the JBS pork processing plant in Marshalltown, Iowa on March 27, 2020. Shared on Facebook by Joe Henry, published with permission.