Two strong candidates are seeking the Democratic nomination in a top-targeted Iowa House seat.

Four-term State Representative Bruce Bearinger filed to seek re-election in House district 64 earlier this year but accepted a new position in April. After the June 2 primary, he will formally withdraw, and a special nominating convention will select a replacement Democratic candidate to face Republican Chad Ingels.
The race is important in the context of the battle for control of the lower chamber. If Ingels picks up this seat, Democrats would need to win at least five GOP-held seats elsewhere for a House majority.
Travis Bushaw and Jodi Grover come from different parts of this northeast Iowa district, which covers most of Buchanan County and part of Fayette County.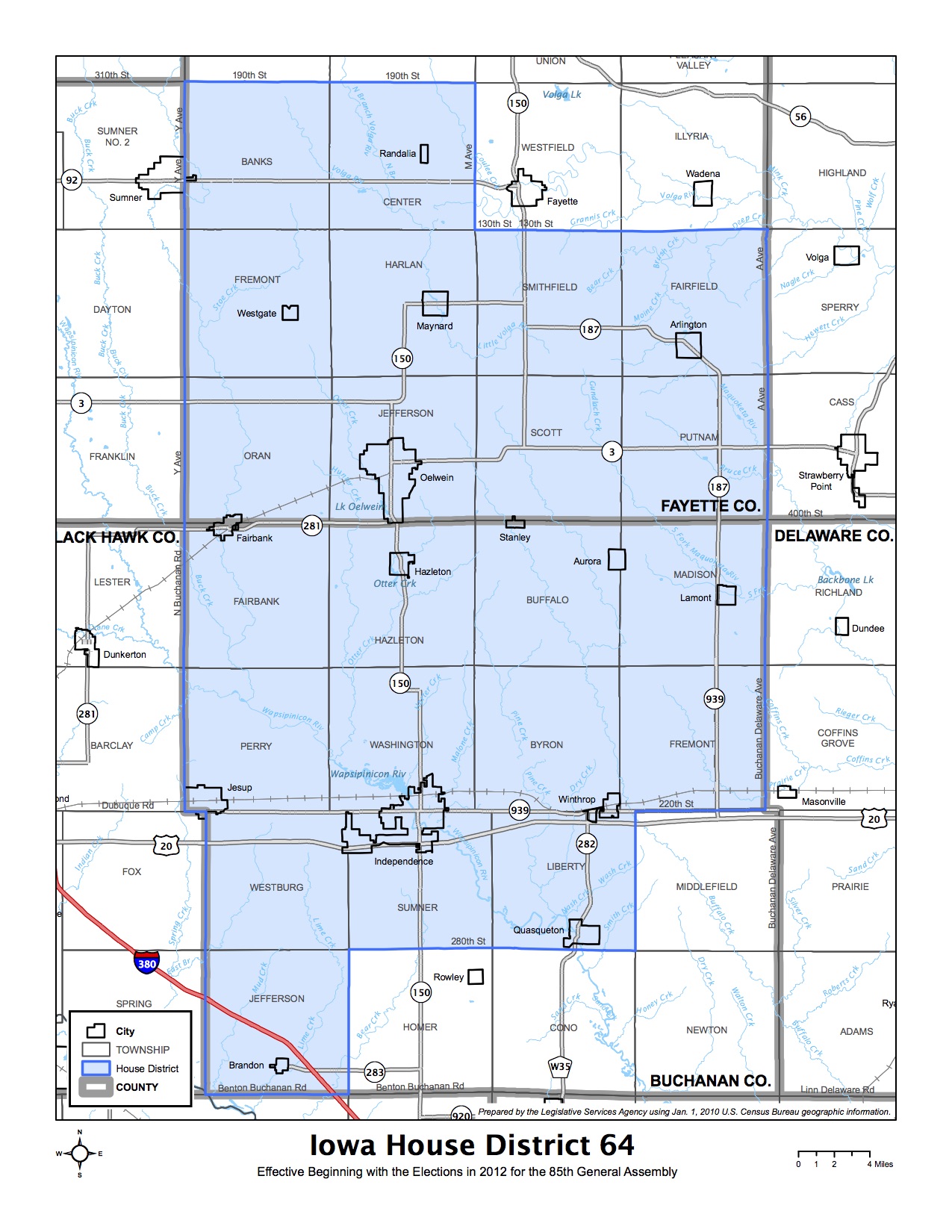 Bushaw, who launched his campaign on May 17, has deep roots in Oelwein. From the "about" page on his campaign website:
For those that don't know me, I am Broker-Owner of Cornerstone Real Estate in Oelwein, Head Coach of Oelwein High School Wrestling, and a trustee on the Northeast Iowa Charitable Foundation. My wife, Dr. Erica Bushaw, is a pharmacist in Oelwein and owner of Oelwein Family Pharmacy.

​I believe my experiences in the rural communities of HD64 will make me an effective legislator:

As a small business owner, I understand the struggles people are facing during COVID-19, and how we need legislators who are proactive, and supporting the needs of families and small businesses.

As a trustee on the NEICF, we have funded millions of dollars worth of projects in the area, including scholarships, camps, fine arts programs, bike trails, rural health clinic expansions, and so many more projects that directly affect our communities.

As the Head Coach of Oelwein Wrestling, I value working together, creating an environment where everyone belongs, and plain hard work.
Bushaw told Bleeding Heartland on May 20 that he is active in the Iowa Association of Realtors and was the 2018 Iowa Realtor of the Year as well as a recent president of the Northeast Iowa Regional Board of Realtors, which covers thirteen counties that are part of the first Congressional district. He's also involved with the National Association of Realtors and is that group's political coordinator for U.S. Representative Abby Finkenauer.
Grover, who announced her candidacy on May 18, has roots in Buchanan County, where she grew up on a farm in rural Rowley. She also has extensive experience working on Iowa Democratic campaigns. From her official bio:
Grover is a Teacher Educator Coordinator--Lead at Upper Iowa University where she oversees the teacher education program in Fayette ​and regional center programs in Des Moines, Waterloo, and ​Bettendorf. Jodi is a board member of the Iowa Association of Colleges for Teacher Education and clerked in the Iowa Senate for Senator Brian Schoenjahn. She is a member of the Rosary Society, Catholic Daughters, and is a Lector at the St. John's Catholic Church in Independence. Additionally, Jodi volunteers as a bell ringer for the Buchanan County Salvation Army. [...]

​Jodi graduated from East Buchanan High School, Hawkeye Community College, and Upper Iowa University with a Bachelor of Arts degree in Secondary Education and a Master of Education degree.
Schoenjahn represented this part of Iowa in the state Senate for twelve years before losing in the 2016 wave.
Both Bushaw and Grover have vowed to be advocates for public education, small business, and rural communities generally.
Bushaw was a precinct captain for Pete Buttigieg before the Iowa caucuses, while Grover supported Joe Biden. She even introduced the former vice president at an event in Independence. Buttigieg and Biden did well in the Buchanan County precincts, while Buttigieg won more delegates in the Fayette County portion.
I see House district 64 as an area where Biden at the top of the ticket could be helpful to Democrats. Certainly he won't be a drag on down-ballot candidates the way Hillary Clinton was in 2016. Like much of northeast Iowa, House district 64 residents have drifted toward the GOP lately. Having backed Barack Obama over Mitt Romney by 57.8 percent to 41.0 percent in the 2012 presidential race, voters here favored Donald Trump over Clinton by a 53.4 percent to 40.3 percent margin. Governor Kim Reynolds won 51.4 percent of the area's votes in 2018, while Democratic challenger Fred Hubbell gained 45.9 percent.
Only delegates to Democratic county central committees from the House district 64 precincts will be able to vote at the special nominating convention, which hasn't been scheduled. Delegates' votes will not carry equal weight. Rather, precincts will be weighted according to votes for the top of the Democratic ticket in the last two general elections. So I wouldn't venture to guess who has the advantage going into the convention.
With their community ties and political experience, either Bushaw or Grover would be a tough contender for the general election. Bleeding Heartland published background on the GOP candidate Ingels here.
To follow Travis Bushaw: website, Facebook
To follow Jodi Grover: website, Facebook, Twitter
UPDATE: Bushaw withdrew from the race in mid-June and endorsed Grover. She was unopposed at the district nominating convention and filed paperwork with the Secretary of State's office on July 13, ensuring that her name will appear on the general election ballot.