UPDATE: Bruce Bearinger announced in April 2020 that he will not seek re-election. Original post follows:
In a colossal recruiting failure, Republicans did not field a candidate last cycle in Iowa House district 64, which Donald Trump had carried by a 13-point margin in 2016.
The GOP will not give State Representative Bruce Bearinger a pass this year. On the contrary, Chad Ingels should be able to make this race highly competitive.

POLITICAL LANDSCAPE
House district 64 covers most of Buchanan County and about half of Fayette County.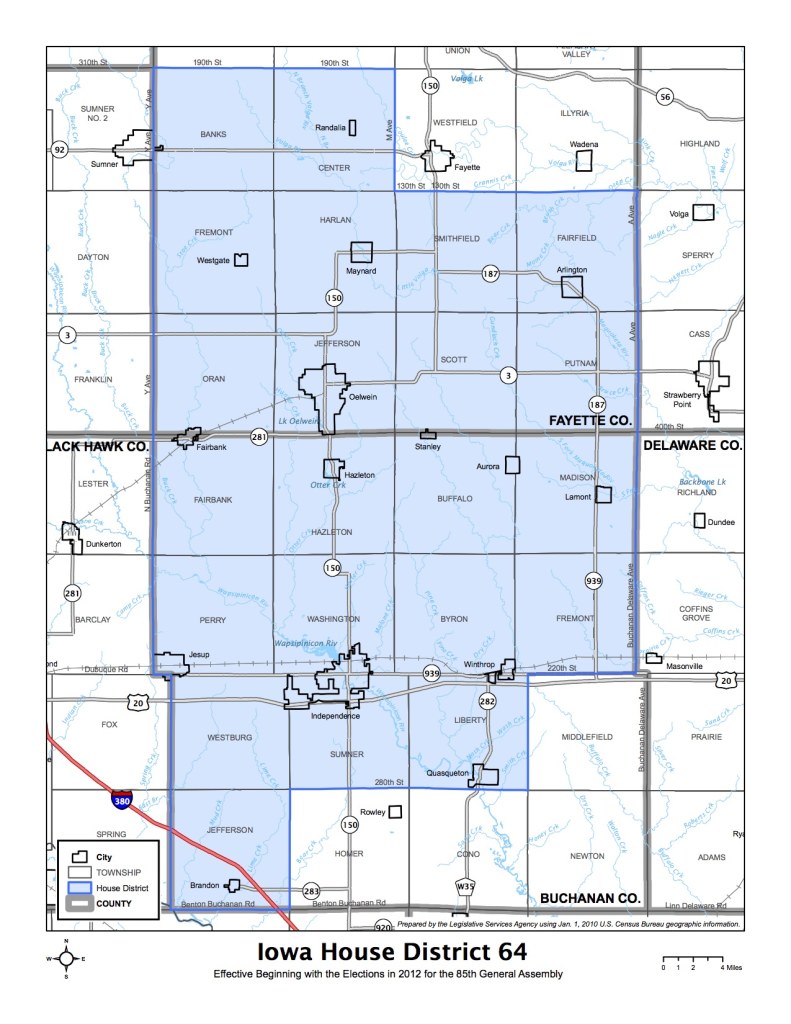 As in most of northeast Iowa, voters here swung heavily toward Republicans in the last presidential election. When Bearinger was first elected to the legislature in 2012, Barack Obama outpolled Mitt Romney by 57.8 percent to 41.0 percent in his district. That was more than double Obama's 6-point margin statewide.
Trump pulled 53.4 percent of the vote in the same precincts in 2016, compared to 40.3 percent for Hillary Clinton. That was a little larger than Trump's statewide advantage. Governor Kim Reynolds also polled well here, beating Democrat Fred Hubbell by 51.4 percent to 45.9 percent–a couple of points better than her statewide victory.
Democrats have a slight advantage in terms of voter registration, but a plurality of voters in House district 64 are affiliated with neither party. The latest official figures show the district contains 5,035 active registered Democrats, 4,573 Republicans, and 8,463 no-party voters. Those totals don't include anyone who switched registration in order to participate in the Iowa caucuses on February 3, but the political make-up of this area hasn't changed much since November 2016, the last time Bearinger faced an opponent.
Bearinger dominated his first campaign for the state House in 2012, winning about 65 percent of the vote and defeating his GOP opponent by nearly 4,500 votes. He had a close shave in the Republican landslide year of 2014, receiving only 240 more votes than Craig Johnson (51.0 percent to 48.9 percent).
Johnson ran successfully for the Iowa Senate in 2016 rather than challenging Bearinger again. Despite Trump's strong showing, the GOP candidate in House district 64 fared poorly, losing by 2,376 votes (58.3 percent to 41.6 percent).
That's probably why no Republican stepped up to run for this House seat in 2018. Times have changed.
BACKGROUND ON THE CANDIDATES
Both contenders in House district 64 have strong backgrounds in farming and education, a combination that has fueled many successful Iowa legislative campaigns. Bearinger is the ranking member of the House Agriculture Committee and also serves on Appropriations and Natural Resources. His official bio describes him this way:
Bruce Bearinger has been an Oelwein resident for over 20 years and a retired teacher. Bruce taught high school agriculture and served as FFA [Future Farmers of America] advisor at Preston, Oelwein, and Jesup high schools. During his 17-year tenure as teacher he helped with a variety of community services; including farm safety, environmental projects, and charity events. He has previously worked as the Education Director for Iowa State Extension in Buchanan County. […]

Bearinger served on the Oelwein City Council and served on the economic development finance committee, worked on local food initiatives,and helped develop a health and wellness survey for Oelwein. Bruce was a member of the Oelwein Jaycees and a donor to the Fine Arts Guild of Oelwein.

Bearinger helped launch the Heartland Acres Agribition Center in Independence and served on its first Board of Directors. While working for ISU Extension, he also served on the Buchanan County Food Pantry Board and the Coop Board. Bruce also worked with the Maynard Coop.
Of the 47 Democrats now serving in the Iowa House, Bearinger is among those most likely to cross party lines. In 2017, he was one of very few in his caucus to support a wide-ranging pro-gun bill. He told me at that time that he had helped get some troubling passages removed from the initial Republican proposal. He also worked on an amendment that required parents to be in close proximity when allowing a child to handle guns.
I had some concerns with the final bill, but overall, it was consistent with the correspondence I had with many of my constituents. I rely on our democratic caucus analysis of legislation and have always found it to be valuable, but ultimately I rely on my own values and the extensive work I do to stay in tune with the desires and beliefs of my constituents in my rural district.
Bearinger has not supported every gun policy Republicans have put forward. For safety reasons, he opposed a 2019 bill to allow children to hunt deer with a pistol or revolver. Just last week, he voted against a GOP effort to prevent local governments from regulating firearms or shooting ranges, and to make it cost-prohibitive for local governments to ban firearms in public buildings. (Bleeding Heartland will discuss that bill in a forthcoming post.)
Bearinger has generally been receptive to bills favored by agricultural interest groups. For instance, he was one of only four House Democrats to vote for a Republican "water quality" bill in 2018, which was was heavily influenced by the Iowa Farm Bureau. The same year, he was among a dozen members of his caucus to vote for a bill allowing Wellmark Blue Cross & Blue Shield to sell policies through the Iowa Farm Bureau Federation that are exempt from most health insurance regulations.
Last year, fourteen House Democrats voted for creating a new crime of "agricultural production facility trespass." Bearinger was the only one of them to speak in favor of the "ag gag" bill on the House floor. He argued that "in this era of high-risk bioterrorism and the extreme need for biosecurity and extremism, it's an important bill to protect our agriculture entitles across Iowa."
UPDATE: Multiple readers mentioned that outside of politics, Bearinger is also known locally as a musician who plays lots of venues in northeast Iowa.
Ingels was a Republican candidate for Iowa secretary of agriculture in 2018 but didn't win the nomination, which was decided at the GOP state convention. He highlighted his farming expertise in the February 25 news release announcing his candidacy.
Ingels grew up in rural Fayette and graduated from West Central Community School. He has Bachelor of Science and Master of Agriculture degrees from Iowa State University. He previously worked off the farm as an Iowa State University Extension watershed specialist, assisting northeast Iowa farmer-led watershed groups to implement innovative water quality improvement projects. In addition to raising corn, soybeans and hogs on the family farm, he operates ClearWater Ag Strategies, LLC, a company that assists farmers in complying with manure management rules and regulations. Ingels served on the Iowa Environmental Protection Commission from 2013 to 2018.

"I'm looking forward to bringing my in-the-field experiences of working with farmers to improve water quality to the Legislature as we work to address many challenges across Iowa," said Ingels. "Northeast Iowa farmers have demonstrated that they can work together to create community water quality improvement projects and then cost-effectively do things on their own farms that get results."

Ingels has served on the West Central Community School Board for over 20 years, serving as board president since 2011. He believes that delivering an ever-improving education to students and families leads to successful adults, vibrant communities and a strong Iowa. West Central hosts a charter high school where nearly 100 percent of students have achieved college credit and almost one-third of high school seniors graduate with a community college AA degree.

"During my time on the school board, we have really worked to kick-start post-secondary school opportunities for every student, and not just the top students that might go on to a four-year program," said Ingels. "In the Legislature, I will work to increase flexibility for local districts to innovate for the benefit of every student and family, seek ways to reduce the red tape that school administrators and teachers deal with on a daily basis, and protect taxpayers by always considering the impacts on family, school and state budgets."

Ingels is a past president of the Fayette County Farm Bureau. He is a member of the Iowa corn, soybean and pork producer associations and Practical Farmers of Iowa. He coaches youth sports in Maynard and Oelwein and serves as a lector and usher at St. Francis of Assisi church in Fayette.

Chad is married to Tammy and is the proud father of two sons and a daughter.
Speaking to Amie Rivers of the Waterloo/Cedar Falls Courier,
[Ingels] said his big priorities are water quality improvement efforts, pre-K-12 education and the state's handling of Medicaid.

"My wife and I have two children who have Down syndrome who are served by Medicaid," he said. "I believe my experience as a parent can be beneficial to making it even better in the future."
In a telephone interview on February 26, I asked Ingels what he saw as the legislature's role in improving the Medicaid program. From his perspective as a parent, he would like to see more "stability" and "consistency." His family has worked with three different managed-care organizations (the for-profit companies that now manage care for Iowa's Medicaid enrollees) in four years. The local people providing services to his kids "do a great job, but it's challenging navigating the system when it changes every year."
Some companies that have pulled out of Iowa's Medicaid program have said they weren't being compensated enough. Would Ingels support increasing state appropriations in order to pay the MCOs more? He said he'd "need to look closer" at the details. He suspects it would be possible to save money by creating more efficiencies in the program.
Most Iowa Democrats favor returning Medicaid to state control. Ingels disagrees. "I think we're on the right track and going in the right direction, it's just a matter of maybe tweaking some things along the way."
Are there specific issues where Ingels would draw a contrast with the Democratic incumbent? "We have a very independent-thinking district," he said. He acknowledged that he and Bearinger "probably think similarly on a lot of agricultural issues," including water quality. He has many friends who have voted for Bearinger in the past. But he sees advantages to having a representative who is in the majority party, and he thinks the House will remain in Republican control after 2020.
FACTORS FAVORING EACH CONTENDER
Iowans tend to re-elect incumbents, and Bearinger has a history of outperforming the top of the Democratic ticket. So Republicans should not be over-confident about their chances.
That said, Ingels is well-known locally and has run successful campaigns before. Republicans will have the resources to spend hundreds of thousands of dollars on this race.
Democrats didn't have to spend any money supporting Bearinger's campaign in 2018, but the competitive House races often involve six-figure expenditures for each party. Bearinger's latest campaign disclosure form showed only $9,850.00 raised during 2019–a little more than half from individuals, the rest from political action committees. The campaign had just $9,994.41 in the bank as of December 31.
How the presidential campaign might affect this race remains unclear. Trump's approval rating has been below 50 percent in Iowa for some time, but there's no data on his standing in specific legislative districts.
At this writing, Bernie Sanders is the front-runner for the Democratic nomination. Across the precincts that are part of House district 64, Sanders was mostly not viable. Pete Buttigieg, Joe Biden, and Amy Klobuchar–whom Bearinger endorsed–all fared better. (This New York Times interactive map is a user-friendly resource for 2020 Iowa caucus results at the precinct level.)
Many Republicans have signaled that they intend to portray all Democrats as "socialist" this fall. For instance, Senator Joni Ernst posted on Twitter on February 26, "Last night's debate, and everything we've seen from the early primaries, just proves that the Democrats have become the party of socialism." In our interview later the same day, I asked Ingels whether he planned to use that argument against Bearinger.
No, I don't think Bruce is a socialist. I think Amy was probably one of the most moderate candidates. There's a lot of Democrat friends I have in this district that supported Amy, and a lot of northeast Iowa that were supporting her. […]

So no, I don't think he's a socialist, I won't be using that against him.
Even so, Bearinger would probably benefit from having someone other than Sanders at the top of the Democratic ticket–as long as the nominee's not Mike Bloomberg, who insulted the intelligence of farmers in comments from 2016 that recently came to light.
Any comments about the House district 64 race are welcome in this thread.