Republicans won six Democratic-held Iowa Senate districts in 2016. All of them were among the eighteen Iowa Senate districts where voters had favored President Barack Obama in 2012 but Donald Trump four years later.*
Some of the largest swings toward Trump occurred in northeast Iowa. Parts of four counties make up Senate district 32, where Democrat Pam Egli recently announced that she will challenge first term State Senator Craig Johnson.
While this race does not currently appear to be among the best 2020 pickup opportunities for Democrats in the upper chamber, it could become competitive. Either way, state legislative elections in this part of Iowa will be important to watch for signs of whether Republicans are able consolidate their 2016 gains.

THE POLITICAL LANDSCAPE
Senate district 32 covers all of Bremer County and parts of Fayette, Buchanan, and Black Hawk counties.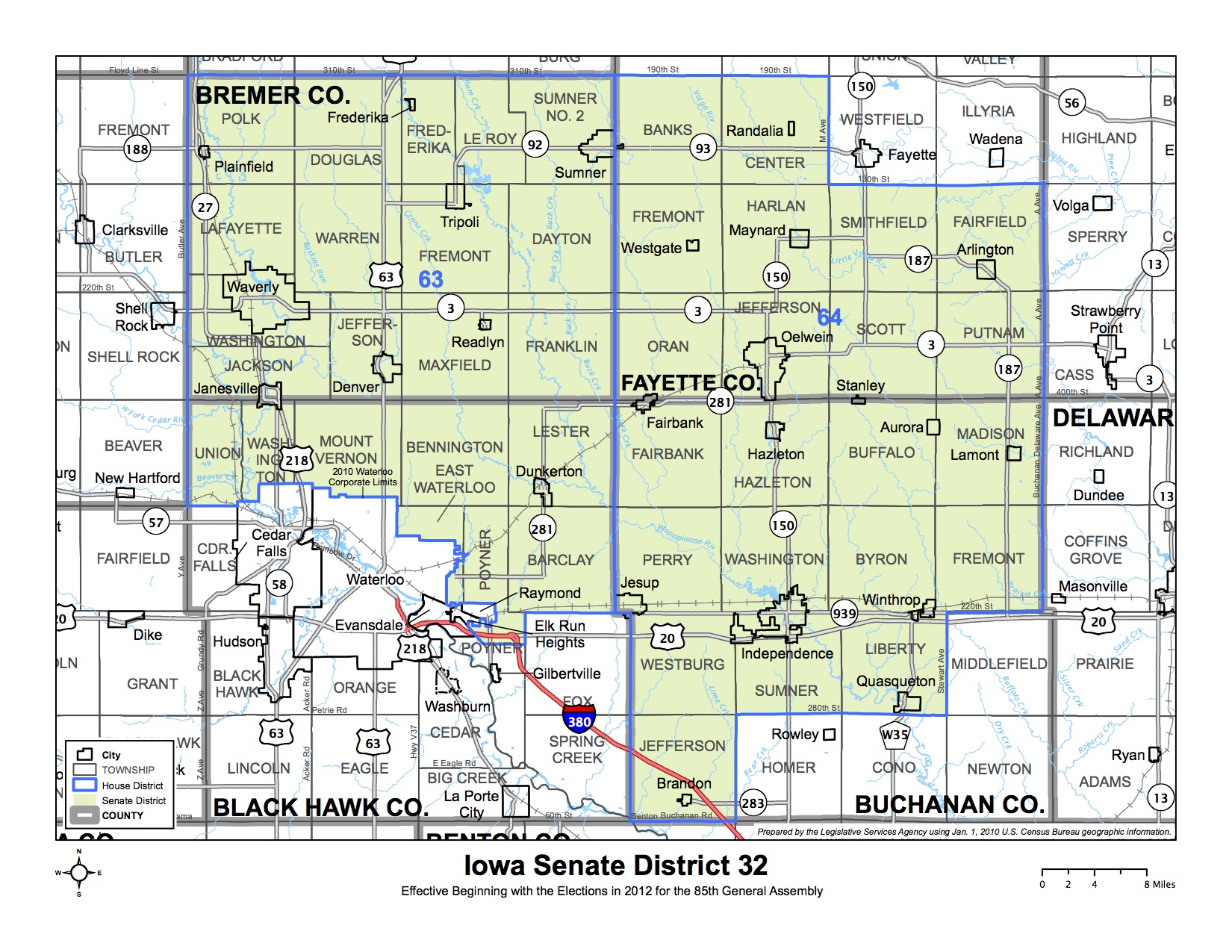 The district has no major population center. Its largest cities are Waverly (about 10,000 residents according to 2017 census estimates), Independence (a little more than 6,000), and Oelwein (just under 6,000). Many voters here live in smaller towns or rural areas.
Like Senate district 28, which Bleeding Heartland profiled here, Senate district 32 is part of the "driftless area," which also includes some of southeast Minnesota and southwest Wisconsin. For reasons that political scientists have yet to explain adequately, Obama performed far better in this region than in comparable rural areas almost anywhere else in the country during his 2012 re-election campaign.
However, the driftless counties voted more in line with expectations for rural regions with mostly-white populations in 2016. Voters in Senate district 32 favored Obama over Mitt Romney by 53.7 percent to 45.2 percent. But Trump outpolled Hillary Clinton here by 54.3 percent to 39.6 percent. Both results were almost a perfect match for voting patterns in Senate district 28.
Trendlines in Senate district 32 also favored Republicans in the two latest midterm elections. U.S. Senate candidate Joni Ernst outpolled Bruce Braley by 52.3 percent to 43.7 percent in the area, comparable to her statewide margin of victory. But in 2018, the district's residents favored Governor Kim Reynolds over Democratic challenger Fred Hubbell by 53.6 percent to 44.0 percent--about three times her statewide margin over the Democrat. Again, the similarity to results in Senate district 28 is striking.
In the absence of a national wave, long-serving incumbents tend to be less vulnerable than those up for re-election for the first time. So going into the 2016 election cycle, I didn't anticipate a serious threat to four-term Democratic State Senator Brian Schoenjahn. Republicans had spent less than $100,000 on behalf of his 2012 challenger, whom Schoenjahn defeated by about 2,000 votes (53.2 percent to 46.7 percent).
But Republicans saw an opportunity and put substantial resources behind Craig Johnson in 2016. He had been the 2014 GOP nominee in Iowa House district 64, which makes up half of the Senate district. Johnson fell only 240 votes short against State Representative Bruce Bearinger--a disappointing result in a GOP landslide year, but a strong performance against a well-liked Democratic incumbent. (Bearinger won by more than 2,000 votes in 2016, even though Trump carried his district by a double-digit margin. The GOP did not field a challenger against him in 2018.)
Johnson's first television commercial hit the airwaves a full two months before election day 2016. Over the course of the campaign, the GOP spent nearly $580,000 on behalf of Johnson. The Iowa Democratic Party spent roughly $385,000 supporting Schoenjahn.
The Republican challenger also had help from some outside groups, including the Iowa Firearms Coalition (the state partner of the National Rifle Association) and the National Association of Realtors.
The final result was surprisingly lopsided: Johnson won by more than 6,000 votes (59.9 percent to 40.0 percent).
The GOP has a small voter registration advantage in Senate district 32, but the largest group of voters are affiliated with neither major party. Latest official figures: 9,964 active registered Democrats, 11,106 Republicans, and 17,627 no-party voters.
As mentioned above, a Democrat (Bearinger) represents half of this Senate district in the Iowa House. Voters in the other half, House district 63, have elected Republican Sandy Salmon four times. After winning her first legislative race by a narrow margin, Salmon easily won in 2014, 2016, and 2018.
BACKGROUND ON THE CANDIDATES
Johnson chairs the Iowa Senate Transportation, Infrastructure, and Capitals Committee, is vice chair of State Government, and also serves on the Appropriations, Commerce, Education, and Human Resources panels. His official bio is concise.
Senator Craig Johnson is a former Independence Citizen of the Year and Heartland Acres Executive Director. Born and raised in Independence, Senator Johnson brings a diverse background, which includes working in the construction, manufacturing, financial securities and insurance industries.

He and his wife, Susan, have one daughter. He is a member of the Knights of Columbus, a lifetime member of the NRA and past member on the Vision Iowa Board.
Johnson's only declared Democratic challenger is Pam Egli of Waverly. From her October 15 campaign announcement:
"I'm a proud, life-long Iowan who is concerned about the direction our state is heading. We need to take immediate steps to rebuild rural Iowa and turn things around for Iowans living in our small towns and farms," Egli said. "I care about the people of Iowa and I'm worried that we are at a standstill because of the actions of our current legislators."

Egli pointed to several key issues that inspired her to run, including:

· Revitalizing small towns and rural areas
o "The needs of small towns and rural areas have taken a back seat under the Republican-controlled Legislature and Governor," Egli said. "We must do more to support family farmers, especially new farmers; boost job training and apprenticeships at Hawkeye Community College and other community colleges; and support Main Street businesses."

· Making Iowa schools #1 again
o "As a teacher, I know that our public schools are the heart of our communities, especially in small towns and rural areas. Like many Iowans, I am disappointed to see how support for our public schools has suffered in recent years," Egli said. "Our students need smaller class sizes, better mental health services and basic supplies in classrooms."

· Strengthening health care and mental health services
o "We must work together to create a children's mental health system that gives Iowa families better access to services, especially for Iowans living in small towns and rural areas," Egli said. "The privatization of Medicaid has been a disaster for our rural hospitals, health care providers and Iowans whose health depends on it."

Egli was a middle school and elementary teacher in the Waverly-Shell Rock School District for 33 years. She continues to work part-time as a substitute teacher.

Egli has a bachelor's degree in elementary education from Wartburg College and a master's degree in education from the University of Northern Iowa. She was a National Board Certified Teacher.

She and her husband Steve Egli are active in the Redeemer Lutheran Church in Waverly and they have co-chaired the Waverly United Way Campaign. They have been active in many civic and charitable organizations. They have two adult children and five grandchildren.

Pam has also has been involved with the Golf for the Cure fundraiser, Wartburg Community Symphony and Waverly Chamber Music Series.

"I will be visiting every corner of the district to listen and learn from as many people as possible," she said. "I encourage anyone to contact me at pamegliforsenate@gmail.com."
Egli told Bleeding Heartland via e-mail on October 27 that she's already campaigned in all the counties in the district, including a meet and greet in Independence.
I've been talking with constituents. I've had coffee with a veteran who served 3 tours in Iraq and Afghanistan. He is concerned with support of veterans especially with PTSD and mental health support. Another person wanted to talk about our current healthcare system and again, mental health issues and Medicaid funding.

I've enjoyed listening to concerns and realize how deeply people are hurting and feel as if they are not being heard.

I am determined to fight hard in this race to work for the people.
The Democrat's first major campaign event will be on November 12 from 5:00 pm to 7:00 pm at the Waverly County Club (507 8th Avenue SW, Waverly). Her campaign is on Facebook and ActBlue.
FACTORS FAVORING EACH CONTENDER
Iowans generally re-elect incumbents, and recent shifts in voting patterns favor Johnson. So he starts the campaign as the favorite.
On the other hand, Johnson was mostly an unknown quantity four years ago. Now he is a loyal foot soldier who voted for every controversial law Republicans have enacted since they gained total control of state government. Thousands of Johnson's constituents lost their collective bargaining rights in 2017 or are worse off because of Medicaid privatization.
Compared to some of his colleagues, Johnson doesn't call a lot of attention to himself. He hasn't floor-managed any high-profile bill, to my knowledge.
As a member of the Education and Appropriations committees, Johnson has backed every budget bill that underfunded K-12 or higher education. There is no state university within Senate district 32, but its communities are served by Hawkeye and Northeast Iowa community colleges. Wartburg College, the major employer in Waverly, has seen declining enrollment in recent years, leading to some faculty layoffs.
While state policies are not directly responsible for trends affecting Wartburg and similar private institutions, voters in such communities may be more education-focused than residents of districts without a college. That should play to Egli's strengths, especially given her strong roots in Waverly. Many teachers and retired teachers have been elected to the Iowa legislature.
As in Senate district 28, energy policy could become a salient campaign issue. Johnson supported a utility-backed bill in 2018, which undermined gas and electricity efficiency programs. Republicans spun that legislation as a cost-saving measure for consumers. Then this year, Alliant Energy (the monopoly serving this part of northeast Iowa) asked the Iowa Utilities Board to approve "an increase of 24.45 percent to the base rate for residential electric customers and 25 percent to the base rate for residential gas customers beginning in 2020." The proposal is bound to be unpopular.
Any relevant comments are welcome in this thread. I'm not aware of any other Democrats planning to run here, but it is easy to qualify for the primary ballot in Iowa; candidates need to collect only 100 signatures for a state Senate race.
---
*The eighteen Iowa Senate districts that voted for Obama in 2012 and Trump in 2016 were Senate districts 7, 8, 15, 24, 26, 27, 28, 29, 32, 36, 38, 39, 41, 42, 44, 46, 48, and 49. You can find the 2012, 2014, 2016, and 2016 results for all 50 Iowa Senate districts on this spreadsheet, compiled by the Daily Kos Elections team.