Fifteen months before the 2020 election, Democrats have at least one declared candidate in each of the four most vulnerable Republican-held Iowa Senate districts. That's good news for a party that needs to start making up ground in the upper chamber, where Republicans hold 32 of the 50 seats.
Bleeding Heartland will publish a fuller review of the Iowa Senate landscape (comparable to this first look at 2020 state House races) when the field is set in more competitive districts. For now, here's where things stand in the top Democratic targets:

Iowa Senate district 44
No one expected four-term Democratic State Senator Tom Courtney to become one of the casualties of the Trump wave in 2016. Neither party spent a significant amount of money in this southeast Iowa district, covering Des Moines and Louisa counties and much of Muscatine County outside the city of Muscatine.
Burlington is the largest population center in Senate district 44 and is among the mid-sized Iowa cities that used to (but no longer) provide reliable vote margins for Democratic candidates.
Voters in Senate district 44 had favored Barack Obama over Mitt Romney in the 2012 presidential election by 56.9 percent to 41.9 percent, but voted for Donald Trump four years later by 52.4 percent to 42.0 percent for Hillary Clinton. However, Democrat Fred Hubbell narrowly carried this district in 2018, with 50.0 percent to 48.1 percent for Governor Kim Reynolds.
Republican State Senator Thomas Greene, the surprise winner in 2016, did not respond to Bleeding Heartland's inquiry about his future plans. Elizabeth Meyer reported for Iowa Starting Line on August 7 that the incumbent "is expected to make his decision by the end of September." The GOP will have a much better chance of holding this district if Greene seeks a second term. I would consider Democrats favored to win back an open seat.
Rex Troute became the first official Democratic candidate here last week. Meyer has background on the candidate, a former staffer at The Hawk Eye newspaper whose family has lived in the Burlington area since the 1830s.
Local sources say several other Democrats are seriously considering this race, so a competitive primary is highly likely. UPDATE: Courtney announced on August 30 that he will run for the Iowa Senate again. He will be the overwhelming favorite to win the primary.
Current active registered voter totals: 13,289 Democrats, 10,529 Republicans, 14,058 no-party voters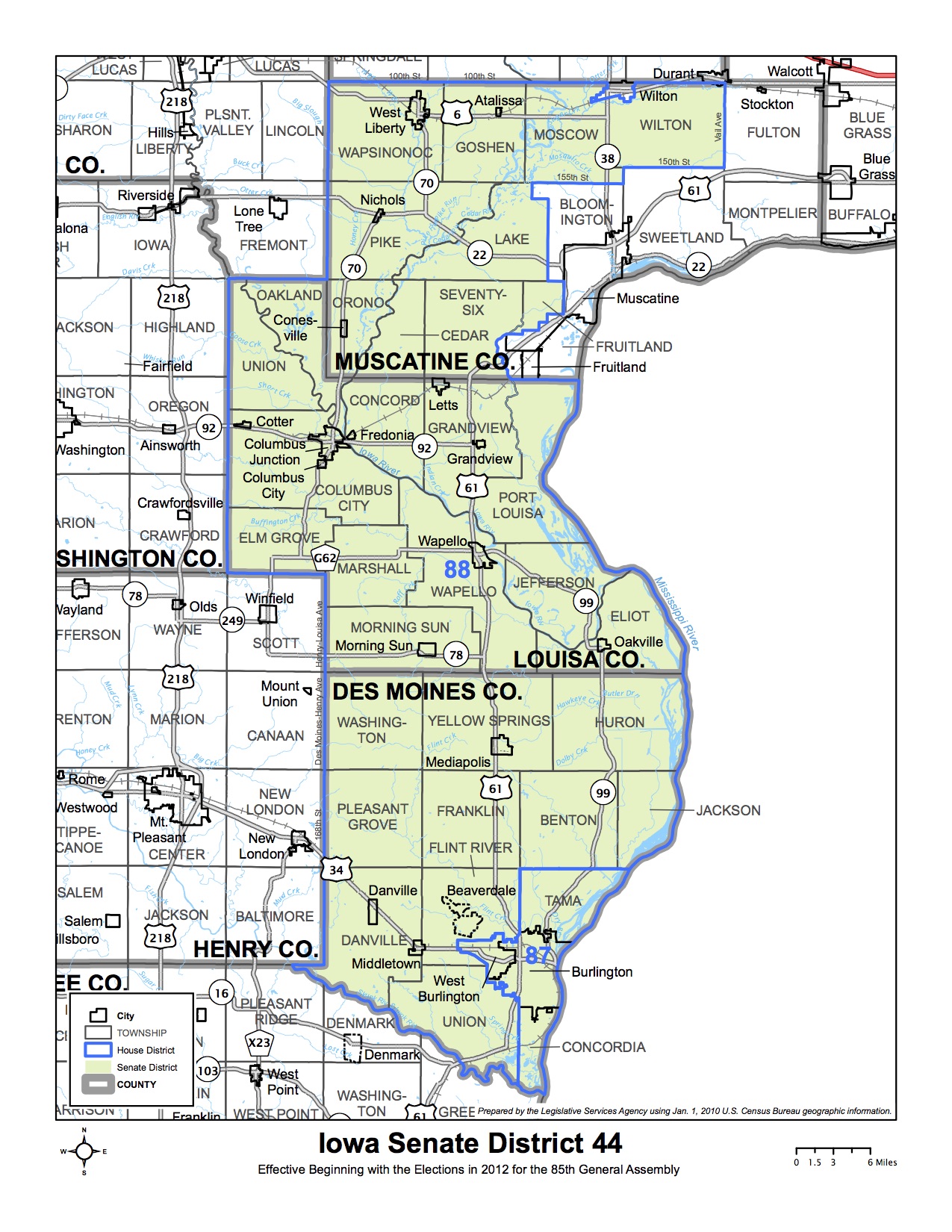 Iowa Senate district 8
Less than three months after he nearly defeated State Representative Mary Ann Hanusa in House district 16, Steve Gorman became the first Democrat to launch a 2020 Iowa Senate campaign. He's running in district 8 (Council Bluffs) against GOP incumbent Dan Dawson, who beat longtime Senate Majority Leader Mike Gronstal in one of the most expensive Iowa legislative races of 2016.
Bleeding Heartland's preview of Gorman's race against Dawson contains background on both candidates. I'll be surprised if any other Democrats or Republicans file for the June 2020 primary.
Earlier this year, Dawson was seen as a possible Republican contender in the third Congressional district, but David Young has nearly cleared that field now. Dawson told Mike Brownlee of the Council Bluffs Daily Nonpareil newspaper in January that he plans to seek re-election.
Dawson chaired the Iowa Senate Veterans Affairs Committee during this year's legislative session but was recently put in charge of the more powerful Commerce Committee as part of a reshuffle prompted by Randy Feenstra stepping down as Ways and Means chair to focus on his race against U.S. Representative Steve King. (The previous Commerce chair, Jake Chapman, will lead Ways and Means during the 2020 session.)
Voters in Senate district 8 preferred Obama over Romney in 2012 by 54.4 percent to 44.0 percent, but favored Trump over Clinton in the last presidential race by a 51.6 percent to 41.9 percent. Reynolds outpolled Hubbell here in last year's governor's race by 48.9 percent to 47.9 percent.
Current active registered voter totals: 10,295 Democrats, 10,170 Republicans, 12,627 no-party voters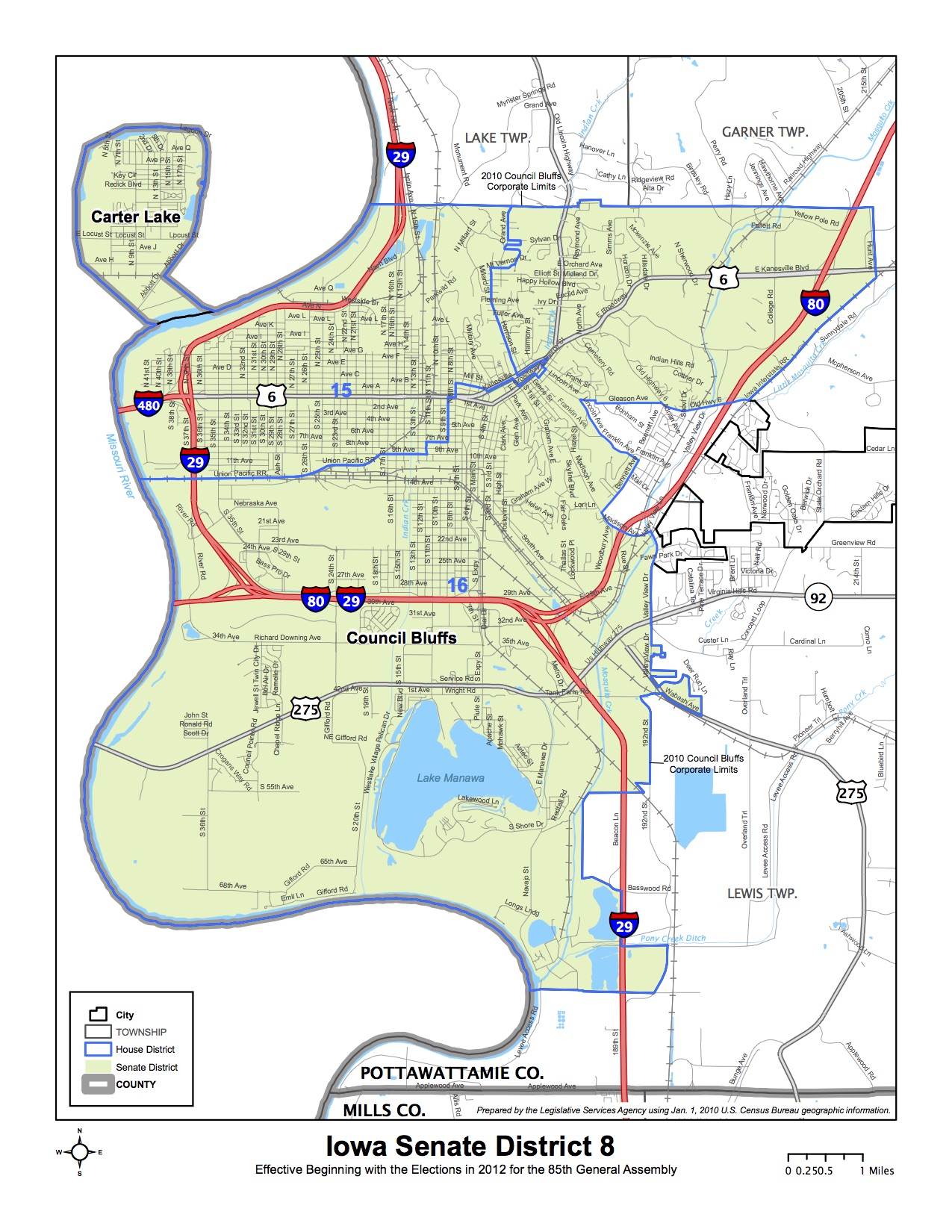 Iowa Senate district 20
Johnston City Council member Rhonda Martin is running against four-term Republican State Senator Brad Zaun in a race Bleeding Heartland previewed here. I haven't heard of any other potential Democratic or Republican candidates in this district.
The drift of suburban voters away from the GOP has made this race a target for 2020, even though Zaun easily won re-election last time he was on the ballot. Romney outpolled Obama in Senate district 20 by 52.8 percent to 46.1 percent, but Clinton edged out Trump by 46.8 percent to 46.4 percent. Last November, Hubbell carried the district with 51.1 percent to 47.2 percent for Reynolds.
Current active registered voter totals: 14,650 Democrats, 16,506 Republicans, 15,721 no-party voters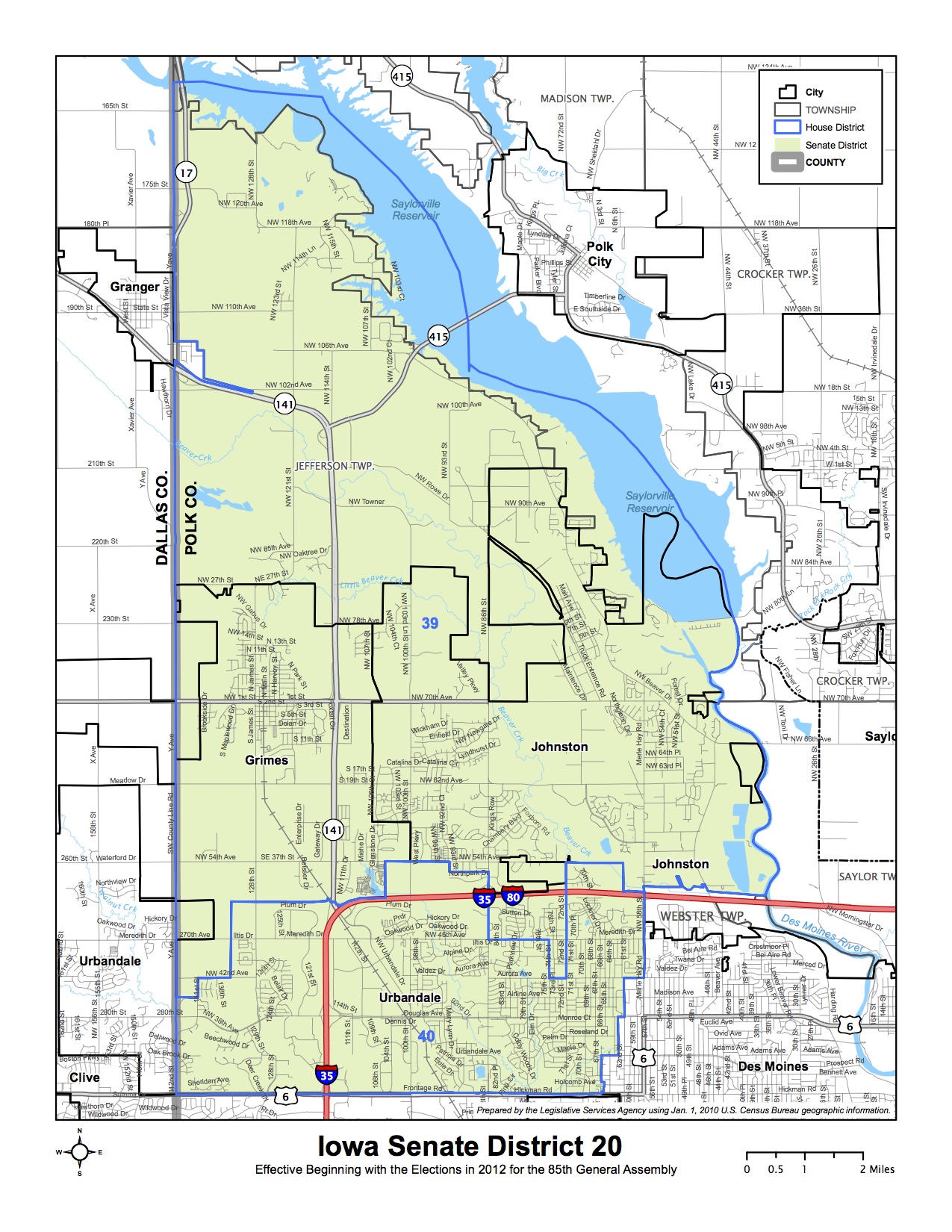 Iowa Senate district 22
Like Zaun, Senate President Charles Schneider was not a targeted incumbent the last time he was up for re-election, but times have changed. Three Democrats have announced plans to run in Senate district 22: Tricia Gavin, Sarah Trone Garriott, and Corey Suesakul. More may be considering this race.
This area in the western suburbs of Des Moines favored Romney over Obama by 52.5 percent to 46.5 percent, then voted for Clinton over Trump by 46.3 percent to 44.8 percent. Hubbell carried the precincts in Senate district 22 by a 53.4 percent to 45.2 percent margin.
The Polk County Democrats and local groups in West Des Moines, Clive, and Dallas County have organized a "Flip SD22 fundraiser" for Wednesday, August 14 from 6:00 pm to 9:00 pm at Rookies Sports Bar & Grill, 2180 NW 156th Street in Clive. All of Schneider's Democratic challengers will be there, along with U.S. Representative Cindy Axne, Senate Minority Leader Janet Petersen, and State Representative Jennifer Konfrst (who represents half of the Senate district 22 area in the Iowa House). Proceeds will support the eventual nominee in the Senate race.
Current active registered voter totals: 15,469 Democrats, 16,668 Republicans, 17,809 no-party voters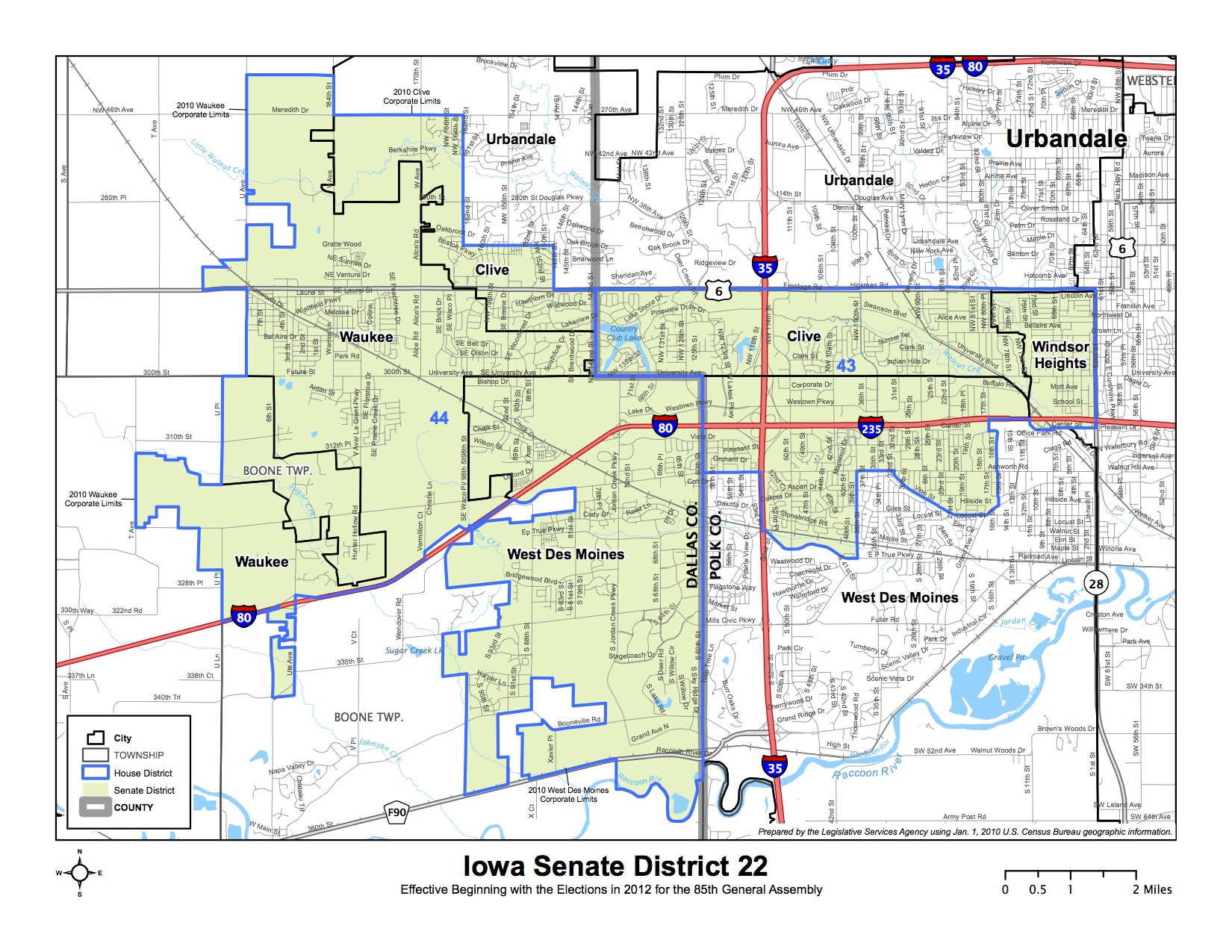 Any thoughts about Iowa Senate campaigns are welcome in this thread. Readers are encouraged to contact Laura Belin with tips about possible retirements or candidates from either party planning to run in other legislative districts.
UPDATE: Democrat Dave Degner launched his campaign in Iowa Senate district 36 on August 26. While this seat will not be one of the Democrats' top targets, it should be competitive. Bleeding Heartland's review of the landscape is here.