Republican State Senator Charles Schneider coasted to re-election in 2016. He defeated his Senate district 22 challenger Andrew Barnes by more than 4,000 votes after spending only a token amount on the race. In fact, Schneider gave most of his own campaign funds ($133,000) to the Iowa GOP for use in more competitive state Senate districts.
Schneider drew his first declared challenger for this cycle on June 11, when Tricia Gavin announced her candidacy. At least one other Democrat is seriously considering this race, so Schneider's general election opponent will not be known until after the June 2020 primary.
Given recent political trends in the western suburbs of Des Moines, it's already obvious that Senate district 22 will be a top Democratic target next year.

This district covers Windsor Heights, Clive, Waukee, and part of West Des Moines in Polk and Dallas Counties.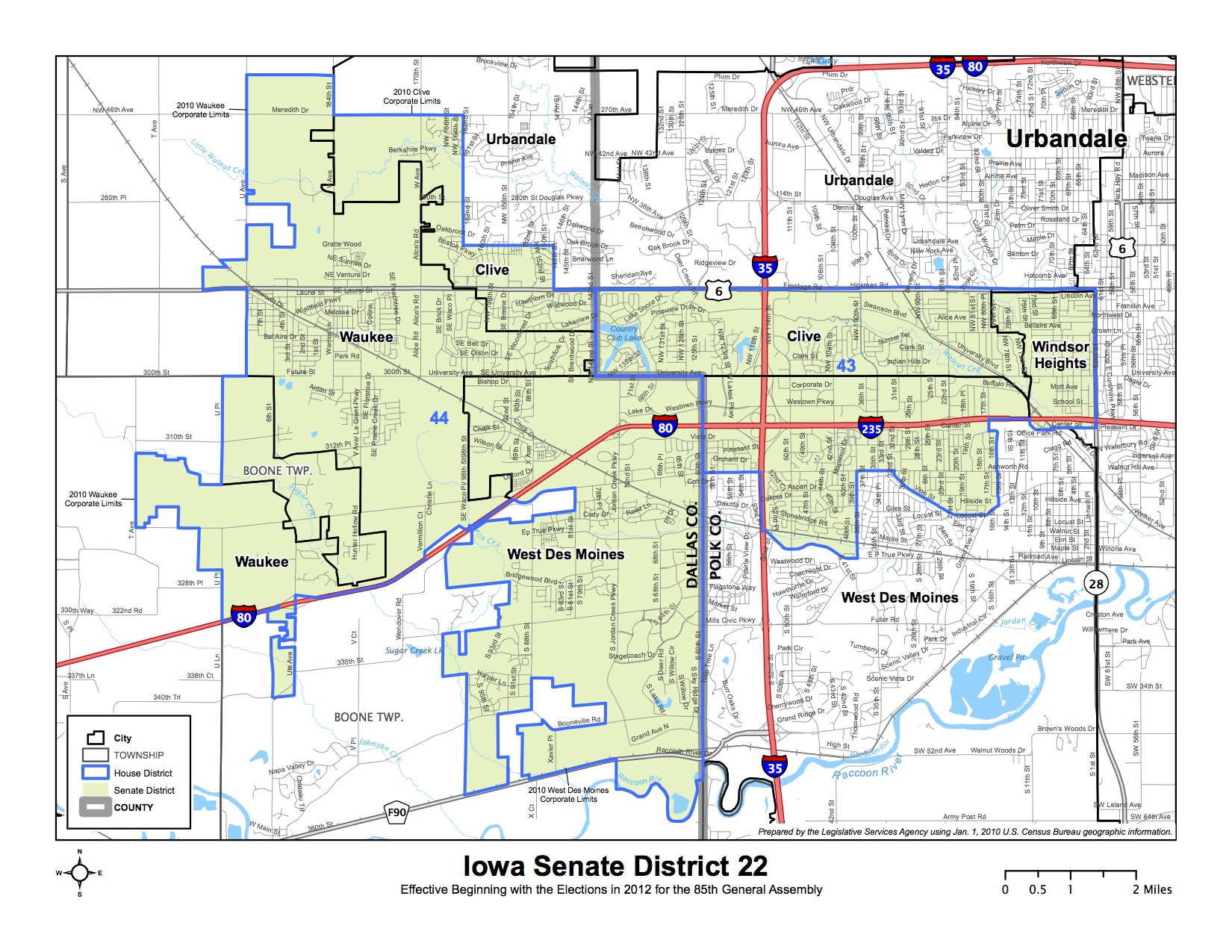 Schneider has been in-house counsel for Principal Financial Group since 2007. He served on the West Des Moines City Council before winning a December 2012 special election for the Iowa Senate. (Longtime Republican State Senator Pat Ward had passed away in October of that year.)
At that time, Senate district 22 contained 12,926 active registered Democrats, 17,392 Republicans, and 15,996 no-party voters. Mitt Romney had carried the district by a 52.5 percent to 46.5 percent margin, even as President Barack Obama won the state of Iowa by 52.0 percent to 46.2 percent. Schneider defeated Desmund Adams by about 1,200 votes in the low-turnout special election.
Four years later, even though Schneider did not experience a tough re-election campaign, the changes in his district were already apparent. Going into November 2016, the GOP still had a healthy voter registration advantage in this territory: 13,939 Democrats, 17,532 Republicans, and 15,311 no-party voters. But Hillary Clinton outpolled Donald Trump here by 48.3 percent to 44.8 percent, even as she lost statewide by 10 points.
Only four of Iowa's 50 state Senate districts delivered a higher share of the vote to Clinton in 2016 than to Obama in 2012. Two of the others (Senate districts 20 and 21) also cover parts of the western suburbs of Des Moines.
The ground continued to shift in Senate district 22 over the next two years, as suburban voters reacted to both the Trump administration and the Republican trifecta in Iowa, which enacted sweeping legislative changes. The voter registration gap narrowed significantly, from a GOP advantage of nearly 3,600 in November 2016 to about 1,300 in November 2018. The latest official figures are similar: 15,366 active Democrats, 16,651 Republicans, and 17,489 no-party voters live in Senate district 22.
Although Fred Hubbell lost the 2018 governor's race by about 3 points statewide, he carried Senate district 22 by 53.4 percent to 45.2 percent.
Meanwhile, voters in House districts 43 and 44, which make up Schneider's Senate district, elected Democrats Jennifer Konfrst and Kenan Judge to fill open seats in 2018. Republicans had represented those suburban areas in the Iowa House for decades.
The last time Schneider was on the ballot, he was a member of the minority caucus with little influence on governing decisions. But he chaired the Senate Appropriations Committee in 2017 and 2018, so was a key player in crafting budgets that underfunded education and other public services. Since the middle of the 2018 legislative session, he has served as Senate president, the second-ranking leadership position.
Although Schneider sometimes tells constituents he has nothing to do with this or that action by the Republican majority–he's even tried that line on me–he influences important decisions, such as what bills come to the Senate floor. And he hasn't voted against any high-profile bill that passed since Republicans gained control of the upper chamber. That includes abortion restrictions that are unpopular among mostly pro-choice suburbanites (a 20-week ban with almost no exceptions, a 72-hour waiting period later struck down by the Iowa Supreme Court, and a near-total ban on abortions after 6 weeks, struck down by a Polk County District Court).
As is true for Senate district 20 next door, many teachers and state or county employees live in West Des Moines, Clive, Windsor Heights, and Waukee. The Republican attack on collective bargaining rights in 2017–recently upheld by a divided Iowa Supreme Court–has hit thousands of Schneider's constituents in the pocketbook and will drive volunteer energy toward his opponent.
Speaking of which, here's some background on Tricia Gavin, from her campaign website (click through for more):
I am an integrated marketing manager with leadership experience in the areas of strategic planning, consulting and communications. My career has given me the opportunity to work in corporate, government and start-up organizations to research, understand and communicate about large, complex issues to diverse audiences. Of relevant importance, I was a defense contractor in Washington D.C. supporting business transformation at the Department of Defense and acquisition programs for the U.S. Coast Guard. I was also the marketing division manager for Allstate Insurance Corporation's northwest region. I have had the opportunity to manage people, organizations, committees, and budgets (up to $30 million). I truly enjoy using my natural ability to work with many different types of personalities and across multiple layers of approval to reach successful outcomes. Currently, I am a product marketing manager providing credit unions with the latest technology to strengthen member connections and propel growth. […]

Throughout my life, I have always been a justice seeker and believe every person deserves fair representation in life. After having lived across the country, I can wholeheartedly say that we have something unique in Iowa and now is the time to protect our people and neighborly relationships to make forward progress. I will help ensure equal and fair legislation to advance the goodness for all versus a select few. I firmly believe it is important to have diversity represented in our legislation to drive innovation and have an equal gender voice at the table.
Like many women, Gavin was inspired to run for office following the 2016 election. You can follow her on Twitter or through her campaign page on Facebook. As mentioned above, a competitive Democratic primary is likely in Senate district 22. Bleeding Heartland has no plans to endorse a candidate for the nomination.
The eventual nominee will be at a financial disadvantage in this race. Schneider raised $367,775 (mostly from political action committees) in 2018 alone, when he wasn't up for re-election. He donated $421,000–almost everything in his campaign bank account–to the state Republican Party.
With his political career at risk, Schneider will raise substantially more money next year from high-dollar individual donors and corporate PACs. The Iowa GOP spent no money in-kind to support Schneider's 2016 re-election, but it will be a different story in 2020.
Final note: Democrats now have declared candidates in three of their best Iowa Senate pickup opportunities. Firefighter Steve Gorman will challenge Republican incumbent Dan Dawson in Senate district 8 (Council Bluffs). Johnston City Council member Rhonda Martin is running against incumbent Brad Zaun in Senate district 20 (Urbandale, Johnston, Grimes).
I'm not aware of any Democrat actively campaigning in Senate district 44 (Burlington area), which should be a high priority as the party tries to reduce the 32-18 Republican majority in the upper chamber.
UPDATE: Gavin formally announced her candidacy in a June 18 news release.
Gavin Announces Candidacy to Run for Iowa Senate

Democrat Tricia Gavin vows to work for everyday Iowans, not special interests

WEST DES MOINES — Tricia Gavin, a marketing manager and Iowa native, has declared her candidacy for Iowa State Senate District 22, which includes portions of West Des Moines, Waukee, Clive and Windsor Heights.

"Senator Charles Schneider and other Republican leaders in the Iowa Legislature are siding with special interests instead of working families, small businesses and seniors," Gavin said. "Their priorities are restricting health care decisions for Iowa women, underfunding public schools, and making job training and college less affordable."

Gavin said her priorities will include expanding women's health care options, investing more in K-12 schools and job training, protecting the civil rights of all Iowans, improving water quality, and ensuring that more Iowans have access to affordable housing.

"The special interests having been running the show at the Iowa Capitol for too long," she said. "I will ignore the partisan political games and work hard for increase opportunities for the everyday Iowans in West Des Moines, Waukee, Clive and Windsor Heights."

Gavin is Product Marketing Manager for credit unions in Clive. She grew up in eastern Iowa. She graduated with a bachelor's degree in marketing from the University of St. Thomas in St. Paul, Minnesota. She previously worked as Marketing Division Manager for Allstate Insurance, in business transformation at the U.S. Department of Defense, and in acquisition programs for the U.S. Coast Guard. She is a graduate of the Emerge Iowa Training program.

Gavin has volunteered for several community-based organizations, including Special Olympics, Taproot Foundation and JDRF.