What a difference a few years makes.
Democrats did not field a candidate against State Senator Brad Zaun in 2008 or 2012. The party provided no financial assistance to Senate district 20 nominee Miyoko Hikiji in 2016. That year, the Senate Majority Fund spent almost nothing on offense, as six-figure sums went toward trying to save Democratic-held seats around the state. Zaun won a fourth term by more than a 7,000 vote margin.
With central Iowa's suburban voters trending toward Democrats, Zaun has emerged as one of the most vulnerable Senate Republicans for the 2020 cycle. As of May 15, he has a top-tier challenger: Johnston City Council member Rhonda Martin.

Senate district 20 covers the northwest corner of Polk County, including most of Urbandale, Johnston, Grimes, and Jefferson township.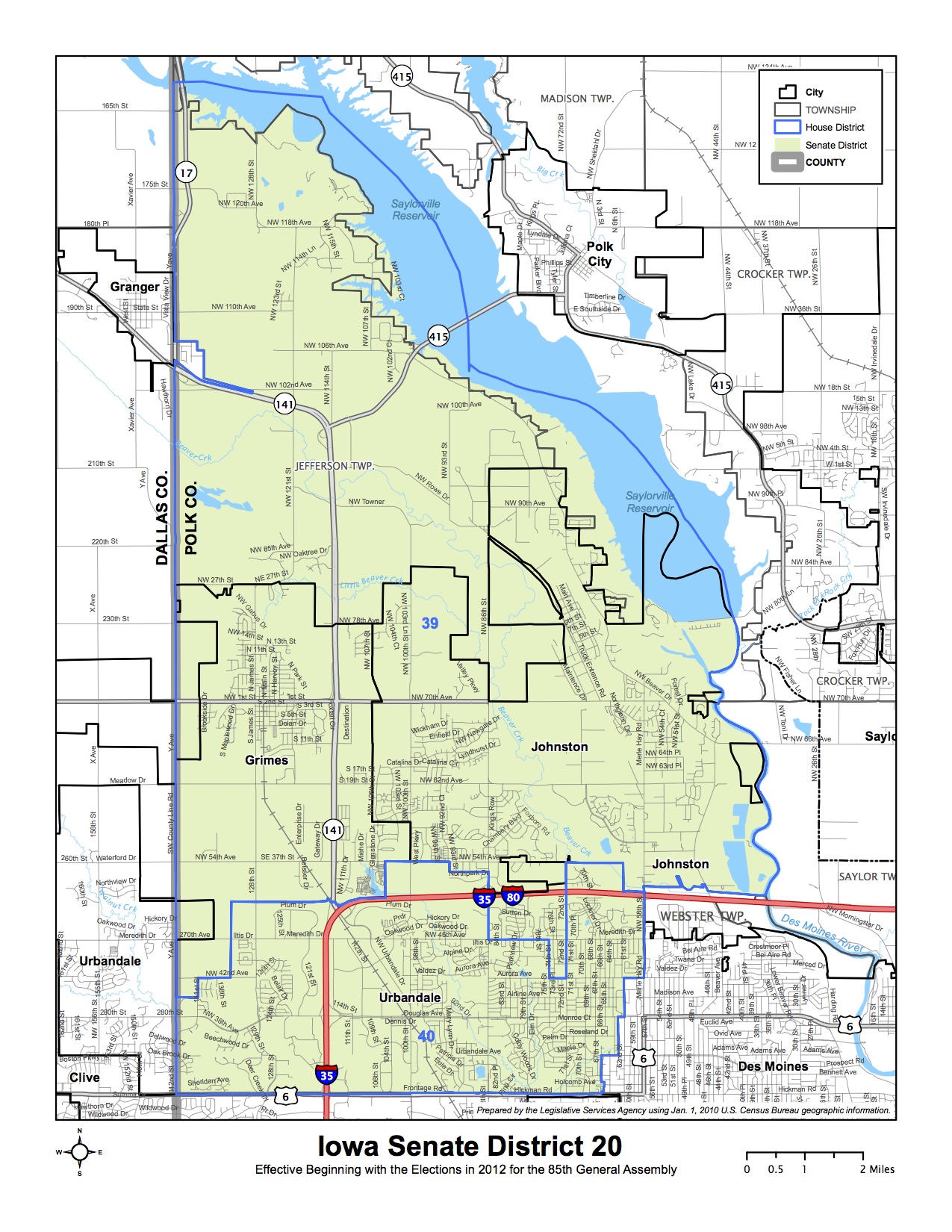 On paper, the district leans to the GOP, with 14,628 active registered Democrats, 16,559 Republicans, and 15,374 no-party voters according to the latest figures from the Iowa Secretary of State's office. Going into the 2016 general election, the GOP voter registration advantage here was twice as large.
The change in voting behavior is more striking. This essential Daily Kos Elections spreadsheet shows that only four of Iowa's 50 state Senate districts delivered a higher share of the vote for Hillary Clinton in 2016 than for Barack Obama in 2012. Three are located in the central Iowa suburbs: Senate district 20, Senate district 21 (which also includes part of the city of Des Moines), and Senate district 22. (The fourth was Senate district 43 in Iowa City.)
Mitt Romney outpolled Obama in Zaun's district by 52.8 percent to 46.1 percent, even as Obama carried the state of Iowa by 52.0 percent to 46.2 percent. However, Clinton received 46.8 percent of the vote in the Senate district 20 precincts, compared to 46.4 percent for Donald Trump in November 2016. Trump won statewide by 50.6 percent to 41.3 percent.
Residents of this district favored Fred Hubbell for governor last year by a 51.1 percent to 47.2 percent margin, even though he lost the race by about 3 points statewide. Four years earlier, voters here favored Joni Ernst in the U.S. Senate race by about 13 points, larger than her 8-point statewide victory over Bruce Braley.
More signs of the times: Karin Derry defeated GOP incumbent Jake Highfill last year in House district 39, covering half of Zaun's Senate district. Of the five Iowa House seats Democrats flipped in the Des Moines suburbs, this win was the most unexpected, given the Republicans' structural advantage in the area.
Democrat John Forbes has represented House district 40, covering the Urbandale part of Senate district 20, since 2012. Republicans have never given him a tough re-election and didn't nominate a challenger against him in 2018.
Derry organized the May 15 event where Rhonda Martin announced her candidacy to a cheering crowd.
A landscape architect working for Iowa State University, Martin has lived in Johnston for more than two decades. She has been active in her community for a long time, serving on local boards and committees.
Like so many women in Iowa and around the country, Martin became much more politically engaged following the 2016 election. She began attending public forums and ran for office for the first time in 2017, winning a seat on the Johnston City Council. Martin was by far the highest vote-getter in a field of four candidates, where voters could select up to two.
More background on the newest Iowa Senate candidate, from a sheet Martin handed out at the May 15 event: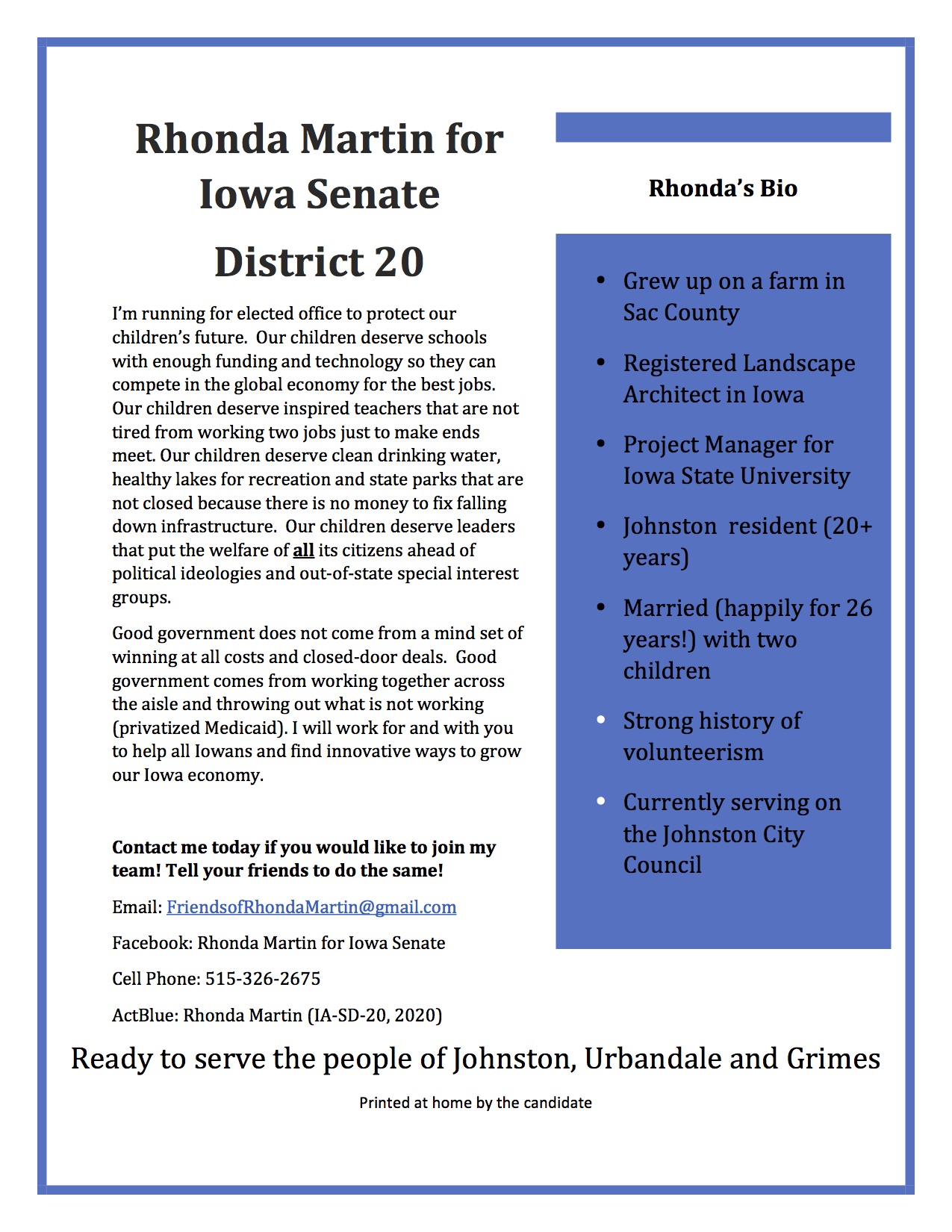 Few Iowa House challengers had a more dedicated army of volunteers than Derry in 2018. Martin was part of that effort and will benefit from it next year, since Derry's seat will be among the House races targeted by both parties.
It would be hard to overstate the enthusiasm for ousting Zaun among Polk County Democrats, especially women. Zaun has been among the most active Republican lawmakers when it comes to eliminating reproductive rights. In 2017, he tried to pass a "personhood" bill and strongly supported a 20-week ban with almost no exceptions, along with a 72-hour waiting period for abortions at any stage. (The Iowa Supreme Court later struck down the waiting period, but the cruel 20-week ban remains in effect.)
As Iowa Senate Judiciary Committee chair, Zaun introduced last year's bill that would have banned almost all abortions after six weeks of pregnancy. A Polk County District Court struck down that law in January, and Governor Kim Reynolds opted not to appeal to the Supreme Court.
A large number of teachers and state or county employees live in the communities that are part of Senate district 20. The Republican attack on collective bargaining rights in 2017 still resonates strongly and will drive a lot of volunteer energy toward Martin.
That said, it's never easy to defeat an incumbent. Republicans will have plenty of money to spend defending this seat. Zaun's well-known in the community, especially in Urbandale, where he served as city council member and mayor before winning his first state Senate race in 2004. Here's an excerpt from his official bio:
Senator Brad Zaun was first elected to the Iowa Senate in 2004. Before serving in the Iowa Senate, Senator Zaun was the mayor of Urbandale, and owner and operator of Zaun's Trustworthy Hardware. He is currently Director of Sales at Master Dowel in Ankeny.

Senator Zaun generously gives back to his community by serving on various boards and commissions. He is a past board member of the Greater Dallas County Development Alliance, the Greater Des Moines Animal Rescue League, Iowa Commercial Real Estate Association and a current member of the Urbandale Breakfast Lions Club to name a few.

Senator Zaun finds time for his biking hobby, his family, and enjoys time with the love of his life, Dede. He and Dede live in Urbandale and have five children: Zac, Bailey, Drew, Greyson and Devon.

Employment Highlights: Owner of Zaun's Trustworthy Hardware (1988-2005) Vice President R&R Realty (2005-2012) Director of Sales & Marketing Grapnel Tech Services (2012-Current) Director of Sales Master Dowel (2014-Current)

Civic/Professional Organizations: Past State of Iowa Child Support Advisory Board, Iowa Jobs for America's Graduates board member, Past Generation Iowa Commission member, Mid Iowa Small Business Development Center board member
Any comments about this race are welcome in this thread.
UPDATE: Forgot to mention how to follow Martin on Twitter and Facebook. Zaun doesn't seem to be active on Twitter, but his campaign has a Facebook page.
LATER UPDATE: Twitter user @BMcM2018 made charts showing the 100 Republican-held state Senate seats on the ballot in 2020 "where Clinton performed best in 2016 (measured by % margin between Clinton & Trump)." Iowa Senate district 22 was number 32 on that list, while Senate district 20 was number 47.
Top image: Republican State Senator Brad Zaun and Democratic challenger Rhonda Martin.