Some sobering facts about the bloodbath that was the 2016 election in Iowa:
Donald Trump carried eighteen state Senate districts that had voted for President Barack Obama in 2012.*
Eleven of those eighteen were even-numbered districts, which are on the Iowa ballot in presidential election years.
The four Republicans who already represented Obama/Trump districts all easily won another term in the Iowa Senate.**
But six of the seven Democratic senators up for re-election in Obama/Trump districts lost: Majority Leader Mike Gronstal (Senate district 8), Mary Jo Wilhelm (Senate district 26), Brian Schoenjahn (Senate district 32), Steve Sodders (Senate district 36), Tom Courtney (Senate district 44), and Chris Brase (Senate district 46).
With Republicans now enjoying a 32-18 majority in the upper chamber, Democrats need to win back at least a few Obama/Trump seats next year to have a realistic chance of regaining Iowa Senate control after the next round of redistricting.
Democrats have been actively campaigning in Senate districts 8 and 44 for some time. Now GOP State Senator Jeff Edler has a strong challenger in Senate district 36.

THE POLITICAL LANDSCAPE OF AN OBAMA/TRUMP DISTRICT
This district covers all of Marshall and Tama counties and a small area in Black Hawk County.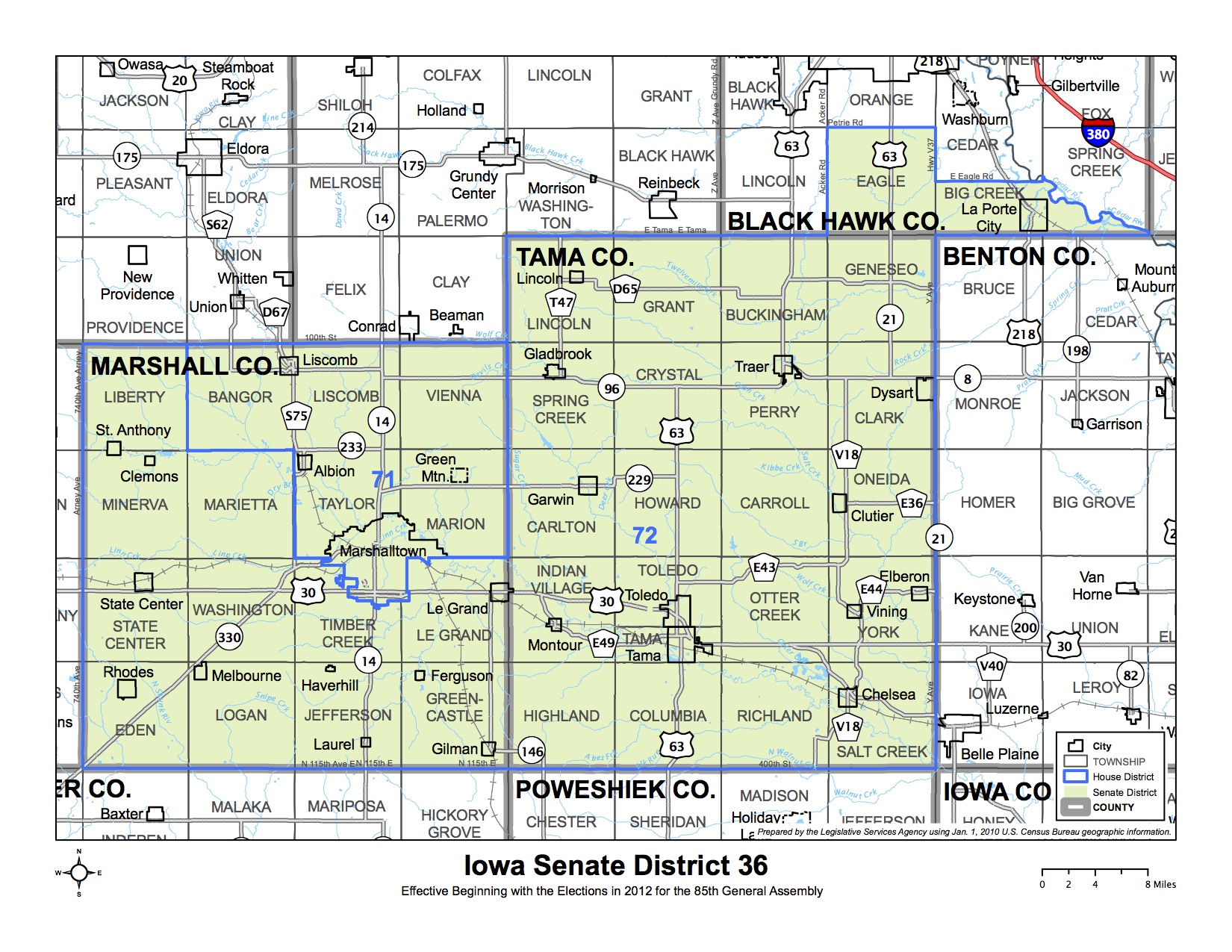 Republicans had planned to target this district in 2012, but tea party favorite Jane Jech unexpectedly defeated the GOP establishment's preferred candidate, former Senator Larry McKibben, in the primary. During the general election campaign, Republicans spent less than $50,000 on Jech's behalf, while Democrats spent more than $350,000 defending their first-term incumbent Steve Sodders.
The vote totals for Sodders and Jech were remarkably close to the results for Obama and Mitt Romney in the district. Sodders won by 54 percent to 46 percent.
Four years later, the Republican Party spent more than $540,000 on behalf of first-time candidate Edler, while Democrats spent about $420,000 trying to save Sodders' seat. The National Rifle Association's Iowa affiliate was among the outside groups that spent heavily here as well.
Senate district 36 residents favored Trump by 53.8 percent to 40.8 percent for Hillary Clinton, a huge swing from Obama's 53.5 percent to 45.3 percent margin over Romney. Sodders received 1,700 more votes than Clinton did, but it wasn't enough. Edler won by 53 percent to 47 percent.
On paper, Senate district 36 is relatively balanced, with 10,452 active registered Democrats, 11,099 Republicans, and 14,196 no-party voters, according to the latest official figures. Like some other competitive Iowa Senate districts, its two halves have vastly different political profiles. Democratic State Representative Mark Smith has held House district 71 (containing Marshalltown) by comfortable margins most years. House district 72 has been a relatively easy hold for Republican Dean Fisher, except for his first legislative race in 2012, when Obama narrowly carried his district.
BACKGROUND ON THE CANDIDATES
Edler chaired the Senate Local Government Committee during the 2019 legislative session and also served on the Agriculture, Education, Human Resources, International Relations, Veterans Affairs, and Ways & Means committees. His official bio on the Iowa Senate Republicans' site describes him this way:
Senator Jeff Edler and his wife, Stephanie, have been married since 1998 and live on a farm north of State Center. They are the parents of six beautiful children: Wyatt, Whitney, Sienna, Elizabeth, Aubrey, and last but certainly not least, Sawyer.

Senator Edler graduated from West Marshall High School in State Center and Iowa State University where he received a Bachelor of Science in Agriculture Studies. He has also attended workshops and classes sponsored by the National Rural Electric Cooperative Association (NRECA) and the Iowa Association of Electric Cooperatives (IAEC). These classes focused on fiduciary, governance, strategic planning, and accountability skills.

Senator Edler is self-employed as a farmer and partner with his brother, Justin Edler. He has farmed with his brother since 1996. Senator Edler served as director on the Consumers Energy Board of Directors from 2006-2018, where he had resided as president of the Board of Directors from 2010-2016.

Senator Edler was elected to the Iowa Senate in 2016. He enjoys spending time with his family and working on the farm. He is also an honorary member of the State Center Fire Department, St. Joseph's Catholic Church in State Center and is a member of the National Rifle Association (NRA).
The Iowa Senate Democrats introduced Dave Degner in an August 27 news release as "a life long Tama County native, instructor at Hawkeye Community College, veteran, and former small business owner."
Degner is running for the Iowa Senate in 2020 to create more opportunities for the people in Tama, Marshall and Black Hawk counties.

"I will work hard to create good jobs in our communities, to improve public safety, to fight for, and protect vulnerable citizens who rely on Medicaid, and to create more opportunities for small businesses and family farmers," Degner said.

Degner said he supports:

Making tuition affordable at our community colleges so workers can get the training they need for 21st century jobs.
Expanding access to affordable health for all Iowans, especially working families and fixing the Medicaid crisis facing Iowans with disabilities.
Increasing the state's investment in public K12 schools, especially in small towns and rural areas.
Increasing the production of renewable energy, which results in creating jobs in Iowa that won't be exported to another state or country.
Creating a better system to help victims of tornados, floods and other natural disasters get back on their feet.
Raising the minimum wage and expanding the rights of Iowa workers.

He added: "I am running to provide new leadership to the people in Marshall, Tama and Black Hawk counties that focuses on the real problems facing working families, veterans, seniors and other neighbors and friends living in Senate District 36. It's time we had someone representing this district who is willing to work for them, not special interests or big donors."

A graduate of North Tama High School, Degner grew up on and worked on his family's farm, he has been an owner-operator in the trucking industry and a production tech for Pioneer Hybrid in Reinbeck. He is currently a Business and Continuing Education instructor at Hawkeye Community College and a student at the University of Northern Iowa studying Political Science and International Relations.

"I want to serve the people of Tama, Marshall and Black Hawk counties because that's where my parents and grandparents worked hard to raise their families," Degner said. "My parents and grandparents were farmers, UAW members at John Deere, workers at Rath Packing, over-the-road truckers, and counselors at the mental health institute in Independence. I was raised by hard-working, blue collar Iowans and I am proud of that."

A community activist, Degner has been a regular volunteer with the Northeast Iowa Food Bank and has served in the U.S. Army Reserve for nine years.
The "Meet David" page of Degner's campaign website has more to say.
"I'm running for the State Senate because politics has become personal for me. I'm not a politician, I'm a concerned Iowan who has had too many family and friends affected by the State Legislature's inability to put people first in our state. The state of Iowa has turned away from the priorities and values it once stood for, our representatives should be looking out for their constituents, not giving handouts to special interests," says Degner. "I feel compelled to do something more than just vote, that's why I'm taking on this fight: to help solve the problems that have hurt members of my family, fellow students, teachers and vulnerable citizens across the state who are in need."

Dave is a fifth generation Iowan and was born to a family of farmers, proud union workers and small business owners in Tama county. Degner grew up helping his family's farm, served in the U.S. Army Reserve for 9 years and was a small business owner for 15 years. He has also worked for Pioneer Hi-Bred and as a bulk fuel transport driver. He now works as an instructor at Hawkeye Community College in Business and Community Education, is a graduate of Hawkeye Community College and a student at the University of Northern Iowa.

Degner enjoys spending free time with his family, riding his motorcycle and volunteering in the community. Dave is a member of the American Legion, and Hawkeye Community College Student Veterans Association.
Quite a few farmers, educators, veterans, or small business owners have won Iowa legislative races. It's rare to see all of that experience wrapped up in one candidate.
I haven't heard of other Democrats thinking seriously about this race, so I assume Degner will be the Senate district 36 nominee. However, a competitive primary is possible. It's easy to qualify for the ballot in Iowa; candidates need to collect only 100 valid voter signatures for a state Senate race.
Degner was among four Democratic candidates in Iowa House district 72 last year. He lost the primary to Mindy Benson by ten votes. She lost to Fisher by nearly 2,500 votes. As mentioned above, House district 72 leans strongly Republican; neither party targeted Fisher's race in 2018.
FACTORS FAVORING EACH CONTENDER
Edler goes into this campaign with the usual advantages of incumbency, like higher name recognition thanks to four years of public events and local media coverage. All other things being equal, Iowans tend to re-elect incumbents. But it's way too early to predict whether the prevailing political winds next fall will favor Republicans (as in 2016) or Democrats (like last year). Trump's trade policy and other actions opposed by corn growers and ethanol producers may hurt the president in rural areas and smaller towns, especially if Democrats nominate a less polarizing candidate than Clinton.
In addition, Edler benefited from being a blank slate in his first Senate campaign. Now he is on record backing every controversial law Republicans have enacted since 2017.
Thousands of Senate district 36 residents lost collective bargaining rights or were adversely affected by other GOP policies. For instance, Medicaid privatization caused Central Iowa Family Planning to shut down in 2016 after four decades of providing services in Marshalltown and Toledo (Tama County). Edler wasn't in the legislature when the Branstad administration privatized Medicaid, but he's been part of a GOP majority that repeatedly failed to act on Democratic proposals to reverse the policy or improve oversight of the for-profit companies running the program.
Meatpacking has long been a large industry in the Marshalltown area. A 2017 workers' compensation overhaul dramatically reduced benefits, especially for Iowans with shoulder injuries–a common injury in meatpacking plants, as well as for police officers and firefighters. If I were Degner, I'd run ads featuring area residents who suffered career-ending workplace injuries. Many will receive tens of thousands of dollars less in workers' comp to support their families, thanks to Edler and his GOP colleagues.
During his first year in the legislature, Edler robotically repeated the Republican Party line that defunding Planned Parenthood would provide "more access" to reproductive health care. He couldn't explain how, and the opposite turned out to be true. Iowa's new family planning program, created for the sole purpose of excluding Planned Parenthood, served half as many Iowans and paid for 73 percent fewer services, state data showed in 2018.
Iowa lawmakers often like to stress their independence or bipartisan work, but I am not aware of any significant Senate vote on which Edler went against his party leaders.
One accomplishment is likely to feature prominently in Edler's campaign messaging: he floor managed a children's mental health bill, which passed with bipartisan support this year. Skeptics noted that the bill didn't include much funding. Edler described it as a "skeleton" on which a better children's mental health care system can be built.
Another possible advantage for Edler: Degner is from the smaller and more Republican part of the Senate district. Marshall County has more than double the population of Tama and about twice as many registered voters. Edler barely outpolled Sodders in Marshall County 2016. If he can increase his margin there next year, he'll be in good shape.
A final point worth mentioning: Marshall has the third-highest percentage of Latino residents among Iowa's 99 counties, and Tama ranks twelfth on that measure, according to the State Data Center's Latinos in Iowa: 2018 report. The most recent U.S. Census Bureau data indicate that Latinos comprise 22.4 percent of Marshall County residents and 10.3 percent in Tama County.
Several Democratic presidential campaigns are working hard to identify and mobilize supporters in the Latinx community, where Trump's racist rhetoric and cruel policies toward immigrants and asylum seekers are unpopular. Whether those efforts will translate into significantly higher 2020 election turnout remains to be seen.
Any comments about the Iowa Senate district 36 race are welcome in this thread.
---
*The eighteen Iowa Senate districts that voted for Obama in 2012 and Trump in 2016 were Senate districts 7, 8, 15, 24, 26, 27, 28, 29, 32, 36, 38, 39, 41, 42, 44, 46, 48, and 49. You can find the 2012, 2014, 2016, and 2016 results for all 50 Iowa Senate districts on this Daily Kos spreadsheet.
**The four Republican state senators who won re-election in Obama/Trump districts in 2016 were Jerry Behn (Senate district 24), Michael Breitbach (Senate district 28), Tim Kapucian (Senate district 38), and Dan Zumbach (Senate district 48).

Top image: State Senator Jeff Edler (left) and Democratic challenger Dave Degner.