UPDATE: Breitbach announced on February 10, 2020 that he will retire. State Representative Michael Bergan is expected to run in Senate district 28 rather than for re-election in House district 55, but he has not clarified his plans. LATER UPDATE: Bergan will run for the House again. Spillville Mayor Mike Klimesh will seek the GOP nomination in the Senate race. I've added background on him below.
A few words about the title: Republican State Senator Michael Breitbach has told some constituents and people connected to the legislature he does not plan to seek a third term in 2020. So Matt Tapscott may end up running for an open Iowa Senate seat.
In response to Bleeding Heartland's inquiry, Breitbach commented via e-mail on October 14, "There is plenty of time for me to make my decision whether to run again in 2020. I was very happy with the support I received in my last election and I feel I have been successful during my time in the Senate."
Having covered the Iowa legislature for more than a decade, I've learned to be skeptical about retirement rumors. Party leaders have a way of talking reluctant incumbents into seeking re-election. Breitbach has good committee assignments; not only does he chair the Senate Appropriations Committee, he also serves on the Commerce and Transportation panels.
So until Breitbach publicly announces he's done, I assume he will be on the ballot next November in one of eighteen Iowa Senate districts where voters favored President Barack Obama in 2012 and Donald Trump in 2016.*

THE POLITICAL LANDSCAPE
Senate district 28 covers Allamakee and Clayton counties, most of Winneshiek County, and parts of Fayette County.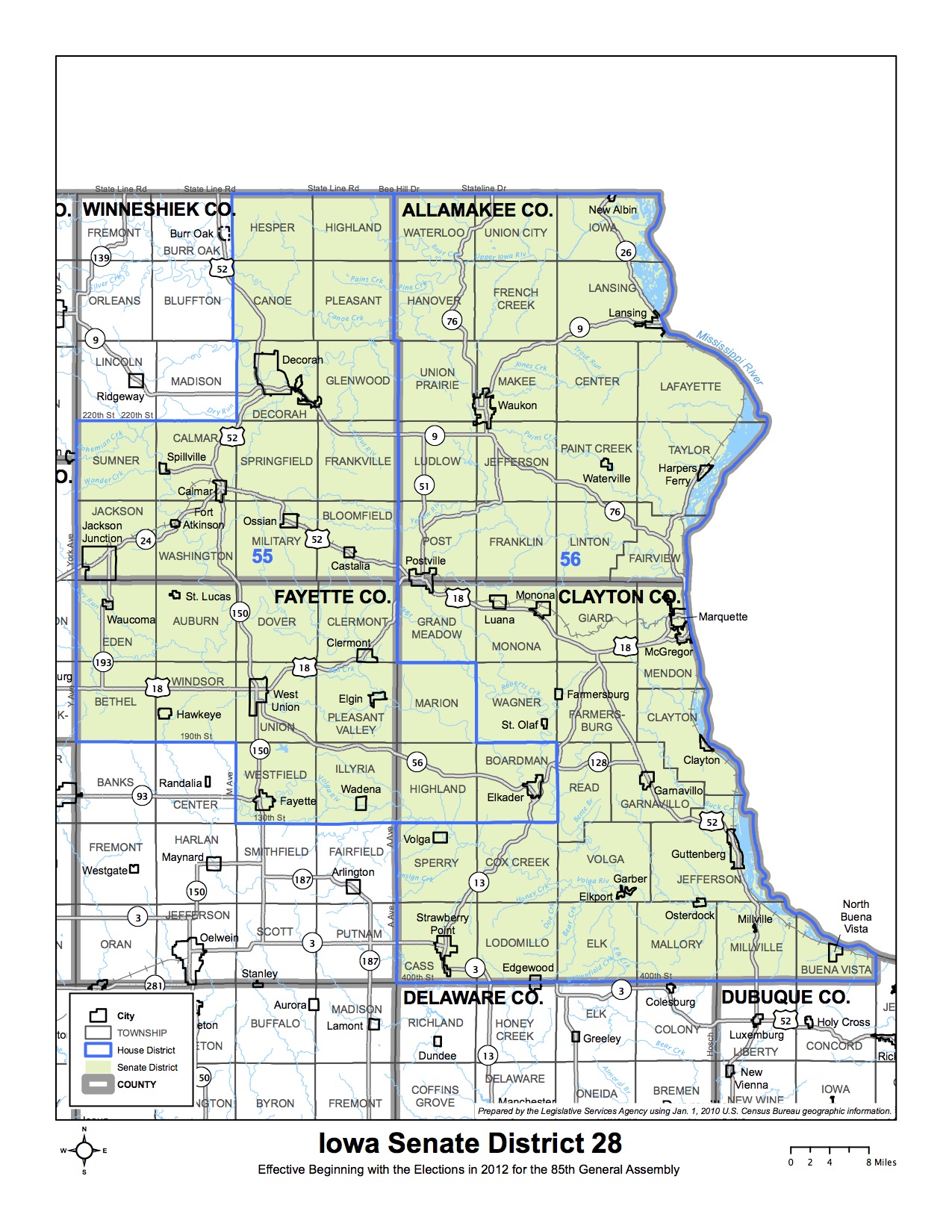 Trump outperformed Mitt Romney across most of Iowa, but few areas saw larger swings than the small counties near the state's northeast corner. These counties are part of the "driftless area," which also includes some of southeast Minnesota and southwest Wisconsin. For reasons that political scientists have yet to explain adequately, Obama performed far better in this region than in comparable rural areas almost anywhere else in the country.
That anomaly disappeared in 2016, as the driftless counties voted more in line with expectations for rural regions with mostly-white populations. Obama carried Senate district 28 by 53.7 percent to 45.0 percent for Romney in 2012, but Trump carried the same precincts by 55.0 percent to 39.4 percent four years later.
Signs of a rightward shift were also apparent in the two latest midterm elections. In 2014, Republican U.S. Senate candidate Joni Ernst outpolled Bruce Braley by 52.1 percent to 43.4 percent in Senate district 28, comparable to her statewide margin of victory. But in last year's governor's race, Kim Reynolds received 54.4 percent of the vote here, to just 41.9 percent for Fred Hubbell--roughly four times her statewide margin over the Democrat.
Senate district 28 had no incumbent in 2012, and Democrats made a big play for the seat, outspending Republicans. The race was close enough to require a recount, but Breitbach defeated former State Representative John Beard by seventeen votes out of more than 29,000 cast.
Breitbach was easily re-elected in 2016 with more than 58 percent of the vote. Democrats in effect conceded this race by spending little on behalf of challenger Jan Heikes, compared to the party's investment in more competitive districts.
Voter registrations lean to the GOP, but a plurality of residents have no partisan affiliation. The latest official figures indicate that Senate district 28 contains 10,198 active registered Democrats, 13,509 Republicans, and 14,197 no-party voters.
Republicans hold both Iowa House districts that make up this Senate district. House district 56 was an easy hold for the GOP in 2018; neither party targeted the race. In contrast, House district 55 was a hard-fought campaign ending in controversy. GOP State Representative Michael Bergan was declared the winner by nine votes, but 29 ballots that Winneshiek residents cast on time were never opened and counted.
BACKGROUND ON THE CANDIDATES
Like many state legislators, Breitbach had a long record of community involvement before running for the Senate. From his official bio:
Senator Michael Breitbach is a 1974 graduate of Edgewood-Colesburg Community Schools and a 1978 graduate of Loras College, where he earned a degree in accounting and business.

After college, Senator Breitbach formed Trans Star Trucking, a 20-employee cement and flyash hauling company, with his brother Tim and Roger Swales in 1984. In 1987, Senator Breitbach joined Smith Insurance in Strawberry Point, a 10-employee agency, eventually becoming a partner in 1992. Senator Breitbach remained a partner for 28 years. In 1997, he purchased Swales Precast Inc, a 15-employee precast concrete manufacturer, with his brother and Roger Swales.

Senator Breitbach also has extensive community leadership and involvement. He serves as a board member of the Clayton County Civil Service Commission, Farmers Savings Bank, Strawberry Point Economic Development Fund, Strawberry Homes and Strawberry Point Leisure Homes. He is a member of the Iowa Motor Truck Association, the Iowa Ready Mixed Concrete Association, the Iowa Concrete Paving Association, the Iowa Bankers Association, Strawberry Point Lions Club, Core Curriculum Committee of Starmont Community School District and an Alumni Member of Leadership Iowa. Senator Breitbach is also a former member of the the Iowa Independent Insurance Association.

Additionally, he served four years on the Strawberry Point City Council, and is a past board member of the Strawberry Point Chamber of Commerce, the Backbone Golf and Country Club and is past president of the Strawberry Point Jaycees. He served 30 years on the Strawberry Point Fire Department, including five years as chief and was an EMT for 22 years.

Senator Breitbach and his wife, Theresa, have been married since 1977 and have four adult children. Theresa is a retired registered nurse from Covenant Medical Center in Waterloo and Oelwein. They are members of the St. Mary's Catholic Church.
The Democratic challenger's slogan is "Strength of a Marine. Heart of a caregiver," alluding to the small business owner's professional background. His campaign's September 26 news release described the candidate this way:
"Northeast Iowa needs a leader in the Iowa Senate who will listen to people and advocate at the Iowa Capitol for positive rural changes," Tapscott said. "People tell me that they are tired of the "I don't need to listen to you" attitude and divisive politics by our current legislators. I promise to listen to Iowans living in NE Iowa and to care for Iowa's future by investing now in our people and our communities."

An Iowa native, Tapscott owns and operates Almost Home Early Learning – Naturally, an Iowa Department of Human Services regulated Child Development Home. He serves currently as President of the Iowa Family Child Care Association and is a regular presenter at Child Care conferences.

He served three years in the U.S. Marines, serving as a weapons platoon sergeant in the Pacific Rim.

Tapscott and his wife Denise are parents/stepparents to three children. Denise is a Family and Community Specialist for the Northeast Iowa Community Action Corporation's Early Childhood Programs. They are members of the Good Shepherd Lutheran Church in Decorah.

He currently serves on the Board for the Toys Go 'Round Toy Lending Library, which services families throughout Northeast Iowa. He previously served on the Decorah Human Rights Commission, Decorah Public Library Board of Directors, and as Chair of the Winneshiek County Democratic Party. An outdoor enthusiast, he enjoys fishing, camping and bicycling.

"I want to use my experiences – as a small business owner, a community activist and as a Marine -- to serve as an advocate for those living in Northeast Iowa who are dealing with working family issues and deserve a strong "putting people first" voice in our Legislature," he said.

Tapscott pointed to several other key issues that inspired him to run, including:

• Adequately funding local public schools, especially those in rural areas and small towns, to return our public schools to the place of national prominence they once were.
• Improve access to and affordable healthcare for all Iowans.
• Create a high-quality childcare and early learning system that meets the needs of children, working families, and providers who deliver this critical need service.
• Helping small, diversified farmers get a healthy foothold in Iowa's agricultural structure.
• Addressing climate change at the local and state level.

"The hardworking families of Northeast Iowa deserve a Senator who will listen to all sides of an issue, bring all the parties together, and help solve real problems in a bipartisan manner at the Capitol," he said. "I will be visiting every corner of the district to "listen-and-learn" from as many voters as possible. I encourage anyone to contact me tapscottforiowasenate@gmail.com."
A few days after he made his campaign official, Tapscott indicated health care would be one of his top priorities, telling me by e-mail,
People say "government can't solve all problems." That is true. But government can sure as hell ensure families are not destroyed because of health care needs.

Government can and needs to do this, and numerous other important things in our country (and our state) that no one individual can do alone. It is what makes America America.
I circled back last week. Tapscott told me on October 13 that he's visited all of the counties multiple times and found health care is "overwhelmingly" the number one topic of interest.
Almost every voter contact I make in which issues become a part of our conversation, I hear about the struggle with rural health care: costs and access. The other issue I have heard about, and one close to my heart, is childcare. Many working parents talk of the cost and availability of quality childcare while care providers talk about the struggle to "make it" (financially) delivering this critical need service. Caring for Iowa's future, literally, should not be this disjointed.
FACTORS FAVORING EACH CONTENDER
All other things being equal, Iowans generally re-elect incumbents. So conventional wisdom says Republicans have a better chance of holding this seat if Breitbach runs for a third term.
On the other hand, Breitbach was situated differently when he was last on the ballot. He'd spent four years in the minority with little influence over bills that passed the Senate. Now he's on record voting for every controversial law Republicans have enacted since they gained total control of state government in 2017. (I am not aware of Breitbach voting differently from the GOP caucus on any bill, big or small.) Thousands of Senate district 28 residents lost their public employee collective bargaining rights or are affected by Medicaid privatization, to name just a couple of examples.
As Senate Appropriations Committee chair, Breitbach is among the key architects of the state budget, so he is on the hook for decisions like funding K-12 school districts below the level needed to keep up with rising costs.
Energy policy could become a salient campaign issue here. Breitbach floor-managed a utility-backed bill in 2018, which undermined gas and electricity efficiency programs. Republicans spun that legislation as a way to help consumers save money, ignoring research that shows energy efficiency programs have kept utility costs down. Then Alliant Energy (which services this part of northeast Iowa) asked the Iowa Utilities Board to approve "an increase of 24.45 percent to the base rate for residential electric customers and 25 percent to the base rate for residential gas customers beginning in 2020."
During this year's legislative session, Breitbach voted for MidAmerican Energy's proposal to add new fees for renewable energy customers, which would make solar installations too costly for most homeowners and small businesses. The bill passed the Iowa Senate, mostly along party lines, but never came up for a vote in the House.
The incumbent's actions on energy policy may be especially unpopular in the Decorah area, where Tapscott lives. Luther College has been a leader in expanding renewable energy, installing what was Iowa's largest photovoltaic solar array.
In addition, Decorah residents nearly approved a referendum in 2018 to create a municipal electric utility. Alliant Energy spent heavily to oppose the initiative, warning a local, public-owned utility would mean higher rates for consumers. Only a year later, they asked regulators for a big rate hike.
Although Breitbach has high name recognition--a key advantage for incumbents--he also has more baggage than some generic Republican who's never held office. So paradoxically, the GOP may find it harder to defend Breitbach's record than an open seat.
Many Iowa lawmakers are veterans, and many are caregivers by profession, but Tapscott's background is unusual in combining those two strengths. His messages on health care and child care should resonate with a large number of voters as well. The Iowa Policy Project reported in 2018,
Child care costs keep rising while wages have stagnated. From 2012 to 2017, the average cost of child care in a licensed home in Iowa increased 14 percent, while the cost of care in a licensed child care center rose 27 percent. In that time, the median wage rose only 13 percent. Iowa's spending on child care assistance was cut by nearly $4 million between 2015 and 2016.
Tapscott took another unusual step by endorsing Elizabeth Warren for president last month. During previous years before the Iowa caucuses, most Democratic candidates for the legislature have stayed neutral on the presidential race.
Regardless of whether Warren wins the Iowa caucuses or becomes the Democratic nominee, I doubt backing her will hurt Tapscott. It could even help him bring more volunteers on board with his campaign after the caucuses are over. Warren has built a strong field operation, which will expand in the coming months.
Furthermore, Warren is not a polarizing candidate. The latest Iowa poll by Selzer & Co for the Des Moines Register showed Warren "is the best-liked candidate in the field," with 75 percent of respondents likely to attend the caucuses saying "they view her favorably." She is drawing support from both the "Hillary" and "Bernie" wings of the Democratic Party.
If Warren becomes Trump's general election opponent, her favorability may decline in the face of well-funded conservative messaging. But in that case, it will make little difference that Tapscott was an early supporter. Iowa Republicans will try to link all Democratic candidates to the presidential nominee, regardless of whom they backed in the caucuses.
Final note: this race does not currently appear to be among the best Iowa Senate pickup opportunities for Democrats. However, House district 55 is on the top tier of Democratic targets in the lower chamber. It's not yet clear whether Bergan will seek re-election there, or whether his 2018 Democratic challenger Kayla Koether will run for the House again. Either way, Tapscott should benefit from whatever GOTV operation Democrats have going in that half of his district.
LATE UPDATE: In February 2020, after Breitbach confirmed he will retire, Spillville Mayor Mike Klimesh announced he will seek the GOP nomination for this Senate seat. Sarah Strandberg reported for the Waterloo/Cedar Falls Courier on February 18,
"I am running for the Iowa Senate to implement common-sense policies to lower the tax burden on Iowans, improve education, and ensure rural Iowa has a strong voice in Des Moines," said Klimesh.

Klimesh ran for the Iowa House in 2010 and 2012. In 2010 he lost to incumbent Brian Quirk, D-of New Hampton, in the District 15 race by a vote of 5,790 to 4,856, and in 2012 he lost to Democratic incumbent Roger Thomas of Elkader by a vote of 7,781 to 7,585 in the District 55 race.
---
*The eighteen Iowa Senate districts that voted for Obama in 2012 and Trump in 2016 were Senate districts 7, 8, 15, 24, 26, 27, 28, 29, 32, 36, 38, 39, 41, 42, 44, 46, 48, and 49. You can find the 2012, 2014, 2016, and 2016 results for all 50 Iowa Senate districts on this spreadsheet, compiled by the Daily Kos Elections team.