Memorial Day is supposed to be about honoring those who died in wartime service, but this year it's hard not to focus on the unprecedented (for our lifetimes) carnage of the novel coronavirus pandemic.
The Sunday New York Times front page on May 24 had no photos, just six columns of text with a few words about each of 1,000 people who have died in the COVID-19 pandemic. That's approximately 1 percent of the official U.S. fatalities, which are almost certainly underestimating the real death toll. As the headline conveyed, the scale of loss is incalculable.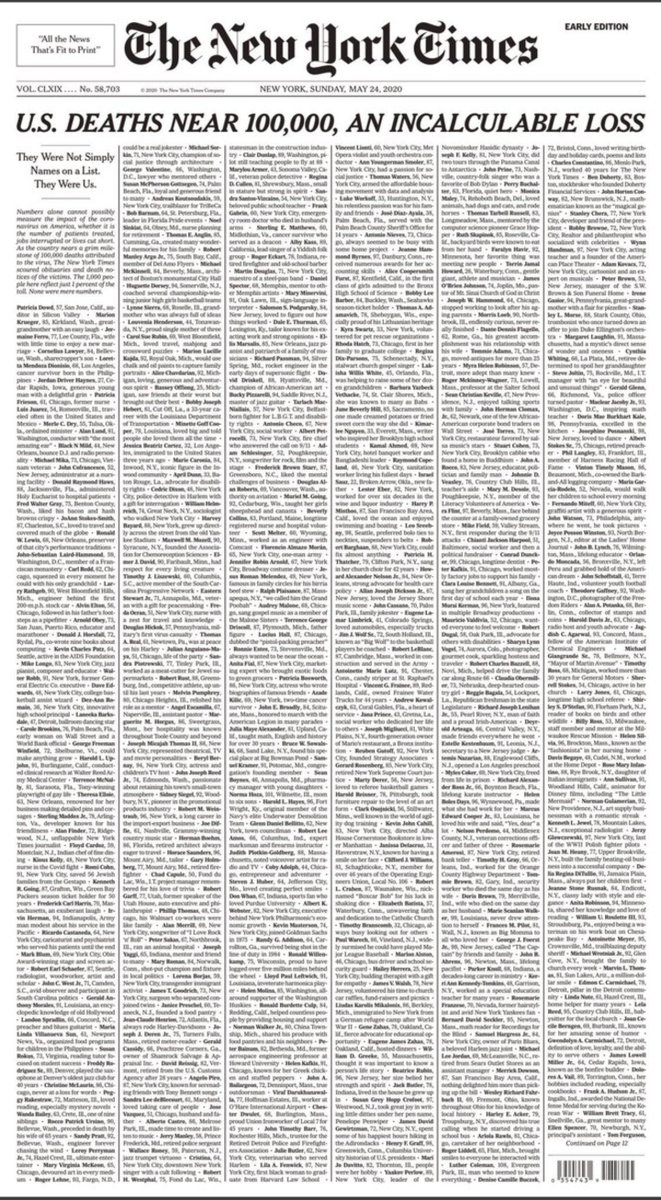 Many journalists have written heartbreaking features about Iowans who lost their battle with coronavirus. This list is not exhaustive and I welcome suggestions about other links to add.
A reader pointed me to this obituary for Darlene and Donald Kern, who were married for 74 years and died of COVID-19 within a day of each other in April. Donald served in the U.S. Air Force during World War II.
This morning, Amy Ward shared the story of her father-in-law, Jay Daniels.
Last year, Bleeding Heartland marked this holiday by focusing on Iowans who have lost their lives in wars. COVID-19 is unfortunately on track to eclipse the Iowa death tolls from wars of the last 75 years.
Officially, 456 Iowans had lost their lives to COVID-19 as of the morning of May 25. Three more were recorded by the late afternoon. That figure does not include at least one person whose death was attributed to coronavirus by the Washington County coroner, but whose test could not be processed post-mortem. Reporters should be on the lookout for other examples of Iowans who had symptoms suggestive of COVID-19 and confirmed contact with a positive case, but who were never tested or whose tests were inconclusive.
At least 242 Iowans who were living in nursing homes have died of coronavirus. That figure does not include people like Jay Daniels, who was in an assisted living facility that the Iowa Department of Public Health does not define as "long-term care" and therefore does not list on its dashboard for nursing home cases and deaths.
I charted the number of deaths for each day since March 24. The green line represents deaths state officials announced in news daily releases through May 6 (when they discontinued the practice), and after that, the change in total deaths on the state's COVID-19 website each morning around 10:00 am.
The blue line represents the number of lives lost on each day, according to death certificate data, which the state health department uses for its own daily deaths graphic. Numbers for the last two or three days will likely increase as more data from around the state is reported to the IDPH. The red line represents the seven-day moving average in those deaths.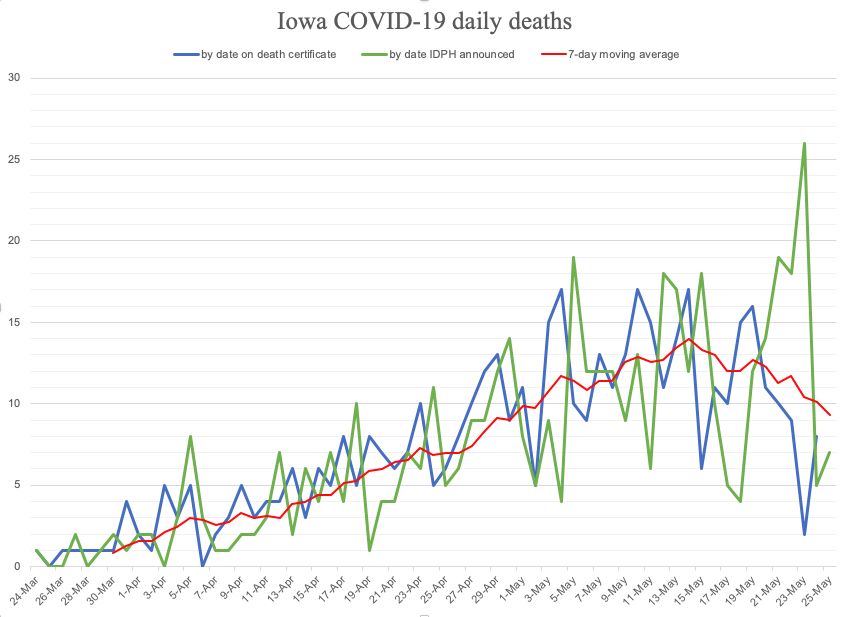 This map from the state website shows where COVID-19 deaths have been recorded. The numbers on the bar graph indicate fatalities by date on the death certificate.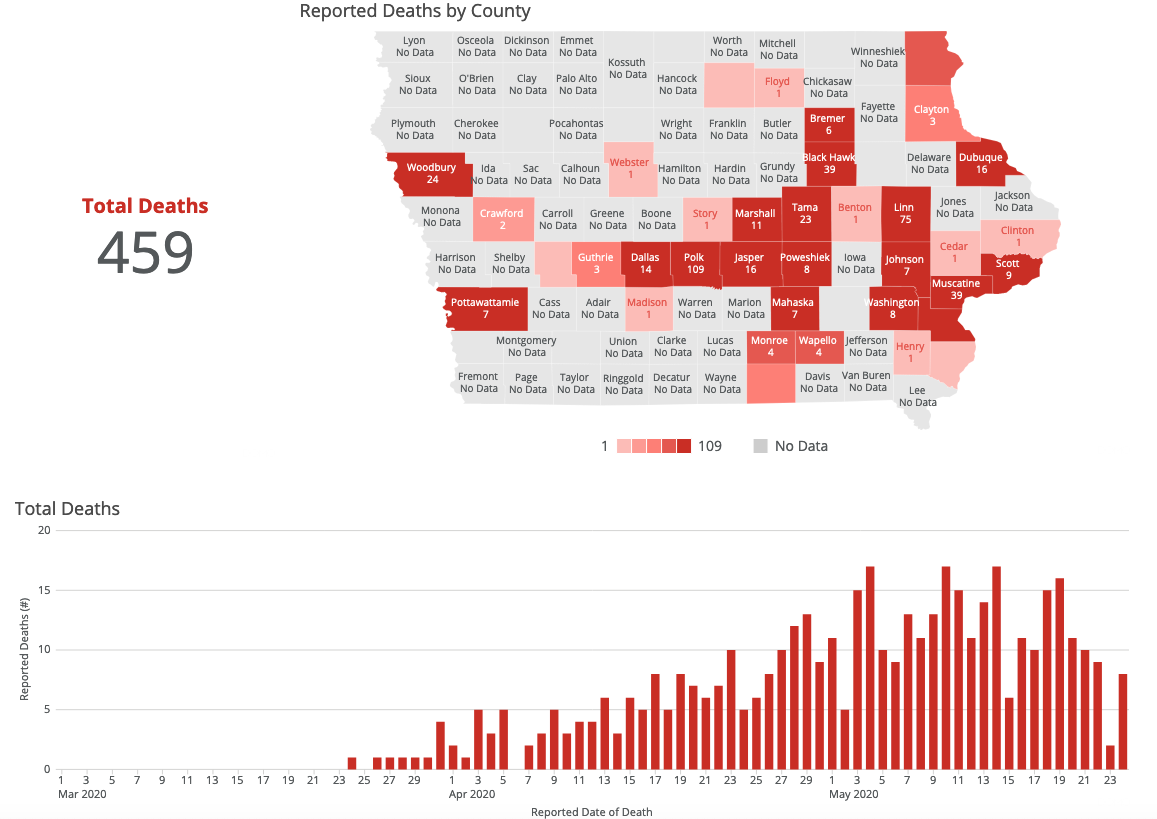 Only one month after Iowa health officials announced the state's first COVID-19 fatality on March 24, the number of deaths caused by the virus reached 107, surpassing the number of Iowa military personnel who died in the Persian Gulf War, Iraq, or Afghanistan during the past three decades.
Since April 24, more than 350 additional Iowans have died of COVID-19.
The Korean War claimed 508 Iowa lives, according to the state Department of Veterans Affairs. COVID-19 fatalities will likely exceed that number in the next week or two, at the current rate of growth.
If deaths continue on this pace, then by July 4 this pandemic will have killed more Iowans than the war in Vietnam. Of the 115,000 Iowans who served there, 867 never came home.
Final note: Olivia Waxman wrote a good piece about "The Overlooked Black History of Memorial Day." On May 1, 1865, African Americans in Charleston, South Carolina organized the first commemoration of Civil War dead that later evolved into the holiday we celebrate near the end of May.
Top image: Memorial Day at the cemetery, by Life Atlas Photography and available via Shutterstock.