Leslie Dow: "What if just by wearing a mask and paying attention to social distancing you could save every person in the Twin Towers?" -promoted by Laura Belin
The town of Le Claire is a special place. Our amazing firefighters have an I-beam from the Twin Towers as a tribute to their service when firefighters from Scott County went to ground zero to help with rescue and recovery. They are moving the beam to an area where more people can view it, and they are asking for donations.
One comment on the page was a link to a video of the beautiful and terrible rendition of Sounds of Silence by Disturbed. The video is a series of still shots of the Towers, the survivors, and the men and women from around this country who dropped everything to help.
Moved by the song and the visuals, I felt compelled to donate.

Rare is the person who lived through that day who doesn't recall the horror and shock when the towers were ripped apart by two domestic planes and burst into flames, then collapsed in a nightmarish slow motion that did not look real. How many of us tried to find ways to help and were frustrated by our total lack of ability to do anything?
I was one of the lucky ones that day.
No, I did not survive the Towers, and I was not in New York. The software that my team built was used to identify the remains. I worked for a biotech company that developed software and applications using genetics to identify people. We, along with other companies, were positioned to help the people of New York in the sad task of reuniting the dead with their loved ones. For the next year, I supported this work. Some days it was heartbreaking and some days it was just damn hard, but every day I knew I was doing something. I made a difference.
I was lucky because when most people had to stand idly by, I was asked to help. And when I flew to New York, visited the New York Medical Examiner's Office with the refrigerated trailers lined up and down the streets, and the seemingly never-ending homemade posters asking if anyone had seen a loved one, they became very real to me. Every single missing person. My team and the work we did made a difference to genuine people with actual families, who were in agony. That was their gift to me.
That was 9/11, and 2,753 people died at the site of the World Trade Center that day.
Most of us could not do a thing to help no matter how much we wanted to. But what if you could? Would you have saved the men, women, and children who died in 9/11 by doing something that would not kill you or even make you ill? Wouldn't you have leapt at the chance?
This is today. And now we fight a different kind of enemy. One we cannot see, taste, or smell. One that requires faith in science and trust that scientists and medical professionals really know how to find the way out of this.
And if we don't trust them? Well, we already know what happens, because we have lived it in the last few months as we've watched places like New York and Italy struggle to bring the pandemic under control as their loved ones died. But I bet it doesn't feel real to you. Not yet. Even the outbreaks at the food packing plants are distant from us here in Scott County.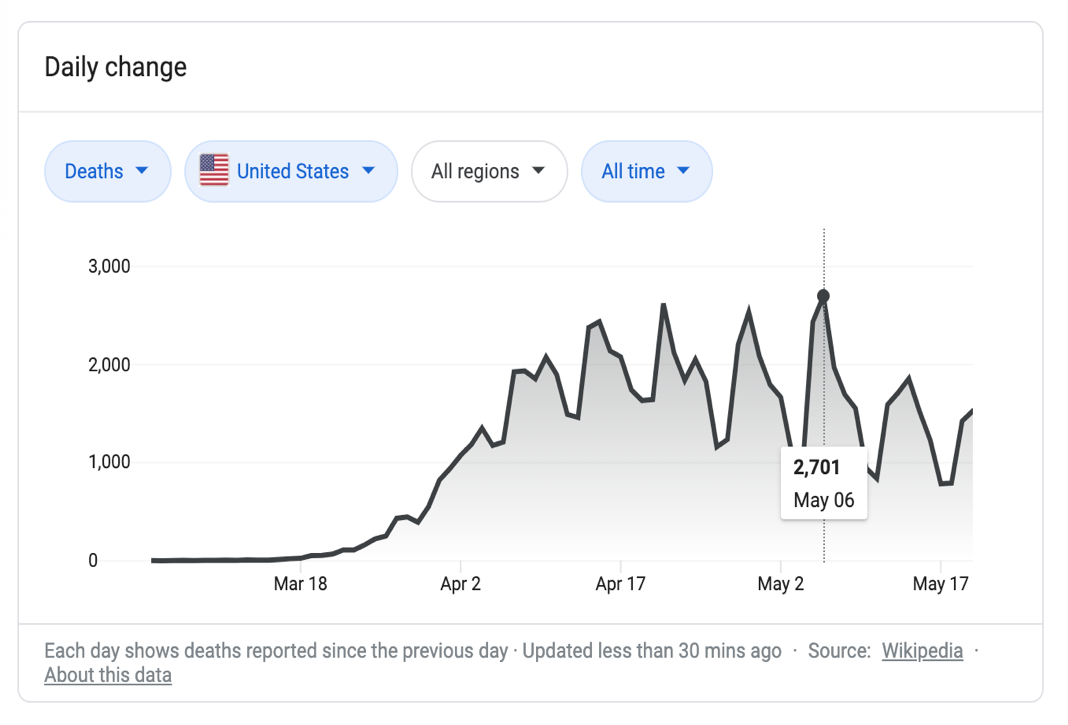 Image from Google search for Coronavirus death toll
On April 4, 2020, 1,353 people died from COVID-19, according to a Google search on the Coronavirus death toll. Each of the peaks on the plot above is at least one thousand dead people. People who were alive the day before and who celebrated the holidays with their families.
Pleasant Valley Community High School has 1,471 students in grades 9-12. What would you do to save them from an attacker bombing the school?
On April 10, 2,078 people died from COVID-19.
2,000 people attended Applefest on the Le Claire Levy last fall. I bought homemade apple pies and doughnuts. I still have the honey and comb that I bought from a local farmer. Would you wear a mask to save the farmers and festival-goers at Applefest?
On April 15, 2,048 people died.

On April 21, 2,642 people died.

On May 1, 2,563 people died.

All from COVID-19.
Last year's Tugfest attracted 15,000 people on both sides of the river. Let's say half were in Iowa. That's 7,500 people, or slightly more than the three peak days combined. Would you wear a mask to stop a terrorist setting a bomb on the Le Claire levy during Tugfest?
And on May 6, 2,701 people died. Only one fewer than died that day in the Twin Towers.
What if just by wearing a mask and paying attention to social distancing you could save every person in the Twin Towers? Would you do it?
To date, 98,636 people in the U.S. have died from COVID-19 (source: Johns Hopkins GIS).
The Iowa State Fair broke attendance records last year with 1,170,375 over eleven days, averaging more than 100,000 people each day. As if all the people who have died in this country from COVID-19 attended the fair in one single day.
All the signs point to our being on the far side of the curve with cases and deaths dropping each day. If we are lucky and adhere to social distancing guidelines, and wear masks, the daily death tally will continue to drop, but even as it drops, people will continue to die. And if we don't socially distance and wear masks? Deaths and cases will rise. It is that simple.
What if you could save every person from an attack that killed everyone who attended the opening day of the 2020 Iowa State Fair? Would you do it? Would you socially distance for the next six months and wear a mask? Would you vow to follow the guidance from the CDC and the Iowa Department of Health until we have a vaccine?
How can you not if you could save lives?
This war is not over. Far from it. The virus is tricky and stealthy and if we are not vigilant, we will see more 9/11 days. But we don't have to. And it is up to us. We control this. Completely.
Wear a mask. Save a life.
Leslie Dow, PhD, is a molecular biologist and a self-employed medical device consultant living in Le Claire, Iowa. She has helped companies develop tests for HIV antiviral resistance, Hepatitis C viral detection, human identification, bone marrow matching, and early cancer screening.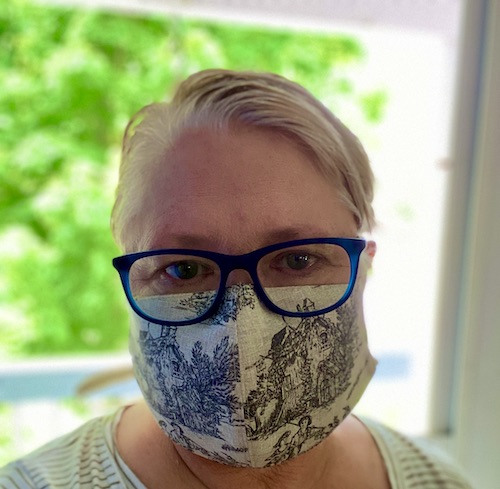 Top image: Photo by Sean Pavone of New York City skyline with lights showing where the World Trade Center towers once stood, licensed to Leslie Dow and available through Depositphotos.