Preethi Reddi highlights efforts to change the Shenandoah school district's curriculum and policies in order to address a "culture of non-inclusion." -promoted by Laura Belin
From my experience growing up in rural Iowa, I know the appeals of a small town. From the moment my family moved to Shenandoah, I knew we would become a part of an extended family. However, as a predominantly white community, Shenandoah can also be exclusionary to Black, Indigenous, and People of Color (BIPOC).
To address this concern, Shenandoah schools alumni, including myself, have recently developed a petition with more than 600 signatures, urging school administrators to make the commitment to racial justice numerous other school districts have made.

It can be difficult for a predominantly white staff to understand the lived experiences of BIPOC, which are different from their own. Therefore, staff must be trained to recognize and reprimand incidents harmful to BIPOC.
A picture in the 2011-2012 high school yearbook touts a white student wearing blackface to emulate a Black faculty member. This yearbook is still purchasable through Shenandoah High School. Blackface has consistently been used to dehumanize Black people and should never be tolerated. Serena Parker, an African American Shenandoah student from 2003 to 2015, states this "really uncomfortable" incident, exacerbated by the lack of BIPOC staff to share her concerns with, led her family to consider moving away.
A current school board member recently responded to this incident by falsely claiming the faculty member was complimented by blackface, stating, "If [faculty member], a grown man, saw it as a compliment and was not offended, I do not see why we should be."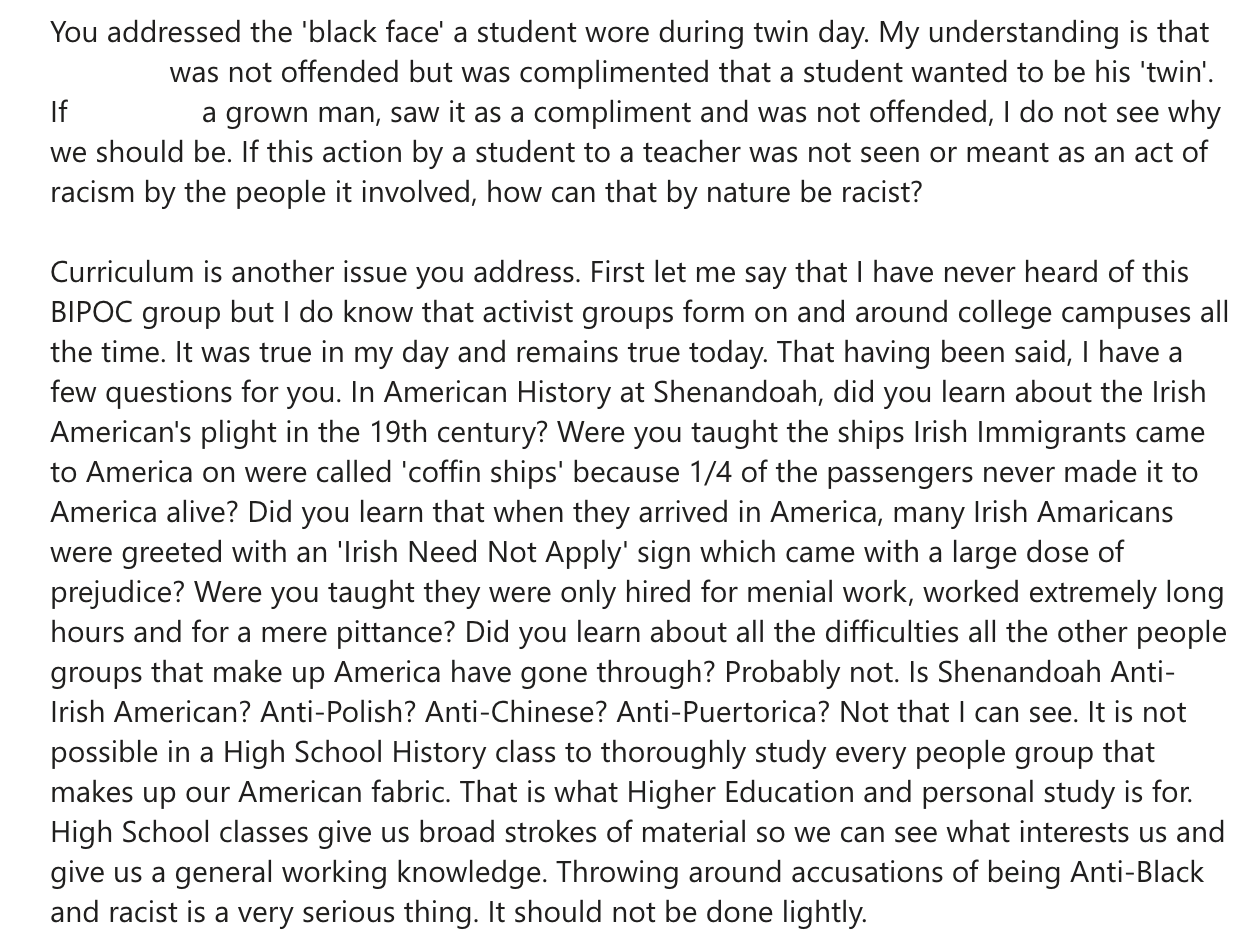 The administrator's dismissal is a form of gaslighting that perpetuates harmful actions and disempowers individuals from speaking up when they experience racism. Parker states this response to such an overt act of racism "invalidated" every racially motivated incident she ever encountered.
To prevent similar incidents, the district must teach students the historical and current implications of these actions. The district's curriculum does not teach about anti-Blackness that persists today. It includes few texts written by BIPOC.
The lived experiences of BIPOC authors shape their writing, making these texts fundamental in teaching students to empathize with experiences different than their own and providing a sense of inclusion for BIPOC. Referring to this curriculum, Leslie Lopez, a Chicana Shenandoah student from 2001 to 2014 states, "I believed I was a 'fake' American for so long." This ideology shaped the perceptions of other students, giving them the confidence to call Lopez and her Latin American friends "stupid Mexicans" and make deportation jokes.
Regardless of intent, alienating racial slurs and microaggressions have a lifelong impact on BIPOC – leading them to internalize the idea that they are less due to their race at an early age. In fourth grade, a student told Parker, "at least I'm not Black like you."
Statements like these are preventable through education. In response to a KMA radio article outlining the petition, a recent Shenandoah graduate described common usage of the "N-word" by former classmates as "literally no problem." The N-word has a historically derogatory connotation, which should be taught early on. Normalization of the term points to a need for change.
Although the Shenandoah Community School District has equity policies in place to address bullying and harassment, these policies retroactively address harmful incidents that have already begun to have profound lifelong impacts on BIPOC. Further, these policies require BIPOC to speak up in order to initiate an administrative response, which can be difficult given the power dynamics in a predominantly white school district.
Educational tools are needed to foster an inclusive culture amongst students early on. Proactive steps, including curriculum re-evaluation and BIPOC-led faculty development on racial equity are vital.
While I acknowledge and appreciate responses from Shenandoah schools administrators that are more empathetic than the school board member's message posted above, I fear the petition devised by alumni has become political when it is inherently a matter of basic human dignity for BIPOC. The Shenandoah school board president responded to several alumni emails related to these concerns by committing to do her best to understand our concerns and "encourage appropriate action."
Shenandoah schools superintendent Dr. Kerri Nelson published a blog post that indirectly addresses the concerns raised by alumni. While Nelson's commitment to improving the school system is valued, I fear local politics will prevent sustainable action and introspection centered around BIPOC perspectives. The Shenandoah schools administration has yet to directly and publicly respond to the alumni petition and denounce the diminishing comments made by a current school member. Public introspection and acknowledgment are vital in enacting sustainable change and ensuring BIPOC school district members know they are valued.
Shawn Haynie, a Shenandoah community member and parent, acknowledges that there continues to be a "culture of non-inclusion" within the Shenandoah community. While it may be difficult to recognize this culture while a member of the local majority, empathy is vital. Haynie states the Shenandoah community will continue to "wither away" until this demeanor changes. I recognize other factors, including but not limited to gender, sexual orientation, and socioeconomic status, may also play a role in exclusion.
With increasing diversity in Iowa, it is vital for school administrators to directly and proactively address each of these facets of an exclusionary culture through an intersectional and introspective lens opposed to relying on general "bullying and harassment" policies. The support system offered in rural schools and communities is invaluable. Inclusivity should be the cornerstone of education to ensure these communities are as strong as possible. Acknowledging and proactively preventing the recurrence of the mistakes of the past is crucial for creating a better future.
Preethi Reddi is a current medical student at the Medical College of Georgia and recently graduated summa cum laude from Emory University with a degree in biology. She was born and raised in Iowa and aspires to promote health equity in rural areas similar to her hometown.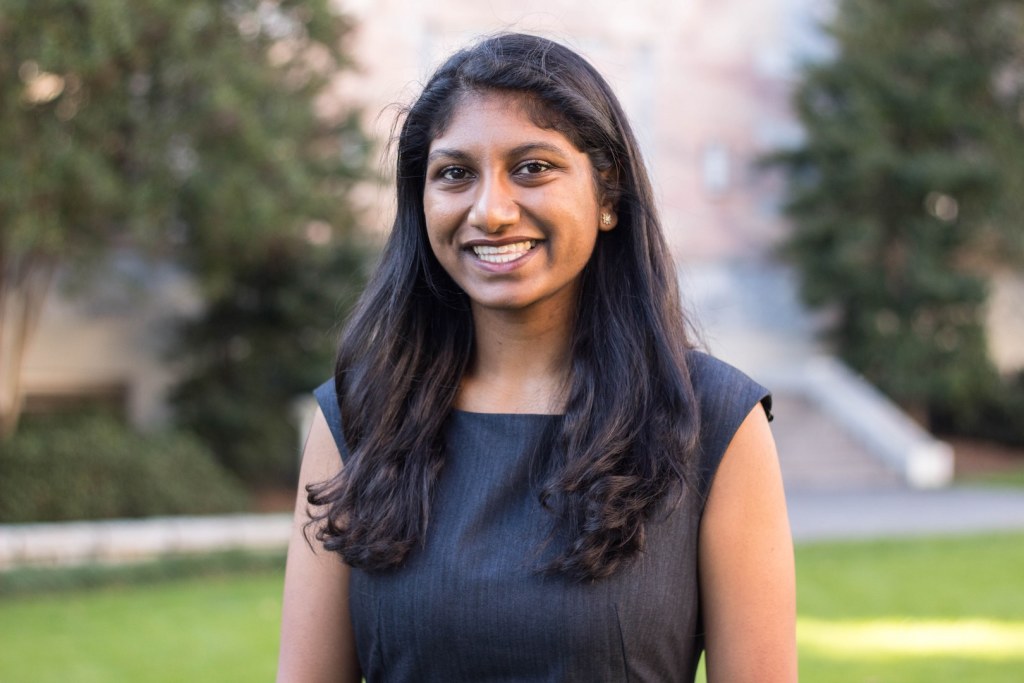 Appendix 1: Full text of petition started by Community for Change in the Shenandoah School District
Dear Shenandoah School District Administration,

As alumni of the Shenandoah School District and members of the Shenandoah Community, we strongly believe that the District could do more to create a more inclusive learning environment for its students. The recent devastating deaths of George Floyd, Tony McDade, Breonna Taylor, and countless others have reminded us of the system of racism in which we exist, and it is necessary for educational institutions to educate students on this system. It is also necessary for educational institutions to actively build better and safer learning environments for students of color. Recently, several alumni have shared their experiences with racism during their time as students in the District. It is important for the District to take these experiences into account to ensure that current and future students have the tools to work toward social and racial justice. The District must ensure that students of color are empowered to speak up when they experience racism and have confidence their concerns will be taken seriously. In order to work toward inclusivity and diversity, the District must take many vital actions. We demand the following as a starting point:

1. Release a statement in support of the District's Black students and a detailed plan of how the District will address racial injustice

2. Include social justice and racial equity as part of the District's value statement

3. Review and update guidelines and procedures, based on community feedback, for how students, staff, and faculty will report acts of racism and how the District will review and reprimand these actions accordingly

4. Plan and implement professional training for all staff, faculty, and school board members on topics of racial and social equity, including, but not limited to, implicit bias, microaggressions, and student empowerment

5. Ensure that staff, faculty, and school board members maintain their training on diversity and inclusion through mandatory testing or additional professional development every three years

6. Review the existing curriculums to ensure that they contain a diverse representation of voices and accurate teaching on social and racial justice and recognition of privilege

7. Create a committee dedicated to diversity and inclusion at Shenandoah Schools in order to ensure that the District implements the changes outlined above and works to actively provide a better learning environment for BIPOC students
Appendix 2: Resolution approved by the Worthington, Ohio school board in June 2020