President Donald Trump's unhinged and at times frightening behavior during his first televised debate "worried" and "alarmed" some of his most influential allies. The next day, U.S. Senate Majority Leader Mitch McConnell and other top Washington Republicans criticized the president's failure to condemn white supremacists. Former Republican National Committee chair Marc Racicot even revealed that he had decided to vote for Democrat Joe Biden, after concluding Trump is "dangerous to the existence of the republic as we know it."
True to form, Iowa Republicans offered no hint of dissent from the president this week. They either said nothing about Trump's debate performance or put a positive spin on it.

Normally, top officials and candidates from both parties would hail their presidential standard-bearer immediately after a televised debate. But the "hot mess, inside a dumpster fire, inside a train wreck" seemed to leave many Republicans speechless. Senators Joni Ernst and Chuck Grassley didn't post about the first Trump/Biden clash on their social media feeds Tuesday night or Wednesday.
Governor Kim Reynolds was quick to voice her full-throated support, though, minutes after the debate ended. State party chair Jeff Kaufmann amplified her praise.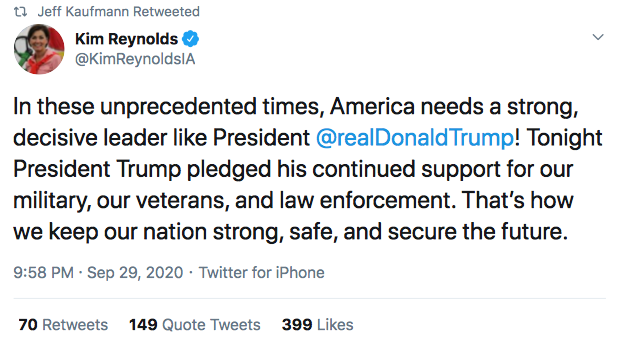 Simpson College Professor Kedron Bardwell characterized the governor's tweet as a sign of "detachment from reality by Iowa GOP leaders" and "Trump-driven desensitization of good people's political and moral compasses."
For me, Reynolds' eagerness to declare her allegiance recalled the greengrocer in Václav Havel's best-known essay, "The Power of the Powerless." The greengrocer puts a Communist poster in his shop window, not because he believes in the slogan, but in order to convey a different message: "I behave in the manner expected of me. I can be depended upon and am beyond reproach. I am obedient and therefore I have the right to be left in peace."
After having some time to reflect, Grassley found a way to put the president's performance in a favorable light. On September 30, the senator told Channel 5 tv news in Des Moines that Trump "made some good points on how he helped our economy, prior to the pandemic, the best in 50 years," and also "made some pretty good points on what he's done to strengthen the military. He's made some good points on law and order."
Grassley is apparently unconcerned that Trump declined to condemn white supremacy and seemed to encourage voter intimidation on election day.
State Representative Ashley Hinson, the GOP candidate in Iowa's first Congressional district, shared "two debate takeaways" on Facebook and Twitter. First, she said Trump was "right to demand an answer" from Biden on what she called the "radical left" plan to expand the Supreme Court. Hinson also claimed that "Congresswoman Finkenauer agrees with VP Biden's plan to raise taxes." If Hinson had concerns about anything the president said--for instance, not pledging to accept the election result--she kept them to herself.
GOP Congressional candidate David Young (IA-03) didn't acknowledge the presidential debate on his social media feeds. Neither did State Senator Randy Feenstra (IA-04)--even though he just met with Trump in the Oval Office last week. State Senator Mariannette Miller-Meeks (IA-02) tweeted immediately after the first U.S. Senate debate on September 28 that Ernst did a "great job." But her Twitter feed was silent Tuesday night, other than to share a photo of a beautiful Iowa sunset.
Some Republicans in tough races around the country--Senators Lindsey Graham and Susan Collins, for instance--felt compelled to call on Trump to denounce white supremacists after the president declined to do so during the debate. Iowa Republicans appear to have determined that putting even a little distance between themselves and a raging, out-of-control president would cost them more votes than they'd gain.
UPDATE: Adding this one to the "profiles in cowardice" file.