Rachel Bruns continues a series of posts addressing the quality of maternal health care in Iowa. -promoted by Laura Belin
This article is all about midwives. I will be using this space to expand on four different needs in our state to improve the access and quality of maternal-child health care in Iowa. All of them are interrelated. If Iowa accomplishes these four things, we will see an improvement in maternal-child health outcomes across all races, accessibility of care options in all geographies, and an overall increase in quality and satisfaction from patients.
The four areas I will address are:
The need to diversify our workforce and address birth equity (this is connected to the next 2 items)
The need to license Certified Professional Midwives (CPMs)
The need to expand access to Certified Nurse Midwives (CNMs).
The need to expand access to birth centers.
Workforce and Equity
Along with the rest of the U.S., Iowa desperately needs to diversify its maternal health care workforce and provide culturally focused care. A Black woman in Iowa is six times more likely to die from pregnancy related complications than a white woman, and we need more midwives to reflect the patients they are serving to help eradicate racism in maternal health care (see the American Medical Association's statement on racism earlier this year).
Any new Iowa-based obstetric provider training programs should have an emphasis on recruiting diverse participants from the communities to be served and provide education on anti-racism, health care disparities, and health equity, as detailed by this 2019 policy blueprint from the Center for American Progress.
We already have a solution to eliminating maternal health disparities: the midwifery model of care. Jennie Joseph is a world-renowned British-trained midwife who owns a birth center and midwifery training program in Florida. She created the "JJ Way," a model that has been proven to significantly reduce birth disparities. Ms. Joseph makes it clear that her model is just the midwifery model of care, but she emphasizes it centers the woman/family/birthing person and not the midwife. Midwives now practicing in Iowa may need to reflect on that concept and identify opportunities to improve, especially in hospital-based settings.
As a white woman, I do not know all the answers to achieving birth equity in Iowa. But having read about these issues from those more well-versed in the problem, I am confident that increasing the diversity of our maternal health care workforce and increasing overall access to CPMs and CNMs is an important place to start. If you are unfamiliar with the history of midwives in the United States, specifically Black midwives and how they were systemically eradicated, you can learn more here.
Licensing Certified Professional Midwives
If Iowa wants to improve maternal-child health, we must finally license Certified Professional Midwives (CPMs). This is a big issue that has been a long time coming and precedes not only my short time as a maternal-child health advocate, but also my entire lifetime, as Iowans have been advocating to license CPMs for more than 40 years.
I am an unlikely advocate for CPMs and home birth, as someone who is not a midwife, not a doula, and has no plans to have a home birth. I have read everything I can on this subject, however, and it is clear to me that home birth is just as safe as hospital-based birth for low-risk pregnancies. Given the state of maternal health in Iowa, increasing access to CPMs could provide a solution to access in rural parts of the state.
During the 2020 legislative session, an Iowa House State Government subcommittee considered House Study Bill 522, which would to license certified professional midwives (CPMs) in Iowa. The bill never made it out of the subcommittee, due to continued misinformation from lobbyists for some nurse, hospital, and physician associations (you can see you opposed the bill here).
I attended this subcommittee meeting, and I have to admit I am embarrassed by how naive I was beforehand. While I assumed lobbyists of certain types of organizations probably lied or spun information in a way that best suits them, I never in my wildest nightmares imagined our hospital, physician, and nurse associations fell into that category to the degree of what I witnessed. I was wrong.
I listened to countless lies about the safety of home birth, as these competitors claimed false information under the guise of maternal/infant safety. That less than one hour subcommittee meeting completely reshaped how I view health care policy in our state, for the worse. If these groups are misleading legislators on the licensing of midwives, what else are they lying about?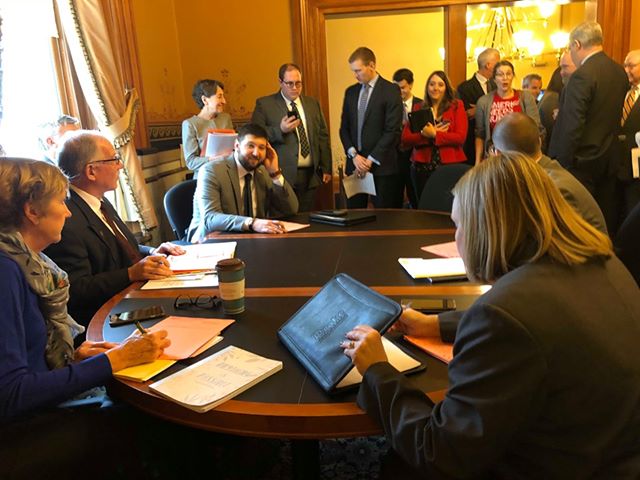 Photo of the January 2020 subcommittee hearing on a midwife licensing bill
The meeting ended with the three legislators asking the midwife licensing advocates to work together with the nurse/physician/hospital lobbyists to improve the proposed legislation. Following the meeting the License Iowa Midwives advocates agreed to incorporate language making it clear nurses were not affected by the bill. They also agreed to the request that CPMs be required to perform, with parental consent, CCHD and metabolic screenings (something CPMs do already).
To date, the groups remain at an impasse. The lobbyists want CPMs to be licensed under the Nursing Board (which makes no sense since they are not nurses), along with language on scope of practice that would exclude CPMs from attending certain types of birth, like VBAC (vaginal birth after cesarean) and breech.
The irony is, those same medical groups would be sure to protest any legislation that attempted to limit their providers' scope of practice and they know the midwives will never agree to it, nor should they. It would be the role of the established licensing board to set such criteria, just as any other licensing board does in the state.
The organization I volunteer for, the International Cesarean Awareness Network, released an updated policy statement in August on midwifery licensing and efforts to limit midwives' scope of practice. You can read more here on why restrictions are the wrong approach.
Republican State Representative Bobby Kaufmann will re-introduce a bill to license CPMs during the upcoming session. It will draw on legislation approved in other states, including our neighbors in South Dakota, Minnesota, Wisconsin, and Missouri. Currently 36 states provide licensing for CPMs, with Oklahoma and Washington, D.C. being the most recent in 2020. Not licensing creates barriers to the CPMs currently practicing in our state and means fewer will enter the profession. Some may leave the state altogether.
A study in the peer-reviewed Journal of Midwifery & Women's Health confirms that among low-risk women, planned home births result in low rates of interventions without an increase in adverse outcomes for mothers and babies. Numerous studies show midwives are proven to reduce the incidence of birth injury, trauma, and c-sections. Lancet Global Health just released a new modelling study estimating that even a modest increase in midwife-led care globally could avert a fifth of maternal and neonatal deaths and 14 percent of stillbirths globally by 2035.
Why is it OK for people living in South Dakota or Minnesota to have a home birth assisted by a CPM, but not in Iowa? Midwives are the standard of care in most European and higher income ("developed") countries, with significantly better maternal and infant health outcomes as detailed in this November 2020 report from The Commonwealth Fund.
We are not asking for something that is extreme or untested. The only opposition is from hospitals and providers that view CPMs and home birth as competition. Maybe a little competition is what our hospitals and hospital-based providers need to start adhering to evidence based practices.
Some women in Iowa are having to drive hours to access care, which is unaffordable and unsustainable. Home birth is not for everyone, and for families wanting a hospital birth, midwives could provide quality prenatal and postpartum care closer to home in partnership with physicians or certified nurse midwives. For providers who are uneasy about home birth and establishing coordinated care, I would encourage them to read this article from Dr. Duncan Neilson in Oregon on creating collaborative care between home birth providers and hospitals and this article from Dr. Kate McLean, an obstetrician in Washington State on why she supports regulating midwives in all 50 states.
Black women may see home birth as safer given the documented racial disparities in Iowa's maternal mortality outcomes. With the COVID-19 pandemic, CPMs are seeing increased demand for their services as the only providers trained in out-of-hospital birth. I have trouble seeing any downside to licensing CPMs for Iowans.
Nurse-Midwives
In addition to licensing CPMs, Iowa should expand access to Certified Nurse-Midwives (CNMs). CNMs are educated in graduate-level midwifery programs accredited by the Accreditation Commission for Midwifery Education. In Iowa, CNMs are licensed by the Iowa Nursing Board as an "Advanced registered nurse practitioner" or "ARNP," which is defined in Iowa code here.
If you live in Iowa and want to become a CNM, your options are all out-of-state with 38 graduate level programs across the country. While I am unfamiliar with the specifics of these programs, some do offer fully distanced learning. It seems obvious, but one way to increase access to midwives is for one of Iowa's several ARNP graduate nursing degree programs to either create their own program or partner with an existing out-of-state program to offer an in-state option.
The University of Iowa secured a Health Resources & Services Administration grant, and one of its objectives is to identify new obstetrics training programs. I hope CNM training is prioritized, as CNMs can live in rural areas and could work in any birth setting (hospital, birth center, or home birth). As noted above, it will be important to focus on recruiting CNMs who are Black or part of other racial or ethnic groups underrepresented in our maternal health care workforce.
Birth Centers
In addition to expanding access to CPMs and CNMs, which could increase access to home birth, Iowans need access to birth centers as alternatives to home birth or hospitals. I personally would have preferred giving birth at a birth center, but I didn't realize that was an option for me with my first birth, and for my second birth, the only birth center in Iowa did not take VBAC patients with no prior vaginal delivery.
There is no risk-free birth setting, as detailed in this 2020 report from the National Academies of Sciences, Engineering, and Medicine. It states, "Improving maternity care providers' and birth centers' ability to access state licensure and accreditation could also improve access to care."
Yet Iowa has created a huge barrier for midwives to establish birth centers by requiring they go through the Certificate of Need (CON) requirement. Per this comprehensive University of Iowa law review article on the subject,
"...CON is a permission slip from the government signifying that, after its determination, a need exists in the market for the services that the health provider intends to offer. In addition to requiring the government's permission, the process also requires the government to inform the applicant's potential competitors, who then have the opportunity to offer opposing testimony for the project at a public hearing."
We live in a state with Labor and Delivery units closing (34 since 2000). Why would the government prevent birth centers from opening? We have CNMs in our state today and for several years who have been attempting to establish birth centers to expand access to quality and low cost care, but have been blocked by hospitals that view such centers as competition. Earlier this year, the judicial system upheld Iowa's CON program in an unrelated case, while also stating it protects hospitals from competition.
Democratic State Senators Janet Petersen and Eric Giddens introduced Senate File 2063 last year to exempt birth centers from the Certificate of Need requirement. I hope we see a similar bill that is successful in 2021 to finally open up Iowa for business to birth centers.
In conclusion
I hope this post provides a brief overview of how expanding access to midwifery-led care and related options in birth settings can improve maternal health in Iowa in a cost-effective way. These are relatively easy changes. The legislature could act as soon this year.
Several Iowa birth providers and public health officials recently participated in a learning series led by the Institute in Medicaid Innovations on "Leveraging Midwifery-Led Care to Address Disparities and Equity in Medicaid." I hope that means I will be joined by several more advocates for removing our state's barriers to midwife-led care.