Tanya Keith is an activist and small business owner in Des Moines. -promoted by Laura Belin
At the beginning of the pandemic, I called my parents and sister in Massachusetts and pleaded with them to move to Iowa. At the time, Massachusetts was having what we considered a raging outbreak, and central Iowa had no confirmed cases. My thinking was they would be so much safer here, because by the time the pandemic reached Iowa, we would know better and therefore do better. I thought my family would be safest here.
But now the tables have turned. Massachusetts has taken science-based action to control the pandemic, and Iowa maintains one of the worst COVID-19 responses in the U.S. (and therefore the world). I haven't seen my family in over a year, and I can't imagine how I would safely get to them even if Massachusetts allowed travel from Iowa. Rampant disease spread causes a strain on my business as I try to protect people I hire from working with each other. The school year I most looked forward to: our eldest's senior year, our middle's 8th grade, and our youngest's kindergarten year are all happening remotely.

Governor Kim Reynolds claims that she trusts Iowans to "do the right thing" and help control the pandemic, but what evidence do we have that that's happening?
We all saw photos on social media of people gathering over the holidays. The Playground for Kids indoor playground in Ankeny hosted their event of unmasked, closely gathered families on New Year's Eve. What better way to close out 2020 than a super-spreader of COVID-19! Ah, treasured memories in the making!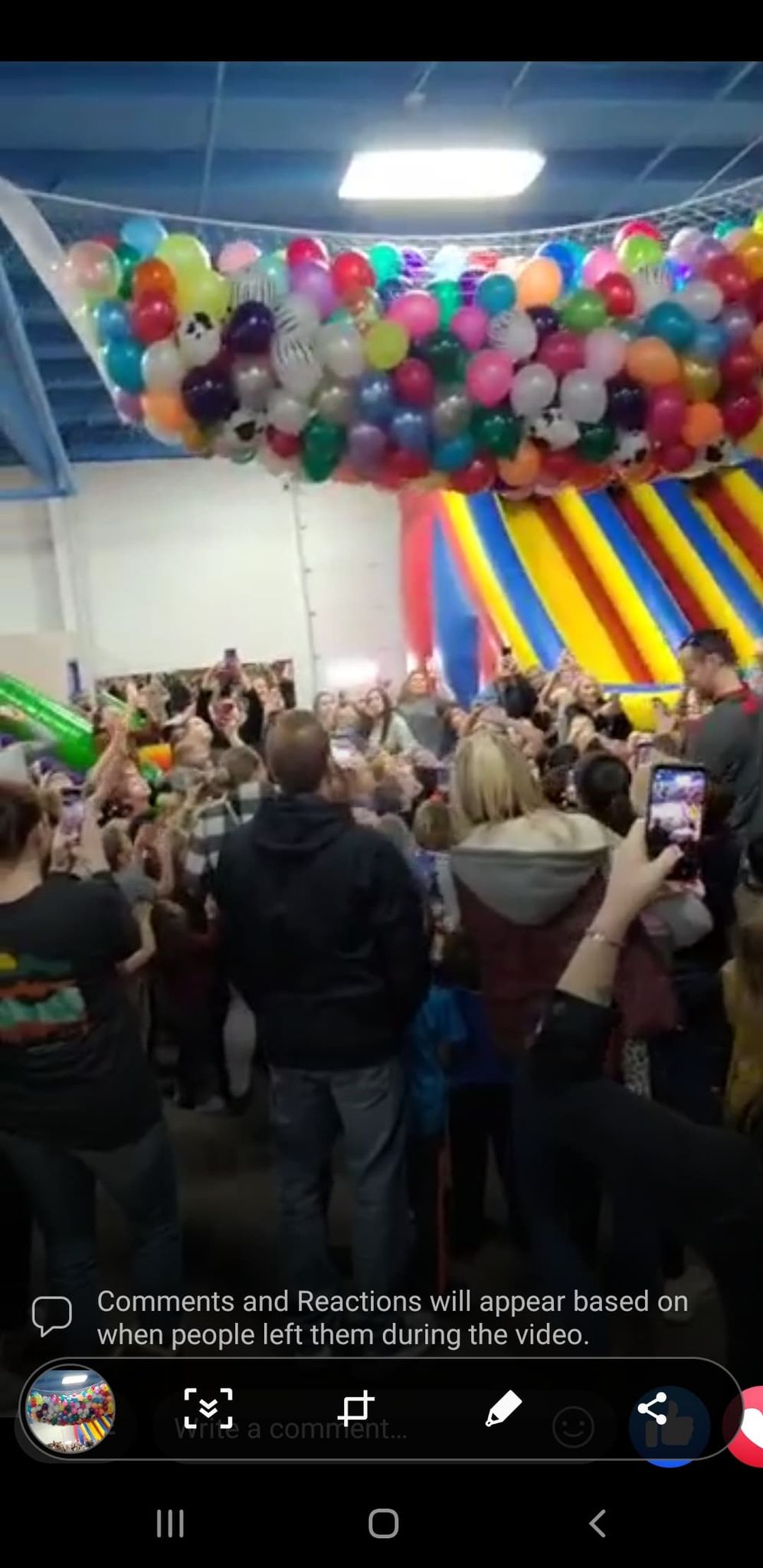 Photo from the packed indoor event at Playground for Kids in Ankeny on December 31
That event flouted the governor's proclamation on limits for indoor playgrounds in several ways, and respected her limited mask mandate only if you believe that hordes of families with young children would disperse from the celebration in under 15 minutes.
That's the issue with the nonsense of a proclamation made of Swiss cheese. People think they're safe if they're together for less than fifteen minutes, or socially distanced. The reality is that COVID-19 exposure can happen instantly, and droplets can travel more than six feet, particularly when propelled by unmasked people shouting "Happy New Year!"
While some employers are allowing work from home where possible, others are forcing workers to come to the office. At the peak of reckless behavior, our elected leaders don't require masks at the state capitol. While the capitol is technically not bound by the city of Des Moines' mandate, "doing the right thing" would respect the local ordinance and require masks.
How can we expect Iowans to look out for each other when our legislators fail to lead by example? Requiring face coverings is a simple, cheap, easy way to protect one another from a deadly pandemic. We require shirts and shoes, but not face coverings?
The governor has expressed her desire to force kids back into the classroom full time, but we are currently operating far outside the boundaries for safe education. The U.S. Centers for Disease Control recommends that the positivity rate in the community be below 5 percent to have schools open at all. Polk County's is currently above 15 percent.
I agree that having kids in school full time would be wonderful, but we haven't done the work to make that safe. By instituting a statewide mask mandate, plus accelerating the vaccination rollout, we would have a chance to reach the CDC guidelines for safe in-person education.
As it stands right now, we have the worst possible situation: a legislature with reckless and dangerous COVID-19 practices in the same community as Iowa's largest school district. Any super-spreading that takes place at the capitol filters into Des Moines, and from there, it almost certainly will enter our schools. Those schools will spread the disease to outlying communities where teachers and support staff live, and our statewide numbers will continue to skyrocket.
It's time to demand action: join us on Wednesday, January 13, at 11:30 am at the north steps of the capitol for a socially distanced, masked meet-up with legislators to demand a statewide mask mandate and for masks to be required at the capitol. Here's the link to the Facebook event.
Additionally, you can call or email your legislator and Senate and House leadership to ask that they make the capitol safe for people to visit and petition their representatives. Here is your contact list:
Email Speaker of the Iowa House Pat Grassley (pat.grassley@legis.iowa.gov) and Senate Majority Leader Jack Whitver (jack.whitver@legis.iowa.gov) to demand that the People's House be made safe for all Iowans by requiring mask usage and taking all reasonable means to prevent the spread of COVID19 such as requiring COVID19 legislators to stay home until they are medically cleared.
Call the Chief Clerk Meghan Nelson's Office and tell her you think masks should be required at the Capitol. Phone: 515.281.5383 Email: meghan.nelson@legis.iowa.gov
Call Governor Kim Reynolds and demand a mask mandate for all Iowans 515-281-5211.
We all want to get back to normal life, and we should be taking reasonable actions to save lives and keep Iowans healthy. For school kids, for families who want to safely see each other, for businesses who need this pandemic under control, we need a mask mandate!
Top image: State Senator Joe Bolkcom's photo of a large anti-vaccination and anti-mask rally in the Iowa Capitol rotunda on January 11.