UPDATE: Governor Reynolds signed the bill on March 8. Top Democratic election attorney Marc Elias posted on Twitter, "This is the first major suppression law since the 2020 election. Expect litigation here and elsewhere GOP legislatures follow this path." Bleeding Heartland covered the lawsuit Elias filed here. Original post follows.

On a party-line vote of 30 to 18, the Iowa Senate on February 23 approved Senate File 413, a new version of a bill that would restrict every aspect of the early voting process. The following day, the Iowa House approved the bill on a party-line 57 to 37 vote. Governor Kim Reynolds is expected to sign the bill; Republican Senators Joni Ernst and Chuck Grassley have each endorsed limits on early voting in recent days.
Although State Senator Roby Smith's amendment addressed a few of the concerns raised by county auditors and advocates for vulnerable populations, the revised legislation would make it even harder for thousands of Iowans to have their absentee ballots counted. In a new twist, it shortens election-day voting hours as well.

NEW LIMITS ON EVERY VOTING METHOD
During a three-hour debate, beginning around the 2:06:00 mark of this video, Smith and other Republicans vehemently objected to characterizing their bill as "voter suppression." They claimed it would still be easy to vote in Iowa. House floor manager Bobby Kaufmann likewise promised that not a single Iowan would be prevented from voting.
Reality check: Iowans would face new obstacles to casting ballots, regardless of how they choose to exercise their fundamental right.
Less time to request a ballot
The first day voters could request an absentee ballot would be 70 days before an election, as opposed to 120 days under current law. This provision is unchanged from the version Republicans unveiled last week.
The last day to request a mailed ballot would move to fifteen days before an election (current law allows ten days before a general election or eleven days before other elections).
No mass mailings of absentee ballot request forms
The revised bill allows county auditors to mail absentee ballot request forms to voters who specifically ask for them–a change from the original proposal, which banned auditors from mailing the forms to any Iowan under any circumstances. However, universal mailings of absentee ballot request forms would be prohibited for county auditors.
Iowa Secretary of State Paul Pate mailed absentee ballot request forms to all registered voters statewide before the 2020 primary and general elections, which contributed to record-setting turnout. Under the new bill, the secretary of state would be allowed to repeat that kind of mailing only at the direction of the state legislature, and only during a public health emergency. One hopes we'll never live to see anything like the COVID-19 pandemic in a future election year. That shouldn't preclude the secretary of state from making it easy for Iowans to request a ballot.
Less time for auditors to mail ballots
Under current law, county auditors can begin mailing absentee ballots 29 days before an election, and the last day to mail a ballot to a voter is ten days before a general election or eleven days before other elections. The initial GOP bill stipulated that auditors could begin mailing ballots eighteen days before the election and didn't alter the final deadline for doing so. That would have made Iowa tied with Washington state for the shortest vote-by-mail window in the country.
The amended bill states that auditors could begin mailing ballots to voters 20 days before the election–only five states start mailing ballots so late–and sets the last day for doing so at fifteen days before the election. In practice, that means only five business days for mailing ballots to every voter who requested one (post offices are closed on the Sunday that is sixteen days before the election). It also gives staff less time to contact voters who may have omitted information on their absentee ballot request forms. Under a law Republicans enacted in 2020, elections staff can't use the computer database to fill in those details.
John Deeth, who has worked in the Johnson County elections office for many years, has noted that mailing out a new packet can be the best fix for common voter problems such as a spoiled absentee ballot. That won't be possible for many people going forward.
Mail often takes days longer to reach rural Iowa addresses, because it may be routed through a processing center in another county. So rural Iowans, or students attending universities out of state, or "snowbirds" who spend winters in warmer climates, may not even receive their ballot until the election is less than fifteen days away. If they make a mistake or have some other problem with the envelope, there won't be time for their county auditor to send them a replacement ballot. "Twenty-nine days was barely enough time to fix these problems," Deeth wrote in the Cedar Rapids Gazette. "We don't even learn about mail delivery problems for several days."
The Iowa State Association of County Auditors commented in a letter last week that shortening the early voting window is not only "less convenient to voters," but also "concentrates the absentee voting process for county auditors in a way that requires the use of more staff and/or overtime, and makes staff more prone to errors."
Less time for voters to return ballots by mail
Under the Republican bill, even Iowans who request absentee ballots months in advance won't receive them until nineteen days before the election at the earliest–if they live near the office of a very efficient county auditor. More realistically, given the U.S. Postal Service delays that were widespread in 2020, tens of thousands of Iowans will have only ten days to two weeks to get the ballot back to the auditor.
Even worse, the revised bill sets a "sure count deadline" for most absentee ballots. This provision, which wasn't part of last week's rollout, means most ballots cannot be counted if they arrive after 8:00 pm on election day, even if they were mailed well before then. The bill makes exceptions to allow counting of some late-arriving ballots cast by military voters, overseas voters, domestic violence survivors in the "Safe at Home" program, or those admitted to hospital or assisted living.
According to Democratic State Senator Pam Jochum, about 6,500 absentee ballots cast in Iowa's 2020 general election arrived after November 3, but could be counted because a postmark or barcode confirmed the voter mailed them on time. Almost all such ballots would be tossed under the new bill.
Again, Iowans living in rural areas or out of state would be most adversely affected. They might mail their ballot back more than a week before the election, only to have their vote not count due to postal delays outside their control.
Near the end of the five-hour-long Iowa House debate, Kaufmann said he trusted voters to "make a plan" and figure out how to adjust to the new timeline. He also pointed out that several Democratic-controlled states, such as Vermont, has a "sure count" requirement for absentee ballots. "I highly doubt Bernie Sanders' home state is the home of mass voter disenfranchisement," Kaufmann crowed. He didn't mention that in Vermont, absentee ballots can be mailed to voters 45 days before the election.
Kaufmann said repeatedly that the bill was designed to help run government like a business. Several Democratic lawmakers pointed out that businesses don't try to make it more difficult for consumers to use their products. On the contrary: business owners know that customers want more options and longer available shopping hours.
More difficult to hand-deliver completed ballots
One solution to the uncertainty surrounding mail is to hand-deliver a completed absentee ballot. But the Republican bill restricts that process as well. No matter how large a county's population, auditors will be allowed to set up only one ballot "drop box," inside or immediately outside the county elections office. In larger counties, Iowans may have to drive 30 to 45 minutes–if they have access to a car–to reach the only drop box available.
In addition, the bill would create a new serious misdemeanor crime called "unlawful return of ballot." Only the following people are permitted to hand-deliver a completed absentee ballot: the voter, someone living in the voter's household, a voter's immediate family member, the voter's caretaker, or someone authorized to collect ballots from an assisted living facility.
The goal is to prevent Democratic campaigns from running "ballot chase" programs. However, that language will adversely affect senior citizens, those lacking transportation, or people with disabilities who live alone, with no relatives nearby. Under current law, they could ask a friend or neighbor or some other contact (such as a campaign volunteer, or the person who delivers their Meals on Wheels) to drop of their ballot for them.
Democratic State Representative Mary Wolfe, who is a defense attorney, noted that during the subcommittee hearing, lawmakers heard concerned testimony about this provision from representatives of many organizations (AARP, Iowa Association of Area Agencies on Aging, Iowa Coalition Against Domestic Violence, Disability Rights Iowa). They fear that many of the Iowans they represent will not be able to have a trusted friend return their ballot. Democratic State Representative Christina Bohannan, whose day job is being a University of Iowa law professor, argued that saying voters can't decide who can deliver a completed ballot "is government overreach on individual rights," adding, "I can't believe I have to tell a roomful of Republicans that."
Less time to vote early in person
In-person early voting eliminates any mail problems and reduces the chance of voter mistakes, like forgetting to sign the affidavit envelope. All 99 counties allow in-person voting at the county auditor's office. It's a popular option, as seen by these long lines outside the Polk County elections office in October 2020. (Photos provided by Polk County Democrats chair Sean Bagniewski)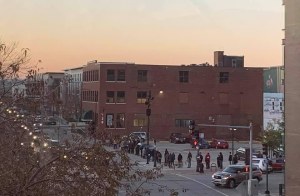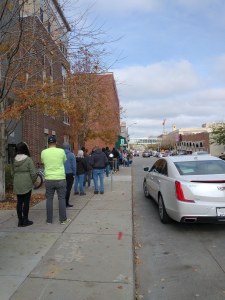 Republicans shortened the early voting window from 40 days to 29 days in 2017. Even so, for the last two general elections, Iowans had at least 25 days (not counting Sundays) on which they could vote by this method. Senate File 413 would give Iowans at most seventeen days (assuming offices are open on Saturdays) to vote early in person. Given the compressed time frame and added hurdles to voting by mail, Iowans who choose to vote early in person are likely to face longer lines in 2022 and 2024.
Current law allows county auditors to set up satellite voting sites. That typically happens in larger-population counties and helps manage the flow of early voters. The Republican bill removes auditors' authority to establish satellite voting locations, allowing those to be requested only through citizens' petitions. The Iowa State Association of County Auditors cited several potential problems.
From past experience, county auditors know what locations and times work best. In many counties, voters are used to satellite locations being in certain places. The use of satellite voting reduces the number of voters at the polls on election day, helping to eliminate lines and delays. Leaving the establishment of satellites to the public only creates unknowns in cost and staffing that would potentially disrupt the careful planning of county auditors.
Many Iowans accustomed to voting in a convenient location near their home or workplace will find that option unavailable in future elections.
During the Iowa House debate, Democratic State Representative Mary Mascher pointed out that the bill doesn't say whether county auditors could refuse to set up a satellite voting location after receiving a petition from constituents. Currently auditors can do so for various reasons, such as budget constraints (if the location charges a fee) or if the site is not compliant with the Americans with Disabilities Act.
Less time to vote on election day
For decades, Iowans have been able to vote in state and federal elections from 7:00 am to 9:00 pm. Last week's version of the bill didn't change the poll closing time, but the amended bill would require polling places to close at 8:00 pm for all elections, as is now the practice for city and school board races.
While current law requires employers to give employees at least three consecutive hours off during the time polling places are open on election day, the Republican bill would shorten that mandate to two hours off from work.
OTHER NOTEWORTHY PROVISIONS
Senate File 413 has far-reaching provisions in other areas related to voting.
Less power, severe penalties for county election officials
During the Iowa Senate committee hearings and floor debate on this bill, Smith thundered against three county auditors who, in his words, violated a 2020 law and the secretary of state's directive prohibiting election officials from filling in voter information on absentee ballot request forms. The issue wasn't as clear-cut as he made it out to be. While four Iowa Supreme Court justices rejected a challenge to that law last October, three justices would have put the law on hold.
In any event, Smith cited the three auditors' actions as the main justification for this legislation, which contains many punitive provisions.
Senate File 413 would revoke "home rule" authority from county auditors with respect to election administration, subjecting them to all directives of the Iowa secretary of state. Several organizations representing county governments are registered against the bill, probably for this reason; Iowa's constitution establishes home rule for counties.
The secretary of state would not need to go through the state's usual administrative rule-making process to give auditors orders related to elections. He would also be able to fine county auditors up to $10,000 for any "technical infraction." Under current law, the Secretary of State's office merely sends a letter notifying auditors of such infractions.
Election staff who fail to perform their duties could be charged with a felony, punishable by a year or more in prison. The Iowa attorney general or a county attorney would be required to investigate any allegations of election misconduct reported. The county auditors' association warned last week, "An inadvertent omission could create severe consequences in the lives of not only county auditors, but precinct election officials as well. This would be a strong deterrent to qualified people interested in this area of public service."
Bohannan suggested during the House floor debate that the portions of the bill targeting election officials may be unconstitutionally vague.
Easier to get knocked off the voter rolls
The bill would move Iowa voters to "inactive" status (the first step toward removal from the voter rolls) if they miss voting in a single general election. This change would affect hundreds of thousands of Iowans who typically vote only in presidential years, but not in midterms.
Steeper hills to climb for third-party candidates
Relative to some states, Iowa has long had low barriers to ballot access. But Senate File 413 will make it significantly harder for third-party candidates to qualify for the general election ballot. These provisions appear to be aimed at Libertarian candidates, whom Republicans perceive as drawing votes away from conservative candidates.
U.S. Senate candidates would need at least 3,500 signatures (up from 1,500 under current law), Candidates for statewide offices would need at least 2,500 signatures (also up from 1,500). U.S. House candidates would need at least 1,726 signatures; under current law the required total varies.
UPDATE: During a February 25 news conference, Reynolds hinted but didn't confirm she would sign the bill. As she has done in the past, she validated bad-faith claims of election fraud. Clark Kauffman reported for Iowa Capital Dispatch,
"I think we do it well in Iowa," she said. "I'm proud of our system. I think we're a role model for other states. But we should always be looking at ways we can enhance and improve. I said that, you know, way, early on. But the fact of the matter is there are Americans across this state that have some concerns about what happened in this last election. And, again, I think it's imperative that it's not just understood, but that they feel there is integrity in the election process and they feel that it's fair and that it's done in an equitable manner. And so we'll take a look at the legislation that passed and we'll make a determination moving forward."

Reynolds was asked how the elections bill that's headed for her desk would improve democracy in Iowa.

"Well, I think, you know, I haven't had a chance, we're reviewing it right now," she said. "So I'll probably give you the same perspective that I give when you all ask where I weigh in on a bill. It goes through the process. I don't weigh in unless it's one of the bills that I am sponsoring. And then once that makes it through both chambers with the same language, it's sent to my office. My team does a thorough review of the bill and then we sit down. Pros, cons, what it actually does. And so we'll be in the process of doing that."
It's hard to believe Reynolds' staff didn't signal to Republican lawmakers that the governor supported making it harder to vote by absentee ballot. If any concerns had been relayed, House and Senate leaders would likely have held off on final passage, waiting to see what amendments the governor might want.
Top image: State Senator Roby Smith, the lead sponsor of every voter suppression bill in recent years, speaks during the Iowa Senate floor debate on February 23.